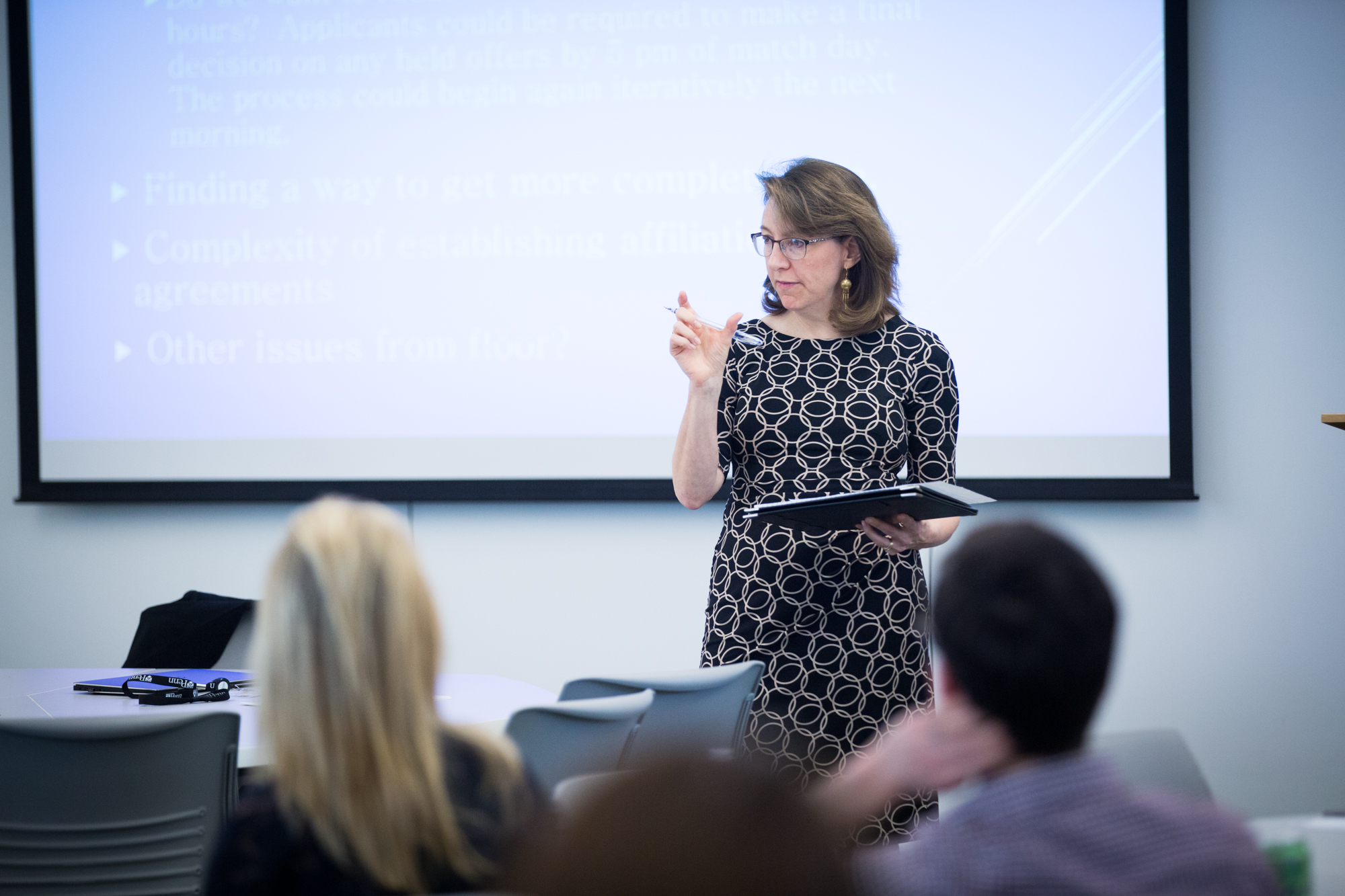 Penn clinical psychologist Melissa Hunt used to meet with clinical psychology graduate students in mid-March to discuss plans for their externships—their on-the-job clinical experience in the field—for the following year. But during the past 15 years, she started noticing application deadlines creeping earlier and earlier.
The final straw came when she received notice of one with a December 15 cutoff.
"To meet that deadline, I would need to sit down with students at the beginning of November to start thinking about what they'd be doing next year," she says. "At that point, they've only been in their current training for two months."
Hunt decided something needed to change, and began formulating a plan.
Every student working toward a doctoral degree in the field must complete several externships as part of their clinical training. "There are a number of external practicum sites that have a competitive application process," Hunt explains. "The problem was, there was no uniformity to it whatsoever; there was no central database. Students were completely dependent on word of mouth or institutional memory to know what opportunities existed. And with each site using different deadlines, students would often find themselves having to decide about an offer before they'd even had the opportunity to interview at other sites."
Turning for inspiration to the well-established match medical students and psychology interns go through to earn a residency or internship spot, Hunt designed a match for her field. Colleagues in training director positions across Delaware and Pennsylvania expressed great enthusiasm for the idea, and during an initial meeting, the group hammered out a one-year pilot. It became known as the PENDELDOT (Pennsylvania and Delaware Directors of Training) Uniform Timeline.
In 2018, PENDELDOT completed its second year. Under the new process, clinical sites must post any open positions publicly by Dec. 1 and students have until Jan. 16 to apply. Programs then review those applications and interview promising applicants. No official offers can be made during the interview period, and then, on a specified Monday morning in late February, the match begins at 9 a.m.
"At that point, programs can make offers to students and students have two hours to respond 'Yes, I'm thrilled,' 'No, thank you,' or 'I'd like to hold this offer.' Twenty-four hours later, they have to make a conclusive decision," Hunt says. "And that process repeats itself iteratively for all the potential spots." The group is investigating moving to a computerized match system in the future, which would involve hiring an outside company to ensure confidentiality and data integrity.   
Though not without a few hiccups, the initiative has so far been a great success, anecdotally, and Hunt has some numbers to back that up. "All 14 regional clinical psychology doctoral programs participated in the match this year, including programs in southern New Jersey and Delaware. Between all of the programs, 342 trainees went through the match, and 257 matched initially. An additional 14 matched during the second phase of the process," she says. "Of the training locations, 52 different sites that I know of participated in the match—there may well have been significantly more—and the vast majority of sites filled all of their slots."
As PENDELDOT gains momentum, more and more programs have started to express interest, both on the graduate side and the site side. Ideally, Hunt says, the match would expand across the nation, linking up with those already established, such as the one in New York/New Jersey. For now, she's more realistic, thrilled even, that in such early stages PENDELDOT is already growing, pushing southward and westward as participants in Maryland and western Pennsylvania consider joining in.
In April, Hunt convened all parties involved in the new match to discuss what's so far gone right and what changes could improve the process. She's heading into her third and final year as chair of the group; whoever fills the position next will come from the externship side in an effort to ensure equality of leadership between what Hunt calls the two "constituent stakeholders." There will also soon be a board and formal bylaws.
But beyond the backend logistics, Hunt brings the conversation back around to a focus on the trainees. "Nobody wants to go back to the bad old days. Everybody involved is very committed to continuing this process," she says. "Before, there were all kinds of ways in which the system was chaotic and problematic—and really not serving the needs of our students."  
Melissa Hunt is Associate Director of Clinical Training in Penn's Department of Psychology in the School of Arts and Sciences. She holds a secondary appointment in the School of Dental Medicine.