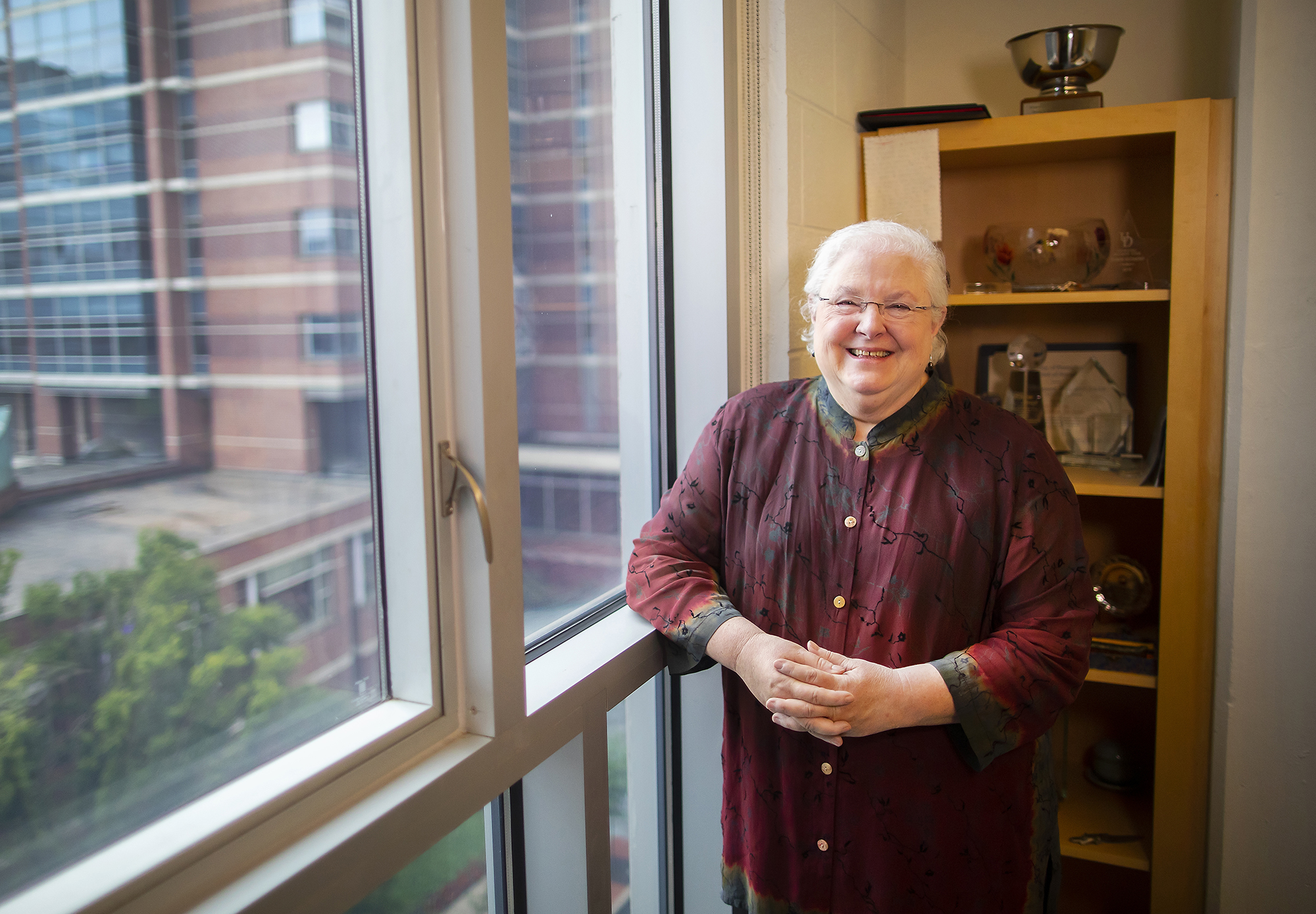 Therese Richmond started her nursing career working in critical care and trauma. Early on, her care process focused solely on what happened in the health care setting itself during the initial, acute period when someone arrived with an injury. Then in 1980, in the trauma center where she worked in Washington, D.C., she had a chance encounter with a patient she'd treated for a gunshot wound. 
"He came back to the hospital and said to me, 'You saved my life, but I'm not healed,'" recalls Richmond, associate dean for research and innovation at Penn Nursing. "Statistically, he should have died. He had a really bad injury, and we were so proud that we'd saved him. But what he said was heart wrenching. Before that, I had never really considered where people came from or where they went back to."  
That interaction changed the way Richmond thought about patients and the research she wanted to pursue. As a practitioner, she began looking beyond the trauma-filled situations in which she met her patients to understand where each person lived and thrived. As she moved out of clinical care into teaching and research, she retained that mindset, and for the past nearly 40 years—24 of them at Penn—she has studied how people heal from injury, not just immediately and within acute-care settings but also long term and in their home surrounds. 
"As a white, suburban, middle-class person, I had always thought people had many choices," Richmond says. She holds her hands wide to illustrate the point. "But other people have fewer choices," she says, bringing her hands closer together. "These choices are driven by the resources available and what's around in the places where people live. That's what led me to start thinking about the environment." 
Studying recovery
On this path, Richmond has spent considerable effort studying psychological and physical recovery from violence and serious injury in populations like African American men or those experiencing posttraumatic stress or depression. In her role as research director of the Penn Injury Science Center (PISC), which she cofounded, she and colleagues have also focused on understanding gun violence. The work has produced some telling results. 
A 2016 paper she and Penn colleague Sara Jacoby published in the International Journal of Nursing Studies, for example, found that people who come to the emergency room for a minor injury and who also have symptoms of depression or anxiety have poorer outcomes 12 months later. Another paper, in JAMA Surgery earlier this year, revealed that factors such as adverse childhood experiences, poor childhood environments, and violent injury worsen post-injury mental health symptom severity in adult urban black men with serious injuries.
This year, Richmond also published research with Aimee Palumbo of Temple University looking at the physical and mental health of seriously injured black men 30 days before their injuries. "We were trying to understand what factors would be important to consider when thinking about their health," says Palumbo, "like the neighborhoods where we live, including access to resources and amenities or exposure to crime and poverty, as well as our individual perceptions of that environment." 
Palumbo and Richmond found that where someone lives can greatly affect health. "Health is driven not just by individual behaviors or risks but where you spend most of your time, where you live, play, work, worship," Richmond says. "Those environments can have profound positive or negative effects on both physical and mental health. That's the big picture." 
Tackling gun violence 
Much of the work coming out of PISC, which crosses six schools and 12 centers and institutes across campus, has addressed gun violence at the big-picture system level. The Center, founded in 1997 as the Firearm Injury Center, recently received one of the inaugural National Gun Violence Research Consortium grants. 
PISC is also one of the Injury Control & Research Centers funded by the Centers for Disease Control and Prevention (CDC), the aim of which is to reduce injuries, violence, and their impact through high-quality research, training, and translation of scientific discoveries into practice and policy. In August, PISC began a new five-year CDC grant. 
In general, the Center takes a data-driven approach to tackle gun violence through what researchers there consider a public-health challenge, the best—and perhaps only—way to move the needle on firearm policies, according to Richmond. "We're not pro-gun or anti-gun," she says. "We want to decrease injury by guns." 
To that end, Richmond helped pilot a precursor to the CDC's National Violent Death Reporting System almost 20 years ago, and recently took part in a National Academy of Medicine meeting on how to address firearm violence as a social disease across lifespans. She's gone to Capitol Hill to speak with senators and has conducted research with PISC director Doug Wiebe and others from Penn's Perelman School of Medicine and elsewhere trying to raise awareness. 
"We've already chosen to live in a world with guns," Richmond says. "How do we do so more safely? You can move people who typically you would think can't move. You just have to frame the ask in the right way." 
Innovating an institution
Beyond research that delves into topics like gun violence and injury recovery, Richmond is working to innovate at Penn Nursing. It's in her title, after all, as associate dean for research and innovation, a role that has her shaping the strategic vision for research in areas like precision and data science. She also works behind the scenes to keep the research wheels running seamlessly for faculty and students. Though she no longer teaches semester- or yearlong courses, she still interacts with students daily. 
During her 24 years at Penn, Richmond says she's seen the nursing school transform, helped by a lack of barriers to working with colleagues across schools at the University and an evolving perception of the role nurses in general can play.  
"We're thinking about nurses as innovators. Nurses solve problems every day in complex situations, but how do we solve those proactively, scale them up, and make them sustainable?" she says. "Every product and process that touches a patient goes through a nurse. Once you grasp that, you can't do anything in the innovation space without a nurse." 
That kind of thinking has helped keep Penn Nursing atop the list of NIH-funded nursing schools across the country. It's allowed for the creation of an acute-care nurse practitioner program at a time when such a thing was rare, and it creates space to change and improve the way care is provided in many settings. 
"Dr. Richmond's leadership in the development of our innovation focus through deliberative planning, consultation, and engagement with partners inside and outside of the University, has advanced Penn Nursing's recognition as a global leader in this space," says Antonia M. Villarruel, the Professor and Margaret Bond Simon Dean of Nursing. 
What's more, Richmond has fun doing her job every day. "I like playing with people from other disciplines. I use the word 'play' intentionally because if I don't like what I'm doing I should just not do it," Richmond says. "The ability to talk with people who come from such different disciplinary lenses? Penn does it better than almost everywhere I've been. Other people talk about working across disciplines. Penn lives it." 
Therese S. Richmond is the Andrea B. Laporte Professor of Nursing and the associate dean for research & innovation at the University of Pennsylvania School of Nursing. She is also a professor of nursing in surgery at the Perelman School of Medicine, a senior fellow at Penn's Leonard Davis Institute of Health Economics, and research director of the Penn Injury Science Center, which she cofounded. 
Antonia M. Villarruel is the Professor and Margaret Bond Simon Dean of Nursing at the University of Pennsylvania School of Nursing and a senior fellow at Penn's Leonard Davis Institute of Health Economics. 
Sara Jacoby is an assistant professor of nursing at the University of Pennsylvania School of Nursing and a center investigator at the Penn Injury Science Center. 
Doug Wiebe is a professor of epidemiology at the Perelman School of Medicine at the University of Pennsylvania. He is also director of the Penn Injury Science Center and a senior fellow at Penn's Leonard Davis Institute of Health Economics. 
Aimee Palumbo is an assistant professor of instruction in the College of Public Health at Temple University.