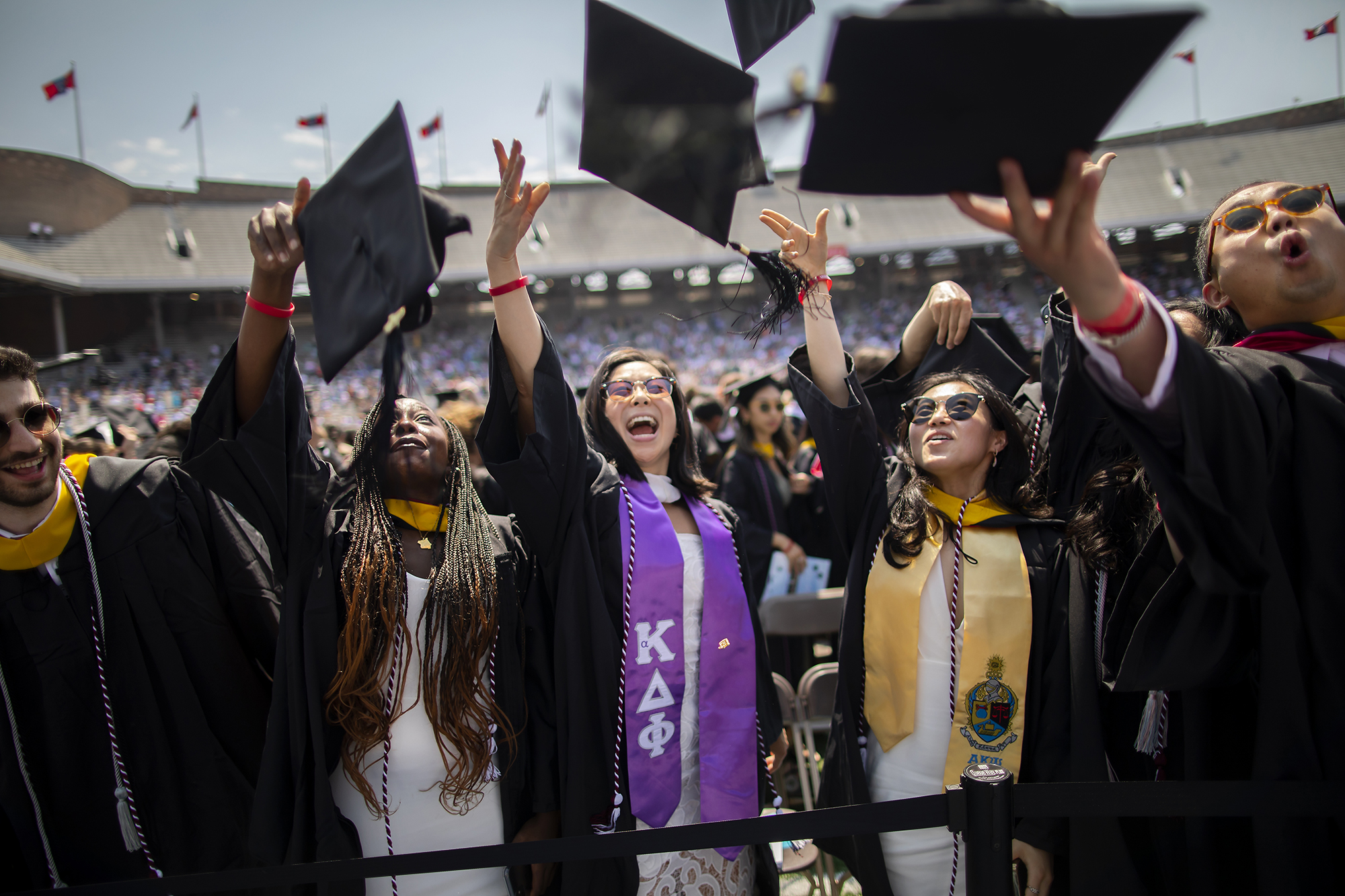 Adaptable, resilient, persistent: These are traits that enable the paramecium, a single-cell organism, to make its way in life. They're also qualities that many 2020 and 2021 graduates have had to rely upon to navigate the last two years. 
On Sunday, May 22, at the long-awaited, in-person Commencement celebration of those graduates-slash-alumni, speaker Angela Duckworth invoked the humble paramecium to convey a message about the importance of exploration and persistence.
"The brainless paramecium survives and thrives and it does so using one basic principle: If things are getting better, keep swimming in that direction, and if not, change course," said Duckworth, the Rosa Lee and Egbert Chang Professor in the School of Arts & Sciences and the Wharton School.
"The paramecium gets stuck, well, it simply backs up and tries another angle. It happens again, it backs up and makes another pivot. If this keeps happening, the paramecium may have to do something more radical, even do a 180. But eventually, kind of like a Roomba vacuum, the paramecium finds a way to move forward again. In other words, the paramecium makes its way in the world through simple trial and error. And this is usually all the paramecium needs to get unstuck, to find nourishment, to keep making its life better."
For the roughly 3,500 students who returned to campus to celebrate on an especially warm and sunny Sunday morning, conditions outside their control—a global pandemic, a powered-down economy, societal shutdowns—have posed plenty of obstacles. Like the paramecium, however, these recent Penn grads didn't let those challenges stand in their way of progress.
Wearing regalia at last, students gathered on College Green to take part in the traditional procession, led by the energetic Penn Band. 
More than 12,000 guests, with waves, cheers, and sustained applause, looked on as the academic procession entered Franklin Field. Medha Narvekar, vice president and secretary of the University, bore the University Mace, and was joined by Interim President Wendell Pritchett, Interim Provost Beth A. Winkelstein, Chair of the Board of Trustees Scott Bok, and other University leaders.
In the spring of 2020, pandemic restrictions necessitated that the 264th Commencement be celebrated online, offering students a safe but special way to mark their metamorphosis from Penn student into alum. Then in 2021, for the 265th Commencement, while graduating seniors were able to toss their caps into the air at Franklin Field, graduate students again made do with a webcast.
Sunday was their chance to make up for that missed milestone.
In his remarks, Pritchett noted that these classes were "oft-delayed but never deterred."
"This amazing Class of 2020 gives us unbridled hope for the future," he told the graduates. "You are the generation of which much is expected. And you, unequivocally, have proven yourselves fully up to the task."
And though the graduates have already had time to begin to carve their path beyond Penn, in her speech, Duckworth offered a bit of wisdom for navigating the unknown, unexpected, and unplanned.
"Graduates, my advice is not to worry if you don't have your whole life mapped out right now," Duckworth said. "If you feel a little lost, try something new—a new job, a new city, a new friendship. If you feel like things are getting better, keep going in that direction and, if not, change course."
Many of the alums in attendance are likely already familiar with this strategy of exploration, having, like the paramecium, encountered obstacles in their path, made shifts, and continued on to new pursuits. Penn Today spoke with five such graduates, who returned to campus for Commencement, about their experiences since graduating, and what coming back to Penn means to them.
Tim Herd, Graduate School of Education, Class of 2021
When Tim Herd graduated with his bachelor's degree from Michigan State in December 2019, he set his sights on Penn's Graduate School of Education for his master's for two main reasons: Its renowned academic program (today the school ranks No. 1 in U.S. News & World Report) and its location in Philadelphia, a city he had never visited but knew he'd love. 
"I was really looking for a change of scenery," Herd says.
Unfortunately, the pandemic didn't offer Herd that particular chance, but he made the best of his time as a student at Penn anyway. Living at home with his parents in Detroit, he took all his courses, engaged with his peers, and formed long-lasting relationships with faculty—some he now considers his closest mentors—online. In May 2021, Herd earned his master's in higher education, and today he is pursuing his doctoral degree in higher education and organizational change at UCLA. 
At Penn for its special graduation celebration, it was only Herd's third time on campus. He donned his cap and gown with his classmates, planned to buy a T-shirt at the University bookstore, and smiled wider than ever. 
"This is so important to me," Herd says. "I feel like I owe it to myself to be here, to give myself the full experience. We all put the work in, went through a really difficult time, and we got through it. We deserve this."
Pointing to the ongoing complications of COVID-19 and everything else going on in the world, Herd noted the celebration as an "act of resilience in and of itself."
"I just hope everybody is able to take away this feeling of gratitude, of pride," he says.
Caroline Bourneuf, School of Nursing, Class of 2020
Caroline Bourneuf was in the final semester of her senior year as a Penn School of Nursing undergraduate when the pandemic upended life. "Everything was changing so fast," she recalls. 
At the time, she lived off campus with two roommates, including another Penn Nursing senior. As each bit of news brought with it new uncertainty, the trio leaned on each other. "It was comforting to know there were humans around me going through the same experience," says Bourneuf, who grew up in a suburb of Atlanta. 
Today, she works as an operating room nurse in an ophthalmology surgery center at Johns Hopkins in Baltimore. When she moved to that city in September 2020, she didn't know anyone or much about the place itself. She decided to view it as a fresh start. 
"Without COVID, without that summer, I likely would've stayed in Philadelphia and probably wouldn't have explored as much of myself or grown as much as a person," she says. "It's really been transformative. I feel fearless now."
Though Bourneuf and her roommates participated in the original revamped 2020 graduation as best they could, she decided it was important to come back for the celebration now. "I've had this regalia in the back of my closet for two years now," says Bourneuf, laughing, before getting reflective. 
"Graduating after putting in all this hard work, we deserve to publicly celebrate that, to publicly give ourselves a pat on the back," she says. "There's something about group experiences, about experiencing something together. It's very rewarding to know that you made it through." 
Emily Gardner, School of Veterinary Medicine, Class of 2020
The start of 2020 was an exciting time for Emily Gardner and her peers—then-fourth year students at the School of Veterinary Medicine. They were getting results back on their board exams, finding out where they matched for internships, and ready to start the final rotations of their degree.
"I remember thinking, 'It's all downhill from here,'" she says. "I felt like everything was going so well."
Amidst the celebrations and final rotations, there were also rumblings of COVID-19. In mid-March, lightning-fast, things shifted, and Gardner and her fellow students found themselves stuck at home. Among other missed milestones, she says, not having the opportunity to be in person for graduation "definitely was a big loss."
The two years of the pandemic held more challenges for Gardner. In June 2020, just a week into her internship—at her top choice, a small animal emergency and specialty hospital in Pittsburgh—she was involved in a head-on car accident that left her with serious injuries and kept her from working for four months.
"I was really determined not to let the accident stop me from carrying out my plan, doing something that I had always wanted to do, that was going to make me a better doctor," she says. She did just that, completing her internship in October 2021.
Now in a position at a different practice in Pittsburgh, where she cares for dogs, cats, as well as more exotic creatures ("snakes, rabbits, ferrets, bearded dragons, birds of all kinds"), Gardner is grateful for the chance to mark the culmination of her veterinary education, albeit two years late.
"I think this is going to be a really good moment to come back and have that moment of celebration and accomplishment and closure," Gardner says.
Siani Woods, Wharton, Class of 2020
Performing arts were as important as academics for Siani Woods, with many leadership positions in a half-dozen groups at Penn, including chair of Front Row Theater Co. Combining her passions, Woods designed an individualized concentration at the Wharton School, in commercial performing arts management.
But instead of Broadway, the pandemic sent her home to Ann Arbor, Michigan, the spring of her senior year. The day after watching the 2020 Commencement livestream, she moved to New York City, finding a job with a nonprofit theatre company as interim managing director.
In 2019, Woods had interned with Wharton alum David Richards, president of RCI Theatricals. When the team returned to work in March 2021, she was hired as an assistant general manager. Woods first oversaw revenue operations and analytics, and since Broadway's return, she has made her debut in management, opening three plays, with several more in development.
As one of the only Black people in general management on Broadway, Woods intends to make an impact. "As the hiring managers and COOs of productions, we actively have the ability to affect change within every show, whether that's with a diversity focus or advocating for equity at all levels," she says.
Woods says she is coming to the ceremony to honor her parents, who will be attending with her stepparents. "I think the act of the event, putting on that cap and gown, will be the final pieces I need to close this book fully for me," she says.
She also is eager to reconnect with friends, and perform on a Penn stage one last time, singing "The Red and Blue" with her classmates. 
"I want to bid my farewells, say my 'I love you's, and leave with the trust, peace, and faith that just as I was able to discover my power and passion through my time at Penn, as I step away, I'm leaving space for others to be able to do the same."
Sebastian Gonzalez, College of Arts and Sciences, Class of 2020
Sebastian Gonzalez is no stranger to adapting. Coming to Penn from El Paso, Texas, where 83% of residents are Hispanic, Sebastian Gonzalez's initial reaction to coming to a campus as diverse as Penn was, he says, "culture shock."
But then he attended the Pre-Freshman Program, where he made other first-generation low-income friends and adjusted to campus life.
"It was a huge help, because I'd already established my support and friend group, and was able to know the resources out there that I could tap into if I needed, whereas if I'd started in August without that, I'd have been thrown into the deep end," Gonzalez explains.
During his time on campus, Gonzalez studied astrophysics and enrolled in several community-facing courses through the Netter Center's ABCS program and served on the student board of the Penn First group, a community-building organization led by first-generation low-income students. He also helped with the establishment of Penn First Plus (P1P). 
"I was proud of what we were able to do, and this will be the first time I get to see the [P1P] office in College Hall," he says.
When the pandemic struck in March 2020, he was on vacation in Mexico City and unable to retrieve his laptop and school supplies from his room in Harrison College Hall, leading him to, he jokes, "basically steal my little brother's laptop" when he eventually returned to his hometown for the remainder of the semester. He describes it as a stressful time but expressed gratitude for professors' flexibility and swiftness in creating an online infrastructure for learning. 
As he celebrates his graduation, he's looking forward to reuniting with friends, graduating alongside his girlfriend (whom he met during the Pre-Freshman Program), and celebrating a big moment in his life with his family. 
"The biggest thing is having my parents there and having that moment as a family, where we can actually close the books and be like, 'Yeah, I did that.' And enjoy it together."
View the entire photo album on Flickr.