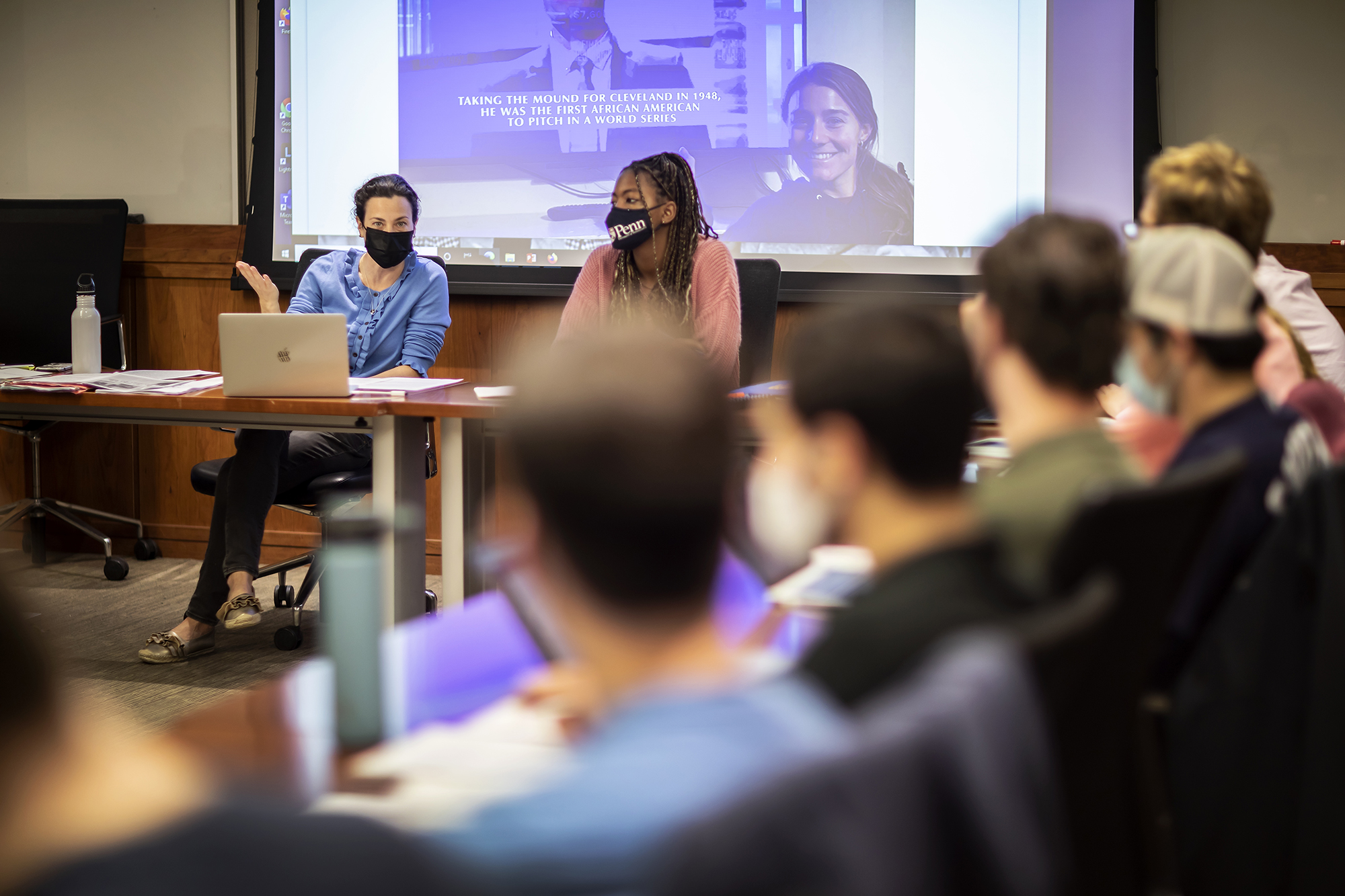 "Are you crying? There's no crying," Tom Hanks' character Jimmy Dugan famously yells at a sobbing player in the 1992 movie "A League of Their Own," based on the real-life World War II-era women's pro baseball league. "There's no crying in baseball!"
However, that's not the case for students in historian Sarah Gronningsater's popular History of U.S. Baseball seminar.
"I told students at the beginning of the semester that the majority of the class will either actively cry or admit they had tears welling behind their eyes at least once," she says. On the last day of class, she took a poll and, indeed, the majority of students acknowledged they had been moved to tears at one point in the spring semester. 
"I think it's because so much of baseball is about people's relationships to each other, to their families and to the place where they're from," says Gronningsater, an assistant professor of history in the School of Arts & Sciences. "If there's anything that the pandemic taught us, it's how much relationships matter. Students bring themselves to the classroom in a way that's particularly magical in this course."
The history of baseball is, in many ways, the history of the United States, and students in Gronningsater's class explore those layered histories through a host of topics, from the game's origins in early 19th-century northern cities, to the professionalization and nationalization of the sport during and after the Civil War, to the Negro Leagues and desegregation, to perpetual tensions between labor and management. Students learn how a wide range of Americans have found baseball at turns inspiring and disappointing—a source of hope at some moments and an institution in need of deep reform at others. Baseball, like the country that created it, has always been intriguingly—sometimes maddeningly—complex.
"Students want to have fun in the classroom but they also have a strong desire to understand something that we call 'the American Pastime' and how it fits into American history," she says. "Now more than ever, people want to understand the country in which they live, and baseball is a vehicle for getting there."
The origins of the class
The class originated at Harvard with Civil War historian William Gienapp, who was a baseball fan. Matthew Briones, one of Gienapp's teaching assistants, mentored Gronningsater when she was an undergraduate at Harvard. When she was getting her history Ph.D. at the University of Chicago, Briones was hired there and one of the first courses he offered was History of Baseball. Gronningsater co-taught it with him at Chicago, then brought it with her to Penn in 2018.
"I'm sort of the granddaughter of this class," says Gronningsater, "which is fitting for a course that is in part about Americans' cross-generational experiences of baseball and the passing down of meaningful traditions."
Not all students who enroll are baseball fans, though. She's had international students, for example, who take the course as a sort of anthropological experiment, a way to understand America by understanding why the country loves this sport and what that says about the nation.
Gronningsater says this semester's class has felt extra special since it is full of seniors who've lived through two years of non-normal college due to the pandemic. 
"There's no replacement for human beings, in a room together, talking about something they care about," she says. "I had one student who wore a different baseball jersey to every single class, and you wouldn't be able to get the fun of him walking into the room each week if you were on Zoom. Being in person offers chances for organic community building that absolutely cannot happen unless you're in a regular classroom setting." One of the semester's highlights, she notes, was the class field trip to a Phillies-Mets game. For some students, it was their first time back in a stadium since the pandemic started. (To the chagrin of the class's Mets fans, the Phillies won in an epic, late-inning comeback.)
The class isn't just about nostalgia or looking at the past. In fact, it has laid the groundwork for a number of students' futures. At least four students who have taken the class are going to be employed by baseball this summer and next year. Emma Segerman will be interning at MLB; Jacob Wessels has been working for the Atlantic League and has a job with the Seattle Mariners after graduation; Isaac Silber was recently hired by the Washington Nationals; and Sarah Ketring works in baseball operations for the Chicago Cubs.
"It's wonderful that they are entering the professional world of baseball with a rich historical background of the game," Gronningsater says.
A 'legendary' class
Now a Penn graduate, Joanna Kim, from suburban Washington, D.C.,  took the class in her final semester at Penn. A history major with a focus on health and societies, Kim didn't have a personal connection to the sport but was intrigued to learn about why it's considered "the national game."
"I thought it would be interesting, but it was like 10 times more than I had imagined," she says. "I never anticipated how relevant the history of baseball would have been to everything else that I've learned about American history. It's been a really refreshing lens on the subject."
Now that she's graduated, Kim will be entering Penn's public health program and she's been amazed to see the many connections within the history of baseball to public health.
"One of my biggest takeaways is that baseball history is American history. Baseball has mirrored American history from the very beginning, starting with the Civil War. It was such a big part of the civil rights movement. In some ways baseball actually was ahead of the rest of society in terms of integration because Jackie Robinson came into play way before Brown v. Board of Education."
She also feels like she now has more of a connection to her younger brother, who is a baseball player.
"I feel like I've tried to sell this course to my friends, and my roommates are probably sick of me talking about the class, but it has just been really engaging," Kim says.
Lochlahn March, now a rising senior majoring in classics and political science from Toronto, Canada, is a baseball player herself, and grew up as the only girl on her middle and high school teams. She also played on an all-female team representing her province and had the chance to play in Cuba.
One of her favorite parts of the spring seminar was reading so many primary sources, and learning about the other, lesser known aspects of baseball that are equally important to its history, from Japanese and Japanese-American connections to the sport to the Negro Leagues and women's roles.
"What really attracted me to this class was that we talk about women in baseball, and I think that that's an area that is not talked about enough. I also got to bring my experience to the table in our discussions. I thought that I would have to prove myself and my knowledge on the first day but it's a really welcoming environment," she says. "It's so important to draw attention to the fact that women have and women do play baseball. Baseball is America's pastime and it's crazy to me that so many people just can't conceive of half the population playing it. I love that this class draws attention to that fact."
March is a sportswriter for The Daily Pennsylvanian, and says it's her dream to one day cover MLB. This summer, she is interning for Sports Illustrated.
Ben Gottlieb, from New York City, was a senior majoring in history when he took the class, and says he has always loved learning about American history through different perspectives and was excited when he discovered the baseball course at Penn.
"This is one of those legendary classes that as a history major you always hear about and I was lucky enough to get in this time," he says.
Despite growing up a Yankees fan, he really wasn't familiar with how much people have intellectualized and romanticized baseball, and he learned some unexpected things, he says.
Specifically, the pandemic highlighted how sports play a unique role in society and in taking people's minds away from daily life, he says.
"That was really reinforced for me in this class and was probably the key takeaway: the power of sports and sporting moments, especially in difficult times in the nation's history," he says.
The class is almost like a baseball reading workshop, he says, and that approach has helped him and his classmates understand the topic more profoundly. 
"When a professor says something, you sort of take it as gospel but when your peers say it you get to bounce off ideas and learn things. Your peers definitely make up the content of the course in many ways and this is a really special group of people," Gottlieb says. 
Will Zimmermann, now a Penn graduate from Hyde Park City, Utah, was a senior when he took the class and majored in accounting and economic history.
"I'm a big baseball fan, so that's what really pushed me to be in this class because I thought that learning the history of baseball would be a perfect way to finish my history major," he says.
He grew up playing baseball and his grandpa was his team coach. (He's a Detroit Tigers fan despite his family's St. Louis Cardinals affiliation.)
He says the class has been both fascinating and challenging. "I've done every single page of reading," he says.
Gronningsater lets students lead the conversation, and mostly opts for discussions rather than lectures.
"It's so cool to have seminar topics that people want to talk about and that help develop community in the classroom environment. I looked forward to that three-hour seminar every week," says Zimmermann. "It's been wonderful. This class is kind of the perfect way to finish off my time at Penn."