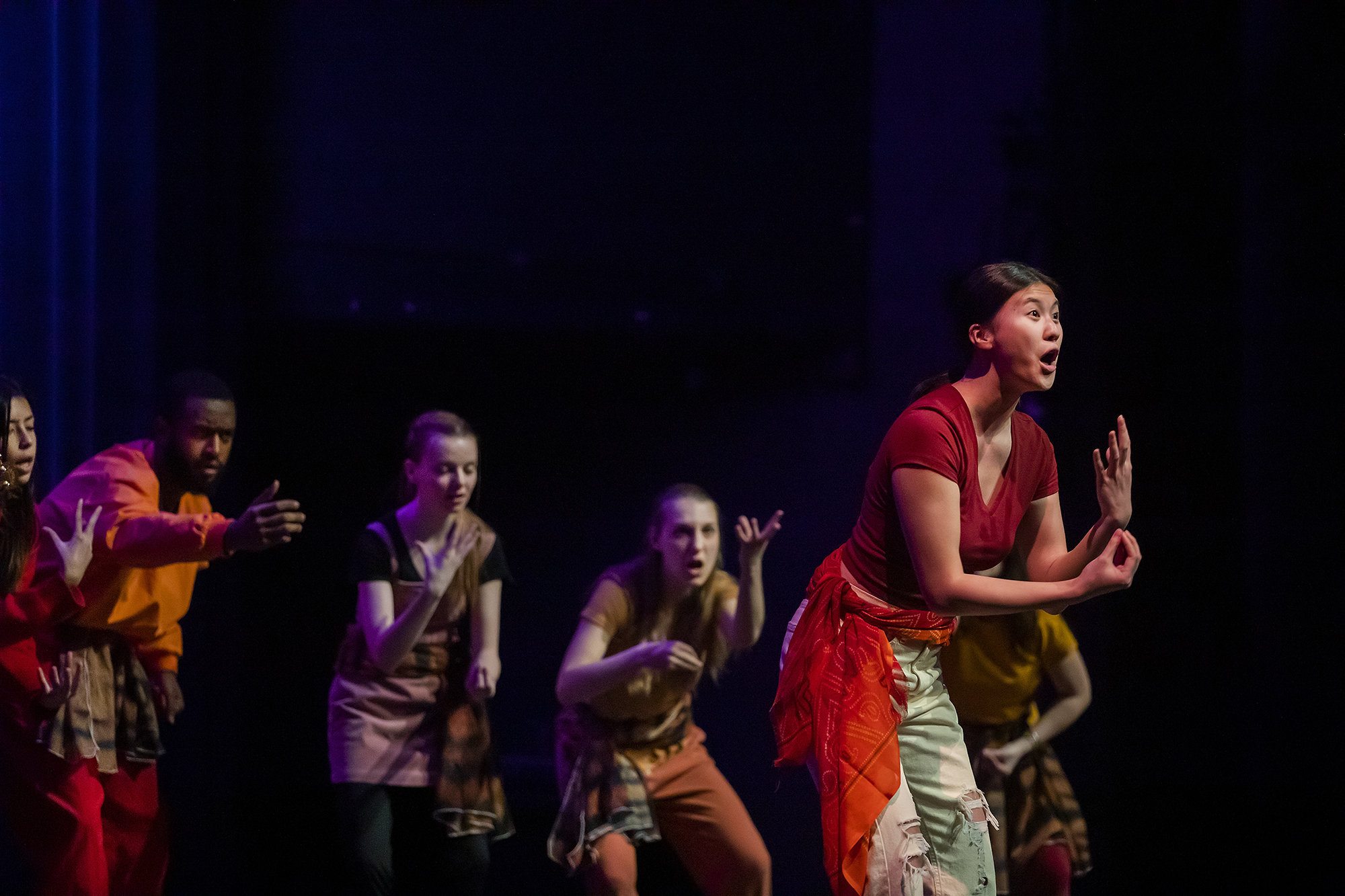 In a nondescript rehearsal space in the basement of Penn's Annenberg Center for the Performing Arts, "Jungle-Nama"—a recent work by renowned author Amitav Ghosh—is coming to life, not simply as written words leaping off the page, but literally, as a musical.
Ghosh himself is there, sitting at what's been designated for that day as the room's front. Next to him is Ali Sethi, author, singer, composer, and Brooke O'Harra, a senior lecturer in Penn's Creative Writing Program who founded and ran the New York-based Theater of a Two-headed Calf for 15 years.
College students could understandably feel intimidated around such behemoths of the art world, but the mood in the room is relaxed. The 10 or so present are barefoot or in socks, standing in a semi-circle. They're running through the first song in what will become the staged version of "Jungle-Nama," a parable Ghosh wrote—his first in verse—about one of the largest mangrove forests in the world, human greed, and the environment. "It's really a kind of ecological story about there being a balance between humans and the wild," Ghosh explains.
He's on campus as part of a fellowship hosted by The Center for Experimental Ethnography. Since 2018, the center, run by Deborah Thomas in the Department of Anthropology, has invited more than a dozen such intellectuals, from textile artists to ethnomusicologists, to teach a class and spend a semester interacting with students.
Thomas had long admired Ghosh's work and after being connected by a colleague, asked him to come to Penn for the residency. "He assumed we wanted him to do a writing workshop," she says. "But we really hoped to create a space for him to explore something new if he wanted to. The idea took hold that maybe we could stage his parable as a musical." In early March in the Prince Theatre, for two nights only, the team did just that, offering the English-language debut of a story that Ghosh had been thinking about for a long time.
The story of Bon Bibi
"Jungle-Nama" is set in the Sundarbans, a sprawling mangrove forest in Bangladesh and India. The benevolent and powerful goddess Bon Bibi, played in this production by Penn junior Mars Berger, maintains the balance between humans and non-humans in the forest. She "embodies popular Muslim conceptions of sainthood, as well as the Mother Goddesses of the Hindu tradition," Ghosh and Sethi write in the show's program notes.
Versions of Bon Bibi's story, of her power, have been told and retold; in this adaptation, she saves a boy named Dukhey from a tiger-demon who had made a pact with Dukhey's uncle Dhona: In exchange for sacrificing Dukhey, Dhona would be rewarded with the riches of the forest. "He's a really greed-driven person and he gives in to his greedy tendencies," says Penn senior Hannah Chan, who portrayed Dhona. "He really mistreated Dukhey and got away scot-free. That's what makes him so villainous."
Mixed into the tale are notions of family and grief, as Dukhey's mother deals with the loss of her son; of morality, as Dhona struggles with whether to betray Dukhey; of courage, as Dukhey finds a voice to stand up to his uncle; and of the relationship between humans and nature, as Bon Bibi intervenes on behalf of Dukhey and the forest itself.
"There's an element of cultural exchange but also an element of universality," says Berger. "Why do we have to keep telling ourselves not to act in these ways? How can we change the stories we tell about why the world is the way it is and the way it should be?"
For Ghosh, writing about Bon Bibi meant revisiting a subject he'd previously covered. "It had always been a thought in my head to return to this legend at some point," he says. "It suddenly became a matter of some urgency." Ghosh hasn't shied away from centering climate change in his recent works, the latest of which states quite plainly, no subtext necessary, that the author believes our planet is in crisis. That one followed a 2016 non-fiction book about our lack of imagination in thinking up and enacting solutions to the global problem.
Ghosh continues to innovate with his own most powerful tool: the written word. "Traditional textual forms like the novel have a great deal of difficulty dealing with issues like climate change," he says. "We need to find other forms of narrative. Poetry is better able to engage these issues than prose." That's partially why this time, he decided to tackle Bon Bibi's story in verse.
Finding a cast
When Thomas approached O'Harra about co-teaching a course this spring with Ghosh and Sethi, O'Harra admits she knew little about the Sundarbans. And though she'd read many of Ghosh's books, she hadn't heard of "Jungle-Nama," which wasn't yet available in the United States. Ghosh recommended she read it aloud, which she did with her daughter and partner.
"The poem had so much dialogue," O'Harra recalls. "When we read it, we found immediately that we were acting out lines." She could easily envision what it might look like on stage. But first, she needed a script and enthusiastic students. The former came directly from Ghosh's text and Sethi's songs, adapted by Penn Ph.D. students Kaustubh Naik and Savita Ananthan. The renown of Sethi and Ghosh, coupled with O'Harra's reputation among students, played a large part in the latter.
Many of the 14 undergrads and grad students involved had previously taken a class—or many—with O'Harra, including seniors Ari Fromm and Janice Owusu, who played Dukhey and his mother. Fromm, a double major in Theatre Arts and Computer Science, had extensive experience with such productions. Owusu, part of the Huntsman Program in International Studies and Business, had far less.
Their differing backgrounds encapsulated the range of students who ultimately joined the project, some from finance and business, others from film and theater. Some knew how to sing and dance; others were just learning. Rather than hindering the musical, however, these varying perspectives enhanced the process, which itself sidestepped the approach traditionally taken for a production like this. Typically, such shows cast with auditions and have a longer period with more rehearsals before curtains up.
"We struck upon a new form of musical that I haven't seen anywhere else," Sethi says. "It reminds me of a lot of things but in a way, it birthed this very unusual situation, which is a four-week course erupting into this performance. It doesn't really abide by any affixed or preordained formal constraints. Time and space and bodies are all we had, and we just had to make it happen."
Controlled chaos
O'Harra kept the process free-flowing and simple. She decided on minimal sets, props, and costumes. There would be no blackouts, and most of the actors would remain on stage the entire show. "I knew that if I got the students confident enough in their ability to sing the songs and say the lines, and if I made the choreography for the most part about tasks—we're following this person or making a boat—that it would be doable," she says.
She also appointed roles as they seemed right. "The first person to get cast was Janice," Fromm says. "And then it went a couple more days without anyone having a character." Soon Fromm became Dukhey, and Berger was cast as Bon Bibi.
"I've never been in a casting process like that, but it really worked," Berger says. "It was so refreshing to not be typecast, too. I often get cast as comic-relief characters, these kind of dopey dad characters, or characters modeled on a drag queen, bonus points if it's a villain. The fact that I got to be this benevolent goddess, it was really nice to stretch myself as a performer."
Role assignment happened in parallel with choreography, which happened in parallel with real-time tweaks to songs and the script. Students who played instruments brought them to rehearsals, where the team figured out how to incorporate a clarinet here, a guitar there. Sethi's memorable songs stuck in heads for days. O'Harra taught five students how to make a tiger-demon come alive. All over the course of just four weeks.
Lights up
Backstage at the Prince Theatre, down a short hall, groups of students wait excitedly in rooms with large mirrors and bright lights. Some are about to perform for the first time ever. In one room, a castmate leads Chan and three others in a nerve-calming breathing exercise. The audience starts filling the seats in the auditorium nearby. Moments later, the lights go down and the show begins.
Chan's Dhona convinces Fromm's Dukhey to come on a journey and leave his mother. The tiger-demon quintet moves in unison, breaks apart, then comes back together seamlessly. There's an obvious moral at the heart of it all—treat other people and the Earth with kindness and respect—but the actors have messages beyond that they want to share.
"I hope the audience came away with more of a cultural appreciation of the Sundarbans," Fromm says. "If that's an area of the world they're not familiar with, I want them to ask, why are there entire cultures that I'm so ignorant of, what are the problems that they face, what do I do that impacts them? I want people to try to be more thoughtful as global citizens." Owusu states she hopes the show encouraged people to slow down and think before they act. Berger adds they want people to think deeply about why we need to tell and retell these stories, that "we should try to change the world in practice, not just on a stage."
The hour-long show moves quickly, with an energy Sethi describes as overflowing. The performance the next day goes off without a hitch, too, this time the students no less energetic but more settled in their roles, more comfortable on the stage. The experience has surpassed most everyone's expectations.
"I didn't know what I expected," Ghosh says, "but what turned out in the end was completely magical." Adds Thomas: "It was really exciting, a special experience for all of us."
Beyond the performances
Several weeks post-production, the participants talk longingly about the chaotic days leading up to the performances, about the bonds they formed with each other and their appreciation for the process and everyone involved. For the students in O'Harra's Performing Parables class, the experience has ended. By the end of this year, however, they'll be able to relive it through a documentary six graduate students are creating with Alissa Jordan, the Center for Experimental Ethnography's associate director.
"They all have this phenomenal energy," Jordan says. "Our production meetings are largely just them speaking to each other and me taking notes." They've interviewed Ghosh and Sethi on camera and followed the students in O'Harra's class from the start of the project through the live performances. Two hope to capture footage in the Sundarbans this summer.
If all goes accordingly, Jordan says they'll have a first cut to screen sometime next winter. "It's certainly a documentary of the process of the class, moving from a written work to an oral work to the stage," Thomas says. "But it also will be a broader research documentary that looks at the issues the parable itself addresses. I can't wait to see what they come up with."
That last sentiment could be the mantra for the fellowship itself and the center Thomas runs: Give students and faculty, intellectuals and academics, the space and support to experiment in how they conduct research, and everyone will benefit from the result. Such thinking brought Bon Bibi to Penn, a century-old tale reimagined and showcased in an original way.
Amitav Ghosh is the author of two books of non-fiction, a collection of essays, and 10 novels. He was a 2022 fellow at The Center for Experimental Ethnography and at Kelly Writers House.
Alissa Jordan is associate director of The Center for Experimental Ethnography, where she was a postdoctoral fellow until 2021.
Brooke O'Harra is a senior lecturer in the Creative Writing Program in the School of Arts & Sciences.
Ali Sethi is a Lahore-born author, singer, composer, producer, and director. He published his debut novel, "The Wish Maker," in 2009.
Deborah Thomas is the R. Jean Brownlee Professor of Anthropology in the Department of Anthropology in the School of Arts & Sciences. She is also director of The Center for Experimental Ethnography.