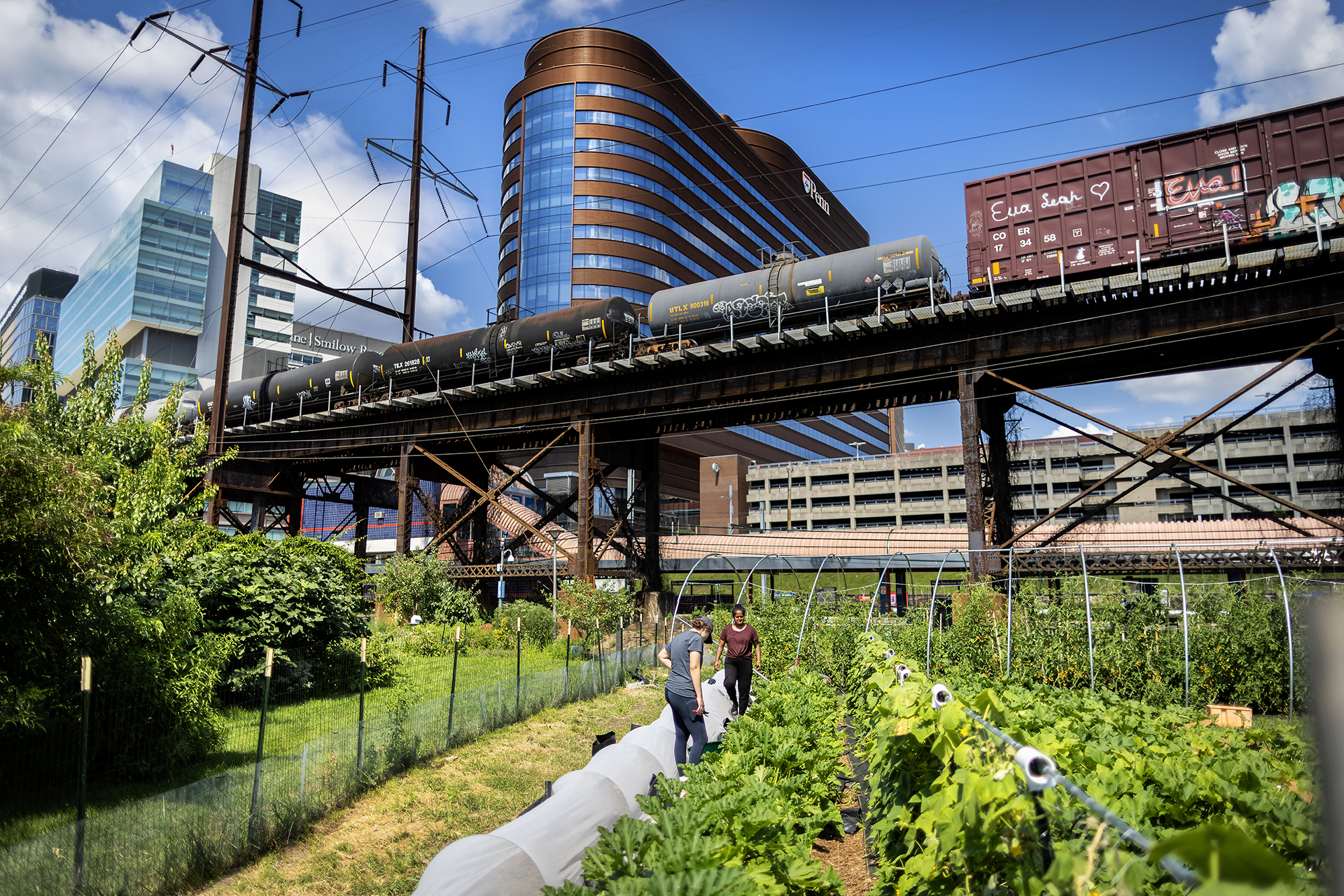 This summer, Penn Farm hosted five undergraduates as food justice and farming interns. Through the hands-on experience, the students learned regenerative agricultural techniques including composting, how to build raised beds, and how to organically bolster soil health. 
The students finished the summer with a bumper harvest of—amongst other things—beans, eggplants, cucumbers, peppers, and tomatoes. 
Penn Farm, which is part of Wellness at Penn, grows thousands of pounds of organic produce each year to support food access initiatives on campus and in surrounding communities. "Making sure basic needs are met is a huge part of this," says Lila Bhide, co-founder and coordinator of Penn Farm. "Everyone deserves to have food that's nutrient dense."

Some of the students had gardened in a more casual capacity before the internship, but they noted that farming was a lot more work, and a lot more purposeful. 
"I've always had an affinity for gardening, but my gardening experience at home was very much creative, whereas there's more of a goal here: to feed people who need it," says Beaue Bernstein, a second-year student from Orange County, California who is majoring in environmental studies. 
Second-year Xavier Watkins-Wright, an environmental studies major from New York City, worked on the farm during the last academic year and plans to continue on this fall. This summer was his first time seeing a growing season from start to finish; seed sowing to harvest. 
"It's definitely been a level up because during semester I'm usually only here for a good eight hours a week, and I'm always here during the later hours, so I don't really see the harvesting or get to help with building the beds," says Watkins-Wright. "I've learned a lot this summer about the technical aspects and science behind running a farm, like soil health and composting."
The interns spent Mondays, Wednesdays, and Fridays on the farm, and Tuesdays and Thursdays learning about sustainable farming and food justice. 
"We get to do these deep dives into food security issues our nation has had, and the history of our food system in general," says undeclared second-year Henry Davis, who grew up in Philadelphia. "I've been learning more about how our farming system ended up being so commercialized and industry-based and how it's hurting everything right now; it's hurting the environment and it's also hurting the workers."  
Davis says the internship has given him an appreciation of the work that goes into producing the food we eat, especially some of the more finicky vegetables, like broccoli.
"I grew up food insecure, and broccoli was one of the main vegetables my parents could afford for us to eat a lot, so seeing how hard it is to actually get it to grow gave me a lot of perspective," says Davis. "I feel like we've become desensitized to the fact that we can go to the grocery store, just grab whatever we need and leave, without realizing that all of this work is behind it."
The students admitted that the work can be tiring, but they all emphasized how rewarding the experience has been.
"Even if I leave the farm hot and sweaty, covered in dirt or covered in grass from weed whacking, it's always worth it because I get a feeling of purpose or meaning after working here," says Bernstein. 
"It's tiring because it's physical and you're running around in the sun," Davis says, "but at the end of the day it's rewarding because you get to see the fruits of your labor, quite literally." 
Like the rest of the world, the farm is feeling the unpredictable effects of climate change.  
"Last year we had drought and really extreme heat, and this year it's been super rainy, and we've had to deal with the wildfire smoke," says Bhide. "It adds a sense of urgency to what we're doing because the effects of climate change are so present and work like this is more important than ever. It's definitely led to a lot of important conversations, but I also think it can be empowering to do this work."