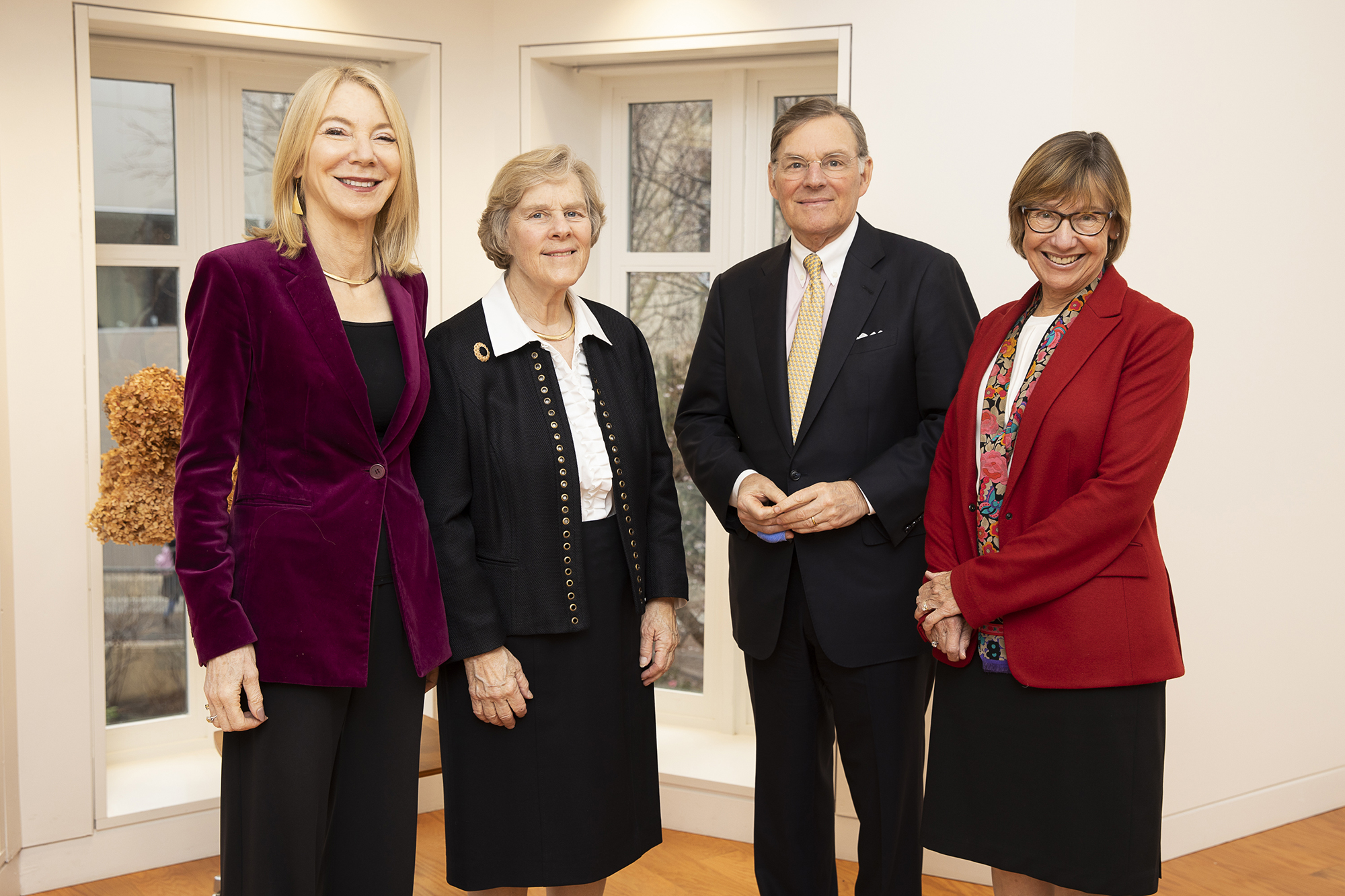 In the first celebration of the McGraw Prize in Education since the University of Pennsylvania became home to the award, President Amy Gutmann said this year's three winners are among the "great minds devoted to improving education through innovation. They are building a better future for us all by putting their evidence-based insights into practice." 
Estela Mara Bensimon, Michelene (Micki) Chi, and Joseph S. Krajcik were honored at a virtual gala on Wednesday for their achievements in higher education, learning science research, and pre-K-12 education, respectively. Each of the awardees will receive $50,000.
"We applaud teachers everywhere who share the common bond of inspiring others to learn and to grow," Gutmann said in her remarks. "Excellence in education is the single most powerful force for understanding and for change. And, so, innovation in education must be our future." 
The Harold W. McGraw Jr. Family Foundation and the Penn Graduate School of Education in February announced a three-year, $3 million partnership to enhance and expand the Harold W. McGraw Jr. Prize in Education, one of the most prestigious honors in the field. 
Since 1988, the award has celebrated innovation in education by recognizing nearly 100 individuals who have dedicated themselves to improving education and making a transformative impact. Following a public nomination process, winners are selected by an independent panel of 12 judges, who are themselves leaders in the field. 
"At the core of McGraw Hill's founding was the notion that education and knowledge were central to the progress of our nation," said Harold W. McGraw III, former chairman, president, and CEO of the McGraw Hill companies and a 1976 graduate of the Wharton School. He said his father, for whom the award is named, "believed deeply that society needed to celebrate the role of educators."
Dean Pam Grossman said Penn GSE has found a "both a kindred spirit and a powerful partner" in the McGraw Prize at an important time to combine their forces for good.
"The uncertainty and unrest that has defined much of 2020 continues to disrupt the educational landscape, illuminating devastating disparities and bringing the challenges faced by learners, educators, families, and leaders to the forefront," Grossman said. "Our current crises have increased the urgency for educators and leaders to find new and effective ways to support learning in different modalities and bridge the digital divide."
Now when the line between home and school has been blurred, Gutmann said that traditional classroom approaches no longer suffice. "Innovation in teaching and new methods of learning are more important than ever," she said. "Our commitment to students, to educational research, to putting best practices to work in this new reality will have a profound and lasting impact on our world."
Throughout their careers, this year's three winners, Grossman said, "have worked to create transformative educational opportunities for all learners, particularly those who have been underserved by society."
Bensimon, awarded the 2020 McGraw Prize in Higher Education, is the Rossier Dean's Professor in Educational Equity at the University of Southern California's Rossier School of Education. She is the founding director of the Center for Urban Education, which she created 20 years ago with a mission dedicated to racial equity in higher education. Her Equity Scorecard has become a landmark tool for changing institutional policies and practices. 
"I was thrust into a high school of a couple thousand students where my accent as well as my foreignness was ridiculed," Bensimon said, noting that she came to the United States at the age of 12. "Having experienced the alienation that comes from being different and then being witness to the emergence of the Civil Rights Movement, I was deeply inspired to care about and work for racial justice." At this moment when the U.S. is facing so many crises, she said, "we must redouble our efforts and resources to uphold racial equity as a matter of moral urgency and civic decency."
Chi, awarded the 2020 McGraw Prize in Learning Science Research, is the Dorothy Bray Endowed Professor of Science and Teaching at Arizona State University and director of the Learning and Cognition Lab. She says her work is translating research into practice, including mapping the cognitive thinking processes to student behavior and learning. 
The McGraw Prize encourages her, and she hopes others, "to increasingly focus our efforts at understanding how students learn and use that knowledge to inform how teachers teach, in a way that closes the research-practice gap."
Krajcik, awarded the 2020 McGraw Prize in Pre-K-12 Education, is the Lappan-Phillips Professor of Science Education at Michigan State University. He is director of the CREATE (Collaborate Research for Education Assessment and Teaching Environments) for the STEM Institute, focused on creating environments in which students are driven to learn and make sense of challenging problems and events that reoccur in the world.
"Knowledge is more than just learning the facts: it is knowing how to use the big disciplinary ideas of science, and then applying them using the practices that scientists use in their daily work," Krajcik said, including asking questions, supporting claims with evidence, and constructing models based on evidence. "If we hope for learners to develop the deep useable knowledge they need to solve the problems of this world, we are also going to have to put them in situations where they experience challenging and complex problems that are compelling to them that they want to solve."  
As part of the new partnership, Catalyst @ Penn GSE will create a yearlong programming series to share ideas and insights from McGraw Prize winners with educators around the globe. 
"Catalyst is a center for global education innovation with a mission of connecting people and ideas to develop novel and meaningful ways to advance innovation in worldwide education," said Michael Golden, executive director of the initiative. "We are thrilled to partner with the McGraw Family Foundation on this important prize to recognize these innovative educators." 
In her closing remarks, Grossman said, "We look forward to seeing how our burgeoning partnership evolves and how together we can work to expand the promise of education by forging a future that brings opportunity to children, families, and communities, no matter where they are in the world."