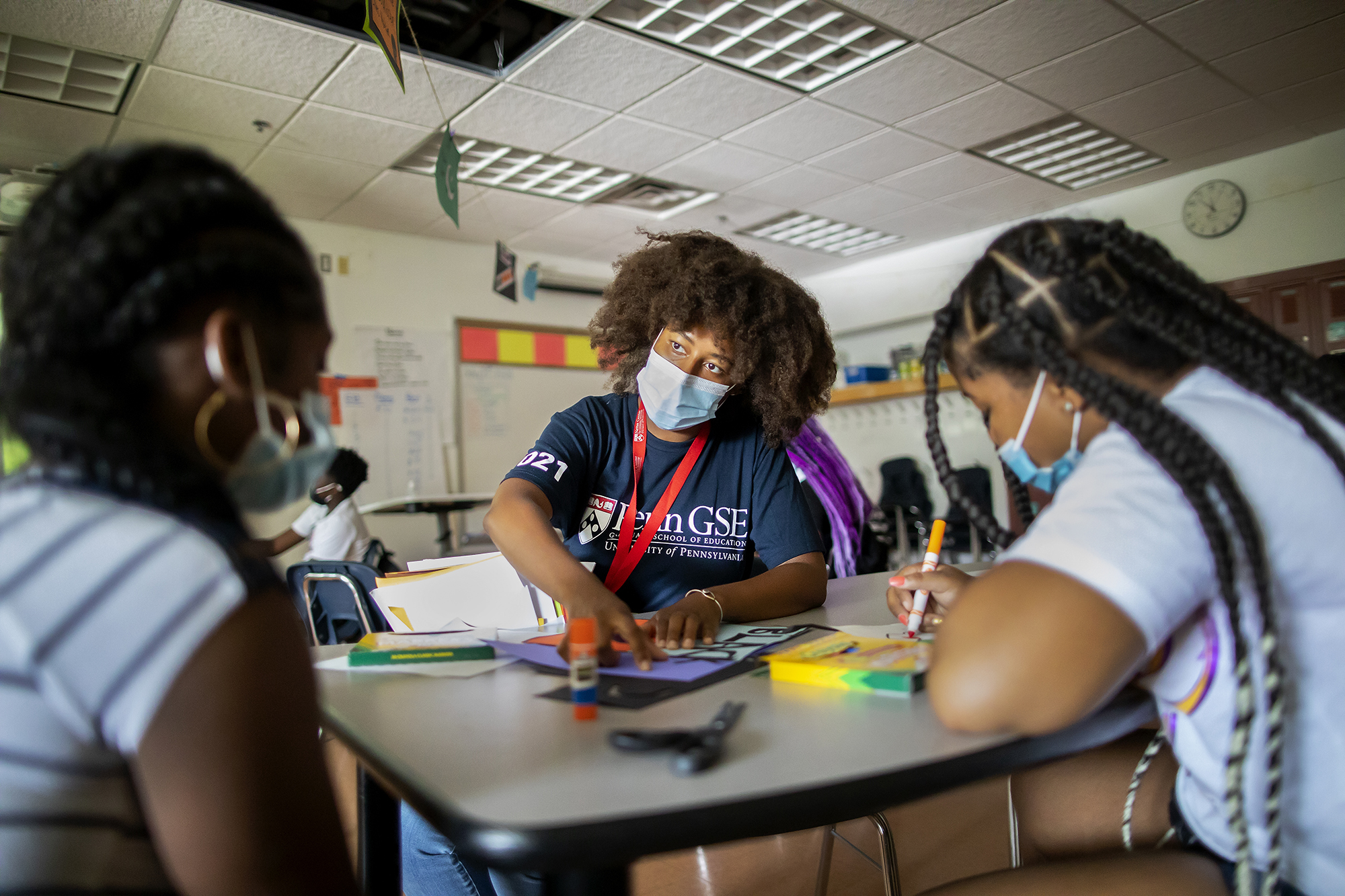 "We just have fun every day," said 14-year-old Luella Moreno, chatting inside a classroom at the Penn Alexander School this past July. No matter the activity, whether it's math or writing or art or gardening, she said, "they always incorporate fun with it."
This summer, Moreno was one of more than 200 enrolled students in a special six-week collaboration between the Penn Graduate School of Education and the Netter Center for Community Partnerships. Flourishing in large part because of an award from the University's inaugural Projects for Progress (P4P) initiative, the program's model—balancing engaging academic content with entertaining experiences outside of the classroom—was unique by strategic and thoughtful design, especially amid a pandemic that kept many students from learning in person for the past year and a half. 
"Our goal was to provide something in person for kids that would help grease their wheels to get ready to go back to school but would not be remedial, would not give the message of, 'You have lost all this learning, you have to catch back up,'" said Caroline Watts, director of the Office of School and Community Engagement at Penn GSE and one of the partnership's leads. "Instead, we give them the message of, 'Hey, let's come back, let's be together, and let's enjoy it.'"
The team behind the "Bridging Gaps and Building Capacity" initiative carefully crafted a program for students spanning first through eighth grades (and some rising ninth graders) targeting students from five West Philadelphia schools: Penn Alexander, Henry C. Lea, Benjamin Comegys, Andrew Hamilton, and S. Weir Mitchell. Several of the students, who all attended free of charge, were bused from and back to their home schools every Monday through Friday. 
Each day started with breakfast and a morning gathering, typically involving a song "to get ready for a great day," said Aurora Coon of the Netter Center, who served as a co-site director for the program. Every student would then break out into their respective academic blocks, which consisted of math, literacy, and counseling, led by teachers from the community. Lunch and recess time came next, followed by a variety of afternoon enrichments.
"We have cooking, karate, fitness, basketball, art, acting, anything you can imagine," said Coon. 
"The program itself I think is a really great model, and I've worked in this field for quite some time," added co-site director Latifah Anderson. "I've always enjoyed summer programs that offer academics and enrichment, and that's what we do."
The program's leaders even formed a partnership with Penn Vet, where the school's professors and students would visit twice a week, engaging with young learners. On Fridays, Netter Center planned field trips that were just as exciting as they were educational—to the Philadelphia Ethical Society's Camp Linden, the Fabric Workshop and Museum, and of course over to Penn's campus, only a few blocks from Penn Alexander, to name a few. There was also more focused programming for certain age groups, such as a career exploration program for rising seventh and eighth graders. In addition, this group engaged in a summer-long project-based learning curriculum, which was designed by staff from Penn GSE's Center for Professional Learning.
"All the different kinds of supports that are coming together to create this camp is what makes it unique," said Regina Bynum, director of teaching and learning for the Netter Center's University-Assisted Community School programs. "We have school day teachers, part-time staff, Penn students, Penn faculty, parents, community members. We have the school-based leadership even involved. There's the Penn GSE and Netter Center staff. This collaboration from A to Z and the plethora of expertise is key."
The physical space at Penn Alexander made all the difference too, added Bynum: "There is natural light, plenty of large windows, and a lot of space for the students to move around in and express themselves—all those things are really important."
Thinking outside of the box
A fledgling idea behind "Bridging Gaps and Building Capacity" began percolating in late 2020. On the heels of the COVID-19 pandemic and the tragic murder of George Floyd, Watts said many folks at Penn GSE were asking themselves and each other: "What can we do differently, what can we do better, what can we do more of?" 
Watts and some fellow educators and scholars began discussing with local principals ideas for different-than-usual Summer 2021 supports for K-12 students as well as teachers, and knew they would want to collaborate with the Netter Center. Both Penn GSE and the Netter Center already had longtime partnerships with nearby schools, often working with students who have been traditionally underserved, and, Watts said, joining forces would undoubtedly "create something that's better than the sum of its parts." They also knew they wanted the new program to be something that not only took place in the summer months, but could expand its support into the school year. 
Then, they heard about the P4P fund, established by President Amy Gutmann to support student, faculty, and staff designed projects that specifically promote equity and inclusion and make a direct impact in Philadelphia. A perfect fit, Watts expected.
"Once we knew it was in Penn's capacity to do it, we knew it would be hard to say no to, so we started building," said Watts.
They built upon the Netter Center's long-standing summer program funding, including this year more than $160,000 from the Pennsylvania Department of Education's 21st Century Community Learning Center funds and over $80,000 from the Philadelphia Youth Network (inclusive of the $595 stipends that 80 of the middle school students were able to earn). And by the end of spring, the "Bridging Gaps and Building Capacity" team learned they earned a $100,000 award from P4P. They would later receive an additional $125,000 in funding from the William Penn Foundation, and $19,000 from another donor.
"The 'Bridging Gaps and Building Capacity' project is investing in our most precious schoolchildren and teachers. It is a remarkable example of what we hoped would be supported by Penn's Projects for Progress," said Gutmann. "It is truly inspiring to see this unique interdisciplinary program transpire in a matter of weeks as a close collaboration between our Penn faculty, staff, and students and the broader West Philadelphia community."
One week of professional development took place in June before officially opening at Penn Alexander on June 28. 
"The fact that I can be in the classroom again with the students is the best experience," explained Tonya Ware, who has taught at the Lea school for the past 22 years, and taught math for the program this summer. "Just being able to do some of the things I used to do is awesome."
Ware said it was particularly helpful to have such an experience before heading back to in-person teaching in the fall—she could regain her confidence in the classroom, and see where students might be lagging in terms of academics.
"I don't want it to be summer school," Ware insisted. "I want it to be fun, because if they are bored, they aren't going to get anything from this. We do a lot of hands-on activities, and a lot of group work. Sometimes they don't even realize it's math."
Most of the teachers recruited for the program had trained in some capacity with Penn GSE's Philadelphia Writing Project and Responsive Math Teaching project, said Watts, which enabled them to practice their craft and receive further coaching if they wanted.
"After such a challenging year, we knew in asking teachers to come to this program we had to be able to offer things that would be meaningful enough to them to want to do it," said Watts, noting how they were provided reasonable compensation, flexible schedules, and professional development opportunities. 
In addition to supporting teachers, the program acted as a means to further educate Penn GSE's students and new graduates, including those studying counseling who were unable to engage in their typical internship experiences during the pandemic. 
"We had many of them jump at the opportunity to be in a real-life experience with students at the smallest counselor-student ratio they are ever going to have, and with curriculum that was really well written," said Watts. "They've had the experience of trying things out and they are now moving onto their first jobs and are feeling more confident that they know what to do."
Readjusting to a new normal
With many students attending school online for more than a year, a main concern that came up during initial research with family members and leaders from partner schools was building back students' social skills before the academic year started.
"At first, there were a lot more challenges and conflicts than usual as people readjusted to being with another group of people their age instead of just their family," said Coon, reflecting on the early weeks of the summer program. "But that has improved as students spend more time together, and because of the great work of both the counseling team from Penn GSE and the Netter Center's social-emotional learning coaches."
A second item to address was getting students back into the groove of typical schoolwork. Coon said in their planning, they wanted to commit early to hands-on, "pen and paper" learning—that meant there would be minimal digital devices used in the classroom.
"It's been great to see students engage fully in academics and get their skills back on track," Coon said. 
"I think we've built some confidence, reduced some tension, let some air out of the balloons and also learned about things we'd better all be ready for as we go back into school in the fall," said Watts. "This return will place a lot of demand on schools, parents, kids, and we want to be part of responding to that."
The summer program ended on Aug. 6, but its efforts live on this academic year, as planned. Currently in the works is a structured evaluation—with surveys, focus groups, and interviews—managed by Penn GSE, the Netter Center, and the Consortium for Policy Research in Education, considering the perspectives of all the stakeholders in the program. Also made possible thanks to the P4P award is a soon-to-launch menu of offerings, including professional development and academic and mental health support that mirror the elements of the summer program, for all teachers within the schools that make up Learning Network 2. 
It's with high hopes that the program can continue year after year, ideally getting to a point where it can really address education gaps that still exist in the community.  
"We definitely plan for this program to be a first and not an only," said Watts. "The goal of this program is and will continue to be to address inequities for kids."
By doing so, Ware said, Penn is investing in the world's "future leaders."
"The fact that Penn has been putting so much into this community, you see the fruits of their labor," Ware continued. "I definitely see it. Penn has and will continue to have a major impact on these different generations."