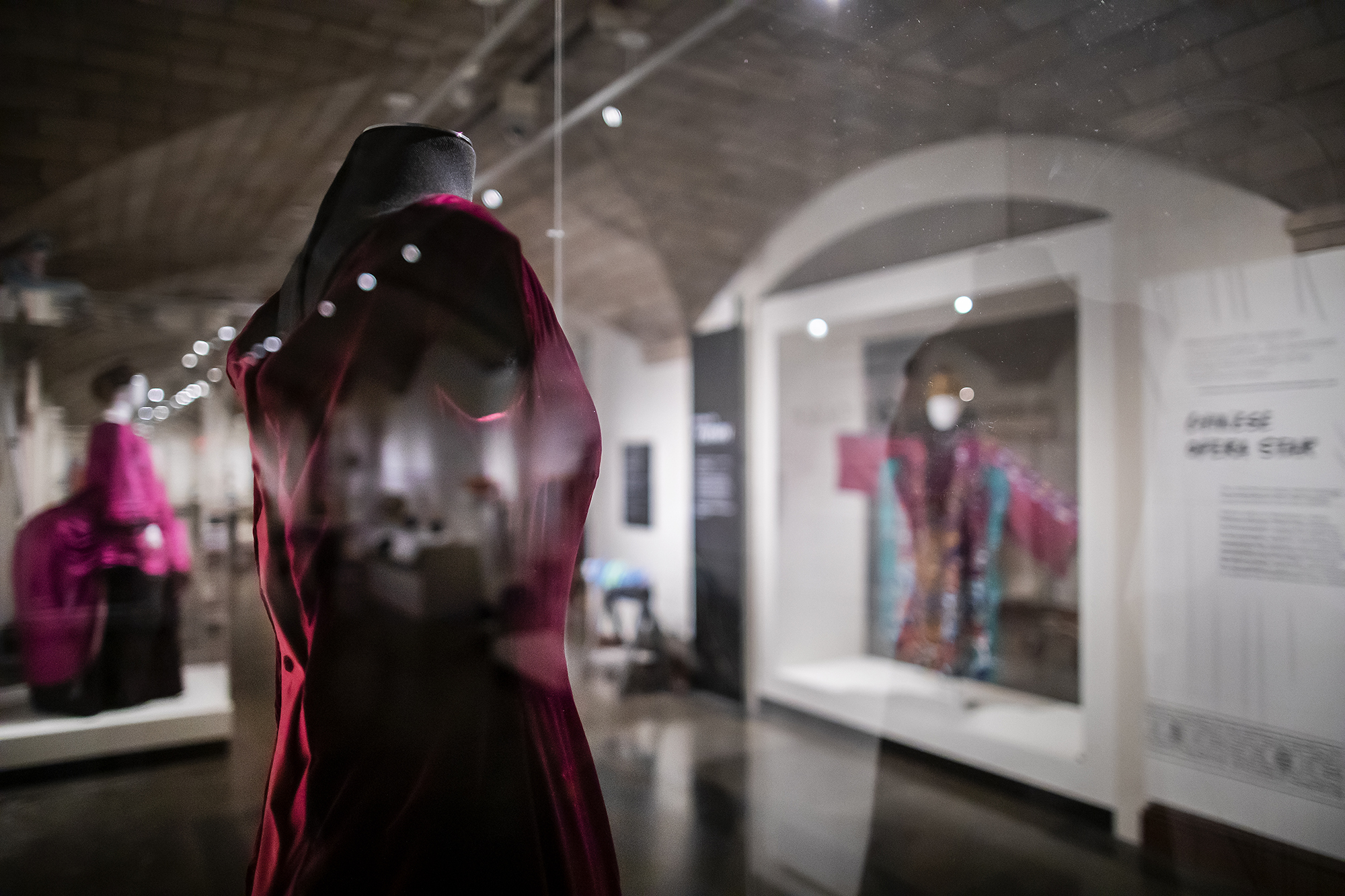 A rich red merlot color ties together three garments in the center of Penn Museum's new exhibition: a velvet gown worn by legendary contralto Marian Anderson, an embroidered satin Chinese dragon robe costume, and an elaborate ensemble worn by local drag queen Eric Jaffe.
The three pieces are also connected by their roles in performance, one of five themes that make up the exhibition, "The Stories We Wear." Opening Saturday with an afternoon of performances and activities, the exhibition will be on view through June 12.
From a coral-beaded gown worn by film star Grace Kelly on one end of the gallery and a Philadelphia Eagles football uniform worn by former linebacker Connor Barwin on the other, the exhibition includes more than 250 objects spanning 2,500 years. They include clothing, jewelry, uniforms, weapons, and even tattoos.
They are organized around the themes of battle, ceremony, performance, rule, and work and play. "We chose these five themes because they allowed us to show how meaningful what we wear is in different times and places, letting us both connect the present to the past but also understand how very different societies have approached the same problems," says Lauren Ristvet, lead exhibition curator.
This is the first major exhibit to open since the first phase of the Museum's building transformation project was unveiled in November 2019.
"The exhibition really highlights us as a global museum. It's specific in that it's about what people wear, but it's much broader because it cuts across so many cultures and so many eras," says Christopher Woods, the Williams Director of the Penn Museum.
"This exhibition speaks to contemporary issues by pulling out these threads of identity from over the course of two and a half millennia," says Woods. "There's a commonality to that, how people mark identity by what they wear and the stories that they tell."
Most are from the Penn Museum collection, but a few items are on loan, some on display for the first time, Each was chosen to tell a story of the wearer, of the time, and of the purpose.
"We put performance at the entrance to the show to project the idea that all life is a stage and that when we put on clothing we're putting on costumes," says Ristvet, the Robert H. Dyson Curator in the Near East Section.
The curatorial team embarked on the exhibition more than two years ago, thinking first about jewelry and then expanding to adornment and the wearing of meaningful things. As they examined objects in the Museum collection, they decided on the idea of the stories and focused on choosing ensembles that worked together.
"What we wear is so much more than just an individual style. It really communicates information about who we are and how we work," Ristvet says. "We want to help people to see this for themselves, by juxtaposing these ethnographic or ancient objects with the more modern ones."
In conversation with the 1964 Hubert de Givenchy gown covered with coral beads worn by Kelly, the High Serene Princess Grace of Monaco, are two rare statues, each carved from a single piece of coral. They depict a phoenix and a dragon, probably representing the emperor and empress, dated to the Qing Dynasty (1750-1900 C.E.) in China, acquired by the Museum in 1914.
"What's amazing is that these statues are some of the finest objects in the Museum collection, and they've never been on display," Ristvet says. "They've been in the vault. This is the first time the public gets to see them."
It's unusual for the Museum to organize an exhibition on themes instead of world geography, says curator Sarah Linn, but as a result they drew objects from six of the Museum sections. The ensembles are displayed in a way that shows how they would have been worn, or created, like a display that explains the culture of tattoos in Borneo.
"We wanted to make sure that the mix of material we had would relate to a lot of different people," says Jane Hickman, consulting scholar to the Mediterranean Section. "I really hope that everyone sees something of themselves in this exhibit."
In choosing what to borrow, the curators looked in particular for Philadelphia connections, including several dresses from Drexel University's Robert and Penny Fox Costume Collection.
"The Museum does and should have a national and international presence, but its home is here in Philadelphia," Woods says. "Our connection to the local community is something that we prize, so I really love that aspect of the exhibition."
Jaffe, Philadelphia's 2018 Drag Queen of the Year, loaned the ensemble they wore in the production "Thweeney Todd: The Flaming Barber of Fleek Street."
"I think it's incredible to see an exhibit full of so many different styles of fashion, and to have drag included in that is such a great feeling," Jaffe says. "A lot of fashion is inspired by drag. So it's really cool to see a piece like this standing next to all of these other incredible garments, knowing that drag has a real place and that this museum sees that."
The dress worn by Anderson, the first Black woman to perform at the Metropolitan Opera, was part of her performance collection for more than 30 years. She famously sang on the steps of the Lincoln Memorial in 1939 when she was told she could not sing in a concert hall in Washington, D.C., because of her race.
"To know the stories that were behind each performance in this gown, and the relationships that came from it, which were a wonderful part of Marion's performance seasons at the Academy of Music right here in Philadelphia, it all tells a story that may be new to visitors," says Jillian Pirtle of the Marian Anderson Museum & Historical Society, which loaned the gown.
Archaeologists, Linn says, talk a lot about context because context matters in the interpretation of material. "Sometimes it's a leap for people to go from an object to a lived experience and that's something we get at here," says Linn, research liaison in the Academic Engagement Department. "We all make decisions, whether conscious or unconscious, as we get dressed in the morning, as we think about our activities for the day."
A Hopi bride ensemble dated to a century ago, representing ceremony, is special to Linn because she was able to connect it with similar clothing worn in a Hopi Nation wedding in 2019. "For each piece of this ensemble, we know exactly what it means because we can talk to living Hopi people. That is not something experienced often archeologically," she says. "So that was a really moving and important part of the work that I did. I really felt very privileged to learn that story."
The Museum is encouraging people to share their own stories of what they wear through social media, with the hashtag #StoriesWeWear: Those submitted images and text may be included on a digital wall in the gallery.
"We are hoping people will contribute their own stories, whether it's a tattoo or an heirloom or something that you would look at and not know why it is special," Hickman says. "Things mean so much to people."
The curators say they hope their new approach will bring in new audiences. Woods agrees, noting the mix of contemporary and historical objects. "We want to broaden our base and to have a greater impact on the city of Philadelphia," says Woods, "and I think when you look at the exhibition it does speak to a very broad audience."