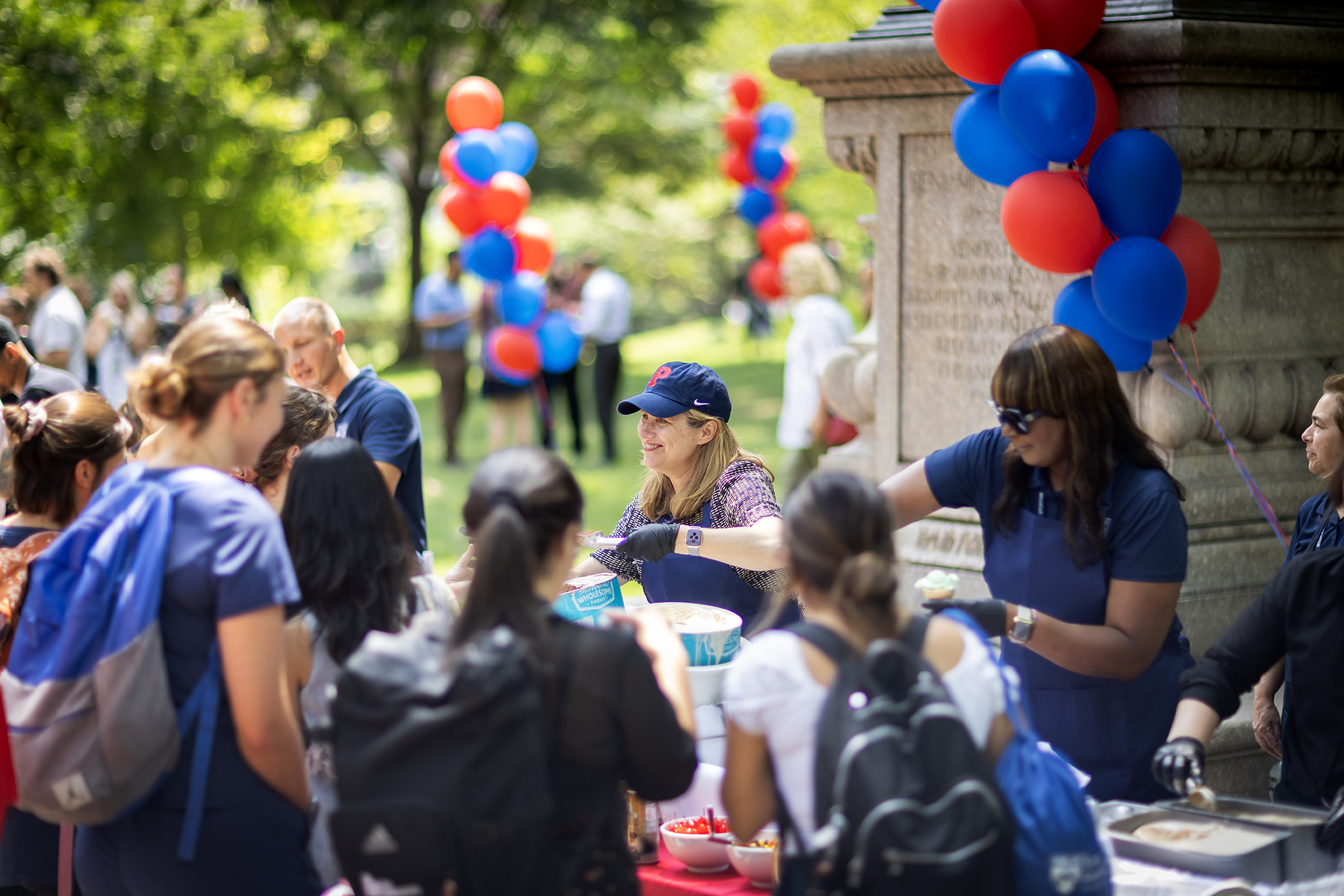 Alexander Chmielinski's flavor of choice? Vanilla and chocolate, plus Reese's Pieces candy.
Annabelle Noyes' sweet tooth leans more toward chocolate with caramel sauce.
For Victoria Schenck, it's none other than mint chocolate chip with whipped cream and a few cherries on top.
The options were many at Thursday's ice cream social on College Green, hosted for the second year in a row by the Office of the President. President Liz Magill, Provost John L. Jackson Jr., and Senior Executive Vice President Craig Carnaroli, among others, scooped ice cream for faculty, staff, and students well over the lunch hour.
"It's really special," said Noyes, a rising fourth year at the Wharton School. "It's sweet to know that the administrators care a lot about engaging with the Penn community."
Noyes, originally from Wisconsin, is on campus this summer serving as a teaching assistant for the Wharton Global Youth Program. She and fellow TA Marguerite Kotze, a master's student in Behavioral and Decision Sciences, were side-by-side as they chatted with Magill.
"It was my very first time meeting the president," said Kotze. "She was very lovely."
Kotze, an international student from South Africa, said she also appreciated the "community building" aspect of the campus-wide gathering. "You wouldn't expect to see so many different faces on a hot summer day in one afternoon," Kotze said. "For me, that's really inviting and creating a space to talk and meet with different people."
Mackenzie Hill, an incoming first-year student in the College of Arts and Sciences, was ecstatic to meet some fellow "Alabamians," as she called them, in line. "By total coincidence, out of all these people, I met some faculty from Perry World House who happened to be from Alabama like me," she said, smiling wide. "It was so lucky."
Magill, too, scooped Hill's ice cream, and chatted one-on-one with her a bit later, just behind the Benjamin Franklin statue. Hill, who is part of the Pre-First Year Program and a participant in the Africana Studies Summer Institute, said she loves that she's been "immersed in this community so deeply" already, and is soaking up every opportunity to do so.
"And meeting the president in such a casual way is so exciting," Hill added, before heading to her psychology class.
Schenck and her colleague at Penn Libraries Jeff Sadueste peeked out their window from Van Pelt-Dietrich Library and saw the crowd, knowing they couldn't miss the opportunity for ice cream.
"It is very hot today," Schenck said, "so it's a good treat."
Relatively new to working at Penn, Sadueste said it was nice to see "the volume of people here," interacting in an open, casual way, as opposed to at the library, where folks are often, aptly, "in their own little pods."
Annenberg School for Communication doctoral student Antoine Haywood noted a similar sentiment: "Sometimes we are siloed in our departments," he said, "so it's nice that there is a mix of faculty, staff, and administrators, there are people from all facets of the institution together." Haywood mentioned a faculty member he chatted with in line, someone he might not have otherwise met.
Moving under the shade of a tree, and happily taking in the breeze, Haywood's research assistant Karen Walker had a bite of her mint chocolate chip ice cream ("only the best," she said), scooped by Jackson, who, until he became provost last month, was her school's dean. She added how meaningful it was for her to be able to come together with colleagues across campus in such a capacity, especially after years of a pandemic. "The social aspect of it," she explained, is so much more appreciated today.
At last year's ice cream social, Penn Dental Medicine student Chmielinski was eager to see Magill, who, at the time, had only been days into her tenure as Penn's ninth president. Chmielinski had previously met her at the University of Virginia, where he earned his undergraduate and master's degrees and where Magill formerly served as executive vice president and provost. On a lunch break and in his bright blue scrubs again this year, he and some of his classmates stopped by for a scoop. Or, in his case, a double.
"It's a great time to have not only President Magill talking with and meeting people, but also serving them, getting some conversations going," Chmielinski said, adding how he was happy to tell the president, "nice to see you again, talk to you later."