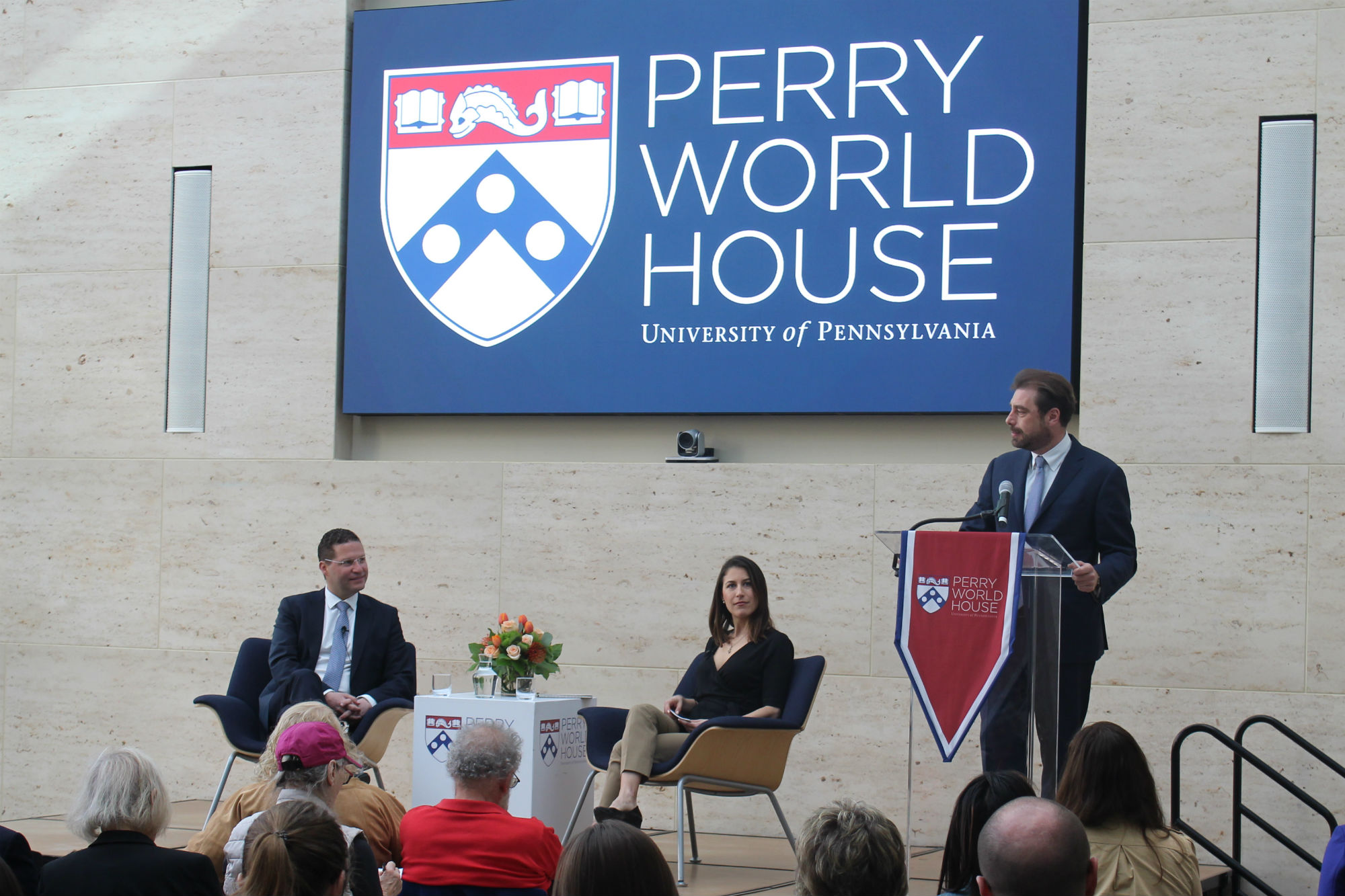 During a full day of discussions about how to combat climate change, experts from around the world touched on the same idea: Today's children will pay the price for a failure to act now and in the near future. 
For Gina McCarthy, the former United States Environmental Protection Agency administrator, it's her 7-month-old grandson who spurs her advocacy. 
"It's really about my family—about my new grandson," she said. "It's clean air and clean water and to have a safe place for our kids to live and work and play."
McCarthy and others at this year's Perry World House (PWH) Global Shifts Colloquium, which focused on local, state, national, and global policy on climate change, returned over and over to the idea that standing by as global temperatures increase, glaciers melt, and the seas warm and rise, simply is no longer an option if we want future generations to have a planet worth living on. 
PWH, Penn's center for global engagement, holds a colloquium each spring around the idea of global shifts, which considers the causes and consequence of human movement. Global climate change has far-reaching implications, including the displacement of people living in areas that will be affected in the short term, such as those living in lower-lying coastal areas. 
"Climate change represents a clear and present danger to not only the future we want but the future of humanity of the planet, for the kids, for the future generations," said Ovais Sarmad, deputy executive secretary of United Nations Framework Convention on Climate Change. "If things don't change, the future looks grim for all of us and the generations to follow."
Things are already declining in coastal cities, where huge swaths of the global population live, he said. 
"Cities such as Osaka, Alexandria in Egypt, Rio de Janeiro, Shanghai—and Philadelphia," Sarmad said. "So this is not something that is happening somewhere far away, but it's happening right here."  
Zeid Ra'ad Al Hussein, the current PWH global leader-in-residence, joined Sarmad in discussing how the international community is responding to the crisis. He said watching this week's catastrophic fire at the Notre Dame cathedral in Paris made him think about the imperative to respond to climate change. 
"You couldn't help but think that this resembled a sort of end of days, that this is our future unless we begin to quench the roof that is on fire," Al Hussein said. "What I fear is it will all be too little too late."
He said the worst-case scenario he imagines in an Earth choked to death by carbon dioxide, with an epitaph: "Here rests humanity, endowed with reason and overcome, or overwhelmed, by stupidity.
"We clearly now have enormous work that we have to do," he said. 
Sarmad, whose organization coordinates international agreements on climate change, said the 2015 Paris agreement was hugely important, as was last year's critical pact on how to put the Paris tenets into practice. Climate change is a global problem and needs global action, he said. 
"Nations cannot solve climate change on their own, including this one," Sarmad said. "Climate change has no boundaries. Every country has to play its role."
He urged the private sector, and particularly individuals, to get involved. The only way the baby born today inherits a viable planet is if everyone works together, he said. "We have an extremely limited period of time to turn everything around."
Other panels at the colloquium addressed climate policy on a smaller scale. 
McCarthy, who was EPA administrator during the Obama administration, said she was profoundly frustrated by the way the Trump administration has moved away from policies she advocated. 
In 2017, President Trump announced the U.S. would withdraw from the Paris agreement. The administration has scrapped, or watered down, multiple other environmental regulations. 
"It's embarrassing to go to international conferences and say, 'I'm sorry about what the United States is doing,''' said McCarthy, who's now the director of the Harvard University Center for Climate Health and the Global Environment. "We have to do better, and we have to do better now, specifically about issues related to the environment and specifically about climate change." 
The federal government should be prioritizing the development of clean energy sources, she said, including electric cars. Climate change can be solved, McCarthy said, but not on the path being traveled by the current administration. 
She was positive about the "Green New Deal," a non-binding resolution introduced in Congress earlier this year by Rep. Alexandria Ocasio-Cortez (D-N.Y.) and Sen. Edward Markey (D-Mass.) that has become a flashpoint for political debate. 
McCarthy said she takes the resolution as a series of policy goals, not concrete proposals, and lauded its authors and supporters for pushing the discussion forward.
"Nobody ever said, 'We're going to do everything at once.' They just listed values that we all can support," McCarthy said. "Isn't that how you do things? You shoot for the moon and then figure out how you're going to get there?"
At the state and city level, the focus should also be on action, but that may take different forms, panelists said. 
Mauricio Rodas, the mayor of Quito, Ecuador—and a Penn alum—talked about how he spurred the construction of his nation's first subway system, scheduled to open in the capital later this year. Asked whether he supports a congestion pricing program for cars like the one New York City is planning to help cut carbon emissions, he said other options should be considered first.
"Before charging people for using their cars, you should give them a high-quality transit system," he said. "Then you can talk about the other things."
Former Florida Gov. Jeb Bush, now a Presidential Professor of Practice at Penn, echoed those comments during his own discussion. Florida is reducing carbon emissions, even as it continues to be one of the fastest-growing states in the country, he said. That should be a model for other governments and a signal to Washington, he said. 
"It can't end up disproportionately hurting people who are striving to improve their family's lives. Economic development has to be a component of dealing with climate change," Bush said. "The states understand that far better than the federal government does."
McCarthy said local and state governments shouldn't wait for a policy miracle from Washington. But, she said, what federal lawmakers do will matter because they can lay a foundation for collaboration between states and make it easier to tackle carbon emissions and other pollution. 
Asked whether she could guarantee a pain-free transition to a greener planet, McCarthy said she couldn't, although she struck an optimistic tone that it won't hurt as much as some might fear. Standing by, though, just isn't an option, she said. 
"But over the long run, the larger sacrifice by far and away—I would say by a factor of 100—is not doing this. So, it depends on how you define sacrifice," McCarthy said. "If my grandson has a world worth living in in 2050, I'd say it's worth the sacrifice."