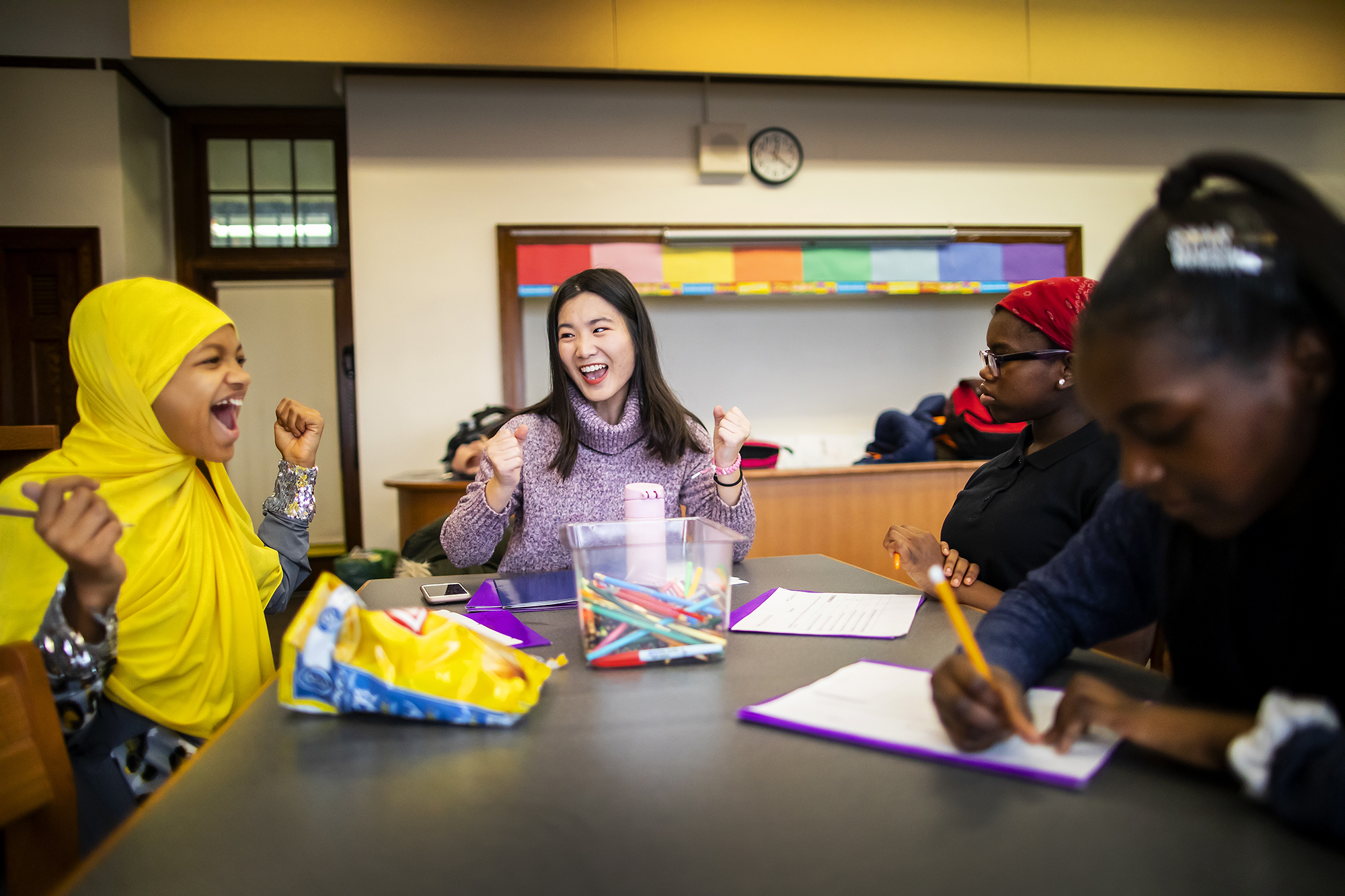 The teens seemed interested in Penn grad student Shiyu Sun and what she had to say during weekly "possibility mentoring" sessions, ideas of how to imagine and realize their dreams for their futures.
But Sun, who is studying human development in the Graduate School of Education (GSE), wasn't sure she was getting through to the middle school students. She worried especially about their differences, as she is from China, and they are growing up in north-central Philadelphia.
"It was really a challenge for me at the very beginning because of the culture and language barriers," she says about when she started mentoring in the fall of 2018. "They were very resistant. Especially me being a foreigner, for most students the first Asian person they have ever known in their life. But I also find that sometimes cultural background and racial differences can be a strength for us to open up, because they are very curious."
The teens asked about her country and culture, and she offered to write their names in Chinese. "Those kinds of things actually helped me to gradually build up the relationship, and then we were able to do some work regarding possibility mentoring, which is to help them figure out their future career and future life," she says. "But even though we started to have some topics to talk about, I still felt like I had a distance from them."
Sun is one of 32 grad students in GSE's Possibility Mentoring Program, now in its third year. They are split between two public schools, General George G. Meade School, and General George McCall School, where the program began.
"Our Penn grad students come at it with so much energy, so much intellect, so much desire to serve, to help others and to get better at it," says Andy Danilchick, GSE's director of the Project of Mental Health and Optimal Development, who leads the mentoring program. "And they work really well together. When you interact with kids like this, it's intense, and it's powerful, and it can be transformative."
A turning point for Sun came when she returned to Meade the second semester. The students were surprised she had returned, and said they were so happy to see her again. "That's the point that I started to feel there is actually a bond between us, and that makes me feel like this work is definitely meaningful to keep doing," she says.
Another milestone came a few weeks ago during her third semester with them, right before the winter break, when a student finished the sentence, "I'm most proud of…" with "Shiyu." "I know we have a bond now, but I never imagined that I'm that important to them, and it motivates me to work more with them, and support them even more."
'Magical fit'
The project started as a pilot program with 14 GSE students mentoring 35 seventh graders at the McCall School near Center City. The effort expanded to eighth grade, and this academic year about 65 students are mentored at McCall.
Meade school counselor Adam Bergevin, who graduated from GSE in 2013 with his master's in counseling and mental health, learned about McCall's possibility mentoring program when he reached out to ask what support Penn could provide his students.
"It seemed like a magical fit," says Bergevin, who started a pilot program with seventh graders last year.
"They loved it," he says. "They just had this yearning for this attention, to have their voices heard in a different way, in a creative way that was outside the box, to talk to the grad students about their passions and their skills and where they wanted to go in life."
Now in the second year at Meade, the entire middle school is enrolled in the mentoring program, more than 100 students in six classes in sixth, seventh, and eighth grades. Bergevin says he believes both Meade's middle schoolers and GSE's master's students are benefiting in myriad ways, based on what he observes as he supervises the sessions each week.
"It's through these relationships—these kids and these graduate students are building relationships for this year, yes. But many of them are building relationships that are going to have an impact beyond this year and next year," Bergevin says. "It's going to have an impact for their whole lives. And I love seeing that."
A five-step model for possibilities
Michael Nakkula, professor and chair of GSE's Human Development and Qualitative Methods Division, is one of the pioneers of the academic field of possibility development. He's co-written a three-volume set of books on possibility development, published last year. He and Danilchick together wrote the curriculum for the possibility mentoring model.
The model has five steps: exploring interests, prioritizing interests, planning for action, taking action, and assessing progress. At the end of the school year the students make a field trip to Penn's campus and present a project based on their individual interests.
For example, students who love to play video games might think they want to be a professional gamer and realize through possibility mentoring that they could use that passion and skill to be an engineer who designs video games. "What are the steps between seventh grade and college in order to get there?" Nakkula says. "For that to become a reality, particular actions need to be taken along the way."
Danilchick, who graduated from GSE in 1998 with a master's in leadership, supervises the day-to-day of the program as part of his role as the director of GSE's Project for Mental Health and Optimal Development. "We don't want to crush any dreams. What we'll do is help them think: OK, you want to get to that pathway, what are skills that are really important to work on that might help you move towards that?" Danilchick says, like getting help with math, which can lead to better grades, which can open opportunities. "And all those things will help you in other ways as well."
It's difficult for kids to stay motivated to learn if they don't see a reason for the learning, Nakkula says. "What if you're living in poverty and you haven't seen people go to college? That's a very abstract idea," he says. "The possibility mentoring makes that more realistic, a more grounded experience."
Following the five-step model, GSE mentors work with small groups of three or four, forming relationships with individual students, and with the group, which makes it more likely that the teens will participate in the mentoring goals, Nakkula says. Small groups can be more successful than one-on-one, he says.
"If the kids come as a small team and build relationships with each other as well as their mentor, a kind of dynamic energy builds. We think the kids have more fun," he says. "Also, with small group mentoring, you can reach many more students. But it does require more careful training."
That training is consistent and ongoing. The GSE mentors meet once a week for two hours to review their experiences, and group leaders have another weekly meeting to discuss the week's reactions and progress, guided by Danilchick and Nakkula.
"We equip them with skills, with techniques. We do problems of practice. We offer a strategy," says Danilchick, who was a teacher for 15 years in Philadelphia and suburban schools before pursuing his doctorate at GSE. "There's an ongoing dialogue. Where are we struggling? Where are we doing well? Every week we get more data on how it is working."
The weekly sessions have been especially helpful for Lindsay Ouellette, who started as a mentor last year at Meade, but had no previous experience working with children. She decided to return to mentor this year, although she graduated in May with her master's from GSE's Executive Mental Health and Counseling Program. She is continuing research at GSE with Nakkula this year, and is applying to programs to pursue her Ph.D.
"I do find the meetings very valuable, especially to hear my colleague's experiences and challenges, the same challenges as mine," Ouellette says. "That actually helps me and gives me tools and ideas for what types of activities I can do."
The GSE team is collecting data for their research on the model, the first on small-group mentoring with a possibility focus, Nakkula says. "We are conducting a qualitative study, what is the meaning to the kids and to the mentors, how they describe their experience," he says.
Every week, through research memos, the mentors make extensive notes on what they tried, how it went, how the kids responded to certain activities. Another team of GSE students analyze the data to identify themes and patterns.
"When you're working with two groups of three to four kids and you're interacting with them each week, that requires full attention and full learning," Danilchick says "They lean into it. And if you look in their reports or you talk to the students, there's such a commitment to the kids. It's such a commitment to building the program, making it better."
Human development
Mentoring is discussion- and activity-based and "goes to the heart" of the focus for students who are counseling majors, getting training how to work directly with students, especially those in urban schools that don't have enough resources, Nakkula says. The research component is especially valuable for the human development majors, who are on their way to pursuing a doctorate.
"This program gives our students the opportunity to do hands-on work out in the field and study the impact," Nakkula says. "They meet real kids and they do something to promote their development."
More than half of the human development mentors are from China. At McCall, most of the middle schoolers are of Chinese descent. "Something special happens when they're doing a group and they're talking in Mandarin and there's kind of this connection," Danilchick says.
At Meade, most of the students are African American, so the team was curious to discover how both the mentors and the mentees would relate to each other. "One of the interesting findings for us has been that the Chinese students have been very effective working with the African American students at Meade," Nakkula says, noting that Sun is a perfect example. "We didn't know if they would be, but as they met the children and built relationships, the kids started seeing this as kind of a novel experience. It has worked much better than we thought it would."
The discovery also opens new possibilities for Penn's graduate students, once they realize they can work with students from various backgrounds and ethnicities. "An interesting finding for us is that this work can really be effective cross-culturally," Nakkula says.
The program also helps graduate students plan their own futures while mentoring the middle schoolers on theirs. Many come into the human development program not knowing exactly what profession they will pursue, and change their path or sharpen their focus. "They learn what might be possible for them," Nakkula says.
Sun says because of her experience mentoring she has applied to Ph.D. programs with the intention of researching adolescent development, teaching middle school students, and studying how social relationships can influence health.
In the classroom
At Meade, truancy is one of the biggest challenges, counselor Bergevin says. The school has noticed student attendance is higher on the mentoring days, he says.
"Our students know that the mentors are here as nonjudgmental support for them, that when they come to school they have this person that's going to acknowledge their strengths," he says. "Students don't want to miss this."
On a recent afternoon at Meade, five Penn students each met with three or four middle schoolers, working with them to complete a weekly checklist of eight items to gauge how they are doing, with sleep, with school, with homework, with stress, ranking their feelings from 1-10.
Eating snacks like chips and popcorn and granola bars, they answered "What I enjoy" and "What I'm good at" and "What do I imagine?" and "People who support me." In some of the groups, that lead into discussions about jobs they might like, ranging from cosmetologist to professional basketball player.
Possibility mentoring fits in with Meade's efforts to wrap "social and emotional learning" around everything they do with the young teens. Every week the students know they will have the opportunity to connect with their mentors, who can try to help them overcome some of their challenges, Bergevin says. "Whether that's feeling anxious or upset or whatever it might be on that given day, but also to build on some of the strengths in their lives too," he says.
Sun asked the three eighth grade girls in her group questions like, "Would you rather be the most athletic or the coolest or the smartest?" The students each responded smartest, and discussed their thoughts.
"I think to have a person to talk with them and who they can trust is very important for their development," Sun says. "I'm playing the role as a person that they trust and they can always go to when they are in trouble or maybe when they just want to talk."
Ouellette had the three eighth-grade boys in her group conduct mock interviews with each other to prepare for high school entrance applications. She had previously worked with them on personality assessments and encouraged them to include some of those identified traits in their answers.
"It went much better than I expected," she says. "It was really nice to see them struggle but then want to try again."
When Ouellette returned to the classroom last week after winter break, she got some good news. "They all got accepted to one of the high schools they wanted to get into," she says. "It was really exciting for me and for them."
Future possibilities for the mentoring program
The GSE team hopes they can expand the program to other Philadelphia public middle schools, and eventually have it adopted by other school districts in the United States. "There are university programs like ours all over the country where college and graduate-level mentors would want to be trained to do this kind of work," Nakkula says. "If we can get our training model out there and show some impact, then I think it could be replicated."
Visiting scholars to Penn from China are planning to create the possibility mentoring program there aimed at for first-generation college students, Nakkula says, with a goal to later offer it to high school and middle school aged children.
The GSE students are forging the way. "We have courageous students who are willing to come into an environment that may seem foreign or new to them, and yet they're coming in with so much courage and so much flexibility and willingness to get it done," Bergevin says. "I just love what I've seen from the graduate students."
Homepage photo: Mentor Alexander Blanchett, in the GSE counseling program, talks to the eighth graders in his group about their interest in a career in sports and how they might achieve their goals.