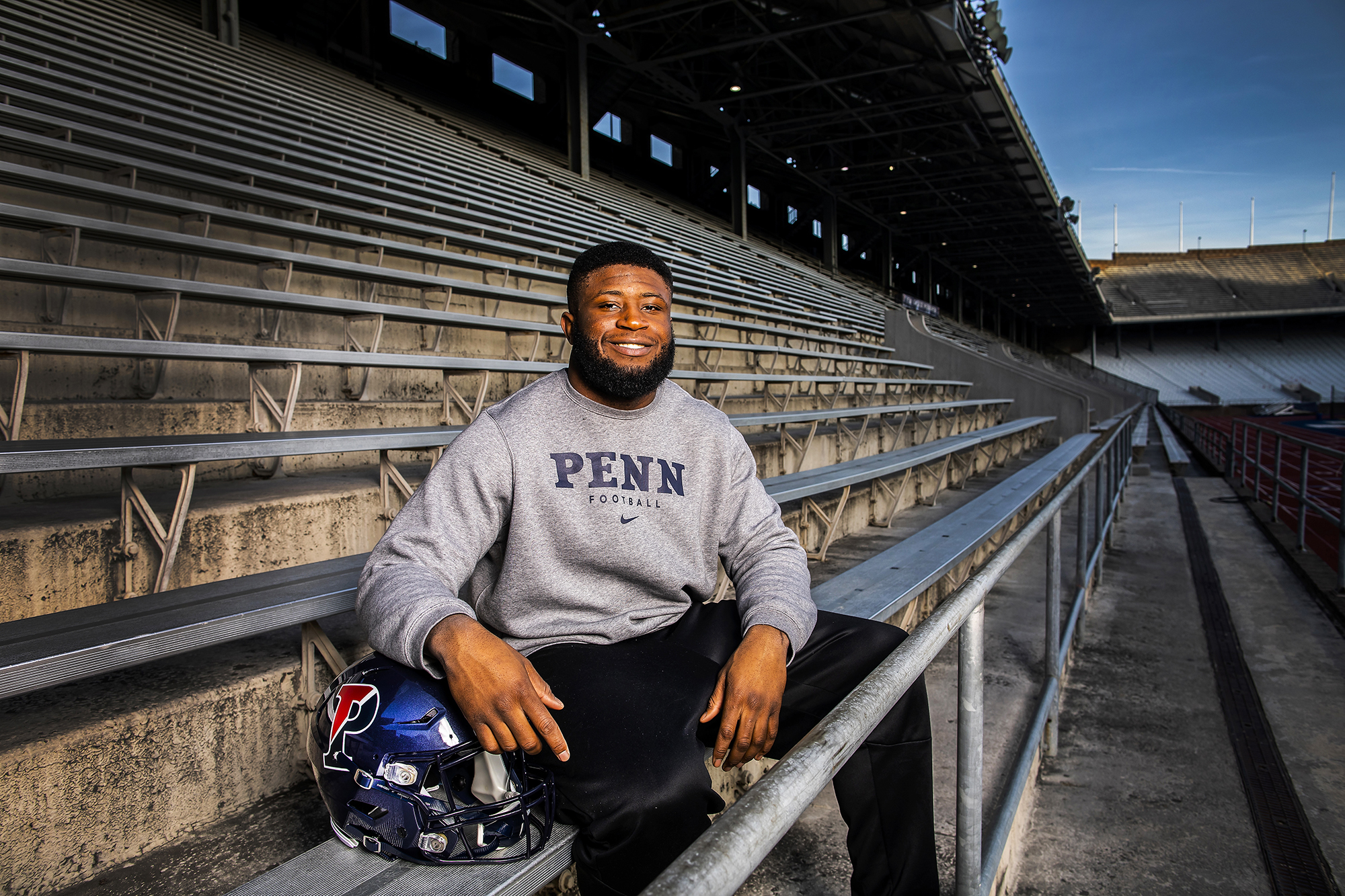 Prince Emili, a senior defensive lineman on the football team and a First-Team All-Ivy honoree, did not begin playing the sport until he was a sophomore in high school in New City, New York.
He says it was a "process" to persuade his parents to allow him to play. Natives of Nigeria, they were unfamiliar with the game and concerned that it would interfere with his academics.
"I wanted to play football since forever," Emili says. "I remember I was in like fifth grade and I went out and I practiced one time before my mom realized that it wasn't soccer. And she made me quit and made me sign up for rec soccer instead. It was heartbreaking. Ever since then, I just wanted to play, but couldn't get that green light."
Emili's older sister Uche was instrumental in winning over their parents and convincing them to let Prince sign up.
Swiftly, he caught on. 
By the middle of his junior season, he started to make some attention-grabbing plays. During his senior year, he was named team captain and selected First-Team All-State. Coming out of high school, he received interest from a variety of schools at different levels. After narrowing his choices down to the Ivy League, he says Penn "just felt right for me."
"On my first visit here, I took a tour of the campus," he says. "I walked around. It was a nice day in the middle of July. It felt like home and it was my first time on campus."
This past season, Emili was tops among Ivy League defensive linemen with 65 total tackles and 14.0 tackles for loss. He ranked eighth overall in the conference in tackles, fourth in tackles for loss, and seventh in sacks (4.5). On Homecoming against Cornell, he had 10 tackles, 2.5 tackles for toss, and 2.5 sacks in the Red & Blue's hard-fought, 21-20 win.
On a recent chilly afternoon at Franklin Field, Penn Today chitchatted with Emili about his playing days at Penn, becoming a smarter football player, his favorite memories, and his ultimate goal of becoming a doctor.
 Tell me about playing for the Quakers. How has the experience been? It's definitely been a journey. I've definitely developed a lot as a player in my time here. I spent a good amount of time just honing my physical abilities, what I can do and how fast and how strong I can do it. But I feel like what I've improved the most has been my mental. It took a while for me to be able to slow down the game and start playing the game within the game. That's where I see my biggest improvements, becoming a smarter player.
Do you remember your first game in a Penn uniform? Yes, I do. I got a good amount of reps my first game of my sophomore season and I made so many mental mistakes it ruined my playing time for the rest of the year [laughs]. That was painful. Aw man, I remember that one. That one hurt.
It seems like it turned out pretty well. All's well that ends well. But in that moment, it seemed like my world was coming down.
How were you able to improve? Practice. Coaching. Repetition. You just have to give your body that muscle memory so that you know what's coming and you can react without even thinking about it.
What do you enjoy about playing football? The physicality. You can't do this anywhere else unless you're doing mixed martial arts or you're a soldier. You can't be this physical in any other aspect of life or else you're going to jail.
Have you always been a defensive lineman? I've been playing d-tackle since I put on pads. I used to play o-line, too, in high school.
Who was your favorite player growing up? Adrian Peterson. He was the whole house's favorite player. My oldest brother loved him so we all loved him.
How about now? I'm going to sound cliché, but I'm going to say Aaron Donald because I mean that's Aaron Donald. He's an inspiration. He's not the biggest guy but he's the best guy.
Do you have a favorite memory or game from your time here? Honestly, my favorite game was Yale last year. And it's rough because we lost that game. We lost that game, but I just felt so locked in and in tune with everything. It was a night game. We were wearing nice uniforms. That game just felt kind of different. It was just pure competition.
I read an article in The Journal News from 2015 where you said you wanted to become a doctor like your father. I still do.
That's still your plan? Yes.
Why'd you choose to enroll at Wharton? I wanted to keep all options open, all doors open, just in case that wasn't the plan. And I also figured that it would be a good investment because most doctors end up going back to school after they get their medical degree to get their MBA, so I kind of wanted to flip it on its head and do it in the opposite direction.
Do you parents now enjoy watching you play football? No, they don't. They say it's scary to watch, actually. They'll come down and watch, but they definitely don't enjoy the game of football. It's intense. Every time they see me make contact, they get scared. But at least they let me do what I need to do. They're supportive of it, they just don't like to see it. It's scary as a parent.
I'm a parent, I understand. You missed your freshman year with an injury so you still have a year of eligibility remaining. What are your plans? My football career is not over. Far from it. I have a redshirt year. I'm not sure exactly where I'm going to play, but it's either here or any other school in the country. I'm already missing it.