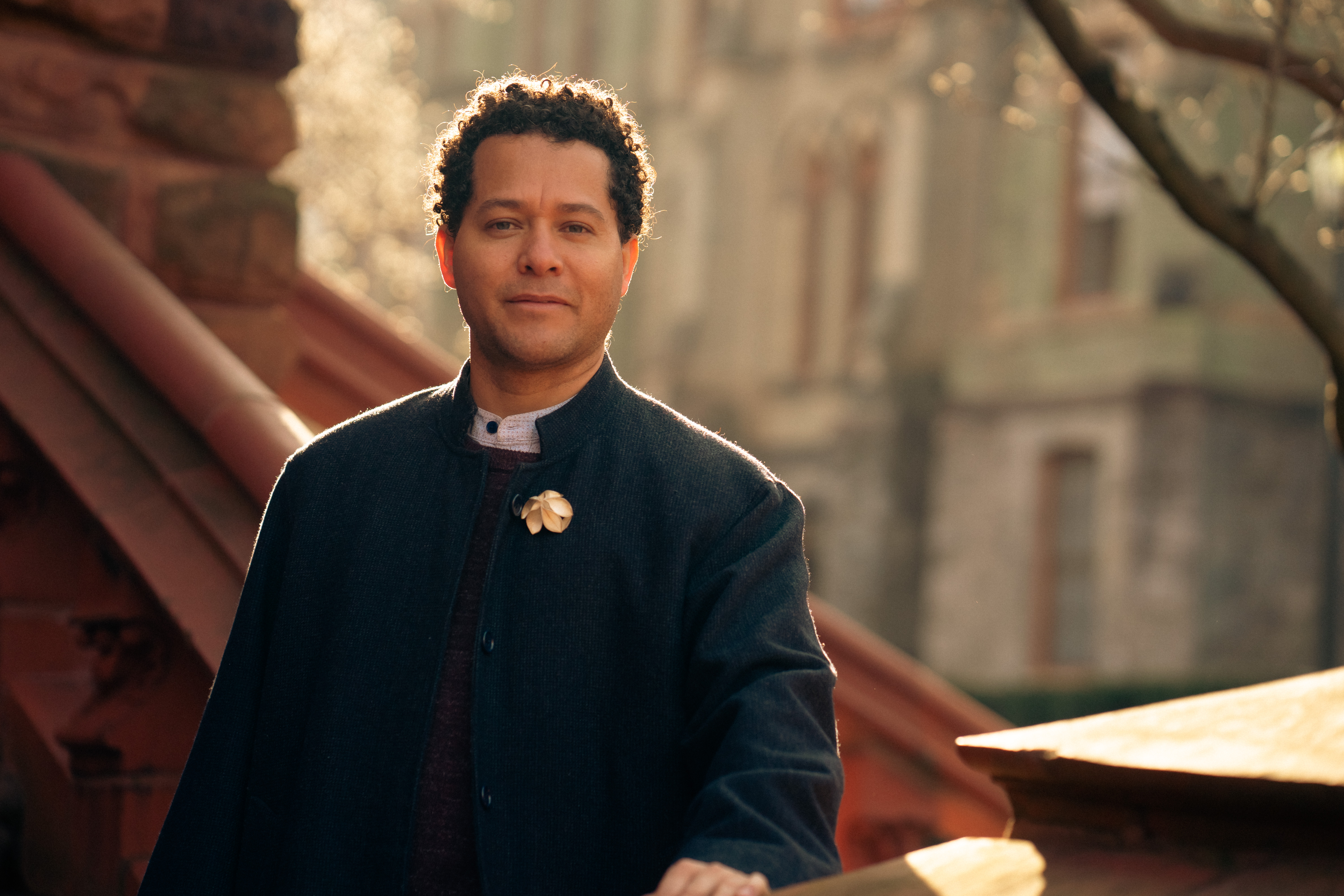 Some people dream of joining the circus, imagining with wistful anticipation the life such a performer might lead. But when Juan Castrillón said he wanted to join the circus, he meant it. "Before university, I was a professional juggler," he says. "I wanted to be a performance artist on the world stage. I wanted to join Cirque du Soleil."  
This was the mid-1990s, however, and Castrillón, who is Colombian, couldn't get a visa to work in France. "There was a political issue between the two countries. I later learned that around that time, many artists had their visas denied." So Castrillón had to pivot, deciding instead to attend university to study anthropology, followed eventually by a Ph.D. in music with a graduate certificate in experimental ethnography from the University of Pennsylvania. 
Today, Castrillón is an ethnomusicologist, the inaugural Gilbert Seldes Multimodal Postdoctoral Fellow at Penn's Annenberg School for Communication. He studies indigenous music in the Colombian Amazon, Sufi musical traditions in Turkey, and overlaps between the two. He's directed the Screening Scholarship Media Festival put on by CAMRA, the Penn collective focused on multimedia research and representation. And in the past decade, he's produced four albums and more than a half-dozen films, incorporating these mediums into scholarship in a way that exemplifies what multimodal scholars know their work can accomplish and what they envision for the field's future. 
"When I do research in the Amazon or Istanbul, I'm not only interviewing people or observing everyday activities, but I'm also using filmmaking and sound recordings as part of my methodology," Castrillón explains. "I'm not just an ethnomusicologist who makes films. It's more epistemological, a theory-oriented positionality choosing non-textual forms to present my scholarly work." 
From Medellín to Istanbul
Castrillón grew up in Itagüí, a small industrial city close to Medellín, Colombia, in the 1980s and '90s, a violent time in the city's history. To keep him away from what was happening on the streets, his parents put him in every after-school activity they could. On weekends, he carried equipment for his mother's amateur photography outings. His dad took an interest in his love of BMX bikes, founding a team that Castrillón and his brother eventually joined, along with a BMX track and school later managed by Itagüí's municipality. 
During Castrillón's high school years, avoiding the violence meant studying theater and dance at Teatro Popular de Medellín, where he also picked up juggling. That latter passion eventually earned him enough money to pay his way through college at nearby Universidad de Antioquia. 
At some point during those studies, a professor introduced him to Turkish music, piquing his interest in Sufi liturgical practices, about the role of chamber music in Sufi ritual and, more specifically, an instrument called the Ney flute. The thin woodwind looks like a traditional flute but is usually made from reed, has six or seven holes depending on the type, and is held upright like a recorder or clarinet. 
"I was so captivated by the sound that I wanted to learn how to play," he says. "I learned that you need to have a master, someone who guides you through the process. My first was a music therapist living in Chile. She said, 'If you really want to learn the Ney, you need to go to Istanbul.' But getting a visa to go to Turkey from Colombia is a long process, and I didn't have the funding." 
Leaning on his juggling skills, Castrillón started setting aside money for a plane ticket, and in 2005—after years of saving—he arrived in Istanbul. By then, he could already play the Ney proficiently, and he'd already released a CD of Sufi music, but being in Turkey allowed him to conduct true fieldwork for the first time. For two years, during a strike at his university, he continued making trips to Istanbul, eventually allowing him to complete his undergraduate honors thesis on religiosity and music. Through the process, Castrillón realized he wanted to spend his career as an ethnographer documenting musical traditions. 
He credits his parents for that path. "In grad school, you often end up doing research in close association with your advisor. You inherit the concept or in the case of anthropology, sometimes the community," Castrillón says. "That was not the case for me. My mom opened the door to my work in the Amazon. My dad's engagement with community inspired me. I was not introduced to the field by another anthropologist but by my parents." 
A multimodal doctoral dissertation
Some 500 miles southeast of Medellín sits an area of the Colombian Amazon rainforest called Vaupés, where Castrillón's mother had worked as a health department statistician. After the research on Sufi musical rituals in Turkey, Castrillón contemplated what he might study next. He turned his attention to the Tukanoan musical traditions of the indigenous people in Vaupés. Eventually he received permission to record their ceremonies and rituals. 
"That was 2013," Castrillón says. "That's when I decided I wanted to create a project that could incorporate what I had learned about Sufi music in Istanbul and a counterpart, a possible subject of comparison, featuring the shamans in the Amazon." He entered the doctoral program in Penn's Department of Music in 2014. "For my Ph.D., I wanted to do a critical comparison of those two worlds created out of sounds," he says. 
For two summer breaks he traveled to Turkey and Colombia. Then, in 2016, "I was in Istanbul when the bombing happened at the airport there. That really affected me," he says. His advisor, Jairo Moreno, an associate professor in the music department, suggested he focus his dissertation solely on the Amazon, so in 2017, Castrillón honed in on understanding how indigenous communities there manage and conceptualize their sonic archive. 
Specifically, he worked with the Cubeo Emi-Hehenewa clan, an indigenous community living in a village called Camutí. "When they perform, they don't claim authorship of the music," Castrillón explains. "The people of this community learn how to listen to and make sense of the sounds separate from the music performance we see. The emphasis is on the listeners and their ability to recognize multiple beings and voices."
Castrillón's dissertation ended up as three written chapters, a film trilogy, and a podcast (available in multiple languages), a multimodal final product that Amitanshu Das, a senior fellow at Annenberg and Penn's Graduate School of Education, has since held up as an example for Ph.D. students interested in this type of scholarship. "Juan has chosen to do multimodal work," Das says. "He isn't just writing about it. It's embedded in his research, and that's significant to present to future doctoral students trying to figure out what this should look like, as well as to other scholars similarly inclined."  
Beyond scholarship
CAMRA, the Collective for Advancing Multimodal Research Arts, is the hub at Penn for this type of research, spearheaded by Annenberg dean John L. Jackson, Jr., who will become University provost in June, and supported by Das, Deborah Thomas, who founded and runs the Center for Experimental Ethnography (CEE), and others. Given his interests, Castrillón heard over and over that he should get involved with CAMRA—so he did.  
"My first role for CAMRA was as lab coordinator," he says. "I was in charge of inviting women filmmakers who were also anthropologists to screen their work on campus and talk about their methodologies." He also participated in what he describes as a "foundational" seminar and reading group with Jackson and others. That led to an invitation from Jackson to direct the 2019 Screening Scholarship Media Festival, which, in 2023, will run for the 11th time. 
This semester, Castrillón, Penn Carey Law professor Regina Austin, and CEE director Alissa M. Jordan are co-teaching the law school course Critical Qualitative Research and Intentional Torts aimed at introducing upper-level law students to critical multimodal qualitative research. 
"Students in professional schools like law schools are less likely to do multimodal work because the written word is so important to us. Recordings are generally to be avoided," says Austin, the William A. Schnader Professor of Law, emeritus. She says that's why for this course, she wanted to juxtapose her background with someone like Castrillón's, to convey that even in a field like law, there's a place for mediums beyond text. 
"It's fun to have one of us talk from the perspective of law and the other from the perspective of an anthropologist and ethnomusicologist trained in the humanities," Austin adds. "You can imagine that Juan has much to contribute to the students' understanding of the importance of culture, where it comes from, how it changes, why it's dynamic, what the ethics are of going into communities. It gives the students a different kind of ethical training." 
Through the Gilbert Seldes Multimodal Postdoctoral fellowship (named for Annenberg's founding dean), Castrillón offers similar support to CAMRA grad students and undergraduates across Penn interested in multimodal scholarship. He developed a workshop on streaming and multi-camera set up to provide technological backup for one hybrid version of the Screening Scholarship Media Festival, and he mentors fellows in the CAMRA Mellon Fellowship Program that Das oversees. 
Beyond that, through his own fellowship, he has published his dissertation films in the Society of Ethnomusicology's peer-reviewed Journal of Audiovisual Ethnomusicology and in the Society for Cultural Anthropology's Visual and New Media Review—and there are more publications and presentations still to come. 
'The voices of their ancestors'
Castrillón's fellowship ends in August, but in many ways, he has already moved into the next phase of his work, reconnecting with where it all began. "During one of the last fieldwork sessions I had in Istanbul, I was able to work closely with someone who makes talismans," he recalls. "It's a magical practice based on the Qur'an, a form of magic connected to a very specific type of religious interpretation, but it's also a practice that's seen as being outside of religion." 
It's seen as mysterious, he adds. "It is said that the talisman touches you like a sound touches you, like something that resonates. So, I'm trying to understand it as a media practice within what I call talismanic medialities." 
It's part of Castrillón's broader attempt to think about sound from the perspective of the listener rather than the producer. Who is hearing it? How does that person make sense of the sounds being heard? What technologies, old or new, encode and decode the sounds, voices, and signs? 
"Sometimes we assume that the music-making operates in a way we all know about," he says. When someone plays an instrument, for example, the assumption is that the sound being heard matches up with what's leaving the instrument itself. "That's not the case everywhere," Castrillón says. "Sometimes when people listen to instruments, they are not listening to the sound being produced but maybe, to the voices of their ancestors." 
Castrillón is on a quest to answer these and many other questions that fall under the general header of multimodal scholarship. He never joined the circus and he doesn't juggle much today, but in many ways the work he's doing has that same ability to inspire awe, to open people's minds to new ways of thinking about, watching, and listening to the world. 
Juan Castrillón is the inaugural Gilbert Seldes Multimodal Postdoctoral Fellow at the Annenberg School for Communication and a regional scholar in Penn's Middle East Center. In 2021, he earned his Ph.D. from Penn's Department of Music in the School of Arts & Sciences.
Regina Austin is the William A. Schnader Professor of Law, Emeritus, at the Penn Carey Law School, where she runs the Penn Program on Documentaries & the Law. 
Amitanshu Das is a senior fellow and director at Penn's Annenberg School for Communication and Graduate School of Education.