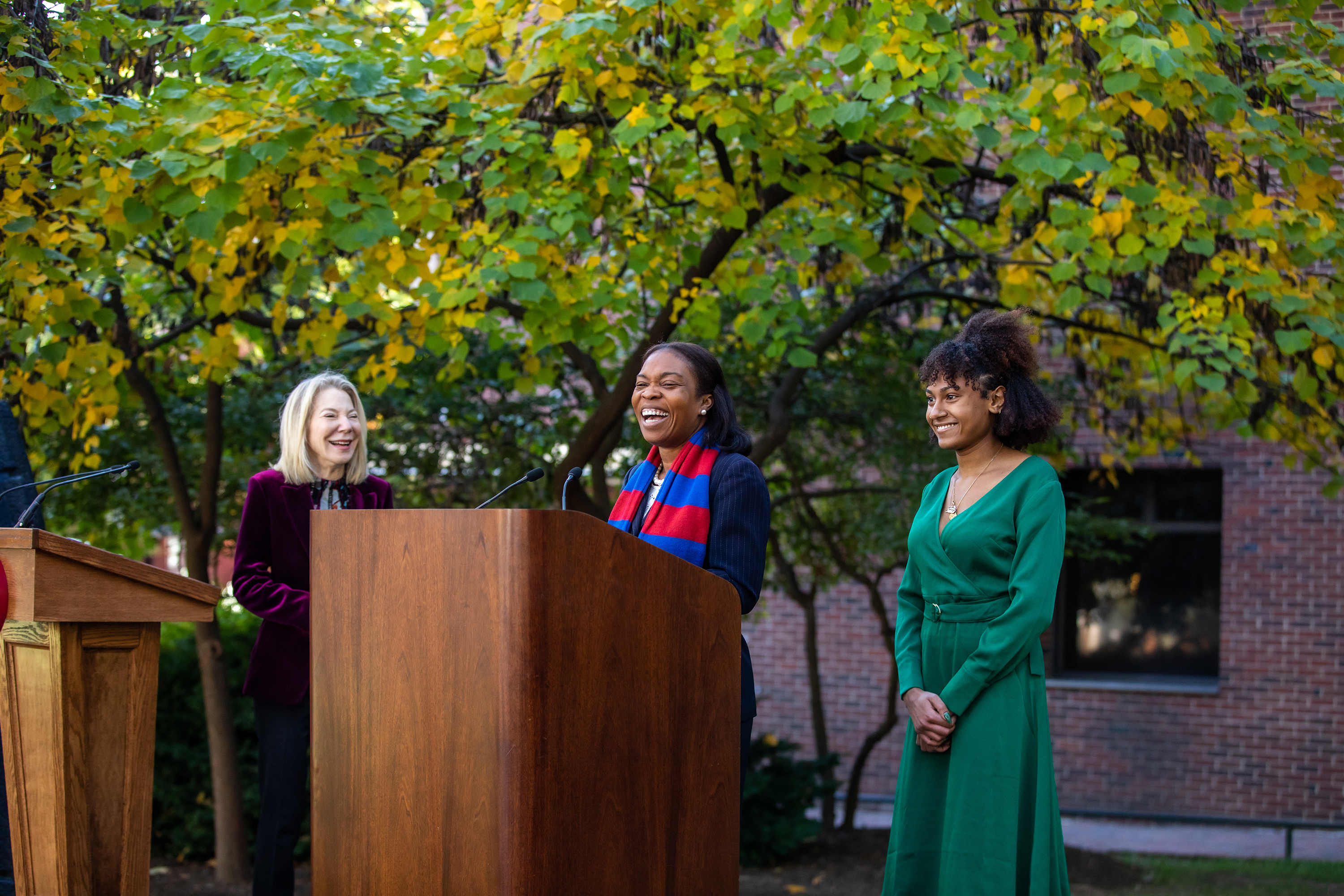 A year after its installation at the gateway to College Green, acclaimed artist Simone Leigh's Brick House received its warmest welcome this past weekend as part of Homecoming 2021. President Amy Gutmann, along with Penn students, faculty, staff, alumni, and friends, gathered Saturday at 34th and Walnut streets and online to officially dedicate the 16-foot-high, 5,900-pound bronze sculpture. 
With an eye toward the towering, cherished artwork next to her, Gutmann couldn't help but refer to it as "magnificent" and "breathtaking." "All I want to do is look at it," she said, "and think about what it represents for our campus, for our city, our country, our world." 
A piece that produces "thought-provoking awe," said Gutmann, "this is a sculpture that is at once dazzling, it's daring, and it is dramatic." It provides a "striking image of strength, of grace, of mystery, and of resilience on our campus," she added. 
Gutmann proceeded to thank alumni Glenn and Amanda Fuhrman whose vision and generosity helped gift Brick House to Penn, and lauded Leigh, who Gutmann aptly called "one of the most consequential artists of our time, bar none." Leigh, whose work has been represented in major museums, galleries, and exhibition spaces, including a solo exhibit at The Guggenheim in New York City, was recently named the first Black woman to represent the U.S. at the 2022 Venice Biennale. 
The best art, indeed, signals different meanings to different people, based on their unique experiences. Brick House has already been, and will continue to be, a symbol to inspire "countless conversations" about its meaning, Gutmann said. Abundantly open to interpretation, Gutmann welcomed members of the Penn community to share their own personal perspectives with those joined together for the program. 
University Chaplain Chaz Howard, also Penn's Vice President for Social Equity and Community and a proud Penn alumnus, along with co-chairs of the James Brister Society Patricia Martin and Michael L. Barrett, described how grateful they are for how far Penn has come, celebrating with Brick House Black femininity and Black beauty on a campus today that long ago wouldn't think of it. The best way to heal and move forward, said Martin, is to "superimpose new memories and traditions on the previous ones."
Barrett continued: "The reality is, in this environment, where the country, and our nation, and our world continues to be divisive, this is an opportunity to bring us together. I think about inclusiveness, and I think about where we are going."
Senior College of Arts and Sciences student Taya Lowery-Williams, who is studying international relations, also spoke to the group, noting that one of the most important organizations she's involved in on campus is UMOJA, helping Black students feel supported, heard, and appreciated. 
"But one thing that I think we overlook in doing this work, and in making sure students have the resources that they need, is the need for celebration," Lowery-Williams said. "Sometimes you don't want to think about overcoming your hardships or the challenges that you've been through; you want to celebrate your accomplishments, who you are, your own beauty, your heritage. To me this statue is a celebration. It's a celebration of Black women, it's a celebration of our beauty, it's a celebration of our presence on this campus."
Executive Master of Public Administration candidate Guerline Laurore agreed, noting, "The presence of this beautiful and imposing structure is a reminder to us all that we belong."
An even deeper dive into the meaning of Leigh's Brick House took place just before the dedication, during an hourlong, virtual panel discussion featuring University Curator and Executive Director of the Arthur Ross Gallery Lynn Marsden-Atlass; Institute of Contemporary Art Director Zoë Ryan; alumna and ICA board member Joey Magliocco, also a docent at the Whitney Museum of Art; and Penn Professor of English, Director of Center for Africana Studies, and Edmund J. and Louise W. Kahn Professor for Faculty Excellence Margo Crawford. The conversation was moderated by the Class of 1940 Bicentennial Term Associate Professor in the Department of the History of Art at Penn Gwendolyn DuBois Shaw.
DuBois Shaw, noting how Brick House "packs a powerful, emotional punch," asked panelists to begin the conversation by sharing their impression of the piece in three words. Crawford said: "Belle/Bell without eyes;" Marsden-Atlass said: "Majestic, beauty, strength;" Magliocco said: "Bold, beautiful, proud;" and Ryan concluded: "Past, present, future." These themes held true throughout the conversation, which was as wide-ranging as Brick House can be described—from interpreting the sculpture's very unique "presence of the absence of the eyes," to delving into its history and development by Leigh and its thorough and detailed installation on campus, to the mark it undoubtedly has on Penn and in Philadelphia. 
Particularly, Marsden-Atlass noted how transformative it is to have Brick House part of Penn's collection of 8,000 artworks. Attempting to "change the narrative" of the University, Brick House is the first public sculpture on campus (out of nearly 60) created by a Black woman. 
Magliocco, who had followed Leigh's work since Brick House was first displayed on the High Line in New York, noted how thrilled she was when she first heard Penn would not only receive an iteration for campus, but also where it would be displayed. "She sits as an ambassador to the campus," said Magliocco, adding, "She's going to keep the dialogue open and going for quite a while. It's time and it was needed."
Exciting for Ryan, who has long committed to offering free art, she says works like Brick House on campus help reinforce "Penn's mission of presenting and making accessible the most progressive forms of contemporary art for all audiences." She later noted how she looks forward to finding ways to share Brick House not only with those on campus but with all of Penn's neighbors.
In concluding the conversation, Crawford encouraged listeners and viewers to channel Commodores' 1977 "Brick House." Sailing past the "mighty-mighty" part, Crawford emphasized the words: "Just lettin' it all hang out."
What Penn is beginning to commit to by virtue of choosing this "particular sculptural form that remains fairly opaque," Crawford explained, is that "students of color should recognize their right to be opaque in any way they want to be."
"I hope that is what Penn has committed to, that Penn will continue to honor this Black public art so that Brick House does not become some type of single affair," Crawford said.