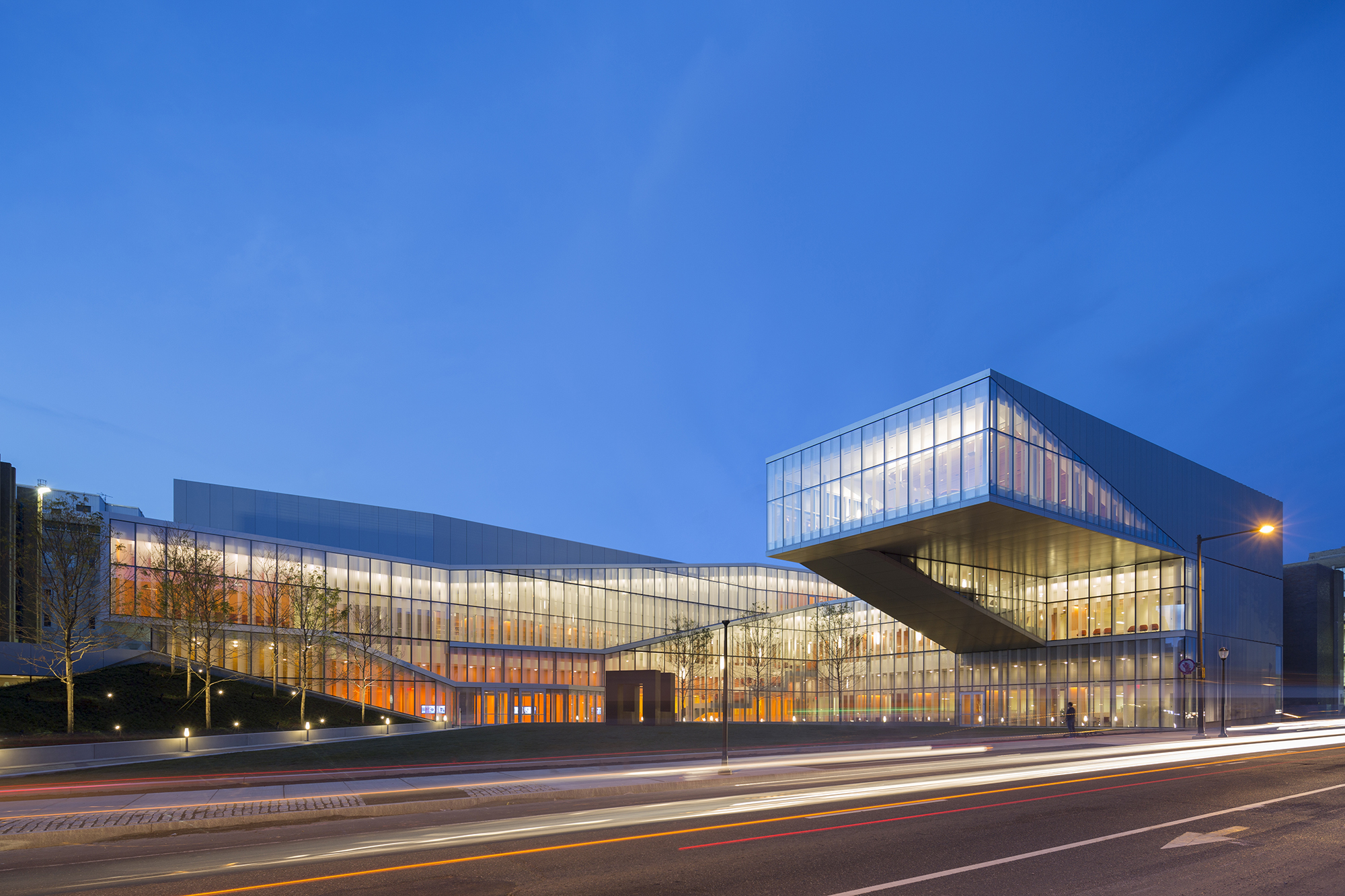 This year marks the 10th anniversary of the Singh Center for Nanotechnology, a building that exemplifies cutting-edge scientific research by virtue of its sleek geometry and meticulous attention to detail by all those involved in its development. 
Heralded by many as an architectural gem not only for the University of Pennsylvania but for Philadelphia, the iconic glass-clad, cantilevered 78,000 square-foot structure is nestled between the Laboratory for Research on the Structure of Matter and David Rittenhouse Laboratory on the eastern edge of campus. It was also Penn's first collaborative building between two schools: the School of Engineering and Applied Science and the School of Arts & Sciences. 
Over the last decade, the Center has opened its doors to students, academics, industry professionals, and many more who seek out the facility's state-of-the-art equipment geared at serving two high-precision objectives: to build and measure. 
Function guiding form: the planning phase
Eduardo Glandt, emeritus dean of Penn Engineering, played a crucial role in establishing the iconic structure. He jokes that he was quite literally at the ground floor of the $93 million-dollar Center's construction as he led the charge in securing funding, scouting faculty and staff members, and meeting with architects to make the dream a reality. Glandt recalls that finding the right architects was no small feat, saying, "The demands on the designers were steep. So, we were in contact with about 10 different firms, and we had to go to Helsinki, Tokyo, and Basel to find the right people who were up for the challenge."
Ultimately, the firm suited to the task was closer to home than expected: Weiss/Manfredi, a firm co-founded by Marion Weiss, the Graham Professor of Practice in Architecture at Penn's Weitzman School of Design.
Glandt explains that the Singh Center's design, with its distinctive U-shape, had been born out of necessity, as it needed to be seamlessly integrated around the pre-existing Edison Building. Later, the Edison Building, once an integral part of the Singh Center complex, would be razed and the land turned into a garden, adding yet another layer of serenity to the landscape. 
Another set of significant constraints the architects faced was that the internal environment needed to be pristine: free from vibrations to accommodate an electron microscope in the characterization facility and absent certain ultraviolet light used in the fabrication room. The latter resulted in another unique identifier, namely, the building's marigold décor.
Glandt notes that the glass that separates the common areas from the photolithographic activities, which is essentially using light to transfer patterns to materials, is amber to prevent UV contamination. "The architects ran with this constraint and used it as a motif for the interior," says Glandt. "It's incredible to see what they were able to do, and how that's given the building such a distinct look."
Glandt also expresses admiration for the building's aesthetics and believes it is part and parcel of the Center's success over the years. 
"Beauty tends to attract beauty, and I think the Center's emblematic of this in many ways," he says. Prior to opening, Glandt and others worked hard to resurface Tony Smith's We Lost, a famed sculpture that used to sit on College Green, because they knew its cubic geometry would greatly complement the Center's. 
Following this, members of the community reached out, suggesting and offering more artworks to be showcased in the Center, one of which includes some of the first microscopy artistic photographs. This set of photos can be seen at the entrance of the electron microscopy facility. Glandt also notes that the architects added We Lost to their renderings and recalls that when he presented the plans to Scientific Director Mark Allen during his recruitment, Allen marveled at the notion of art at a fabrication lab.
A hub for innovation
Allen says he has witnessed the Center's facilities play an important role in a multitude of projects over the last 10 years. From pioneering drug delivery mechanisms targeting cancerous cells on a molecular scale to formulating energy-efficient batteries and next-generation semiconductors, the Center's multidisciplinary approach has been a strength, enabling researchers from varying disciplines to come together in one space. Although the Singh Center was initially a joint venture between Penn Engineering and Arts & Sciences, Scientific Director Mark Allen says it has also proven useful to researchers from the  Perelman School of Medicine, Weitzman School of Design, and schools of Dental Medicine and Veterinary Medicine. 
"It's quite a nexus of collaboration, which I believe is the essence of innovation," says Allen, also the Alfred Fitler Moore Professor in Penn Engineering. "Our ethos revolves around converging varied fields of study, pushing the boundaries of what's conceivable, and fortunately, we see that happen at an exciting time for nanotechnology."
In reflecting on the Center's growth and what continues to draw people in, Allen says, "The efforts by the deans involved have been tremendously helpful in allowing us to achieve our science goals."
Allen praises the current Deans, Vijay Kumar of Engineering and Steven J. Fluharty of Arts & Sciences, for picking up the mantle in expanding the Center's capabilities through supporting initiatives for hiring faculty with diverse backgrounds in the nanoworld. 
"The Singh Center has driven revolutionary advancements at the nano- and microscale- across many applications," says Kumar, Nemirovsky Family Dean. "This includes novel micro-electromechanical systems, the invention of new catalysts and storage technologies to combat climate change, and the development of new biomaterials and drug delivery systems for health care."
Fluharty, Dean and Thomas S. Gates, Jr. Professor of Psychology, Pharmacology, and Neuroscience, adds that the Center embodies a spirit of collaboration that over the past decade has paved the way for significant advancements in a wide range of research areas. 
"One of our research teams harnessed the Center's state-of-the-art tools and materials to develop a new drug delivery device that can transport microparticles against cardiovascular flows, and another group created patterned photoelectrodes that use sunlight to convert carbon dioxide to energy-dense chemical fuel—and these are just two examples of the innovate work we are seeing," he says. "I look forward to many more exciting discoveries in the years to come."
Gerald Lopez, the Singh Center's associate director and director of business operations, adds that under Allen's leadership, the facility has been at the forefront of research, boasting more than 1,000 scientific publications, enabling more than 200 work years, and has been crowned the Mid-Atlantic Nanotechnology Hub. 
Helping to shape the nanotech future
Allen notes how it's been an exciting time for nanotechnology these last few years, citing the 2022 CHIPS and Science Act as recognition of the impact this field has on many spheres of modern life and science and, more recently, how the 2023 Nobel Prize in Chemistry was awarded to researchers who pioneered a method to use nanocrystals for a range of activities related to light transmission.
Allen explains how the Center has also inspired the next generation of nanotech practitioners by lowering the barrier of entry to some of the most sophisticated machining tools in this space. 
"The Center has really become a testbed that welcomes people with ideas. We provide an environment that teaches and fosters practices that challenge those ideas and potentially use that information to build something," he says. "We will continuously partner with other institutions in and around Philly, like the Community College of Philadelphia, to give more students hands-on experience with the cutting-edge tools that will transform the future."
This is an especially meaningful partnership since Allen notes the employment workforce in many large semiconductor fabrication places is highly diverse.  
"It's roughly 50% bachelor's level engineers, which is usually the technical staff, maybe 25% graduate degrees, and the other quarter, people with either no college or associate's degrees because there is a need at all levels." Allen says. "So, if we're going to have an effective workforce development activity, we need to engage at all levels. And I think that's one of the wonderful things being done at places like the Singh Center." 
Workshops, seminars, and outreach programs have been a staple, with popular initiatives focused on instilling a love for STEM in K-12 students. In recent years, the Center has been graced by an array of esteemed speakers from around the globe, including members of the Cuban delegation like nuclear physicist Fidel Castro Diaz-Balart; acclaimed actor and science enthusiast William Shatner; renowned physicist and former president of the Optical Society, Tony Heinz of Stanford; chemist and 2022 Kavli Prize winner George M. Whitesides of Harvard; and J.D. Grom, senior advisor to the Secretary, U.S. Department of Commerce. Their insights have further enriched the center's vibrant learning environment.
Looking forward, Glandt and Allen are filled with anticipation. "Nanotechnology's role in our daily lives is burgeoning," Allen says. "The Singh Center, with its unparalleled infrastructure and dynamic research community, is geared to spearhead this transformation and we're excited to see what's next and to keep sharing what we have coming down the pike."
Mark Allen is scientific director of the Singh Center and the Alfred Fitler Moore Professor in the School of Engineering and Applied Science at the University of Pennsylvania.
Eduardo Glandt is Nemirovsky Family Dean emeritus of the School of Engineering and Applied Science at Penn.
Steven J. Fluharty is Dean of the School of Arts & Sciences and the Thomas S. Gates, Jr. Professor of Psychology, Pharmacology, and Neuroscience at Penn.
Vijay Kumar is the Nemirovsky Family Dean and Professor at Penn Engineering.
Gerald Lopez is associate director and director of operations and business development at the Singh Center for Nanotechnology.