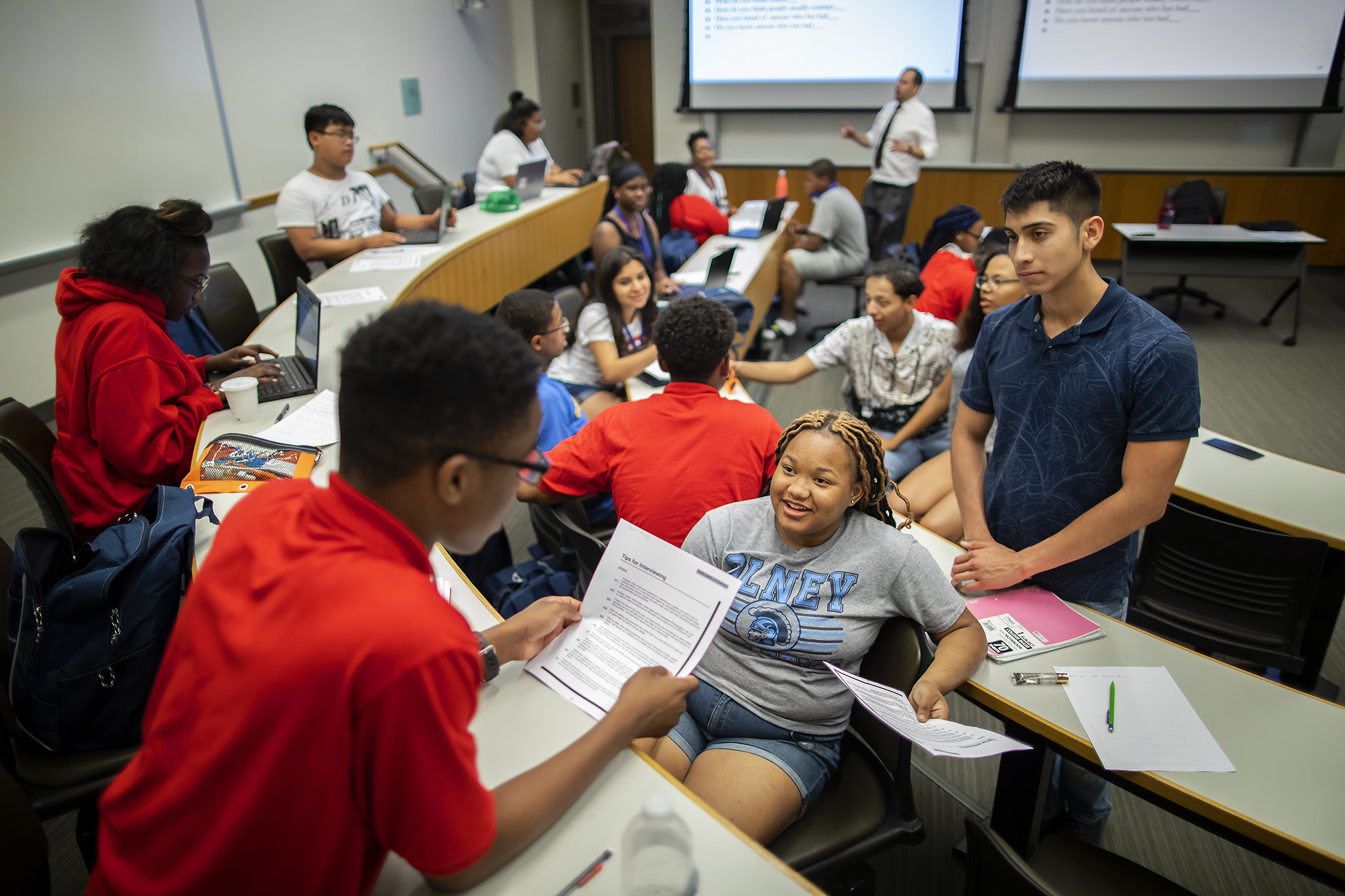 Ijanae Williams has her sights set on becoming a psychologist. Danye' Bundick wants to be a midwife, as well as an elementary school teacher. Kankoue Folly is thinking aerospace and computer engineering. Jared Williams? Nuclear engineering.
These four students—all rising 10th graders from different Philadelphia public schools—dream hard and dream big. And thanks to an inaugural program at the Wharton School this summer, they're each one step closer to making their dreams a reality.
Participants in SMASH Academy, the Kapor Center's flagship program, these students—as well as 31 others from the area—are in the midst of a STEM-intensive residential college prep program on Penn's campus. For five weeks, the students live and breathe college life, staying in Harnwell College House and taking classes at Huntsman Hall. A partner with the Wharton School specifically, this is the first year SMASH—started 15 years ago on the West Coast, and led today by CEO Eli Kennedy, a Wharton MBA alumnus—has teamed up with an Ivy League university, as well as a business school.
A completely free program that caters to students in underserved communities, SMASH exposes them to rigorous, project-based courses in math, science, design thinking, and computer science. At Wharton, there's an added aspect of business and entrepreneurship that's being explored through electives, including marketing and economics. The program runs for three consecutive summers, with monthly meetings for the students during the school year.
"Being able to actually say that you spent three summers at Penn, staying on campus and taking classes at Wharton, the amount of confidence and knowledge and experiences they'll get is going to mean they can go to any college campus and be like, 'All right, I got this,'" says LaToya Tufts, the SMASH Wharton site director. "Helping with that transition is huge and giving them the opportunity to be in one of the most prestigious places in the world automatically gives them more leverage."
With a theme this year of "communicable diseases," Tufts explains how, in biology class, the students learn what a disease is, and how to identify one. In math, they learn how to model data points to figure out who in their communities might be affected by certain diseases. In design thinking, they discover the process of finding a solution and testing it. Then, in computer science class, the students, divided into groups of three or four, create websites to bring attention to the disease they've decided to explore. The courses, which culminate on Aug. 4 with an exhibition event, are taught on Penn's campus by a slew of Philadelphia-area educators.
"The best part of it for me has been that you just get so much help," says Williams, who goes to Masterman. "After class, if you have any questions, you can become completely clear, and end up knowing exactly what you're doing."
There's also a social justice curriculum component, says Tufts, which they call "STEM-cursions." Last week, for instance, the students visited Penn's Department of Africana Studies to learn about and discuss economics and race.
For the entire five weeks, the students are on campus every day—attending classes Monday through Friday, with events in the evenings, and field trips and workshops on the weekend. A weekly gathering, "networking night" brings community members to campus to engage with students, Tufts says, "so the students learn to speak with folks and interact and mingle." A "speaker series," also every week, hosts a panel of professionals in STEM—"with a focus on people who look like the students," Tufts says.
"The speaker series is interesting," says Folly, who goes to Science Leadership Academy, "because it serves as a form of inspiration to see people from different backgrounds working in STEM fields, and some of them I'm interested in." 
It is with intent, too, that the resident assistants involved with SMASH have similar backgrounds as the student participants. Christopher Valencia, an RA for the program and rising sophomore at Penn who's studying mechanical engineering, considers himself part of the first-generation, low-income population—and owns it, setting an example as a mentor for the students, who noticeably look up to him.
"I come from the same background as a lot of the kids here, and it's great to see them grow," says Valencia, who assists the students with coursework and projects inside and outside of the classroom. "I see myself in them."
Lori Rosenkopf, vice dean and director of the Wharton Undergraduate Division, who has worked to make sure the first SMASH Wharton site came to fruition, says the program not only helps pique students' interest in STEM, but also boosts their college readiness.
Take Alfa Lopez' experience, for instance. The soon-to-be senior in Penn's Department of Mechanical Engineering and Applied Mechanics was a SMASH scholar back in high school, in her hometown of Los Angeles. She still remembers the program fondly today, as it gave her "the idea that I could go to college and really succeed," she says.
"It gave me the feeling of what it's like to be on a college campus, be independent, and away from home," Lopez adds. "It helped me acclimate more easily to Penn in comparison to how I probably would have responded had I not been part of the program. There aren't a lot of programs like that."
Rosenkopf says SMASH also helps students be more prepared to manage admissions committees at top universities. 
"It's going to change the college placement outcomes for these students in such a significant way," she explains.
That's great for Penn, too, she says.
"It'll allow for an even broader pool of candidates who have achieved enough academic preparation to be ready to come and succeed at a place like Wharton, a place like Penn," Rosenkopf says, noting that she expects SMASH Wharton to be ongoing—adding a new cohort of 35 students each summer for the years to come.