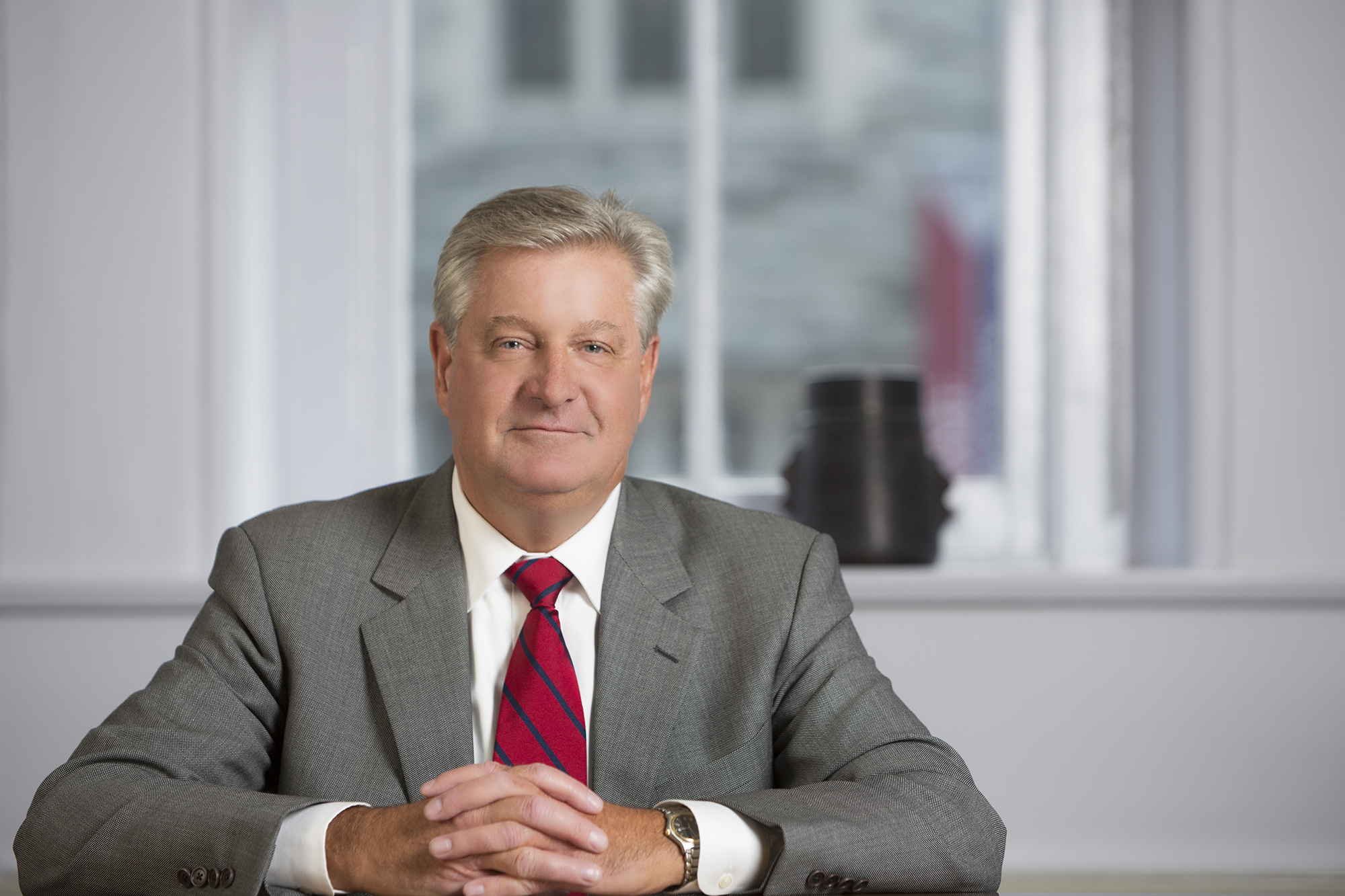 Steve Fluharty, a neuroscientist and dean of the School of Arts & Sciences (SAS), came to Penn as an undergraduate in 1974. With a batch of what he felt were insightful poems attached to his Penn application and a thirst to write the next Great American Novel, he thought he would be an English major.
But like so many first-year undergraduates who leap into the deep end of academia, he was sure until he wasn't.
Decades later, his shift away from that plan—now plainly looked back on as one written in clay and not concrete—represents what he considers a core ethos of the arts and sciences: flexibility that begets a sense of curiosity, and a plain-old willingness to take a course if only because you want to.
"Look at me, I was going to be an English major—I was convinced of it," Fluharty says, good-humoredly. "The willingness to explore to the fullest extent your intellectual curiosity, to take those chances and classes just because you're interested, and to not be consumed by the grade you get: That is exactly what allows your life to change course. It's exactly what opens up doors you may not have even known were there."
Fluharty would know. He has spent the past seven years, since July 2013, as dean of SAS, but admits that, as someone who has long considered himself a teacher and researcher primarily, he did not set out for the role. Before his deanship, he served as senior vice provost for research—another administrative role he did not originally set out for, but was talked into—and as director of what was formerly known as the Biological Basis of Behavior Program (now known as the undergraduate Neuroscience Program). He has held appointments in the Department of Psychology in SAS and in Pharmacology and Neuroscience in the Schools of Medicine and Veterinary Medicine—the latter appointment a reflection of how much the study of neuroscience has evolved and crossed disciplines since Fluharty stepped on the scene as a Penn professor in 1986.
Since he was a kid growing up in Cherry Hill, New Jersey, Fluharty's life has involved Penn: his father and grandfather scooping up season tickets to games at Franklin Field, field trips to the Penn Museum, and high school outings to basketball games. Not to mention a longstanding history of the South Jersey community commuting to Penn for work, whether as University or hospital staff. And now, with a reappointment as dean of SAS that began in July and carries him through 2025, Fluharty's history with the University continues, as he carves his own path toward fulfilling SAS's promise as the home of a comprehensive liberal arts education that not just cultivates knowledge, but integrates it.
Particularly as the times demand it.
Climate change, the emergence of big data, a globalized world—this rapidly changing environment has heavily influenced the approach to his first term and the Strategic Plan for Penn Arts and Sciences. That plan is one he issued after an extensive one-year listening tour from 2013-14, getting to know the vast field of departments and players in what is the University's largest school. The plan was released to the public in January 2015 and celebrated what he dubs the "timeless" skills that come from a liberal arts education, and what he further refers to in conversation as the "disciplinary expertise" that's so foundationally crucial to interdisciplinary success. At the same time, the strategic plan set an ambitious agenda for SAS and its future, calling for faculty and student diversity; interdisciplinary collaboration; expansion of online learning; de-siloing of departments; and an increase in public policy research.
The plan also prioritizes faculty hiring and program development around strategic interdisciplinary themes: these include the development of a center for advancing knowledge of energy, sustainability, and the environment (soon to be housed in the Vagelos Laboratory for Energy Science and Technology); support for new directions in the humanities, including through the launch of the Price Lab for Digital Humanities; promotion of research and teaching around diversity, inequality, and human well-being; and a Mapping the Mind initiative.
Many of these efforts have indeed borne fruit. The Ronald O. Perelman Center for Political Science and Economics opened in 2018 and houses two core academic departments and initiatives in Global Inquiries and in Public Policy and Social Impact. More faculty have been hired who boast expertise in problems of our time, and new programs have been brought to the School, with new centers like MindCORE and the Center for the Study of Ethnicity, Race, and Immigration. The College of Liberal and Professional Studies (LPS), notably, launched the first-ever online Ivy League bachelor's degree in 2019, catering to an audience of working adults and nontraditional students who require more flexible schedules than the typical undergraduate.
"Integrity is the centerpiece of his leadership style," says Vice Dean for Professional and Liberal Education Nora Lewis, who worked with Fluharty and others to develop the online bachelor's program. She describes him as very direct, but also an active listener; he is, she says, someone who is not wedded to his own opinion and values team input.
"He was instrumental in helping us conceive the idea of doing [the online bachelor's] and has been the biggest champion of it from the beginning," Lewis adds. "Without his endorsement and support, it wouldn't have happened."
Lewis describes him as being instrumental in other initiatives at LPS, too, like new master's programs, community programs, coding bootcamps, and more.
Craig Carnaroli, executive vice president, cites Fluharty's work with developing the undergraduate Neuroscience Program, the Penn Center for Innovation (PCI), and his thoughtful leadership style as dean as points of note in his career at Penn so far.
"Steve is a good listener," says Carnaroli. "We did a very good pulse-taking of the community and their concerns [when developing PCI], but he has good judgment in discerning what is a real challenge versus what is noise. And he's not afraid of change. Sometimes, we can get paralyzed with, 'If we change that, so-and-so is unhappy,' but it's like he sees the collective greater good.
"He's a person who delivers change and progress but does it in a way that brings people along with a vision."
Marc Schmidt, co-director of the Undergraduate Neuroscience Program, where Fluharty taught from 1994 to 2005, says Fluharty is someone who consistently makes those in the room feel comfortable. He also emphasized his talents as a teacher.
"He would always receive teaching awards," Schmidt says. "Students evaluate professors, and his were always up there on the top. He's very positive, polished, very smooth, entertaining, and students just loved him."
He earnestly misses teaching, Fluharty says.
"[The transition away from teaching was] bittersweet, to be blunt," he explains.
He recalls still getting to enjoy research by living through the work of others but wasn't quite able to fill that space as an administrator.
"I will never forget that last class I taught in BBB109 (Introduction to Brain and Behavior); I was a little like a retiring athlete," he says. "I reluctantly told that class that was likely the last time for the foreseeable future I'd be teaching the course for undergraduates. And that was hard. I will admit I broke down a little. To this day, I still miss it—although I have so many opportunities to talk about the school's vision that I feel those are still teaching moments."
Larry Jameson, dean of the Perelman School of Medicine, led the reappointment committee for Fluharty that unanimously voted for his reappointment after a rigorous three-month evaluation that would lend an informed recommendation to President Amy Gutmann and Provost Wendell Pritchett. Jameson describes Fluharty as someone who does his homework, who has impressively shepherded a vision mapped in 2015 into a series of realities in 2020.
He's also someone who Jameson says participates in a "collegial" group of deans that is diverse in background and contributes to an interdisciplinary spirit.
"We have, and it is absolutely credited to President Gutmann, very collaborative deans who are not territorial who want to work together," says Fluharty. "In fact, one of the secret ingredients to being a successful dean at Penn, maybe not before but now, is to embrace the collaborative spirit and to want to do those things."
"For decades, Dean Fluharty has been a remarkable leader at Penn," says Gutmann. "I have the utmost confidence that he is exceptionally positioned to lead Penn Arts & Sciences, our largest school, through a continued period of great success. His thoughtful, principled, and proven dedication to the University, especially during our most tumultuous times, showcases his ability to strategically unite and brilliantly innovate for our students now and in the future."
In thinking about his second term, Fluharty is of course influenced by the global pandemic that has so fundamentally changed the dynamics of teaching. He says he has been amazed by the demonstration of resilience when the pandemic shut down campus operations in March, and with the help of faculty and staff was able to nimbly address questions around grading policies, online learning, ongoing scholarship, and more. He held a position on the Recovery Planning Group alongside Jameson and says there is nothing about what has happened this year that has caused "a moment's pause about whether I made the right decisions."
"Since March, we've been through a series of COVID-19 pandemic-related decisions, making decisions and implementing them effectively, beginning with getting students off campus in a hurry and transitioning to remote instruction," says Narayan Avadhani, a professor of biochemistry in the Department of Biomedical Sciences, who got to know Fluharty in their time together at Penn Vet and praised his "intellectual range." "There's also a lot of thinking needing to be done in an organized way, and he did a great job of leading us through that. His familiarity with Penn helps, but also the ability to receive and synthesize advice and articulate decisions in a clear way—and starting to work with the president and provost and other deans in a way that's coordinated. So not just across the sciences, but the University."
Fluharty imagines the pandemic will change how some future business is conducted, like large faculty meetings where he says he now sees greater attendance than he did before. It's also an opportunity to expand online instruction.
"I think what we're doing now in terms of online instruction is state of the art," Fluharty says. "That was true of Arts & Sciences in pockets, but now it's more widespread. So, you'll see more educational models that are hybrid, asynchronous lectures, synchronous interactions … you'll see a variety of models to advance instruction while never diminishing the primacy of the residential experience on Penn's campus."
For the next five years, Fluharty wants to assess the accomplishments from the initial strategy devised in 2015 and chart a blueprint that expands upon the foundations and frontiers of that original plan. To start, he has relaunched faculty working groups to examine progress made and what still needs to be done.
"The school has great momentum," Fluharty says. "The challenge is to really maintain that momentum. Because the trajectory is terrific.
"Now, with the reappointment and five years into it, relaunching the working groups to look at what we've done and haven't, we then say, 'What are the new opportunities that have emerged from the progress we've made during the first five years of the plan?'" he adds. "And we've shared with all these groups just that: the progress. And I think we all have reason to be proud."
Homepage image: (Pre-pandemic image) Fluharty speaks at Perry World House as part of the Stephen A. Levin Family Dean's Forum, an annual celebration of the arts and sciences first initiated in 1984. (Image: The School of Arts & Sciences)