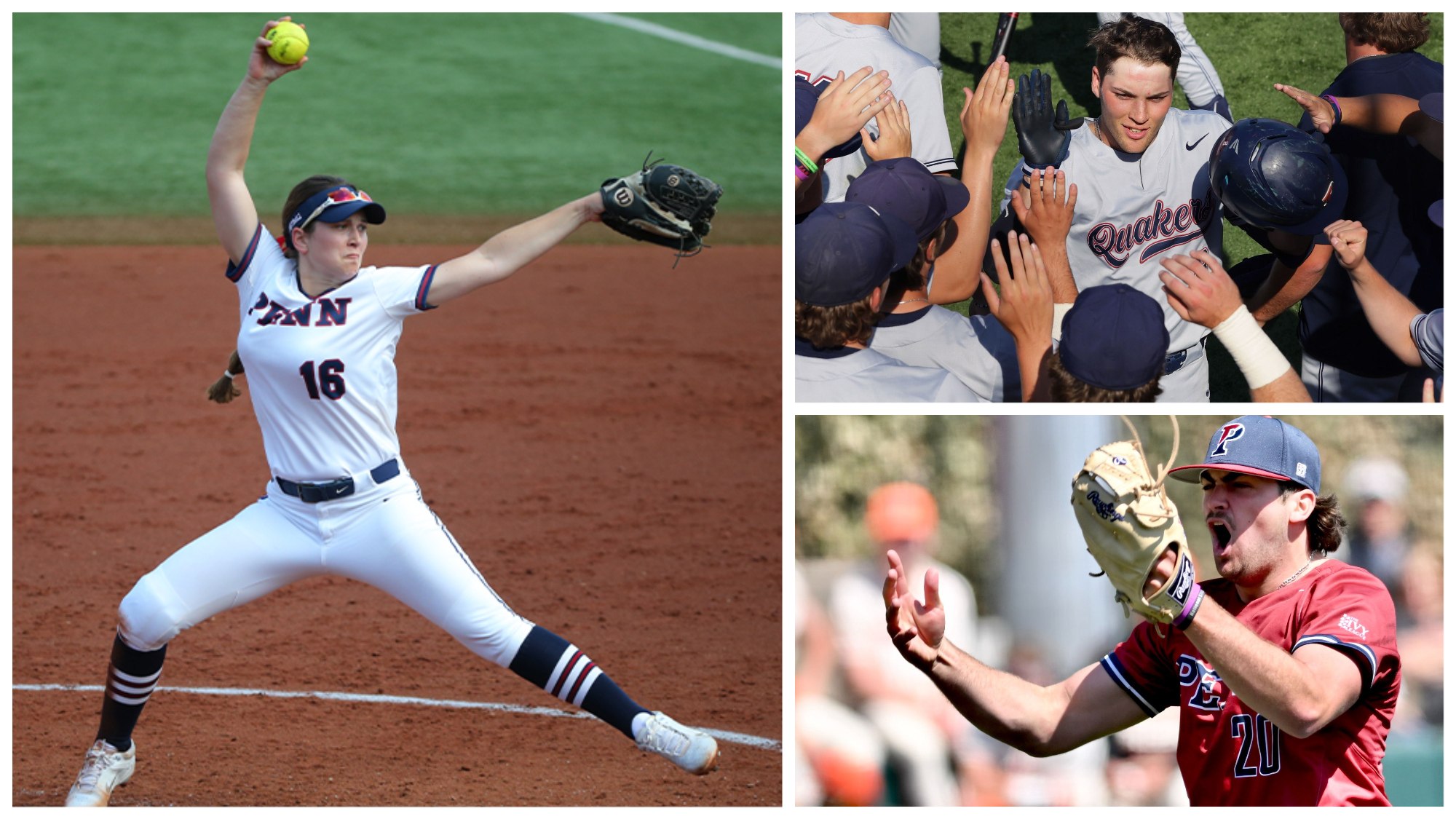 Bella Fiorentino of the softball team has been named Ivy League Pitcher of the Week and the baseball team's Wyatt Henseler and Ryan Dromboski have received Player of the Week and Pitcher of the Week honors, respectively.
Fiorentino, a fourth-year captain from Rancho Santa Margarita, California, had a 0.67 ERA in three games against Saint Joseph's and Columbia.
She pitched two innings versus the Hawks on April 12, and gave up one hit, two runs (zero earned runs), and struck out one in Penn's 7-0 loss at Penn Park.
In the second game of a doubleheader against the Lions on April 14 in New York City, she pitched 6.2 innings and surrendered three hits, zero runs, and stuck out three in the Quakers' 7-0 win. In addition, she batted 2-3 with one run and one RBI.
On April 15, she pitched 2.1 innings and gave up three hits and three runs (one earned run) in the Red & Blue's 5-4 loss to the Lions. She was 0-2 from the plate with two walks and one run.
For the week, she had 1-1 record and an 0.67 ERA.
The baseball team is on a five-game winning streak after downing Villanova and Brown over the last week. In four games, Henseler, a third-year third baseman from Emmaus, Pennsylvania, batted .438 with four home runs and 11 RBIs.
Versus the Wildcats on April 12 in Plymouth Meeting, he was 3-4 with four runs, seven RBIs, and two homeruns in Penn's 15-4 victory.
Battling the Bears on April 14 in Rhode Island, he batted 1-3 with two runs and two walks in the Quakers' 6-4 win.
The Red & Blue played a doubleheader against the Bears on April 15. Henseler was 2-5 with one run, three RBIs, one walk, and one home run in Penn's 13-6 win in the first game. In the second game, he was 1-4 with one run, one RBI, one walk, and one home run in the Quakers' 4-1 triumph.

Dromboski, a second-year from Columbus, New Jersey, pitched a complete game in the second game of the doubleheader on April 15—the first complete game by a Penn pitcher in more than three years. In nine innings, he gave up three hits, one run, zero walks, and struck out 12.
It was the second gem in a row for Dromboski. On April 9, he struck out a school-record 15 batters in a 5-2 win over Princeton.