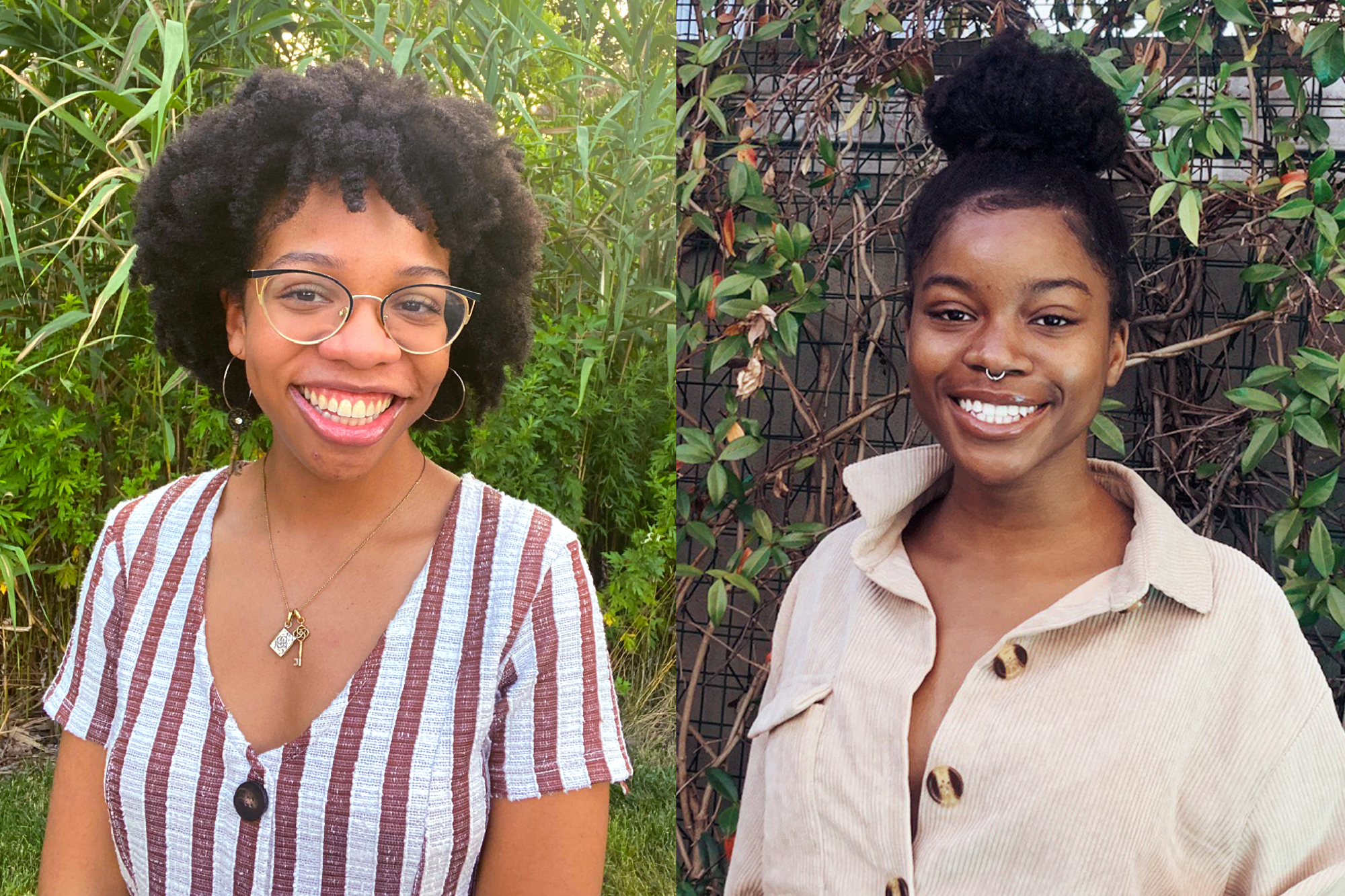 University of Pennsylvania seniors Kennedy Crowder and Chinaza Ruth Okonkwo have been named 2022 Marshall Scholars. Established by the British government, the Marshall Scholarship funds up to three years of study for a graduate degree in any field at an institution in the United Kingdom.
Crowder and Okonkwo are among the 41 Marshall Scholars for 2022 representing 33 institutions in the United States, chosen from 1,000 applicants. The prestigious scholarship, meant to strengthen U.S.-U.K. relations, is offered to as many as 50 Americans each year.
Crowder, of Landenberg, Pennsylvania, is majoring in English, minoring in East Asian languages and civilizations with a concentration in Japanese, and earning the certificate in American Sign Language in the College of Arts and Sciences. With an interest in critical and creative writing, Crowder is a peer tutor, a course-embedded writing fellow, and a Robeson High School Initiative teacher and curriculum developer at Penn's Marks Family Center for Excellence in Writing. She is executive editor for the Penn Undergraduate Law Journal, managing editor for the F-Word feminist literary magazine, and managing editor for The Penn Review literary magazine. In the summer of 2020, she created the collective Black Penn English, a discussion space and support group for Black members of the English Department. Crowder is the inaugural recipient of the English Department Community Award and is in the English Honors Program. An advocate for Black academic excellence, she is a member of the Gamma Epsilon Chapter of Alpha Kappa Alpha Sorority Inc. and the Paul Robeson and Anna Julia Cooper Scholars Program and is the community service chair of the Onyx Senior Honor Society. Crowder plans to pursue a master's degree in Black humanities at the University of Bristol followed by a master's degree in English and related literature at the University of York.
Okonkwo, of Los Angeles, is majoring in philosophy and history in the College of Arts and Sciences with a concentration in moral and political philosophy and world history and minors in Africana studies; gender, sexuality, and women's studies; and Native American and Indigenous studies. They submatriculated into the philosophy master's program and will also receive their master's degree upon graduation in May. Okonkwo is a 2021 Beinecke Scholar, an Andrea Mitchell Center Undergraduate Fellow, a Wolf Humanities Center Undergraduate Fellow, a Mellon Mays Research Fellow, a Perry World House Student Fellow, a Robeson Cooper Scholar, and a Benjamin Franklin Scholar. They have done extensive research across the humanities and social sciences throughout their Penn career. Okonkwo's current independent research project on Igbo philosophy aims to explore Igbo metaphysics and epistemology and reshape the understanding of indigeneity as it relates to Africa. They are also interested in Igbo political philosophy and institutions and in the history of Igbo women's war. They were an editor for the Penn History Review, a Research Peer Advisor, and founder of a digital radical reading collective. Okonkwo plans to pursue a B.Phil. degree and a D.Phil. degree in philosophy at the University of Oxford.
Crowder and Okonkwo applied for the Marshall Scholarship with assistance from the Center for Undergraduate Research and Fellowships. Penn has had 21 Marshall Scholars since the scholarship's inception in 1953 and seven in the past four years.