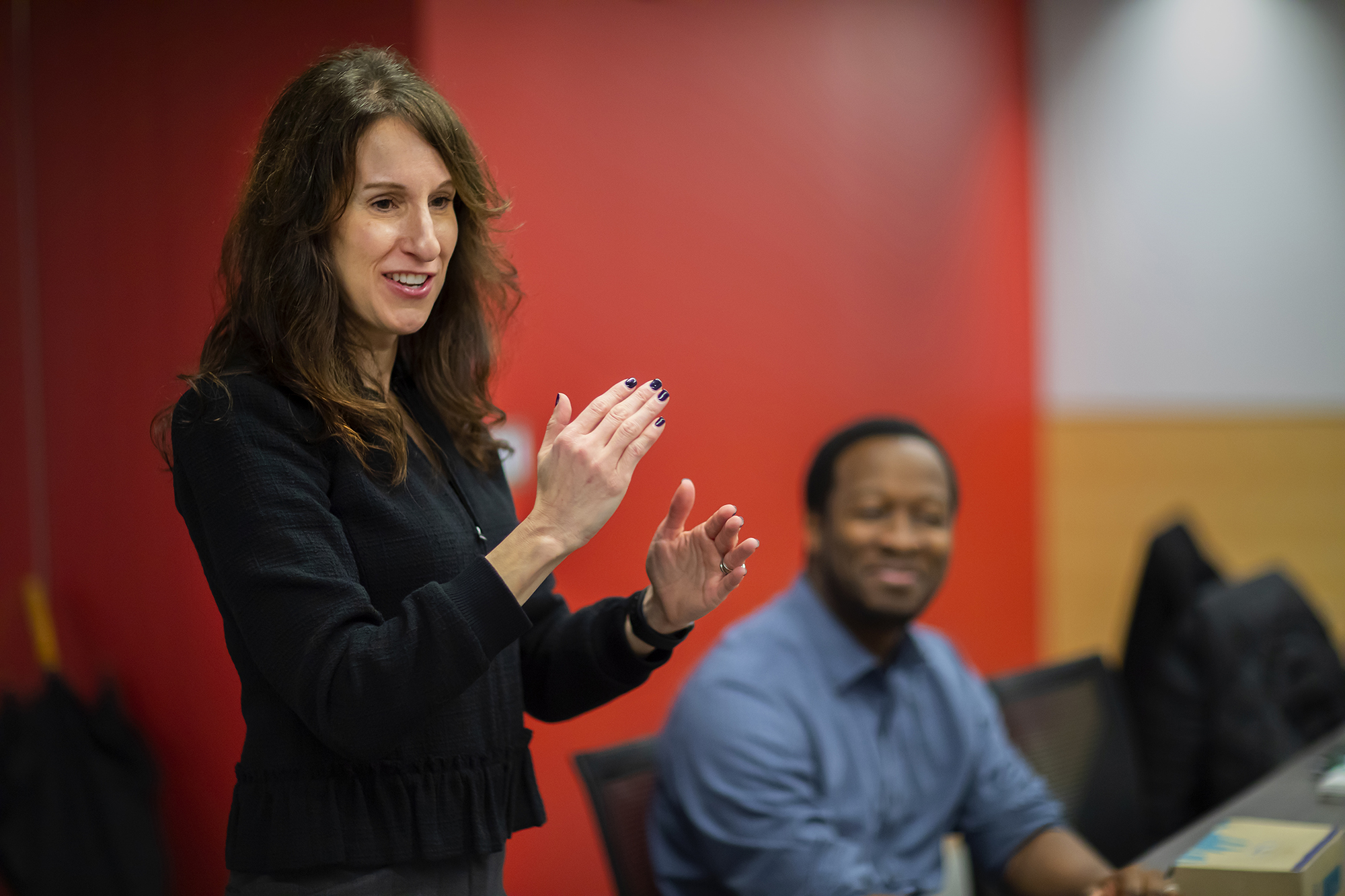 As chair of Penn's Weekly Paid Professional Staff Assembly (WPPSA) in 2018, Marcus Wright was looking for professional growth opportunities for his group's members. 
Wright is the undergraduate program and communications manager for the Sociology Department in the School of Arts and Sciences, but his background is in education. He began to wonder whether weekly paid staff might access some of the University's strong online learning courses for free. 
"I wanted to create a situation where support staff would be able to engage in these courses within their workflow," says Wright, now a second-year doctoral student in Penn's Graduate School of Education higher education division. "It would be an investment and interest in their professional development." 
With backing from Provost Wendell Pritchett and the WPPSA board, Wright met with Rebecca Stein, executive director of Penn's Online Learning Initiative, and the pair chose as a pilot an online College of Liberal and Professional Studies (LPS) course on resilience taught by Karen Reivich of the Positive Psychology Center. Twenty-four people enrolled in the inaugural offering, which LPS ran from October of 2018 through February. 
"It went very well," Wright says. "The impact extended beyond the office, and that was something I did not anticipate. It goes to show how important these opportunities are for the 'whole person,' not just the 'employee.'" 
That precise idea—enhancing the best of one's self in the workplace and beyond—is one of the concepts Reivich teaches in the course, which is part of the Foundations of Positive Psychology specialization designed and produced by LPS and offered through the Coursera platform. "I take them through what we know are critical skills that contribute to our ability to deal with change and adversity but also tools to engage in ways that feel authentic," she explains. "We talk about gratitude, about why it's such a powerful emotion, and what it's like to challenge your inner naysayer." 
Thousands of people have taken part or all of Reivich's online resilience course. Because of the format, the majority of interactions happen in cyberspace with no face-to-face option. This time, however, Reivich got to meet her students in person, at a luncheon to discuss their experience. 
One person, an administrative coordinator who has been at Penn for almost three decades, said she took the course on her own time and for personal betterment. Another talked about her desire to learn, and a third felt encouraged that her department gave her the time and space to pay attention to the ideas the process promoted. "This was the first online course I've created, and I was happy to see that people engaged with the content and with each other in ways similar to what I see in our face-to-face workshops," Reivich says.
Given the success of the first course, Stein says her office is happy to support any such request and is open to doing another. For Wright, the positive reaction makes him want to build on the momentum. 
"If you get the opportunity to take a course like this and it brings joy to your life, you're getting skills that allow you to be a better person, family member, friend," he says. "I found it so amazing that this course had that kind of impact. Now that we know that, what can we do moving forward?" 
Marcus Wright is a second-year doctoral student in the Higher Education Division of the Graduate School of Education at the University of Pennsylvania. He is also undergraduate program and communications manager for the Sociology Department in the School of Arts and Sciences. 
Karen Reivich is the director of resilience and positive psychology training programs for the Positive Psychology Center in the School of Arts and Sciences at the University of Pennsylvania. 
Rebecca Stein is the executive director of the Online Learning Initiative at the University of Pennsylvania.