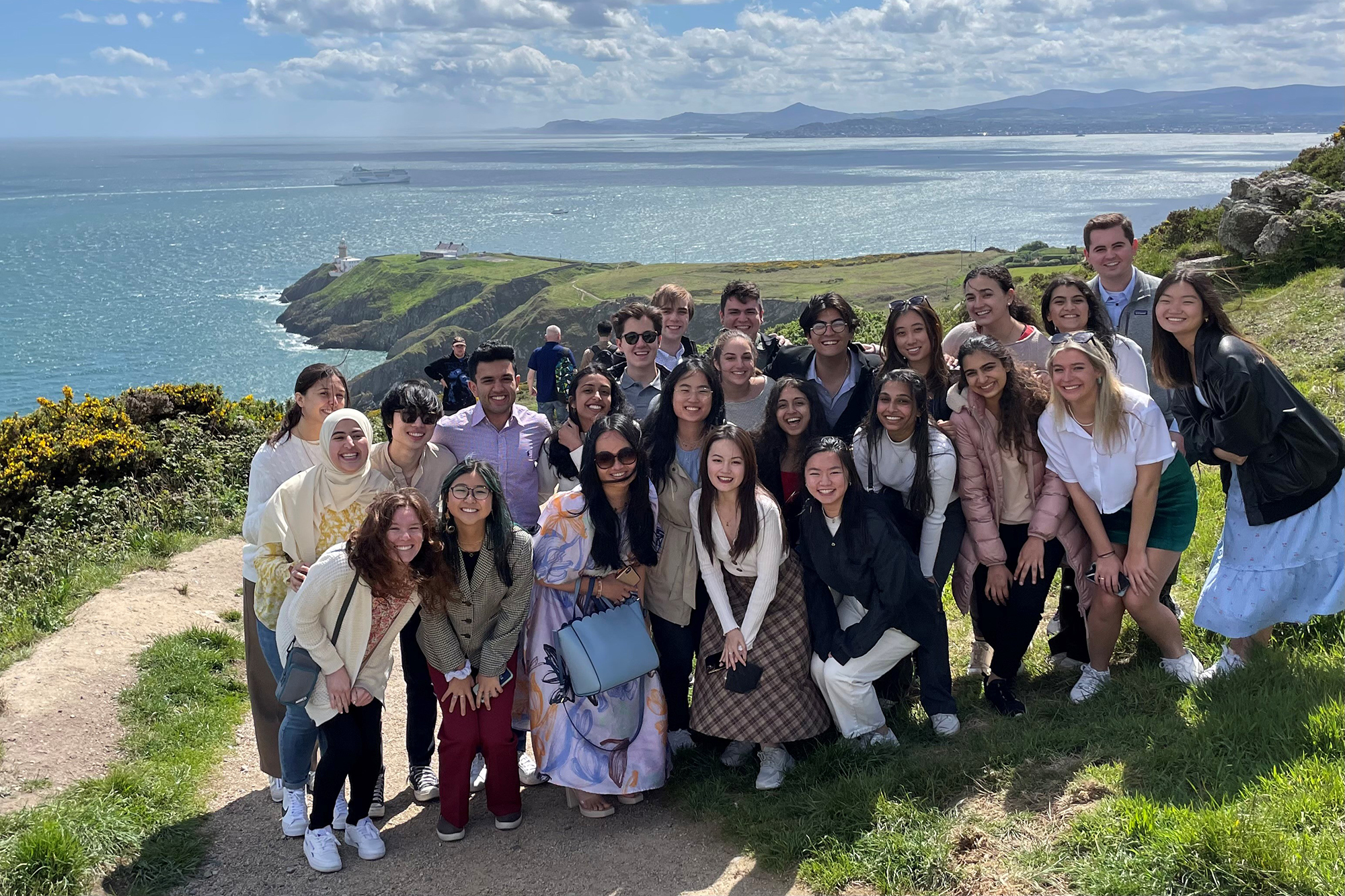 The theme of this year's Wharton International Program [WIP] excursion was Brexit, as the students compared and contrasted the effects of the agreement in Ireland and England. The group departed on May 16 and returned to campus on the 27th.
Rising Wharton School senior Jessica Liu says learning about the history, culture, and business landscape of each country gave her a preliminary understanding of the complexities of Brexit and how changes in geopolitical forces affect business. "As a result of WIP, I am even more motivated to seek out global experiences and understand Europe on a deeper level," she says.
"This year's WIP theme gave students a great opportunity to examine how business strategy can be shaped by politics," says Sara Jane McCaffrey, a lecturer in management at Wharton School, who taught the course. "The UK's withdrawal from the European Union has been a major shock to firms in the UK, which have had to face supply chain challenges and labor shortages because of Brexit."
Along with McCaffrey, Director of Wharton Student Life Lee Kramer and 25 students visited Wharton's partner schools in Dublin, the Lochlann Quinn School of Business at University College Dublin, and the London School of Economics. A wide range of companies in Dublin, London, and Manchester also hosted the group at their headquarters, and discussed their Brexit-related strategies.
"The program gives undergraduate students an amazing global opportunity featuring business site visits, and networking opportunities with undergraduate students and business contacts from the destination countries," says Kramer.
The visits within Dublin and London included Doyle Shipping Group, Jameson Distillery, Third Bridge, Universal Music Group, Manchester City Football Club, and one of the highlights—a private tour of Parliament and a meeting with Jonathan Mendelsohn, a member of the House of Lords.
As someone who is fascinated by business, politics, and history, the tour of Parliament opened rising Wharton sophomore Shivani Desai's eyes to the intricacies of how governments operate.
"Now I can say I stood right where actual MPs converse, debate, and attend sessions," she says. "Something about witnessing such grand tradition and standing in historic halls with ceilings over 500 years old makes me think a little more about the impact of what I might leave behind for the world. It was also a pleasure to meet Lord Jon Mendelsohn, who graciously welcomed us with a private tour of the House of Lords and a discussion over tea to answer every last question our group had about Parliament, his business experience, and insights on the current political sphere."
A sports enthusiast and soccer fan, rising Wharton sophomore Shivam Shah says visiting the Manchester City Football Club was a dream come true.
"I really enjoyed meeting with a managing director of the City Football Group (the home of several football clubs across the world and of course, Manchester City) where we learned about the club's PNL [profit and loss] breakdown and strategy going forward," he says. "We also learned how they seek to differentiate themselves from their competitors with a disruptive business model and perhaps my favorite, at the end, we got to take a full tour of the stadium and locker room—ending in the player's original locker room with their jerseys."
There were also cultural excursions in Dublin, London, and Oxford.
"I really loved the Shakespeare Globe Theatre, located in London," Shah says. "The entire experience was magical, from the decorations that seemed to emulate plays during the Elizabethan era to the on-point acting of the characters. I also enjoyed the twist and unique angles that the rendition added to the unique play. From other anecdotes, people have recounted that this is the spot for chill, and fun Friday night enjoyment."
Desai says she was charmed by Dublin's colorful beauty. "The city has so much to offer, from rolling down the hills at Phoenix Park to belting the folk songs our favorite tour guide taught us," Desai says. "I will always remember how welcoming the Irish were."
Preparing on campus before going global
The Wharton International Program is open to students as early as their first year. The half-credit class is comprised of visits to Wharton's partner schools, company visits with Wharton alumni, and cultural excursions. Three WIP courses are offered each year.
Previous WIP trips have gone to Brazil, Italy, South Korea, India, Israel, France, Costa Rica, Argentina, Portugal, Ecuador, Panama, South Africa, Spain, Japan, Thailand, and China.
"In the Wharton International Program, the class meets on campus in Philadelphia before we travel, so students gain a solid understanding of the political economy of our destination," McCaffrey says. "Students are well prepared to meet with senior business leaders, many of whom are Wharton alums. During company visits, our hosts often remark on the depth and sophistication of Wharton students' questions." 
For many of the student participants, this was their first time outside of the United States and the first stamp on their passports. 
"The class promotes intercultural awareness and communication, and it helps students prepare for careers in the global economy," Kramer says. "The class can be quite transformative for the students—the course has inspired students to study abroad for a full semester or to work abroad after Penn. Hopefully this class will inspire the student participants to seek out additional global opportunities during their time at Penn and after—for international travel has the benefit of changing one's perspective on how they see themselves within the greater world."