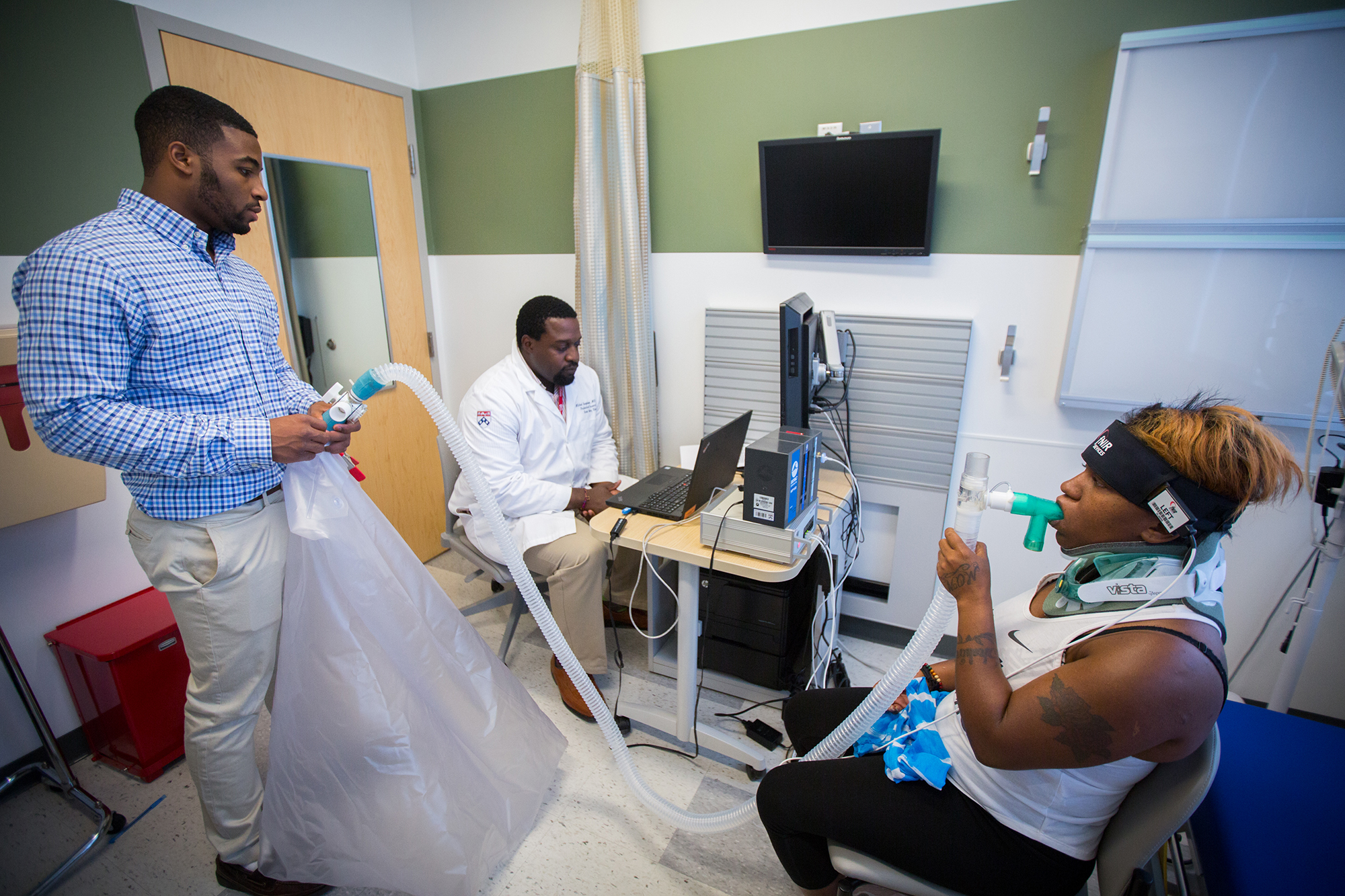 Ebony Cook's apartment ceiling collapsed on her head.
The event left her with a brain injury that not only made her dizzy every time she bent down, but also brought her to the attention of neurologist Ramon Diaz-Arrastia and his research team at the Penn Center for Brain Injury and Repair.
On a sticky morning in late July, about two weeks after her initial hospital stay, Cook walked into a small room on the eighth floor of 3737 Market St. carrying a black mini leather "Bebe" backpack, an iPad, and a folder in the crook of her arm. Rhinestone-studded black sunglasses shaded her eyes and a large white-and-green neck brace propped up her head.
She was there to meet postdoctoral researcher Michael Sangobowale and University of Pennsylvania senior Justin Morrison, who would test the functionality of her microvasculature, the small blood vessels that carry blood to the brain, before and after she took sildenafil, the generic version of Viagra.
It's part of a set of experiments focused on what happens to the brain after a one-time serious injury like a car accident or after many mild traumatic injuries, such as continuous hits to the head in a contact sport like boxing. Morrison and senior Miranda Flamholz spent the summer interning in the Diaz-Arrastia lab as part of a program from the School of Arts and Sciences' mindCORE initiative. Though the undergrads contributed to separate projects, the ultimate goal of all of this work is to better understand traumatic brain injuries (TBI) and find interventions that stem their damaging effects.
"The long-term interest is to develop better ways to treat these folks, either pharmacological therapies or other interventions that will improve their outcomes," says Diaz-Arrastia, Presidential Professor of Neurology at the Perelman School of Medicine. "The anticipation is that over the long run, a drug like sildenafil may prevent the progression of neurodegenerative disease, or improve functioning in a number of ways."
From field to lab
Such work intrigues Justin Morrison, not just because he's fascinated by the brain; the Swedesboro, New Jersey, native is a wide receiver for the Penn Quakers, and he knows firsthand what it feels like to get pummeled in the head.
"I do get hit a lot," Morrison says. "But I don't plan on quitting anytime soon. Football has opened a lot of doors for me."
Including, as it were, the brain injury research assistant position. His supervisor, Sangobowale, played football as a Penn undergraduate, and when Sangobowale returned to the University after earning his doctorate in neuroscience, he started mentoring current players interested in science.
Morrison first reached out during the summer of 2016. For a year and a half, the two kept in touch until a position in the lab became available. "This opportunity gives [Justin] the best of both worlds," Sangobowale says. "He's able to do research, but he also has the opportunity to have contact with patients. He can see what gets done on a day-to-day basis when people are seen in the clinic."
With patients like Cook, that means using a method called functional near-infrared spectroscopy (fNIRS) to monitor brain activity. A brain injury harms every type of brain cell, including the microvasculature that precisely couples metabolic demand with blood supply. "The brain is the most highly vascular organ in the body," explains Diaz-Arrastia. "The brain is only about 2 percent of the whole body weight, but it receives 20 percent of all the cardiac output. So, it punches way, way above its weight in terms of its vascular demand."
A molecule called nitric oxide is key to coupling metabolic demand to blood flow, and the drug sildenafil increases its efficacy. (Hence its popularity as a treatment for erectile dysfunction.) It is already used to treat primary pulmonary hypertension, and shows great promise for treating microvascular dysfunction after TBI.
Sangobowale and Morrison test this by asking patients to breathe into a green plastic tube akin to a snorkel for seven minutes. The tube is attached to a large air-filled bag that alternates every minute between plain air and air mixed with five percent carbon dioxide. Simultaneously, participants wear a headband linked by wires to a computer that generates a graph of brain function during the seven minutes. The exercise happens twice per appointment, first to measure a baseline, and then again 45 minutes after the patient has taken the sildenafil.
"We do all of this five times total," Sangobowale says, "at 72 hours following the injury, then again at two weeks, three months, six months, and a year later."
For his 10 weeks in the lab, Morrison helped with the set up and break down for many follow-up appointments like Cook's and analyzed data from the fNIRS. "He has his hands on all of the data. He's been working through almost all of the patients I've seen during the past two years," Sangobowale says. "He's learning a lot of tools that you would use in a career as a scientist."
Analyzing blood for clues
Flamholz spent much of her summer with a different kind of machine, one named SIMOA (for "single molecule array"). Unlike Morrison's project, which looked at potential treatments for vascular dysfunction resulting from TBI, Flamholz's looked for biomarkers in the blood of TBI patients 24 hours post-injury.
"We expect that the greatest degree of vascular dysfunction will be measurable soon after the brain injury. And then there will be some improvement over time, but that improvement won't necessarily be complete," Diaz-Arrastia says. "We want to follow the trajectory of that recovery."
Supervised by postdoctoral fellow Margalit Haber, Flamholz worked to isolate the fingerprints of the injury circulating in the blood, known as exosomes. Injured cells release these traces, which can provide clues in the bloodstream about the injury itself via a blood test, rather than by more invasive methods like a brain scan.
Once samples came in from patients enrolled in the TBI study, Flamholz would prepare and place them into the SIMOA. The machine would then search for elevated levels of proteins like tau, a major indicator of neurodegenerative diseases like Alzheimer's and chronic traumatic encephalopathy, cumulative damage to the brain from repeated cranial impact.
"Because the exosomes have certain proteins on them, you can tell where they come from and then isolate and target them," she says. "Some of the proteins we're looking at have been in the news a lot lately."
Though Flamholz admits to limited knowledge about football itself, she appreciates the need for the kind of work she got to participate in this summer, particularly as a cognitive science major who hopes to attend medical school. "I find really interesting the whole story behind this kind of research, how new questions that need to be answered are coming up all the time, and how the lab is taking that on."
'Change the landscape'
With any luck, such work will help people like Ebony Cook. At her appointment that July morning, Sangobowale coaches her through the exercise.
"Focus on breathing in and out through your mouth," he explains. "You'll do this for about seven minutes." At once, he keeps a close watch on Cook, the air bag, and the computer generating the graphs from her breathing.
She holds the plastic tube in her left hand, her eyes closed to protect them from the room's neon glare. "You're doing a good job," Sangobowale says. "Just keep breathing."
When the experiment ends, he hands her some paper towels and a cup of water. Justin Morrison holds up the tubing, steadies the CO2 bag—whatever he can to simultaneously help and stay out of the way in the slightly cramped hospital room.
The results from Cook's two sessions that day, and those from the three dozen or so others the Diaz-Arrastia lab has recruited to the study, will continue shedding light on the little that's known about traumatic brain injuries, particularly people who experience multiple mild injuries.
As a football player and a budding scientist, Morrison finds all of it particularly meaningful. "It's interesting to be a part of," he says. "Hopefully, the research we're doing will have some promising clinical outcomes that have the ability to change the landscape."
Homepage photo: Senior Miranda Flamholz spent the summer in the lab of Penn Medicine researcher Ramon Diaz-Arrastia. There, she worked with a machine called SIMOA looking at prognostic and diagnostic biomarkers in blood samples of traumatic brain injury patients taken up to 24 hours following injury.