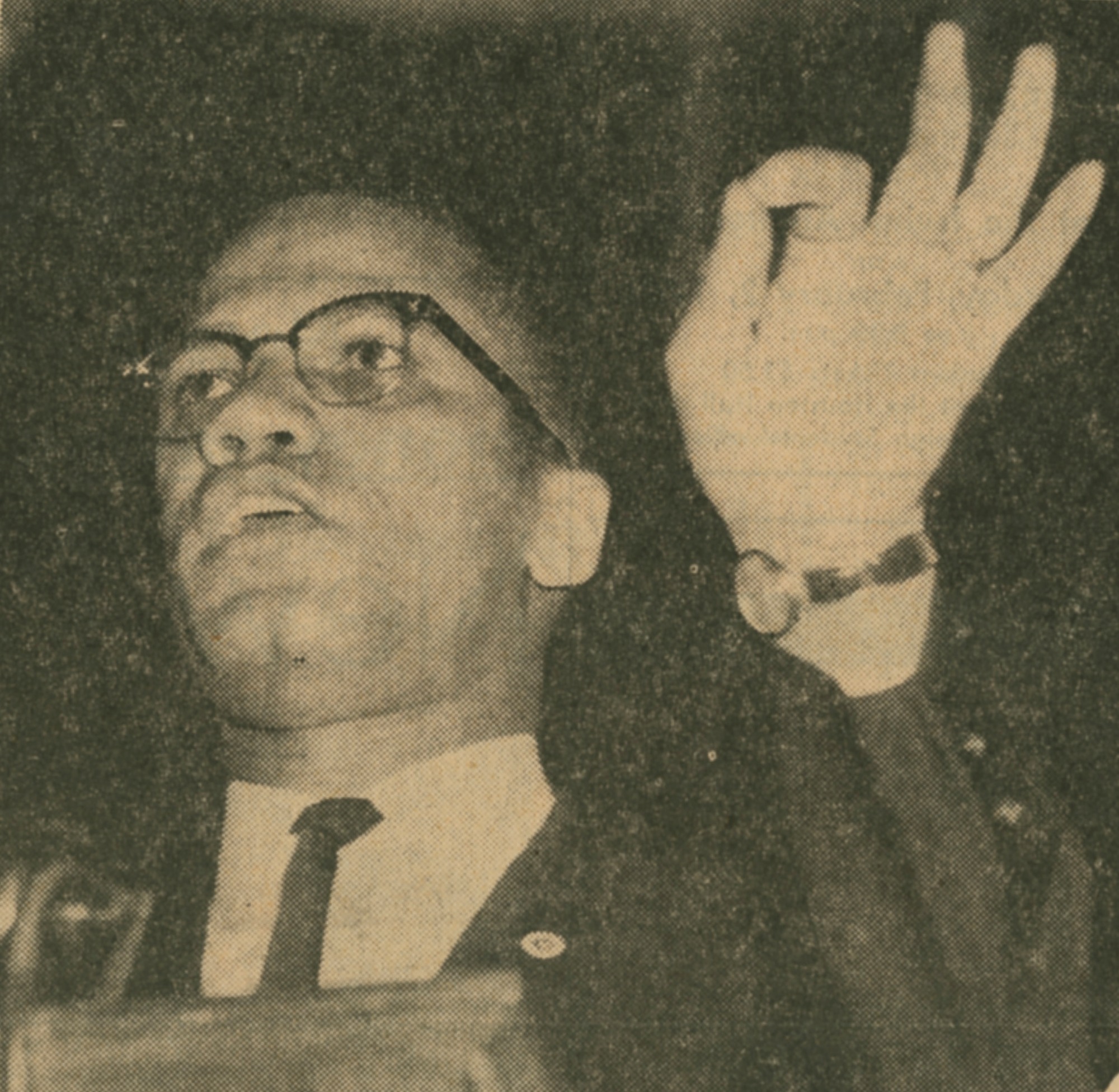 Sponsored by the NAACP, activist and orator Malcolm X spoke at Penn on Friday, Jan. 25, 1963, in front of a jam-packed crowd of 2,500 students in Irvine Auditorium.
At the time of his visit, X was a minister in Elijah Muhammad's Nation of Islam (NOI), and his speech reflected NOI theological principles and beliefs.
Addressing what the Daily Pennsylvanian described as a "curious and often hostile audience"—surely almost all white students—X said "complete separation" was the only solution to the suffering of African Americans.
On account of hundreds of years of torture, enslavement, and unequal protection of the laws, the NOI preached that Black people must break away from the United States and form their own nation on its soil, in opposition to the integrationist philosophies championed by white liberals, conventional civil rights leaders like Martin Luther King, Jr., and organizations such as the NAACP.
Since African Americans were kidnapped and forced to come to the United States against their own will, and stripped of their language, culture, family structure, and family name, X said any form of integration could not justify the monstrous crime already committed.
"When one commits a crime, he should be put in jail," he said.
In the course of his hour-long lecture, X differentiated between the two kinds of Black folk that have existed throughout U.S. history: the "house Negro" and the "field Negro," a distinction that originated during slavery.  
The "house Negro" lived in the house, with master. They dressed fairly well, and ate well because they ate their master's food—what he left. They lived in the attic or the basement, near their master, and they loved their master more than the master loved himself.
On that same plantation, there was the "field Negro"—the masses of enslaved Black people. The "field Negro" was beaten, from morning 'til night. He lived in a hut. He ate scraps. He wore castoff clothes. And he hated his master.
The modern "house Negro," X told the assembled students, were the "bourgeois" Blacks who yearned to assimilate into white society, in contrast to the "oppressed, dissatisfied, and impatient Black masses" who formed the "brotherhood" of the Nation of Islam.
Following his speech, X took questions from attendees. Muslim students, as they usually did when he spoke at colleges, pressed him on NOI dogma, which mainstream Islam considers blasphemy. X replied that the NOI considers itself to be living up to the ideals of Allah, who they pray to five times a day, as is Islamic custom.
No stranger to Philadelphia, from March to June in 1954, X served as minister of the NOI's Temple No. 12 at 42nd Street and Lancaster Avenue when he was 29 years old. His parents met and married in the city before moving to Omaha, Nebraska, where he was born, and his father-in-law was from North Philadelphia.
X, in his autobiography, recalled Philadelphia's Black community as being very receptive to NOI doctrine and eager to hear the teachings of Elijah Muhammad.
The beginning of the end
All seemed well between Malcolm X and the Nation of Islam during his appearance at Penn. He sang the praises of NOI leader Elijah Muhammad, as was routine, but everything was not serene.
Philosophically, X was increasingly frustrated with Muhammad's political passivity. He wanted the NOI to engage in protests and political activism, and collaborate with other Black leaders and organizations, acts that were forbidden by Muhammad.
After NOI officer Ronald Stokes was killed and six other members were shot in a confrontation with the Los Angeles Police Department at an NOI mosque on April 29, 1962, X—who called the shootings murder and desecration—wanted to respond with force, but Muhammad ordered him to stand down.
Spiritually, X was having more and more misgivings about NOI theology and sectarian concepts, and its fundamental contradictions to mainstream Islam, an uneasiness that originated during a tour of Egypt and the Middle East in 1959.
Daily, he was being monitored by the New York Police Department's Bureau of Special Services, the FBI, and the CIA.
Inside the Nation, X overheard veiled implications and negative remarks from other NOI ministers, which he says began as far back as 1961. He was accused of trying to take over the NOI, taking credit for Muhammad's teachings, seeking publicity for himself, and attempting to build his own empire.
When X heard these things, they did not make him angry, for Muhammad had foretold that he would grow to be hated and envied as he became more well known. Instead, X says the allegations "helped me to re-steel my inner resolve that such lies would never become true of me."
The most unkindest cut of all occurred upon X's confirmation of Muhammad's adultery. Rumors had swirled since the mid-1950s about Muhammad's affairs with his personal secretaries, but X refused to believe them. In April of 1963, he spoke with the secretaries and Muhammad himself, who verified that the rumors were true. X, who held Muhammad up on high with an almost God-like moral infallibility, was shaken to his core.
"I felt as though something in nature had failed," he would later say, as his life was unraveling, "like the sun, or the stars."
Despairing, disenchanted, and hypersensitive to critics occupying high posts in the NOI, X began censoring himself throughout 1963. He turned down a profile in Life magazine, a Newsweek cover story, and an appearance on NBC's "Meet the Press."
Medgar Evers, field secretary of the NAACP in Mississippi, was assassinated by a Ku Klux Klansman in June of 1963; X said his piece, but was not his usual fiery, bombastic self.
Four little Black girls were murdered in an Alabama church bombing by white supremacist terrorists in September of 1963; X was outraged but relatively subdued.
X did speak out after President John F. Kennedy was assassinated in November of 1963—defying an edict from Muhammad that barred any member from commenting. At the Manhattan Center in New York City in the days following the president's murder, X said the assassination was a case of "the chickens coming home to roost."
The very next day, Muhammad silenced X for 90 days, and then suspended him indefinitely.
Once X started hearing "death-talk" from other ministers, which he says could only have been approved by Muhammad, and an attempt was made on his life, he knew it was time to leave. In March of 1964, he left the Nation and, after making the hajj to Mecca and adopting Sunni Islam, began disavowing his past beliefs.
He was assassinated on Feb. 25, 1965, in New York City. He was 39.
Long lives Malcolm X
Generations of African Americans have been influenced by Malcolm X's brilliance, bravery, bluntness, brashness, boldness, and incontestable love, affection, and concern for Black people.
Mary Frances Berry, the Geraldine R. Segal Professor of American Social Thought and a professor of history in the School of Arts & Sciences, recalls first hearing about Malcolm X when she was an undergraduate at Howard University in the late 1950s/early 1960s. She says he stood out because he was more vocal, aggressive, radical, and revolutionary than the "benign" civil rights leaders of the era.
"In my mind, Malcolm X was as important, or at some point, even more important, than the people who were leaders in the Civil Rights Movement that I knew about at the time," she says. "As young people, we thought that he spoke truth to power, as we say now, more than anybody else."
Berry says X has had an enduring significance, inspiring individuals like Stokely Carmichael, the Black Panthers, Angela Davis, and a host of labor leaders.
"His rhetoric, his explanations, his aggressiveness, his radical concepts, his anti-racism, his idea of Blacks being a nation—all of those things influenced other organizations," she says. "The idea that you have to pick up whatever you need to respond to whatever is going on with you."
***************
As an adolescent, Tukufu Zuberi, the Lasry Family Professor of Race Relations and a professor of sociology, participated in marching, discipline, and hygiene lessons offered by the Nation of Islam at a mosque in West Oakland, and attended classes that were taught by members of the Black Panthers.
He heard some of the Panthers talk about Malcolm X, but didn't get a comprehensive introduction until he read his autobiography in the late 1970s when he was a student at San Jose State University.
"Malcolm's story was the story of men in my neighborhood," Zuberi says." I saw them as I was growing up. I saw the Reds [X's nom de guerre when he was a criminal]. I saw those people. I saw the pimps, I saw the drug dealers, I saw the police. I witnessed and experienced the segregation."
X's autobiography is a story of transformation; when Zuberi finished reading it, he says he was a changed man, too. He decided to give up his track scholarship and career, and redirect his energy toward becoming an activist and more serious scholar.
"I was profoundly influenced by Malcolm's autobiography because I started thinking about my biography," says Zuberi. "For me, Malcolm's autobiography was food for thought."
***************
Brian Peterson, a 1993 alumnus and director of Makuu: the Black Cultural Center, read "The Autobiography of Malcolm X" before he came to Penn, and learned more about him through conversations with classmates at Du Bois College House, Spike Lee's 1992 movie, and late 1980s/early 1990s hip-hop artists such as KRS-One and Public Enemy, who embraced X's imagery and messaging.
"I guess the biggest message for me when I think about Malcolm X is just his transformation and self-education, and the confidence to confront so many broad evils that he saw in society," says Peterson, "but also knowing that each time he used his voice, each time he got more powerful, there was going to be so much more pushback, but he didn't let that stop him."
Peterson says Malcolm X does not resonate with the current generation in the same way he did with previous generations. He says the energy is still there, 55 years after X's death, surging through movements like Black Lives Matter and artists like Kendrick Lamar, but today's students are not connecting that energy to figures such as Malcolm X, and don't read or discuss him with the same vigor.
"For this generation, Malcolm X is like the name of a school," says Peterson. "There's definitely a disconnect and, in some ways, an invitation to reexamine."
***************
University Chaplain Charles "Chaz" Howard, a 2000 alumnus, has a familial tie to Malcolm X. His grandfather was a journalist and syndicated columnist for Muhammad Speaks, the Nation of Islam newspaper founded by X, and traveled with X throughout Africa and the Middle East. In his youth, Howard's parents would tell him stories about his grandfather and Malcolm X, which he says made him feel like X was almost a member of the family.
"I always get this kind of warm, Uncle Malcolm feel when I hear about him," says Howard. "I clearly never met Malcolm, but I always have a warm feeling when I think about him."
Nowadays, Howard says, young people may not be aware of how much they are influenced by Malcolm X. He says there would be no Colin Kaepernick or Kendrick Lamar without Malcolm X—and they would admit as much—and he also sees much of Malcolm, in different ways, in the likes of Beyoncé, Serena Williams, and director Ava DuVernay.
"I'd even argue that some of our institutions on campus, like UMOJA, Makuu, Du Bois College House, Africana Studies, and the African-American Resource Center, have Malcolm and other people's fingerprints all over them," Howard says. "I think it's fresh."
***************
Sarah Gubara, a 2017 alumna and the 2017 recipient of Makuu's Malcolm X Award for Outstanding Community Impact, says she knew about X when she was growing up, but only the basics: He was instrumental in the Civil Rights Movement and a key figure in the Nation of Islam.
Sophomore year, in the Africana studies course Afro-American History From 1876-Present, Gubara read X's autobiography.
Most fascinating to her was El-Hajj Malik El-Shabazz—Malcolm X after he returned from his pilgrimage to Mecca in 1964 and converted to Sunni Islam.
Gubara, a Sunni Muslim, was heartened by a letter Shabazz penned to a friend while in Mecca in April of 1964, in which he wrote of eating from the same plate, drinking from the same glass, sleeping on the same bed or rug, and praying to the same God "with fellow‐Muslims whose skin was the whitest of white, whose eyes were the bluest of blue, and whose hair was the blondest of blond."
"I can relate to that because Islam is very important to me," Gubara says. "Unity and avoiding discrimination is part of our religion, so to see someone who had this experience with Islam and it totally changed the way he saw other people, including white people, that's why he's important to me."