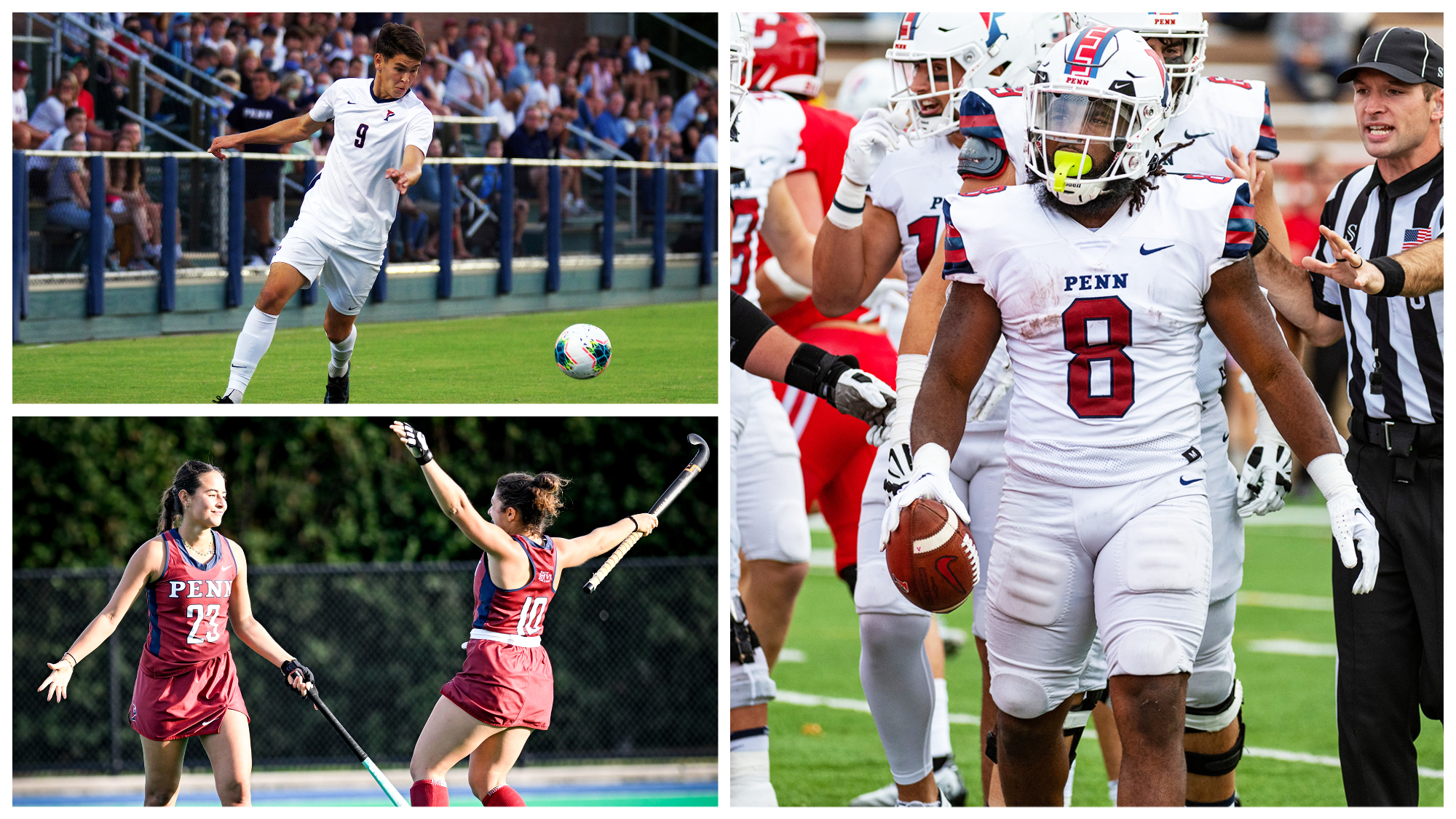 Splendid performances by three Quakers over the weekend have garnered each athlete Ivy League Player of the Week honors. Fourth-year midfielder Ben Stitz of the men's soccer team has been selected Player of the Week, and first-year forward Livia Loozen of the field hockey team and fourth-year running back Trey Flowers of the football team earned Offensive Player of the Week honors.
Stitz assisted on both of Penn's goals in their 2-0 shutout of Columbia on Saturday at Penn Park, Senior Night for the Red & Blue. He assisted on second-year forward Stas Korzeniowski's goal in the 44th minute and on second-year midfielder Brandon Curran's goal 36 seconds later.
The Quakers beat Columbia for the first time in 11 years and picked up their 11th win in the process, only the eight time in school history that the program has won 11 games.
A Baltimore native, Stitz ranks first in the Ivy League in shots (49) and shots on goal (24), and second in goals (nine) and points (24).
Loozen scored the game-winning goal in the Red & Blue's 3-2 double-overtime win over Dartmouth on Saturday in New Hampshire, the field hockey team's final game of the season.
In the 72nd minute, fourth-year defender Elita Van Staden connected with Loozen for the decisive goal.
From the Netherlands, Loozen started seven of 17 games and finished the season with three goals, one assist, seven points, and two game-winning goals.
Penn ended its 2022 campaign on a three-game winning streak and finished the year with a 7-10 mark (4-3 in Ivy League).
After missing about a month due to injury, Flowers returned on Saturday against Cornell and rushed 26 times for 124 yards and two touchdowns in Penn's 28-21 win.
In five games, Flowers, from Miami, has rushed 94 times for 460 yards and seven touchdowns. He is averaging 4.9 yards per carry and 92.0 yards per contest.
The 11-2-2 men's soccer team takes on 6-5-4 Princeton on Saturday at 4 p.m. in New Jersey. A win or tie will clinch the Ivy League championship and an automatic berth in the NCAA Tournament.