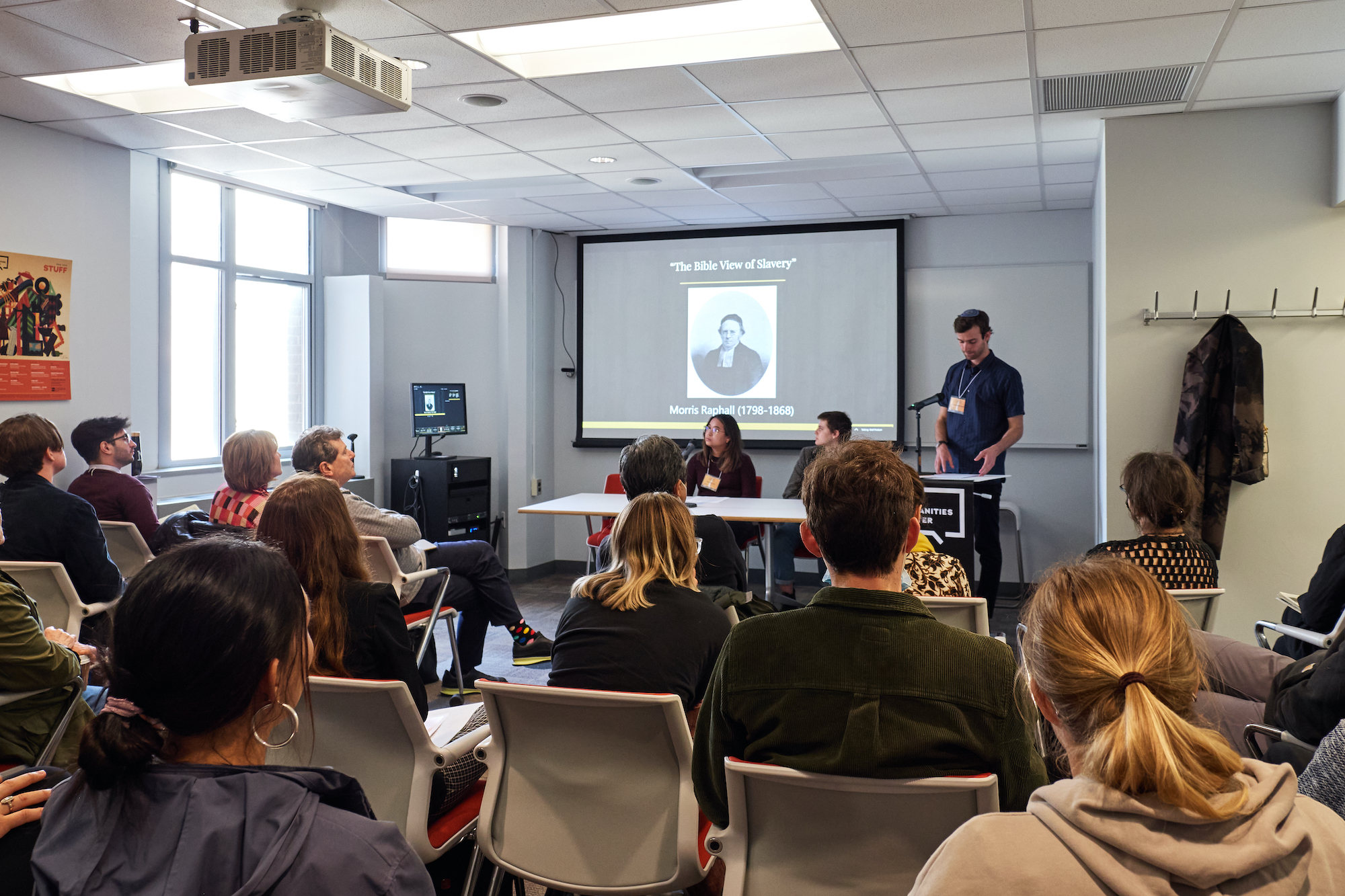 Migration has shaped the modern world, changing language and settlement patterns, along with art and governance. The Wolf Humanities Center, a hub for interdisciplinary humanities research and public programming, took migration as the theme for the 2021-22 academic year.
The Center took a broad approach, hosting events and supporting research about refugees and legality and how these concerns affect memory, identity, and a sense of self. Events took the form of films, lectures, and symposiums; a poetry reading; an exhibition; and a recital, on populations ranging from the Nordic Sámi to the Deaf community.
"When you start doing this sort of big interdisciplinary work, you should be doing it around issues that are demonstrably important," says Jamal Elias, director of the Wolf Humanities Center, the Walter H. Annenberg Professor of the Humanities, and professor of religious studies.
The Center's formal programming consists of three parts, the most well known of which is its public events. The Center also offers funding for manuscript development for assistant professors and project development for tenured associate professors, as well as fellowships promoting graduate and undergraduate study.
For the 2021-22 academic year, the Wolf Undergraduate Humanities Forum welcomed eight fellows. Their projects included exploration on Southeast Asian refugee youth from 1975 to 2000, slavery debates within the Jewish Orthodox community on the cusp of the Civil War, and Pakistan's Bangla/Urdu divide in the mid-20th century.
While all students' research topics must be connected to the annual theme, the fellowship can enable students to build off a project started elsewhere, says David Spafford, undergraduate humanities forum director and associate professor of pre-modern Japanese history. "Students come in with their own research projects, and the hope is that the fellowship will expand or enrich it," he says. Fellows tend to be self-directed, instructors serve to facilitate dialogue rather than lead students to an expected outcome, he said.
As members of the Wolf Undergraduate Humanities Forum, fellows attend two-hour, biweekly meetings and private receptions with the Center's guest speakers. This year, speakers included Pulitzer Prize-winning author and University of California Professor Viet Thanh Nyugen, who gave a public talk in March and also met with the undergraduate fellows to discuss migration, refugees, and literature.
Nguyen won the Pulitzer Prize in 2016 for his novel "The Sympathizer," which follows an unnamed French/Vietnamese double agent during and after the Vietnam War. Nguyen also has a personal relationship to the topic; he and his family were refugees during the conflict.
At an event that was co-sponsored by the Department of English and the Asian American Studies Program, Nguyen described the United States as a contradictory country—one of beauty and brutality. He said dialogue is essential to span the divides. "It is so crucial that we do find the common points, in order to initiate the conversation," Nguyen said.
During the Q&A, fellow Brendan Lui had an opportunity to ask Nguyen "Have you ever wanted to write about a place but questioned whether or not you could?"
Lui, whose work included a focus on labor migration in Europe, doesn't have a connection to the continent. Instead, the political science major from Potomac, Maryland, became interested in the topic through his involvement with Philadelphia-based unions. He questioned why there was so much tension between established union members and newcomers and found that the more democratic-based unions in the E.U. facilitated the inclusion of migrant workers.
"You should do what you want to do," Nguyen advised, noting that he had met a lot of non-Vietnamese people in Vietnamese studies.
What Lui was feeling was imposter syndrome, Nguyen said, "a normal set of feelings that shouldn't prevent you from doing this kind of work."
Lui and fellow May graduates Nico Fonseca and Chinaza Ruth Okonkwo presented their work at a research conference, "Migrant Subjects Across and Within." Fonesca addressed the nomad in Latin American film, Lui spoke on trade unions and migrant workers, and Okonkwo presented on the Igbo diaspora and migration.
The students build off each other, challenging each other's thinking and methodology. It's "a productive tension," says Fonseca, a double major in comparative literature and Latin American and Latinx Studies from Fort Lauderdale, Florida.
Learning about these different projects helps Okonkwo to absorb knowledge, she says. (Okonkwo uses she/they pronouns.) "Everyone's unique and interesting take on migration is influential with me and my own intellectual journey."
Like Nguyen, Okonkwo's father was also a refugee, they said. Okonkwo, who majored in both philosophy and history, did an oral history project on pre-colonial Igbo philosophy, in part to foster a stronger connection to an ancestral way of life. "I should have a more tangible culture to hold on to," says Okonkwo, who is from Los Angeles.
For Fonseca, who is interested in global indigeneity, Okonkwo's project was "a really good example of how various relationships to the land were upended by colonialism, not just in the Americas, which is an easy way to think about it, but also across the African continent."
Fonseca looked at indigenous philosophies in Latin American film, establishing a through line between the radical, Marxist-influenced cinema of the mid-20th century to contemporary, indigenous experimental documentary, finding that the "nomad" character was often a catalyst for social change.
The figure of the nomad is a metaphorical one, he says. The nomad is not only the lone wanderer but also conveys a sense of loss for his work and for the lack of a homeland for indigenous populations.
In all three projects, "we saw that migrants are trying to break through and find equal footing and belonging," says Lui. This struggle became the common thread in their work.
Many of the undergraduate fellows are interested in pursuing subsequent advance degrees, including Okonkwo, who submatriculated into philosophy program at Penn while completing their undergraduate degree this semester.
Time spent as a Wolf Humanities Fellow, she says, will lay the foundation for her academic writing and thought. "This is something that I would consider future work," says Okonkwo of her project.