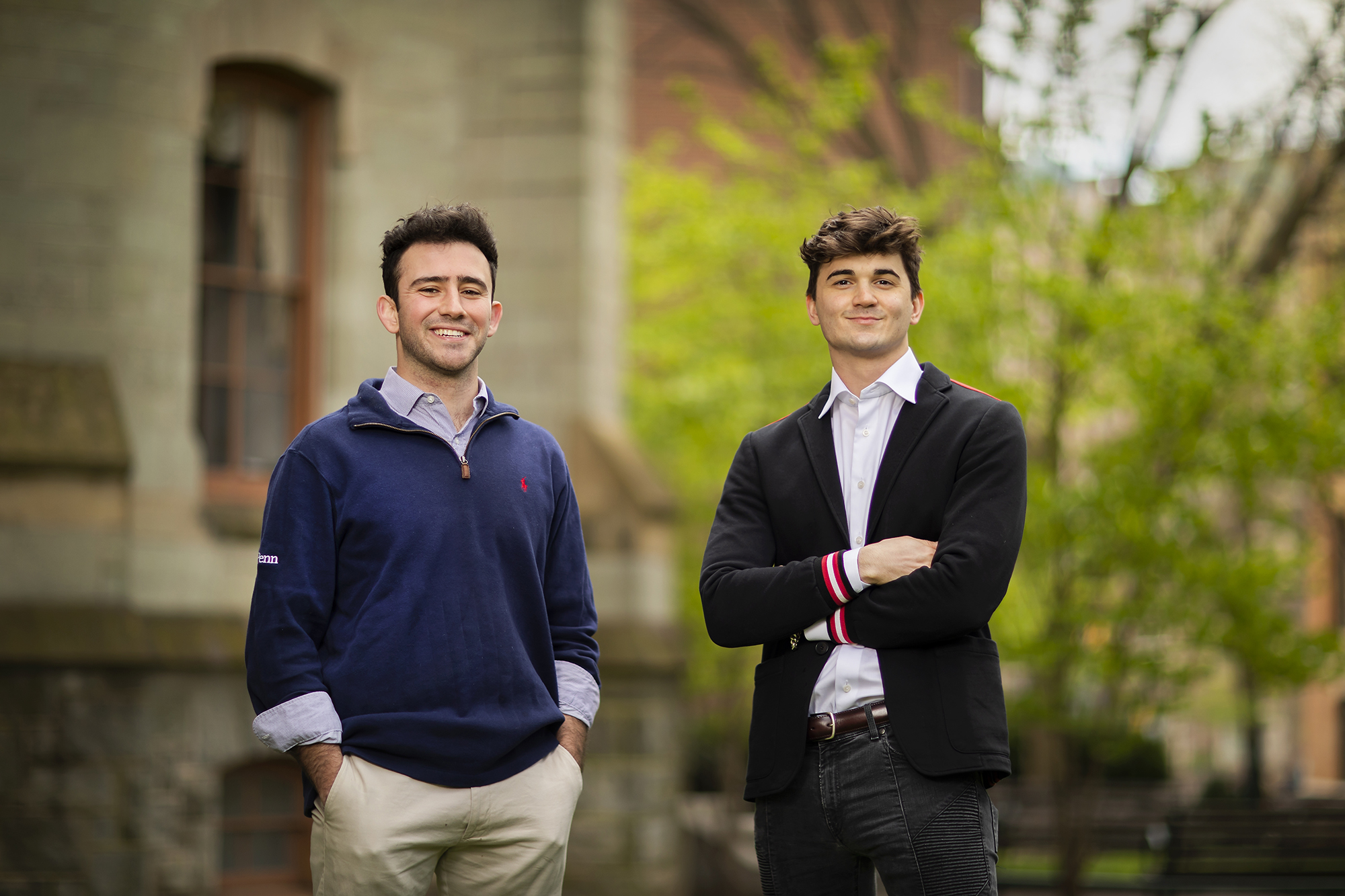 In April 2022, three President's Prize-winning teams were selected from an applicant pool of 71 people to develop projects that promote engagement and innovation. Each project received $100,000, as well as a $50,000 living stipend per team member.
The President's Innovation Prize and President's Engagement Prize winners included Grapevine, which aims to better connect buyers and suppliers to stabilize the medical supply chain market; IF Ventures, with its mission to scale impact by supporting college students with early-stage startup ideas that have measurable social and environmental impact; and Cosmic Writers, which organizes writing workshops to cultivate K-12 students to be better writers and communicators—and, therefore, better citizens. 
"In less than a year, these three PIP and PEP prize-winning teams have already proven their commitment to making a difference in the world," says President Liz Magill. "Their projects are ambitious and inspiring, and I am proud the University has been able to provide financial and networking support for these determined changemakers."
Here, find video overviews of the 2022 PIP/PEP projects and a brief look at how their projects are progressing toward their missions of effecting change in medicine, markets, and education.
Grapevine, 2022 President's Innovation Prize Winners
After graduating in May 2022, William Danon and Luka Yancopoulos relocated to an office space in Westchester, New York, and got to work on a research and validation process—first, by spending a day at a Penn Medicine facility, Lancaster General Health, then by committing hundreds of hours to interviewing distributor and procurement teams alike, along with potential client companies. The mission, as any researcher knows, was to understand key pain points. They also onboarded veterans in logistics, technology, and payment security and processing while devising an organizational structure in which Yancopoulous leads on technology and design solutions while Danon interfaces with customers to know what needs remain unmet. 
Grapevine soft launched in fall 2022 and, they say, has interfaced with 30 companies through its digital platform to facilitate sales among 40 suppliers, amounting to more than $20,000 of transactions. The appeal of the platform, they say, remains the concept of the "digital supply chain network," which Yancopoulos says partners can use to connect with resellers, hospitals, distributors, and others to reduce the risk of supply chain disruption that is not just a product of the pandemic, he adds, but "forever ongoing."
"It's driven by the principle that together we're stronger, and I mean that in every aspect of my life," he says. "That people are stronger, and with Grapevine we work to [bolster] supply chains and increase the accessibility of health care products—together."
Since winning the President's Innovation Prize, they've focused on working with small- to medium-sized businesses—whether local clinics or high-quality, specialized resellers—that struggle to compete with or pay for traditional, large-scale distributors that are better-resourced or too expensive. It's allowed them to also find new users, like health care-adjacent businesses including funeral homes and tattoo parlors. 
Their current tagline: "Grow with us," Danon says.
IF Ventures, 2022 President's Engagement Prize Winners
Max Strickberger, Sam Strickberger, and Seungkwon Son, along with Niko Simpkins, were awarded a 2022 President Engagement Prize for their project IF Ventures, an organization that aims to be a one-stop-shop for social impact on college campuses.
While previously known as College Green Ventures, IF Ventures, which stands for Impact First, has retained its original purpose: supporting early-stage impact ventures and students interested in impact careers.
A year ago, the project's campus "scouts" – tasked with sourcing new companies among undergraduate students, MBAs, and Ph.Ds. – were primarily operating at Penn.
Max Strickberger says they are now working with around 30 students at eight schools: Penn, Princeton, Howard, Stanford, Spelman, Columbia, Morehouse, and Michigan.
"We believe that our generation is tired of compromising between purpose and profits," Sam Strickberger says. "Young founders are merging the two, launching companies that create outlier impact returns alongside outlier financial ones."
Most of IF Ventures' students are undergrads. Seventy-five percent of Campus Leads are women and 100 percent are people of color. "We represent students who are underrepresented in order to close access gaps and change who has opportunities for careers in impact investing, and really the venture capital industry at large," Son says. Students in the program recently finished a six-week impact investing course taught by Tyler Wry, an associate professor of management at the Wharton School and project mentor for IF Ventures.
By next year, Max Strickberger says they hope to launch at around 20 schools, with a continued focus on working with students at universities that have traditionally received venture funding and schools that have traditionally been overlooked, such as historically Black colleges and universities.
Cosmic Writers
Cosmic Writers is expanding its universe. 
The nonprofit created by Rowana Miller and Manoj Simha offers creative writing instruction to K-12 students, virtually and in person, while providing training and part-time jobs to Penn and other college students as instructors and in leadership roles.  
"Cosmic Writers can transform writing from something that is intimidating into something that can empower you," says Miller, executive director. She founded the online creative writing program Word Camp in 2020, supported by a Kelly Writers House grant. Word Camp became the foundation for Cosmic Writers.
Supported by several grants and donations, including the President's Engagement Prize, Cosmic Writers has so far taught more than 750 students, and expects to serve hundreds more. "Our dual mission financially is to keep all of our programming free to students," says Simha, director of finance, "while at the same time making sure that our college-student instructors are well compensated for teaching." 
Last summer they ran 13 Word Camp workshops, and partnered with Reading Recycled to launch KidZine, a quarterly magazine that features students' writing. In the fall, they ran 20-plus in-person workshops with schools, libraries, and community organizations in Philadelphia, including workshops for high schoolers on Friday afternoons at the Writers House. They have run three workshops in New York City, where Miller and Simha now live.
Plans are to increase offerings in both cities, and to expand online. Word Camp is enrolling for grades 3-8 this summer, along with a new writing intensive for high schoolers operated over Discord. Also new is the one-on-one mentorship program Cosmic Coaching. And they are creating "virtual program hubs" at libraries around the country to provide students wi-fi access to Cosmic Writers.
"The way to run effective workshops is to meet our audience exactly where they are in all ways," Miller says, "in geographic location, in the spaces on the internet, and in the type of writing instruction that we provide." 
Later this month, Penn Today will profile the three President's Sustainability Prize winners: Shinkei Systems, EcoSPIN, and The Community Grocer.