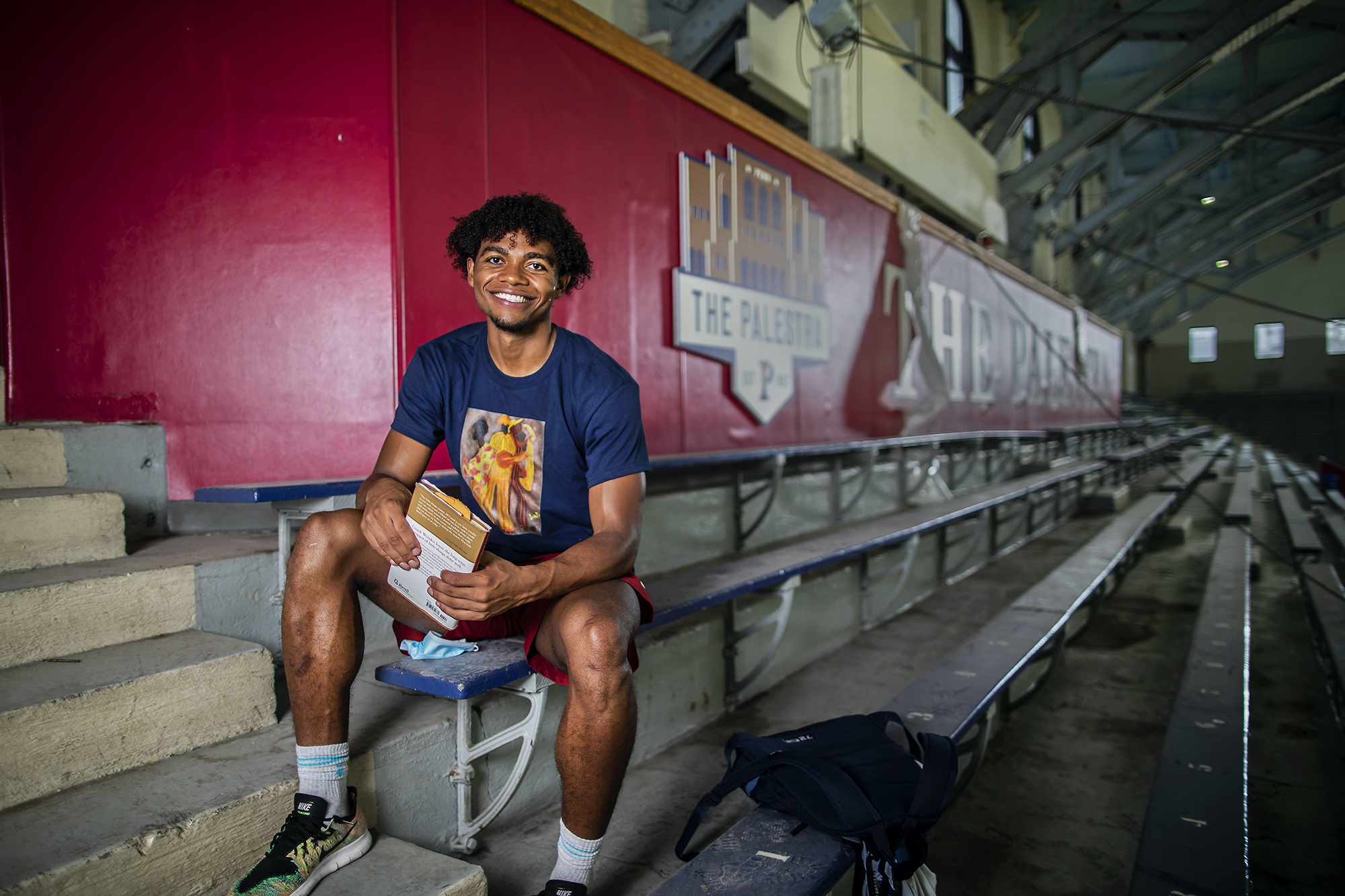 In the third installment in a series about students who have changed their focus during the pandemic, Penn Today spoke with Lucas Monroe, a political science major from Abington, Pennsylvania, who combined athletics and introspection to take on a leadership role in social justice work on campus and beyond.
You can't help but look up at Lucas Monroe. The 6' 6" junior guard from Abington, Pennsylvania, is constantly thinking, constantly listening, constantly refining his practice and himself. Despite all this motion, Monroe exudes presence, says Charles "Chaz" Howard, University chaplain and vice president for social equity and community.
From the get-go, Howard says, Monroe impressed him as a "very respectful, well-carried young person, who exudes a maturity, clear-sightedness, and decency." When Monroe is in the room, he's not fidgeting; he's not on his phone, Howard says, "He's with you right now."
Staying in the moment is a quality Monroe cultivates. On the court, he's extremely analytical; his mind is "always racing," Monroe says, thinking about what he could have done differently, more assertively, better. It can be hard to shut off.
"Sometimes, I play this game," says Monroe, "I call it the 'right now game.'" Wherever he is—could be at a stop light or sitting in a chair at the library—he tries to concentrate on the moment. "Literally, this moment is the most important moment of your life because it's the only thing you can really fully control right now," he says. "I try and do that. Doesn't always work."
Monroe, who is majoring in political science, also connected with Howard as one of eight inaugural undergraduate fellows in the Office of Social Equity & Community, a responsibility that includes programming and event planning along with regular reading and discussion groups. He's co-captain of the men's basketball team, one of the few juniors to hold that honor. On June 3, 2020, on top of his academic and athletic responsibilities, Monroe gave a speech to some 900 marchers in his hometown as part of a Black Lives Matter protest.
That was "when everything started going down," says Monroe, referring to the aftermath of George Floyd's murder. "It kind of just got me thinking about my experiences as a Black man, growing up primarily in the suburbs, in a predominately white area." Monroe, who has more than 4,500 followers on Instagram, posted his thoughts on social media, which caught the attention of protest organizers in Abington.
Monroe wrote about some of the experiences he had growing up. When he was 9 years old, two police officers approached him at a neighborhood park and threatened to take him to the police station for allegedly bullying their son and nephew.
At 10, a man approached Monroe and a friend and claimed to have seen them vandalizing trash cans, saying if he saw them near his house he would call the police.
At 11, another child used a racial epithet towards Monroe after losing to him in a game of stick ball.
The list went on.
As a basketball player, Monroe was adored in some quarters because of the points he threw up on the board. He was a good student. "Growing up, I loved Abington for the most part," Monroe says. "People were good to me. Obviously, they love sports."
"Abington, it's such a great community and for the most part people get along," Monroe says, but "this is still America." If you're a minority, you're always going to face some kind of discrimination, he says. "I think people just kind of forget that."
One of Monroe's former teammates asked him to speak at the march, which travelled along a half-mile route to the police station. "It was inspiring for me, just to see so many kids from my high school," Monroe says. He didn't realize that violence against Black bodies "hit home with them as much as it did."
The Abington speech "kind of got the ball rolling," says Monroe. People would message him on social media, asking him to speak at protests. A Philadelphia elementary school teacher asked him to speak virtually with her students.
"If I have time, I say yes," Monroe says. "If I can, you know, be helpful in any way, then I like to do that."
Back on campus, Monroe decided to tack on a minor in Africana studies. He was drawn to the department because he wanted to learn more about African and African American history. "We just don't really learn enough about that in high school," he says.
Monroe is very interested in the idea of race as a construct. "There's nothing biological about race," he says. "It's completely constructed by humans to justify the maltreatment of people and oppression of people." Once you realize "how arbitrary it is, it really allows you to look at things differently," he says.
Last fall, Monroe took a course called American Political Thought. Looking at the framers and original thinkers of America, it's apparent that white supremacy was baked into the country's foundational documents, he says.
"People like to argue that America is not really a racist country, but it's literally founded with these values, and all the founding fathers were middle-aged, white, Christian men who wrote the Constitution for people like themselves," says Monroe. "People that didn't fall in that category are literally in the Constitution written as 'other persons.'
"You see why America is the way that it is now," he says.
People are demanding change because America is still grappling with the repercussions of slavery, Jim Crow, and anti-Black racism, he says. "The best thing for people to do is learn and understand," Monroe says. "Like, no one's saying this is a bad country, but we were founded on these things."
The basketball team was a safe space to talk about these issues, says Monroe. The coaches had conversations about social justice and social equity, and Black players were able to talk about the impact current events had on their lives. Most of the team chose to sit during the national anthem, drawing the ire of some fans.
Monroe has long been vocal about these issues, says Howard. Last year, Monroe spearheaded a conference on social justice and athletics. He has "pushed what it means to be an athlete around Penn," Howard says.
For Monroe, social justice work is part of his leadership role. "We're not an angry mob," he says. "We're not trying to disrespect the troops or disrespect the flag. It's more just like we hope that people see us. And ask themselves, 'Okay, well, why might they be doing that?'"
Monroe played all 28 games in the 2021-22 season and hopes to play basketball professionally after graduation. But that's a young man's game he says. In the long run, Monroe wants to be involved in sports administration, or maybe politics; he wants to start conversations. Regarding his future, he says "hopefully, after a long time, it can make some kind of change."
For now, though, Monroe's concentrating on what's in front of him. He's playing the "right now game."