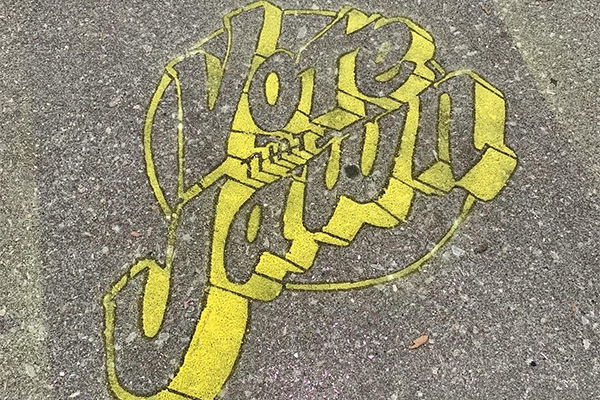 Experiencing the 2020 election together while physically separated, Penn students in a Writing and Politics class focused on civic engagement: creating social media posts, organizing outdoor voter registration drives, and volunteering at the polls. They found new ways to share non-partisan information with other young voters, from the breakdown of complicated data in infographics to videos of dancing mailboxes.
The Penn English class created and taught by author and playwright Lorene Cary was linked with the nonprofit she started in 2018, Vote That Jawn. Jawn is distinctly Philadelphia slang for an undefined thing. The organization is a non-partisan community-based effort in Philadelphia aimed at encouraging 18-year-olds and other first-time voters to register and vote.
Most of the Penn students participating in the class were voting for the first time and for the first time in a national, presidential election. They wrote and published about what they learned.
"They were learning writing in the urgent context of fall 2020: What are our options for connection, for storytelling, for meaning, and for political action in a pandemic, virtually? How do we do some of the most important writing of our lives when we don't have those normal social structures?" says Cary, a senior lecturer who has been teaching at Penn for 25 years.
During virtual class sessions, three hours on Wednesday nights, the students became immersed in creating ways to engage and inform young people in Philadelphia in the electoral process. This included conducting research, collaborating on ideas, and developing different approaches.
"From the first class, it felt like a community, with the 11 of us Zooming in through blocks on the screen. Professor Cary was interested and eager to know our backgrounds and why we were taking this course and that set the mood for the rest of the semester," says senior Skye Lucas from New York City, an English major with a concentration in creative writing in the College of Arts and Sciences.
"This was the most collaborative, hands-on course I've ever taken at Penn, which was ironic because it was on Zoom," Lucas says. "In every class we were brainstorming together. It was cool to work in that way."
Following pandemic health and safety protocols including masks and physical distancing, students engaged in their effort in different ways. They began the term promoting a Vote That Jawn-Kelly Writers House production of "Storm: From Whitman's Election Day to Ours" featuring Philadelphia's youth poet laureates, including College sophomore Wes Matthews.
Then they got to work, creating and curating videos including a TikTok of giant mailbox puppets made by nonprofit partner SpiralQ; broadcasting Instagram Live at voter registration drives and early voting locations; using poster-sized stencils to spray-chalk the Jawn logo on campus sidewalks; and writing blogs, essays, and op-eds about their activism and experiences, thoughts, and feelings.
"Anytime you do youth vote, you have to connect it to gaining more skills. It has got to help them step into their adulthood—with civics, decision-making, responsibility, accountability—to become passionate influencers of the common good. That's what all of them want to be," says Cary, a Philadelphia native who is also a Penn graduate.
Cary built the class by expanding on the non-fiction writing course she taught in the fall of 2018, also tied to Vote That Jawn, as well as another one of her other nonprofit creations, Safe Kids Stories, where the Penn student work was published.
The Penn students acted as editors and staff for Vote That Jawn, which Cary describes as a pop-up organization, during the semester. The Jawn also included an undergraduate teaching assistant, work-study students, a graduate student who worked the supermarket voter registration drives, and area students from other schools and universities and non-profit organization partners. Penn alumni Sara Torres-Albert and Rebecca Pepper Sinkler, as well as Peter Conn, English professor emeritus, work as Jawn editors and mentors.
Cary made it clear that all of their efforts and writing had to be non-partisan, aimed at fostering civic engagement with young people their age. "Student writers were free to write their strong opinions about issues, jawns, that mattered them—the climate, justice, even Penn's election-day policies—but not political parties," she says.
For example, she says, their Instagram posts familiarizing first-time voters with candidates up for election aimed to be models of information that could be shared by and with any youth.
"We kept saying: Now what's the story and how do you tell it? With a purpose?" Cary says, noting that the writing could take many different forms, from journalism to memoir. They considered the design of stories, including photos and artwork, video, animation, and infographics — sometimes their own — as they figured out how to respond to what was happening in the news and in the city in real time, she says.
The students' final writing projects are being published this month on the Vote That Jawn blog, including "Voting for the First Time during a Pandemic" by College freshman Zoe Millstein from Philadelphia; "Who is the Working Families Party?" by College junior Brendan Lui from Potomac, Maryland; and "The Fair Fight Is On," by College sophomore Qiana Artis, from Media, Pennsylvania.
Sheyla Street, a Central High School senior who enrolled in the class through Penn's Young Scholars Program, wrote about her challenging experience being a poll worker in Philadelphia in her piece "Growing Up as a Citizen."
Students had their pieces published in The Philadelphia Citizen newspaper and other publications. Carson Eckhard, a history major from Tampa, Florida, and one of five Penn seniors who served as teaching assistants, advocated for schools to be closed on Election Day in her Metro op-ed "Youth Need to Vote."
In advising the students on their writing, Cary asked them first to explain what it is they love and then what they need to practice with their writing. "I tell them, 'I can't help you if you come in here and only do what you do well. What is it you need to do better, and let's figure out how to do that?'" she says. "It's coaching and skill-building."
Justin Pita, a junior from Chicago majoring in sociology and urban studies, says he appreciated her guidance as he wrote a sensitive piece about justice and injustice and the power of voting, based on his experience being beaten in a West Philadelphia protest against the killing of Walter Wallace Jr. by Philadelphia police, "Who Do You Serve, Who Do You Protect?"
"I voted this past election, knowing that the better world I imagine would not be made overnight, but I voted in hopes that my decision would leave a ripple effect on the possibilities for our future, and I can only hope that a safer world will eventually be the result," Pita wrote. "My vote was not for the next president. It was a vote for the improvement and empowerment of my own community and the many other communities who continue to endure this violence. It's up to us to be the change we wish to see, and we must use our most important tool—our voice—as a means to create this change."
Senior Jay Falk, an urban studies major from Alexandria, Virginia, knows well the importance of voting, engaged in elections since she was 14 years old, she says. She has been involved with the Netter Center for Community Partnerships throughout her years at Penn, creating a high school course and running a summer camp related to youth voting and civic engagement.
"The only thing I care about is voting; I spend all my time on it. This has always been something I care about," says Falk, who plans to be a high school math teacher through Teach for America after graduation. "Voting is the perfect access to power for youth, who are constantly being ignored."
Falk had the idea of creating Vote That Jawn stencils for spray chalk to make signs. Cary approved, and Falk and a other students decorated sidewalks throughout campus preceding Election Day. "I think what is unique about Professor Cary's class was her willingness to give up control and let it be youth led. That is the magic sauce," Falk says.
Lucas was an enthusiastic participant in the voter registration events, along with Street, at a ShopRite supermarket and a middle school and with a drill team in front of a church. In total throughout the fall term, Lucas says she registered about 15 new voters.
"It was my first time registering voters, and it was honestly my first time interacting with the Philadelphia community outside of Penn. It was incredible," she says. "I got to witness community activism first-hand."
Compared with Cary's 2018 class, last fall's class relied much more on social media, especially Instagram but also on TikTok,  Twitter,  Facebook and YouTube, often featuring infographics and artworks designed by the students. "In just two years, the social media world and youth access has just changed so much. We are going to think about storytelling in different forms," Cary says.
"Information comes to them with color and infographics and music and videos and all the cool stuff that is youth culture," she says, "And then government voting sites comes to them in a blue- and-white website that is boring and hard to navigate."
Pita created data-driven infographics to use on social media, like about youth who didn't vote in the 2016 election and the impact. He also created a QR code for registering to vote. He's majoring in sociology with a concentration in law and society and is interested in public interest law. "It was a lot of on-the-spot type decisions," says Pita. "It was a really strong team-building experience."
One week the class decided to tell the story of first-ever satellite locations in Philadelphia for early voting. Senior Alice Goulding, an English and Middle Eastern studies major from South Bend, Indiana, took on the challenge.
Goulding, the class teaching assistant, filmed an Instagram Live with two local students playing the violin and the cello in front of Temple University's Liacouras Center on Broad Street. People took notice, so they did it again, outside City Hall near a line of voters, and local television news took notice.
"You do one thing. You write about it. You do an Instagram Live. You take a photo and post it," Cary says. "You just keep using that youth creativity. You don't know what is going to hit, what is going to go viral. But if it's based on research and care, then it's good news for every person who clicks, whether that's 10 or 1,000."
Supported by several grants, including from the Sachs Program for Arts Innovation and the Penn Provost's Office, the 2020 course involved several new community partners, many in the arts.
One of those partnerships resulted in a viral sensation. Mail-in ballots, also a first in Pennsylvania last year, were big news. When Jawn partner SpiralQ created postal puppets, the class agreed that giant mailboxes would be a great way to raise awareness, along with infographics and Young Ben Franklin's "Get the Ballot" rap.
Students shared photos and videos on social media of the life-sized mailbox puppets at a West Philadelphia voter registration drive, even snagging a moment with a smiling mail carrier.
A huge white unicorn and two oversized ballot puppets joined the dancing mailbox while making a video. Meanwhile, Penn Graduate School of Education student volunteer Marissa Friedman spoke with a father whose children had seen the puppets and wanted to watch. "The man, who had once been incarcerated, had not known that he had regained his vote. While the children laughed at the unicorn, the father registered," Cary says.
When the election was finally called, the SpiralQ staffers headed to Center City on that Saturday afternoon with the mailboxes, which became famous, featured in news coverage around the world as they joined in the spontaneous parade.
"That is the perfect example of exactly what we are talking about: spreading the joy of creativity and branding non-partisan youth passion for fresh governance," Cary says. "You do something new and fresh and positive every day to bring in youth who've been turned off."
The huge puppet idea worked on a phone and the big screen and could be attached to any kind of music. "The mailboxes kept talking to us about what was happening in a non-partisan way, but in a way that allowed us to be honest, to see there is a problem. We have the greatest mail system in the world and now it was being undercut. But now look at this: They are dancing," Cary says.
Being in the center of such a historic election was not what the students expected when they signed up for the course, but they say they are grateful that they were a part of it all.
"I definitely wouldn't have guessed that the rest of the country would be looking at Philly in terms of the outcome of the elections," Pita says. "It was only afterwards when it clicked to me that Vote That Jawn was part of the massive voter turnout that we had. It didn't hit me until later that all our work had an impact."