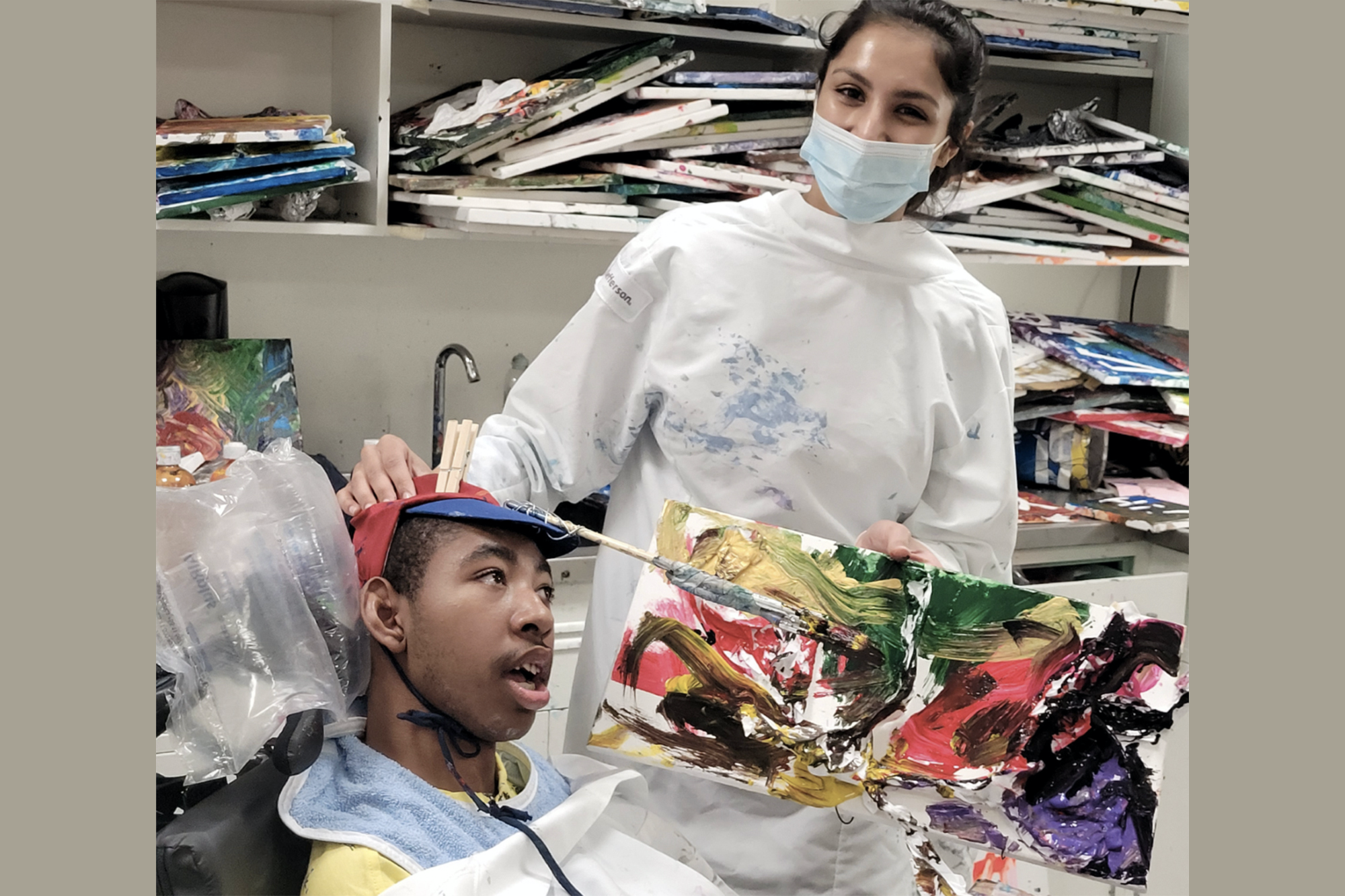 School nurses wear many hats, often different from a nurse working in a hospital, say, or a health care practice.
It's a role that interested Penn Nursing students Aman Uppal and Michelle Tran, and one they gained unique insight into during their community clinical rotation this summer with the HMS School for Children with Cerebral Palsy, a small K-12 school in West Philadelphia.
For six weeks, from early June through mid-July, they helped manage students' medications, food intake, and personal care before, during, and after class. They also spent time learning adaptive techniques from the school's teachers, who worked to ensure their students had the best opportunity to participate in a range of activities, from art class to physical therapy.
"Learning to meet these kids where they are and work with them has been the greatest [gift] from this," says Uppal, who is from Rocklin, California.
Neither Uppal nor Tran grew up planning to become a nurse. Tran, from Philadelphia, originally considered being a researcher or clinical provider, and she worked as a medical scribe after graduating with a bachelor's degree in organismal biology and physiology from Drexel University. And although Uppal says she loved the doctor's office as a child, she initially studied economics at the University of Portland and launched a career in finance.
But as the two talked to the nurses in their lives and learned more about the field, they realized that nursing was their calling. Both enrolled in the 18-month accelerated BSN program at Penn, which is tailored to those with a non-nursing bachelor's degree who want to switch careers. For their summer community clinicals, a requirement for all BSN students, Uppal and Tran matched with the HMS School for Children with Cerebral Palsy.
HMS has about 60 residential and day students ages 5 through 21, the majority of whom have a diagnosis of cerebral palsy. Cerebral palsy is a brain disorder that affects movement, posture, and balance. The mission of HMS "is to provide the best education possible and the best intellectual development possible to the students who attend," says Joan Brennan, the school's vice president of student care.
The symptoms of cerebral palsy can vary and even change over time. Everyday factors such as eating patterns can also influence an individual's symptoms, explains HMS nursing supervisor Patricia Mars, so the HMS staff take a "holistic view" when caring for their students. For that reason, HMS employs an interdisciplinary team of teachers, therapists, nurses, and personal care assistants.
Penn Nursing has partnered with HMS for six years as part of that team. First year nursing students, seniors like Uppal and Tran, and nurse practitioner (NP) students have all helped foster a safe and healthy environment for the children at the school. The partnership provides Penn nursing students with a unique clinical experience unlike inpatient nursing or traditional school nursing.
During the rotation, Uppal worked primarily with the school's day students, while Tran focused on the residential population. They took on the role of HMS nurses, who work around each student's class schedule as they provide medications, feedings, and personal care.
Uppal and Tran met HMS students as they woke up or arrived at school. They ensured the students had taken their morning medications and had necessary emergency medications on hand. Cerebral palsy can affect one's ability to chew and swallow, so Uppal and Tran managed feedings for any students who required assistance. They also learned how to best communicate with each student, many of whom are non-verbal or require assistance to speak.
Such care around communication makes the nurses at HMS shine, Brennan says. "You have to be very patient, and they're constantly alert to the fact that it's going to take time to work through any process with the students," she says. "Patience truly is a virtue here."
Tran and Uppal say they learned a great deal about cerebral palsy from their hands-on clinical experience. "It's different just reading in a textbook and learning about it in class, because it's more nuanced and individualized when you're actually working with these children,"says Tran.
The HMS staff appreciate having Penn Nursing students there, too. "When they came for their first day, I was giving them a tour and I actually got a little choked up," Mars says, "just thanking them, actually, for being in a nursing program and being a nurse."
She and Brennan have both been pediatric nurses their entire careers, says Mars, and they cherish the opportunity to connect with the next generation. "What nursing and medicine have undergone in the past two years alone has been tragic and challenging and devastating in some very, very clear ways," says Mars. "To have someone still want to continue in a medical profession knowing what they're being asked to do is an incredible testament to individuals who stay in such programs."
Tran and Uppal will both graduate in December. Tran plans to work in emergency medicine as a bedside nurse in an emergency department before returning to Penn in 2024 to complete a master's degree and become an NP. Uppal aspires to become an NP as well and will start her master's at Penn in August 2023. Both women say they're excited to bring the skills they've learned this summer into their future careers.
"As nurses, our job is to meet patients where they are," Uppal says. "So, if I can learn how to use my skills and my knowledge and apply them to the patients where they are, that's what matters. And no matter what we do—if we decide to work in geriatrics or pediatrics—that aspect will never change."