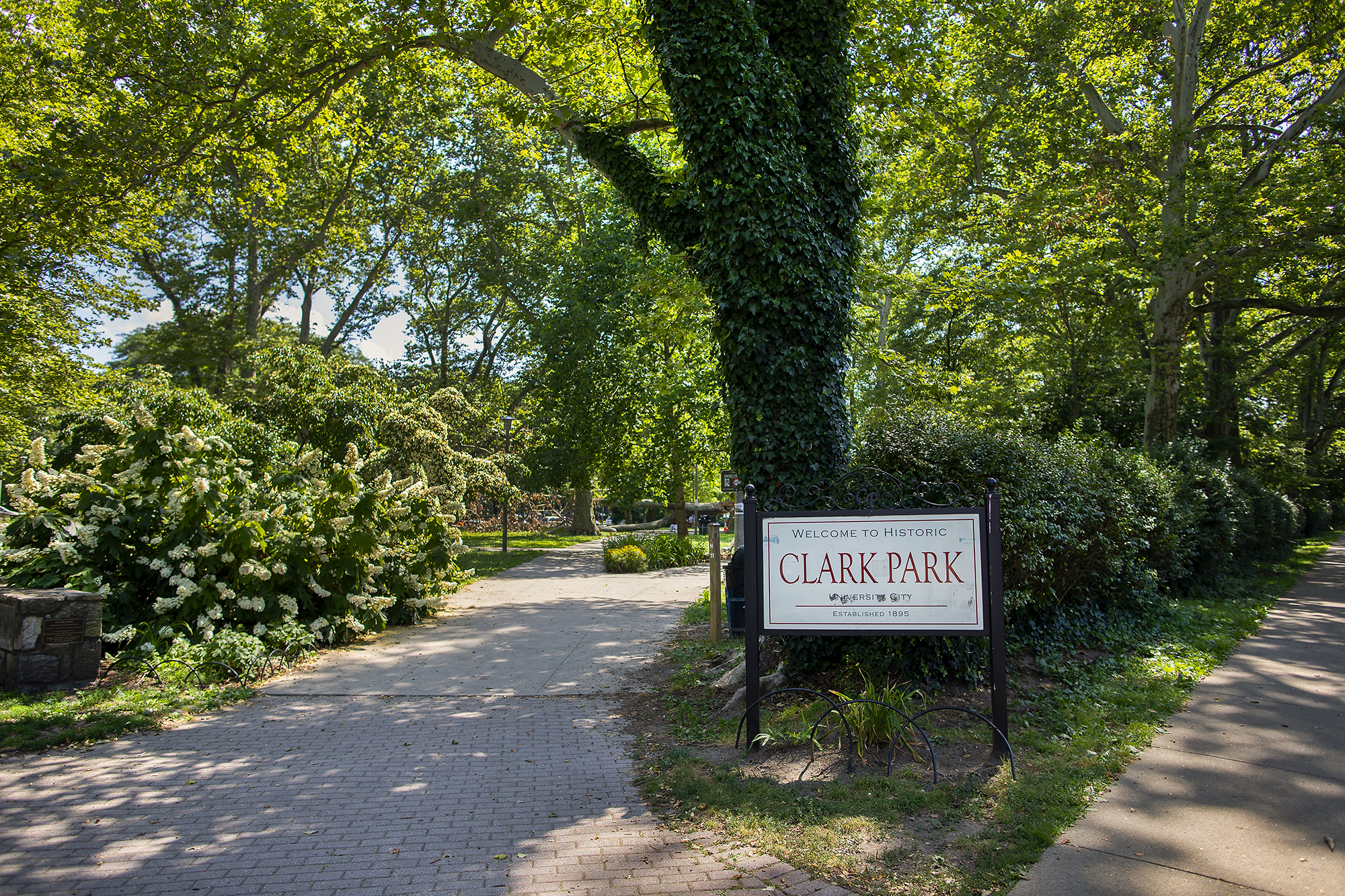 After the birth of her third child, Lee ScottLorde experienced postpartum depression, something that affects one in nine mothers. Injuries she'd incurred during the delivery made it hard for her to walk, which exacerbated her unhappiness. 
"I decided I would start by taking small walks outside," she says. "Initially I would walk to the corner. I would let the cool, fresh air wash over my face, look at whatever foliage was out, then go back in the house. As time progressed, I was able to walk farther. I was moving my body the best that I could every day, and I was able to meet more people." 
Eventually time outside had helped ScottLorde heal. So, when she learned about Nurtured in Nature, a pilot from Penn Medicine's Eugenia South that focused on using nature to help those suffering with postpartum depression, she jumped at the chance to participate. Soon, ScottLorde became the peer nature coach for a new study designed and carried out by the Urban Health Lab, which South runs. 
The project's goal was straightforward: Get new mothers to spend more time outside in nature. Though it's hard to convince humans to alter their behavior, even when doing so will benefit them, place-based interventions—those that change actual surroundings and how people understand them—have strong potential to improve health and safety. And research has proven that spending more time outdoors can help with depression. 
South decided to aim first at the postpartum population. "We know a certain number of women will develop postpartum depression, but we don't really know who," says South, a Penn assistant professor of emergency medicine and a member of the Center for Emergency Care and Policy Research. "There are good known interventions when someone develops postpartum depression, but I wondered whether there was a way to prevent it altogether or prevent it from being severe."
Her team created a four-week intervention for women 18 and older who had just had a baby and who lived in predominantly Black neighborhoods in Philadelphia. In partnership with the Maternal and Child Health Research Center, 36 women enrolled about 24 hours after each gave birth at the Hospital of the University of Pennsylvania.
One half served as a control group, receiving a short educational session and flyer when they signed up. The other half received the intervention: Before the Penn researchers saw the mother in her home, they would map out nature locations within a 10-minute walk of where she lived, plus fastest routes. About two weeks post-delivery, ScottLorde would visit. 
ScottLorde, whose youngest child is not yet 3, has a background in personal coaching as a USA Track & Field Level 1 Coach and Community Wellness Advocate. She lives in West Philadelphia herself and has worked with nature-promoting organizations like GirlTrek and We Walk PHL for years. "We wanted someone who could relate to the life stage and circumstances of the participants, who would be viewed as a peer and maybe more accepted than a health care provider," South says. "Lee was the perfect person. It was a perfect match."
During that initial one on one with each intervention-group participant, ScottLorde got to know the new mother, how she felt after giving birth, her current relationship with nature. They would discuss the map the Penn team had created and set goals for outside time—once for each of the first two weeks, maybe twice during the following two—as well as potential challenges to meeting those goals.
"Some people have never spent time in nature," ScottLorde says. "I tried to work through their nerves and help them organize what they needed to prepare." 
At the end of the conversation, each participant signed a commitment contract. "It was a commitment to themselves, to taking care of themselves and to going outside," South says. Leveraging principles from behavioral economics, the Penn team sent text-message reminders during the next few weeks with feedback and encouragement. Whenever possible, ScottLorde returned a second time to accompany the mother to one of her nearby green spots. 
All fieldwork was completed before the pandemic. But the researchers have not finished their analysis, so they haven't yet published any findings. Anecdotally they've seen signs of success. Women who received the intervention seem to be spending more time outside. One participant said her attitude about nature went from skeptical to enthusiastic in a single month. Another was introduced to a park just a few blocks from her home. 
ScottLorde recalls a participant who stands out in her mind. "One mom reported safety issues in her neighborhood, which prevented her from spending time outside. She had created a mental barrier for herself because she thought the green spaces were too far away," ScottLorde says. "Once we did the nature walk together, we discovered gardens in the neighborhood. She completely relaxed. She decided she wanted to build her own community garden on her block so that her children and those around her could experience it." 
South says that ideally a much larger study of this kind can happen in the future, now that the pilot has demonstrated its feasibility. She would also like to adapt and expand the intervention to other populations with different health challenges, like those with cardiovascular disease or high blood pressure. 
"Nature can be leveraged as a health-equity tool, both in terms of making sure everyone has access to clean, safe green space but also encouraging people to spend time outside as a way to buffer life stress," she says. "Nature isn't a cure-all, but it can be a potential buffer, a way to prevent life stress from getting under your skin and leading to poor health over time." 
Eugenia South is an assistant professor of emergency medicine at the Perelman School of Medicine and a member of the Center for Emergency Care and Policy Research at the University of Pennsylvania. She runs the Urban Health Lab.