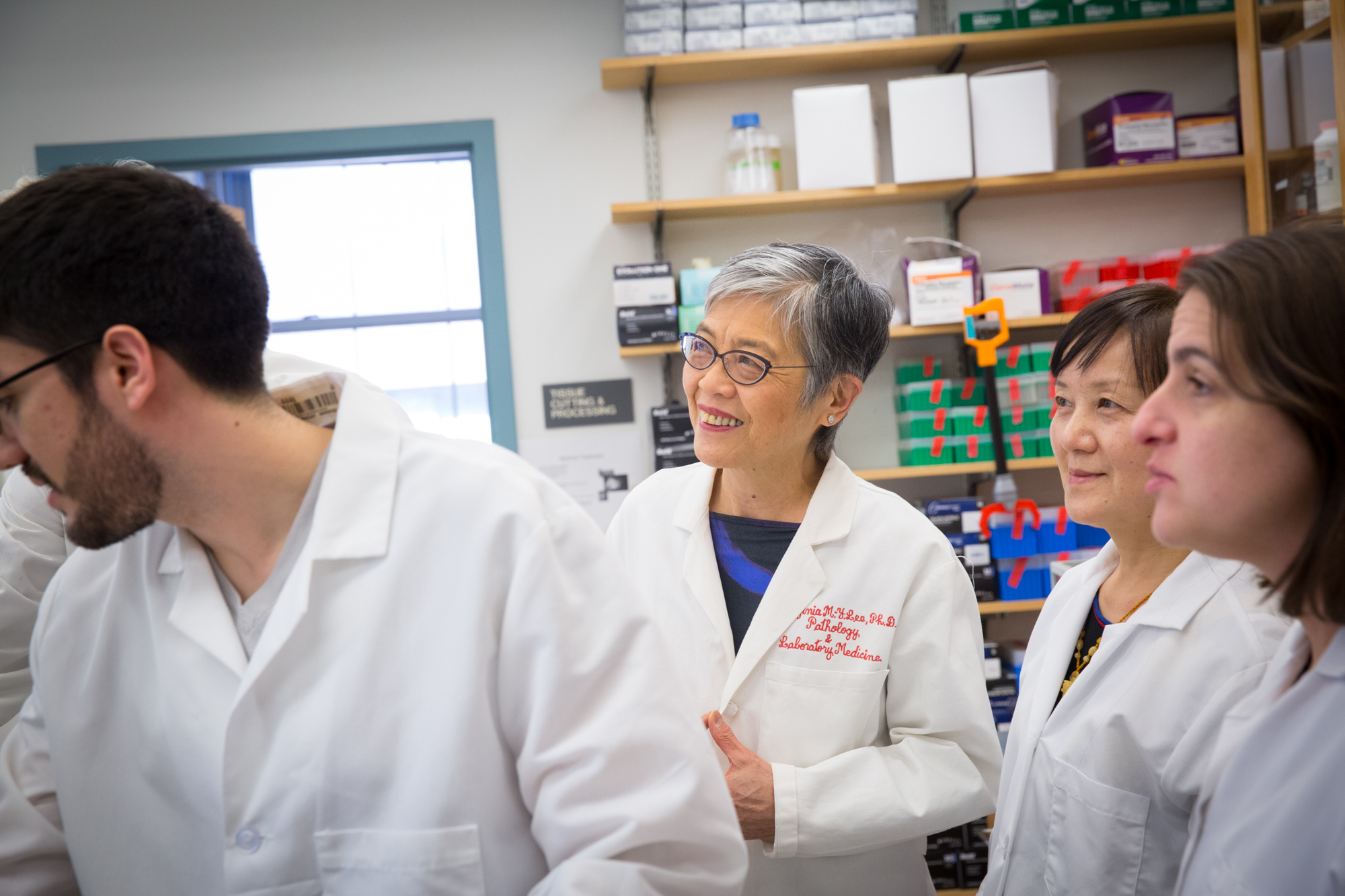 A primary project for Garrett Gibbons, a postdoctoral researcher at the Center for Neurodegenerative Disease Research (CNDR), is to develop novel tau antibodies as possible therapies to treat Alzheimer's disease. When in the thick of it, the scientific process becomes a huge, timely—and sometimes redundant—task. 
One particular experiment comes to mind: Gibbons and his colleagues were injecting tau into mice models, which the mice developed antibodies against, and when they were harvested, the cells were paired with another cell to make a hybridoma. The problem? After two times running the full experiment, the antibodies still didn't meet certain criteria to be applicable.
Gibbons, quite disheartened, told his adviser Virginia Man-Yee Lee, a Perelman School of Medicine professor and director of CNDR, that the benchmark was too high.
"Virginia was like, 'Well, try again,'" Gibbons recalled. "She pushed back and said how she thought we could do better."
Although admittedly frustrated at the time, Gibbons rethought the project, and, ultimately, underwent a revamped test a third time. 
"And we got better antibodies, performing better than the previous ones," he said. "They are now the candidates that we are evaluating as immunotherapy in mice, as potential treatments for Alzheimer's disease."
It is safe to say, noted Gibbons, that without this kind of persistence from Lee, Alzheimer's research wouldn't be nearly as developed as it is today. A pioneer in the field of neurodegenerative diseases, Lee was recently recognized for her four decades of work with a $3 million Breakthrough Prize in Life Sciences, an award backed by major technology leaders from companies including Google and Facebook. 
"Growing up in Hong Kong in a very traditional Chinese family, my mother never wanted me to become a professional, let alone a scientist," Lee said to the crowd, while accepting her Breakthrough Prize at the "Oscars of Science" in Silicon Valley in early November. "Thankfully John Trojanowski, my life partner and collaborator, convinced me to embark on this wonderful journey with him, identifying proteins that are involved in devastating neurological diseases, which affect more and more of us, but have no effective treatment."
Breakthrough after breakthrough
Lee, with a background in biochemistry and neuroscience, and Trojanowski, who studied pathology and neuropathology, have toiled alongside each other at Penn since the mid-1980s. They began work in Alzheimer's research when it was very uncommon to do so—in fact, their mentors urged them to stay far, far away from it.
"What [our mentors] saw as a swamp," said Trojanowski, "we saw as a huge challenge and opportunity that has led to an engaging career."
Before Lee and Trojanowski, prior studies had determined that an Alzheimer's patient's brain progressively accumulates plaques, abnormal clusters of protein fragments called beta-amyloid, that build up between nerve cells, and tangles, which form inside dying cells. Using this as a starting point, the duo detected their first major finding in 1991: that tau is the building block protein of the neurofibrillary tangles.
In 1997, Lee and Trojanowski found that Lewy bodies, the hallmark brain pathology of Parkinson's disease, are formed by alpha-synuclein. Knowing what causes Lewy bodies is important to Alzheimer's researchers because about 50 percent of Alzheimer's patients have Lewy bodies that contribute to cognitive deficits. 
Then, in 2006, they discovered the pathological protein deposits in amyotrophic lateral sclerosis, or ALS, and frontotemporal degeneration, or FTD, are formed by TDP-43, a multifunctional DNA- and RNA-binding protein, and these deposits are also present in a large number of Alzheimer's patients' brains. 
Lee was specifically recognized for the Breakthrough Prize for discovering TDP-43 protein aggregates in FTD and ALS, and revealing that different forms of alpha-synuclein, in different cell types, underlie Parkinson's disease and Multiple System Atrophy. 
"The discoveries led by Dr. Lee and her team are extraordinary, and absolutely worthy of the prestigious Breakthrough Prize," said Penn President Amy Gutmann, who went to Silicon Valley to support Lee in receiving her honor. "Dr. Lee and her team have worked to fully understand the different segments of Alzheimer's disease and other related disorders, using that knowledge to develop models that are becoming the foundation for therapies that will, hopefully, stop or reverse these diseases. This is exceptionally important work, and we are very proud that it is taking place at Penn."
It's rewarding, Lee said, to reflect on how researchers are becoming increasingly interested in TDP-43's involvement in neurodegenerative diseases, and the biology that is able to follow, now.
"It is gratifying that people can, and people are very interested in, using the system that we've built to identify potential therapies," Lee explained. "I am really optimistic that maybe some treatment for Alzheimer's and Parkinson's will become available in the next, let's say, one or two decades."
Gibbons, who can distinctly remember being a teenager and watching his grandfather cope with all the stages of Alzheimer's, as well as the impact it had on his family, knew rather early it would be a field he would want to pursue. But, it wasn't until he was immersed in the research that he realized how complicated it really was.
"When I first got to Penn, I was kind of blown away with the challenge and sort of became cynical and pessimistic," Gibbons said. "But I like the way that Dr. Lee continues to forge ahead and isn't overwhelmed … as a young investigator, that gives me a lot of inspiration and hope. Of course there will be failures, and of course science is hard. This is worthwhile, and we will get there." 
An infrastructure that thrives
In terms of Lee as a leader, Mike Henderson, a research associate in her lab, said he appreciates the way she guides him in his learning, but also provides him with the independence needed to encourage innovative, out-of-the box thinking. 
"She really shows you what it takes to be a good scientist in the field," he said, adding how inquisitive Lee always is. "She's very curious and I think that's really what has driven her lab and what has made her so successful."
The main reason Henderson came to Penn, he noted, was to work not only with Lee and Trojanowski, but also with the team they've assembled through the creation of the CNDR, which celebrated its 25th year in 2018. About 50 people are part of the center today.
From the Maloney Building on Penn's campus, where CNDR is housed, Lee and Trojanowski have been able to foster multidisciplinary collaborations between basic and clinical scientists, and provide resources to enable the very best research projects, including a brain and biosample bank, a drug discovery program, data management and biostastic support, and expertise in biochemistry, histology, molecular biology, microscopy, tissue culture, and genetics. 
"John and I spent a lot of time developing an infrastructure to do this type of work, and Penn has been such a fantastic environment," said Lee, who acknowledged all of her collaborators—students, postdocs, and staff scientists—at the Breakthrough event. "I truly want to thank them for their dedication and commitment," she said. 
Talking later, Trojanowski added, "They have made possible all that we have accomplished."
10 to 20 years to go
There is no doubt about it: Talking about his beloved wife of 40-plus years is probably one of Trojanowski's favorite things to do. "She's always pushing herself to be better, and she's always pushing me to be better. She is driven, hardworking, very bright, determined—all of the things that you expect to see and need to see in people that are going to be as successful as she is."
Not only is she passionate about science, he adds, she's determined to solve any problem she ever sets her eyes on. Plus, "she's an amazing preceptor, trainer, encourager of science in young people. She is just exceptional," he added. 
Trojanowski attended the Breakthrough event with his wife, thrilled to stand by her side on such an exciting day. "It's an outstanding recognition," he said. 
One might think a $3 million check in the bank could be a ticket out of work, but for Lee, she was back in Philadelphia after just a couple days. As always, she rode her bike to the office—ready and willing to take on her next challenge. 
"What I'd like to do in the next 10 to 20 years," Lee said, "is really work with companies—pharmaceutical companies and biotechnology companies—to come up with treatments."  
Virginia Man-Yee Lee is the John H. Ware 3rd Endowed Professor in Alzheimer's Research in the Department of Pathology and Laboratory Medicine in the Perelman School of Medicine. 
John Q. Trojanowski is the William Maul Measey - Truman G. Schnabel, Jr., M.D. Professor of Geriatric Medicine and Gerontology in the Department of Pathology and Laboratory Medicine in the Perelman School of Medicine.
The Breakthrough Prize in Life Sciences, founded in 2013, honors transformative advances toward understanding living systems and extending human life. It is sponsored by Sergey Brin, Priscilla Chan and Mark Zuckerberg, Pony Ma, Yuri and Julia Milner, and Anne Wojcicki.
Homepage photo: Today, about 50 people make up the Center for Neurodegenerative Disease Research, led by Lee and Trojanowski, who both expressed how thankful they are for such a great team.