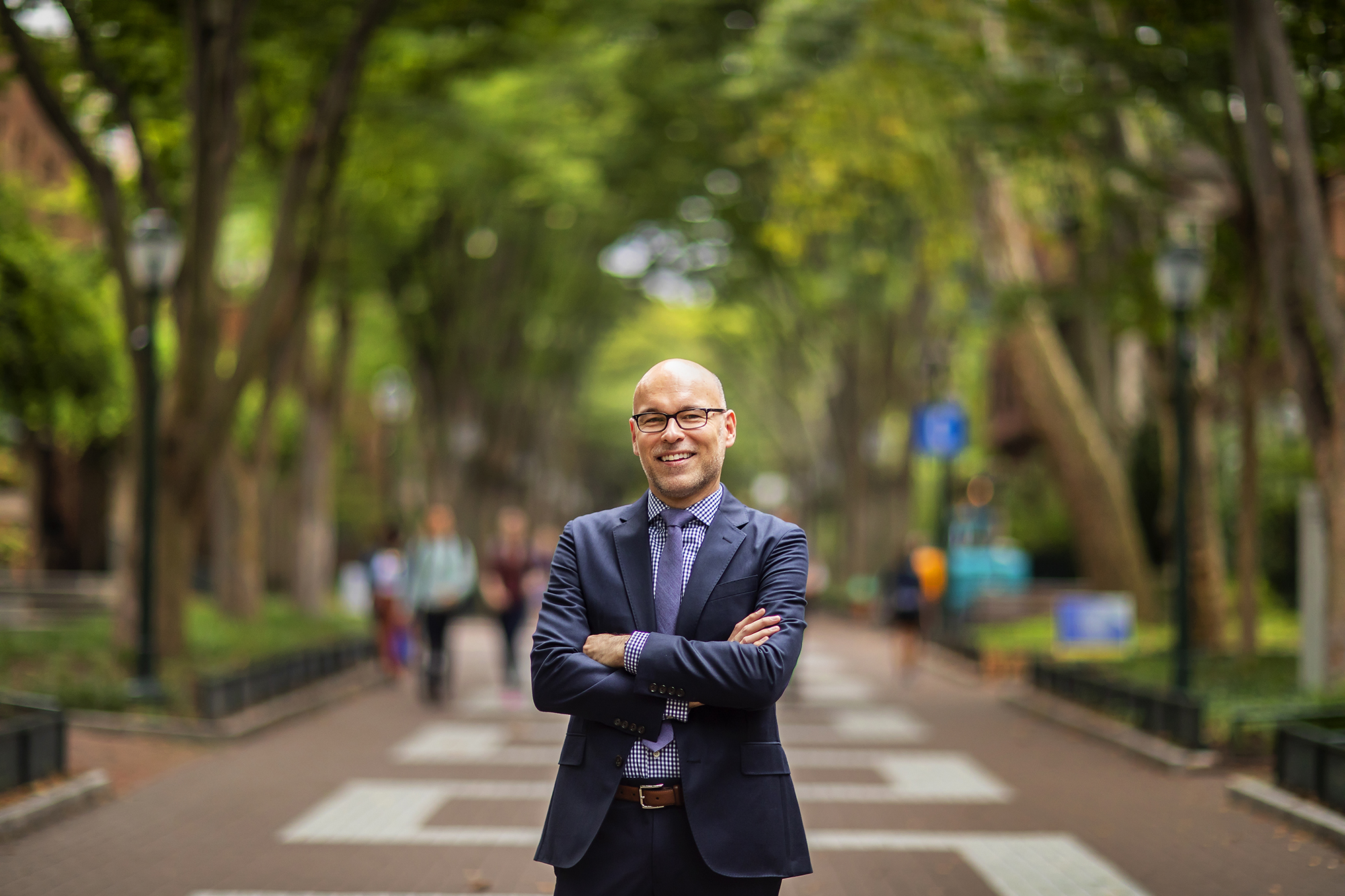 Wellness can have an array of meanings and affect each and every human being in a variety of ways.
For a freshman in the College still adjusting to University life, it may mean escaping in a captivating novel. For a sophomore at the Wharton School, it might be sweating it out on the squash court. For a student in the Graduate School of Education, wellness could be doing yoga.
All three characterizations are equally effective and valid, says Benoit Dubé, the chief wellness officer at Penn.
"That's what we're going to try and figure out as an institution," he says. "What can we do to give our learners permission to find their own definition?"
Appointed in June by Provost Wendell Pritchett and Vice Provost for University Life Valarie Swain-Cade McCoullum, Dubé is the first chief wellness officer in the Ivy League. A core member of the University Life team, he directs wellness initiatives across Penn, and will oversee an integrated new division of Student Wellness Services that includes the offices of Alcohol and Other Drug Program Initiatives, Campus Health, Counseling and Psychological Services (CAPS), Penn Violence Prevention, and Student Health Service.
This new division will create faster access to care for more students, across a wider range of options. Among other goals, it will aim to increase capacity at CAPS; decrease the time between a first CAPS consultation and a first counseling appointment; and better distinguish short-term care, long-term care, and other kinds of care to support students and promote wellness.
President Amy Gutmann and Provost Pritchett created the Wellness Initiative last fall after the University-wide Campus Conversation, part of an ongoing effort to further strengthen and support the health and wellness of Penn students.
In response to the Conversation and comments from the University community, Gutmann and Pritchett took the immediate first steps of committing funds to add five additional full-time staff members at CAPS to provide an expansion of hours and a reduction in wait times, and fast-tracked a CAPS process and operations review to ascertain any further service refinements to support students.
Secondly, the University launched a Campaign for Wellness to follow through on some of the suggestions that arose from the breakout sessions at the Conversation, and develop new programs and initiatives to support an even healthier college experience.
A call to heal
At Penn since 1997, Dubé was previously director of wellness initiatives, assistant dean of the Office of Inclusion and Diversity, and director of Medical Student Education in the Department of Psychiatry at the Perelman School of Medicine. A French-Canadian whose first language is French, he received his medical degree from the University of Montreal, and completed his graduate medical education at Penn.
Dubé says being a healer is a part of who he is.
"If I go back to why I ended up in medical school, even though that was not my original plan, I just want to help people be better," he says. "I want to help people achieve their full potential. As a physician and as a psychiatrist, I have tools—I have words, I have medications—but I also have actively listening, I also have presence, and all of that is really encompassed in the broader attribute of healing, helping people heal. Sometimes you can't fix things, but you can make them more tolerable, and sometimes just being present makes the journey manageable even though you can't change the outcome. That calling to be a healer is important to me."
As the chief wellness officer, Dubé says his full-time job is to give wellness a face and a voice, foster and nurture wellness, and help students balance ambition with humility.
"I see my job as infusing wellness in the culture at Penn," he says.
The evolution of wellness
Giang T. Nguyen, clinical associate professor of family medicine and community health at the Perelman School of Medicine and executive director of the Student Health Service, says wellness includes not just physical and emotional health, but also social wellness, spiritual wellness, financial wellness, intellectual wellness, occupational wellness, and environmental wellness.
"If you look at the way Penn supports our students, we really try to touch on all of those things," he says. "We try to create an environment that supports being well, where you feel at ease, where you have breathing room, where you can run around if you want to run and you can be physically active. Those are things that we as an institution have placed as a high priority, and we've also created systems where people can take care of their physical wellness by going to a place like Student Health where we're well-resourced, and we have evening hours and we have Saturday appointments. Those things help our students to take care of themselves."
Working and teaching at Penn since 2003, Nguyen says he has seen an evolution in how students and administrators view wellness.
"Those of us who work in the field of health and public health have been thinking about wellness forever," he says. "I have seen a lot of change over the past 15 years or so where students and faculty who are not working in the area of health are starting to not only recognize the importance of wellness, but also engaging in really in-depth conversations with each other about what it means to be well, and how we as a community can promote wellness for all of us. That's been exciting to see because we haven't always had the opportunity to have that kind of conversation with students, but now they're very eager to engage with us in these really valuable conversations."
Nguyen says the addition of a chief wellness officer is "truly exciting and speaks to the investment that the University wishes to make in creating a culture of wellness here at Penn."
Ease of comfort
Meeta Kumar, deputy executive director of CAPS, has been a psychologist at CAPS for almost 20 years, where staff is charged with focusing on the mental health aspects of wellness. Counselors help students determine what is affecting their ability to be mentally well, give them the tools to support their mental wellness, and address issues of illness and un-wellness.
"The ways that we do that is we do a lot of public health prevention-based work, and provide assessment and treatment, individual psychotherapy, medication, and groups to address a range of issues," Kumar says.
Over the past several years, CAPS has greatly expanded, moving into a new space with an improved therapeutic environment, offering increased services and programs, and adding a host of new counselors.
"We've really exploded and expanded in the area of public health, outreach, and prevention programming," says Kumar. "We offer the I CARE training, which is a gatekeeper training to equip students, faculty, and staff to be able to support another person or be able to intervene in the case of a mental health crisis, and contribute to a better sense of a community connectedness. We offer lots of mindfulness programs out of CAPS and, at the request of others, lots of workshops on a variety of mental health topics."
Over the summer, CAPS underwent a series of operational and procedural changes that now enable students to talk directly to a clinician by phone 24 hours a day, seven days a week, and more convenient appointment scheduling.
CAPS is also piloting a program in which counselors are embedded at the School of Veterinary Medicine, the School of Dental Medicine, Penn Law School, and Penn Medicine.
"They're on site for a few hours a week to make our services more easily available and accessible to those students," Kumar says.
Holistic approach
Dubé says Penn Wellness is in the process of doing something fairly unique—fully integrating all wellness services. They are actively searching nationally for a chief operations officer of Penn Wellness and an executive director of CAPS. Once those positions are filled, he says the team will sit down and discuss combining all services under one entity in order to increase efficiency and access.
"We want to break down those silos," he says. "We want to make access more seamless. We want to make our approach more holistic."
Homepage photo: Campus Health and Penn Recreation offered free yoga on Franklin Field on Sept. 28 to wrap up Healthy Campus Week.