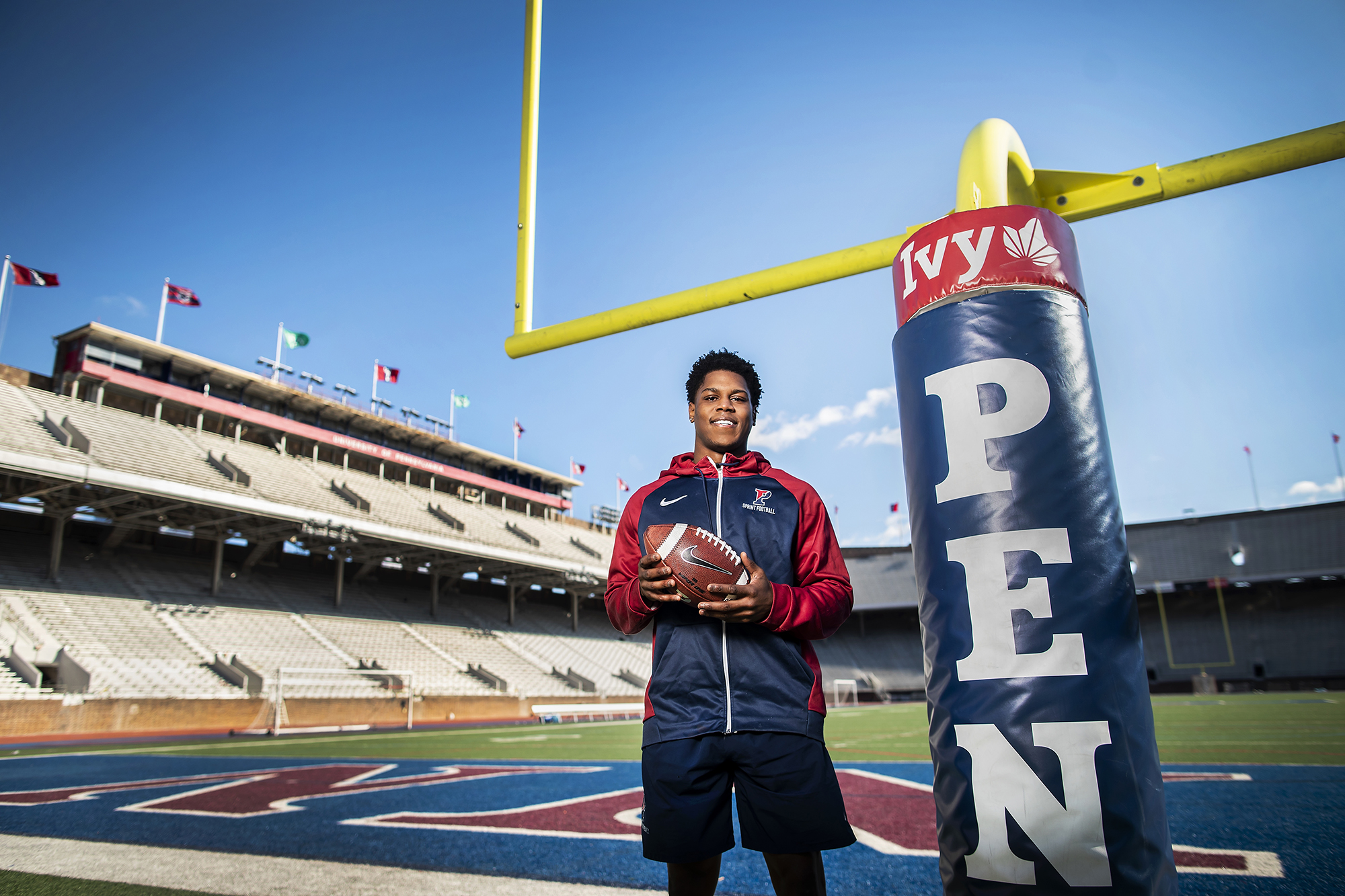 On Wednesday, the Collegiate Sprint Football League (CSFL) announced its All-Conference awards, and for the second time in three seasons, running back Laquan McKever of the 5-2 sprint football team was named an All-CSFL First-Team honoree.
A senior Philosophy, Politics, and Economics major from Linden, New Jersey, McKever finished the season ranked first in the conference in all-purpose yards (879), total yards per game (125.6), and total touchdowns (13). He also ranked second in the league in rushing touchdowns (11) and placed third in rushing yards (772), rushing yards per game (110.3), and yards per carry (6.0).
McKever showcased a supersized serving of dazzling rushing displays for the Quakers, including a 238-yard outing against Chestnut Hill in 2019—the seventh-highest total in school history—and a 164-yard day this season against Cornell.
He concluded his Penn career with 259 carries for 1,538 yards and 18 rushing touchdowns, and 23 receptions for 163 yards and three receiving touchdowns.
Penn Today lined up with McKever to discuss his sprint football career, how the pandemic reignited his passion for the game, adjusting to the speed of the sport, how he became a Colts fan living in North Jersey, and his plans for the future.
You have been playing football since you were 8 years old. What do you enjoy about the sport? Pretty much everything. I didn't really realize how much I actually loved it until the pandemic hit and I had a year away from playing football. It kind of made me rethink my entire life. I wish that I could have had the same passion that I did this year every year of my football career. I like the grind, just being with my teammates every day. Just being able to compete.
So, you noticed a difference in your approach when you came back to the team this fall? Definitely. I just realized that every second of football-related activity, I wanted to give 100%. I feel like if I had done that from day one of my football career, I could have taken my career much further than I have to date.
Did you have to adjust your running style when you started playing sprint football, since I presume most teams have an abundance of quickness and speed? Honestly, in high school, I was always able to bounce things to the edges and beat guys outside with speed. I was also able to do a lot more dancing to get where I needed to go. But in this league, everyone's a lot faster, so I can't beat people on the edges. I have to run in-between the tackles if I want to get my yards. I had to learn to be a more disciplined back.
You played 18 games in your three-year career; obviously last season was canceled by the coronavirus. Do you have a most memorable game? My favorite game was probably this year against Cornell. I had some of my best runs of the season. I had a lot of friends here, some family here. We expected to beat them, so it was good to do what we had planned to do that game, blow them out.
Did you have a favorite player growing up, or someone you modeled your game after? Not really. I liked running backs, but I would kind of switch who I liked. Sometimes it was Adrian Peterson, sometimes it was Barry Sanders. It just depended on whose highlight tape I had most recently watched.
You're from North Jersey. Are you a Giants or Jets fan? I'm actually a Colts fan. A funny story is that my older brother has been a Patriots fan his whole life, and I never really had a favorite team. But then in '06, when the Colts beat the Patriots in the AFC Championship Game, just to spite my brother, I was like, 'OK, this is my team,' and it's stuck since.
Colts running back Jonathan Taylor is having a great season. He scored five touchdowns and ran for 185 yards against Buffalo, the weekend before last. Now, he's my favorite player because he's a running back, he's one of the best in the league, and he's on my favorite team. He's blazing fast, big and strong, and he has insane footwork. He's just an all-around, complete back.
What do you think about Carson Wentz? He's sort of persona non grata in these parts these days? If you look at his statistics, as we speak right now, he currently has 2,790 yards, 21 touchdowns, and five interceptions, which puts him somewhere in the top half of the league. I like him so far. I love what he's about. He's a big God guy and he's a hard worker, so I like him.
After graduating in May, you will work as a private bank analyst at Citigroup. What will you be doing? It's called a private bank analyst, but really what it is, is private wealth management. I will be doing wealth management for clients with an ultra-high net worth, which is usually $25 million-plus. I'm definitely excited to start that chapter in my life. I like finance. I like investing and reading the markets, just everything that's going on with the economy.