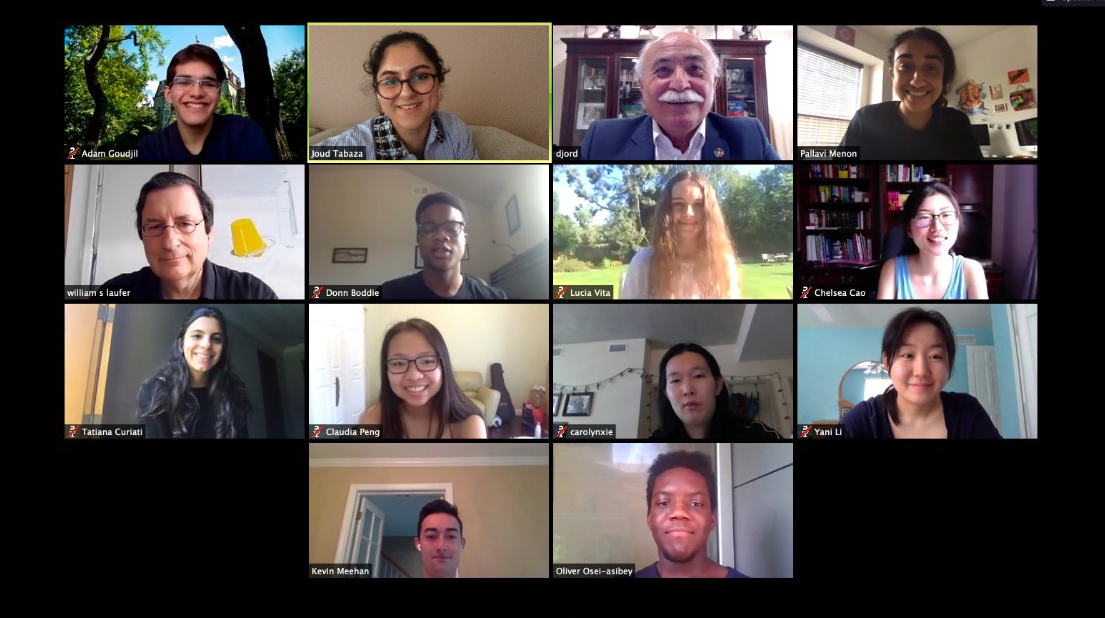 In the last several weeks, many college students were informed that due to the COVID-19 pandemic, their offers for summer internships have been rescinded. Some lost jobs or had their start dates postponed until further notice.
"I was very excited to be a summer intern at a pharmaceutical company in New York, engaging in market access analytics," says Pallavi Menon, a rising senior working on a dual degree with a concentration in neuroscience and healthcare management at the Wharton School. "However, with the company's altered focus during the pandemic, the summer program was canceled. This made the harsh global reality more apparent and revealed that the best use of my time would be to participate in the COVID conversation."
Joud Tabaza is a rising junior at Wharton, concentrating in analytics with a minor in computer science.
"Going into this semester, I had an offer from an international company in Dubai, which, due to COVID-19, had to undergo restructuring," Tabaza says. "I lost my offer in the process, and due to travel restrictions, any prior hopes for me to be there in person were also gone."
Against this backdrop, and as members of the Ideas for Action club at Penn, both Menon and Tabaza felt they were well-positioned and obligated to launch a COVID-focused initiative and engage in the global conversation in the fight against the pandemic.
Leveraging the strong network of the Ideas for Action club, Menon and Tabaza launched the Building Capacity to Combat COVID-19 in Africa: Ideas and Innovations from Young Entrepreneurs initiative as a platform for partnerships and ideation to creatively combat the pandemic. The Ideas for Action club, in collaboration with Wharton's Carol and Lawrence Zicklin Center, has started a new platform under the guidance of Wharton lecturer and senior fellow for the Zicklin Center, Djordjija Petkoski and Wharton professor of legal studies and business ethics, sociology, and criminology, William S. Laufer, the Center's director.
"The Zicklin Center is proud to co-sponsor the COVID-19 Africa Initiative with the Ideas for Action Club," Laufer says. "The Center has more than a two-decade old commitment to what we call "legacy" projects, such as, collective efforts that give a powerful voice to young leaders in addressing and repairing failures of intergenerational responsibility. It is strongly supported by the Business Development and Innovation pillar of the Zicklin Center, directed by Dr. Djordjija Petkoski, formerly of the World Bank."
"Although this is not exclusively driven by the pandemic, we saw an opportunity for Penn students and young entrepreneurs to do something timely, impactful, and more meaningful during the crisis," Petkoski says. "This initiative builds on the ongoing Ideas for Action initiative already in place at Wharton for several years, and when we saw what was going on and students began to receive notices of losing internships and jobs, we wanted to help."
The initiative's origin
The Carol and Lawrence Zicklin Center was established in 1997 to study and support private sector responsibility and public accountability; promote thinking and scholarship on business and normative ethics; and provide research assistance to the Center's many stakeholders.
The Zicklin Center is launching this initiative under its business development and innovation pillar and in collaboration with Wharton's Global Social Impact club.
"Ideas for Action and the COVID-19 capacity building initiative in Africa engage the creativity of young business leaders to offer solutions to the most challenging of all problems—with this initiative, efforts to combat the pandemic throughout the African continent," Laufer says.
This Building Capacity to Combat COVID-19 in Africa initiative, supported by many partnerships, provides opportunities for students and young professionals to offer innovative ideas in response to the COVID-19 pandemic.
"This program focuses on students and young professionals, and we wanted to look at that from a perspective of creating new ideas through a business angle," says Petkoski, "which also will take into consideration the social and environmental impact in addressing some of the challenges coming out of the coronavirus pandemic."
He says the initiative is designed to have an impact of longevity.
"Many young people are losing jobs due to the pandemic, so [an] alternative to that could be entrepreneurship," Petkoski says. "The program will provide structure to employ their ideas and skills in addressing something very concrete."
The objective of this initiative is to encourage capacity building ideas and innovations from young entrepreneurs within diverse teams, supported by decision-makers and experts in international development, academia, and the private sector.
All proposals will be reviewed and offered feedback. The teams will also receive support from a dedicated startup accelerator at Wharton, and benefit from unique networking opportunities within other young business leaders.
"Not only are Penn students engaging in organizing this initiative for creative entrepreneurship, but they're also establishing a platform for other university students around the world to submit their innovative ideas," says Menon.
"What unites such ideas is the common goal of combatting this global pandemic, but at the micro level, they can range from public to private partnerships, technologically innovative solutions, and creativity in shaping local ecosystems," says Tabaza.
Eventually, all participants receive extensive support from industry professionals, international experts, and potential investors to take such ideas to the next level.
Policy making and community-based projects
The initiative encourages proposals that address four broad issues.
"Participants are asked to develop ideas related to policy changes, startups, technology, or community-based initiatives," said Tabaza.
She says proposals should offer innovations in improving the responses of government and other policy-making entities to the COVID-19 pandemic.
"Fragility, weak institutions, and underdeveloped public health systems undermine the effective response to COVID-19," she says. "The proposals should address how we can build capacity for good governance, compliance, transparency, accountability, and responsibility in COVID-19 responses. It should also highlight how we as society can support entrepreneurship in government and health care."
Menon says the startup ideas should address "how to expand the activities of existing startups or new ones to address COVID-19 challenges in Africa."
"The technology and big data should focus on how we should best utilize technology, AI, and big data in the search for innovative responses to COVID-19," says Menon.
Petkoski says the community-based component should have substantial experience and capacity already addressing critical health care issues in poor communities.
"Not only in Philadelphia, but also other large metropolitan areas in the United States should be addressed," he says. "The proposal should tell how to incorporate these lessons in addressing the challenges raised by COVID-19 in Africa."
Following submission, proposals will be reviewed based on their significance, originality, feasibility and clarity.
Why should students participate?
The initiative is open to students and young professionals (ages 18-35) from around the world interested in offering innovative ideas for an effective private and public sector response to the COVID-19 pandemic in countries throughout Africa.
Menon says that by utilizing the existing networks, including almost 20,000 alumni participants in the initiative, the program is well positioned to facilitate the creation of diverse teams and expertise.
"If students need, we can also help them bring new team members," she says. "Students can let us know if they would like to share their initial ideas through our networks, so that we can facilitate access to potential new team members, including local or global entrepreneurs."
Tabaza says this initiative goes beyond a single project. It can be part of an innovative movement in leadership in shaping the local ecosystem while strengthening and creating markets.
"This is your unique leadership moment," says Tabaza "It is an opportunity to demonstrate leadership not only through proposing specific, innovative projects but to get actively involved in managing the initiative locally."
Africa and beyond
The initiative plans to cover the whole continent in a five year span, starting in North Africa.
"We focus on Africa for several reasons," Petkoski says. "One is due to very weak institutions, including public health system, the impact of COVID-19 will be much higher and the recovery process much longer than in many other regions. Interestingly, the infection and death rate have remained low relative to many dire predictions from pandemic modeling. The other reason is that Africa's population as a whole is very young, with 60% of the entire continent aged below 25, making it the youngest continent in the world, in relation to its population makeup. Inspiring entrepreneurship to achieve Africa's development agenda is another worthy objective"
Petkoski says although the initiative is focused on Africa, the team invites anyone to share their local knowledge, particularly community-based best practices, which may be beneficial for the implementation of proposals in Africa.
"Of course, we are mindful of the limitations of North to South knowledge exchanges," he says. "Some of the best practices from countries in Africa could be equally relevant elsewhere, including underdeveloped communities in developed countries."
Petkoski says the initiative is already gaining momentum and getting requests from other parts of the world.
"We have received requests from universities in Latin America wanting to be a part of this under the umbrella of knowledge exchange through Penn and Africa," he says. "They are asking us if they can bring the experience of Latin America that is relevant for Africa, and also to learn from Africa, because some of the things Africa may be doing now around the pandemic can be equally relevant for Latin America."
In the future, with the support of the Zicklin Center, the Idea for Action club plans to take the initiative to the continents of Asia and Latin America.
The final deadline for proposal submission is Sept. 15, 2020. The proposals will be reviewed and offered feedback on a first-come, first-serve basis.