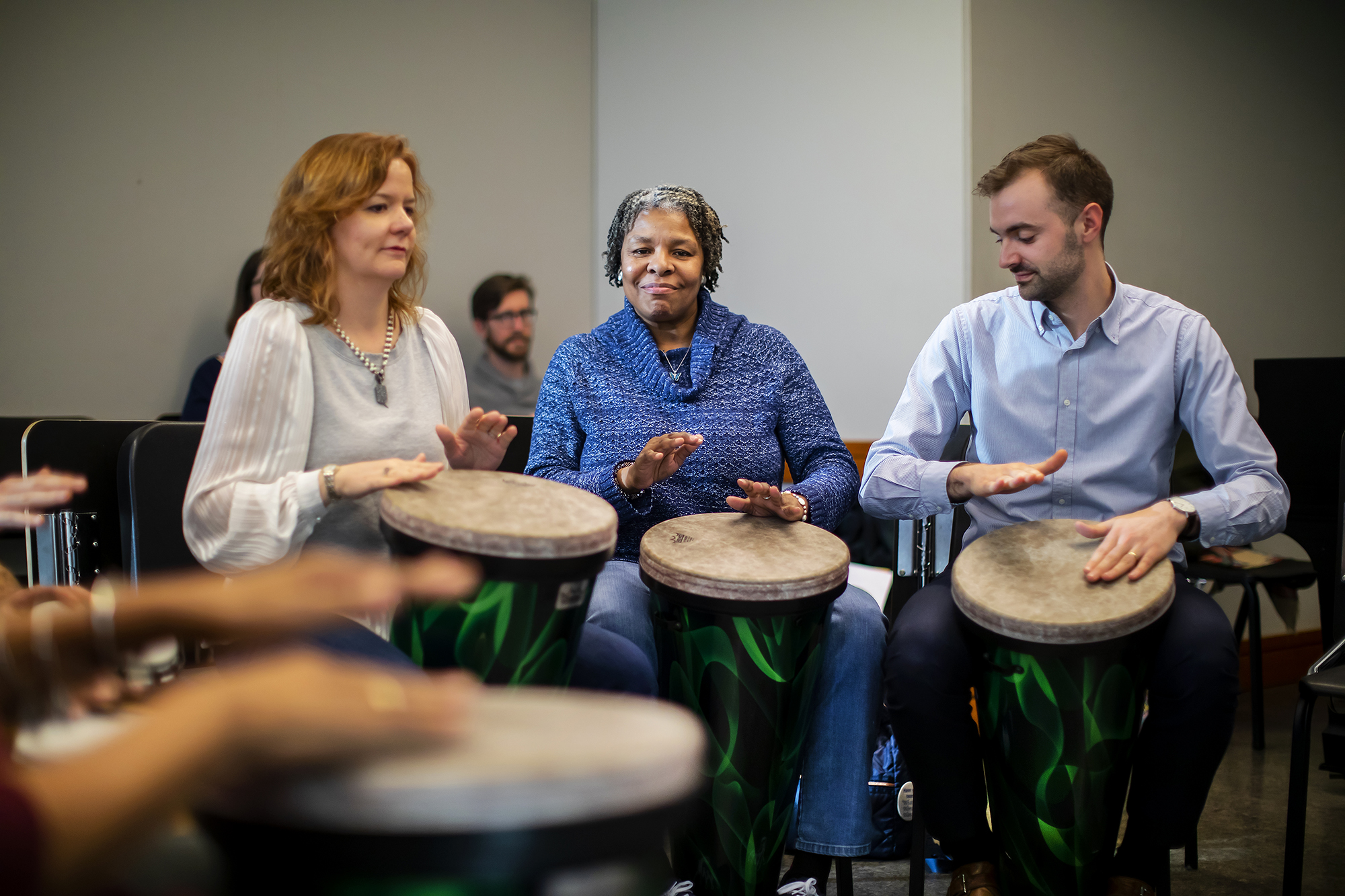 In a small L-shaped classroom with a piano tucked into the corner, on the fourth floor of the Curtis Institute of Music in Center City Philadelphia, Nick DiBerardino leads a group of eight in a humming rendition of "Amazing Grace." After the warm up, an undergraduate bassoonist named Doron Laznow plays a Mozart military concerto and DiBerardino asks participants to notice what feelings the music evokes, to embody the beat. 
"I closed my eyes and absorbed the notes," says Tempy Small, a 65-year-old Philadelphian, when the music stops. 
"It's good close-your-eyes kind of music," agrees DiBerardino, the Curtis Institute Community Artist Fellow. "However much you want to move is great. I usually sway a bit." 
Another Curtis undergrad, an oboist named Sarrah Bushara, plays a song, then DiBerardino takes the room on an auditory "ride" that wends through wooded forest and cityscape, with water and bird sounds embodying the former, honking and sirens scoring the latter. The activities end with a minute of silence, then a drum circle during which the group composes and records its own journey-depicting song. 
The idea behind this session and the entire program, called "Creative Expression through Music," is to give Penn Memory Center (PMC) patients with any level of cognitive impairment, from mild decline to Alzheimer's disease, the chance to interact with Curtis Institute musicians in a comfortable setting. Some iteration of the collaboration has occurred for the past four years, initiated by Curtis' Mary Javian, but this is the first classroom-based session that includes Curtis undergrads, Penn graduate students, and PMC patients. Based on the pilot program's success, two additional seven-week sessions will begin later in January. 
"For people with memory impairment, it [can be] difficult to engage," says Felicia Greenfield, Penn Memory Center's executive director. "Sometimes people can't initiate their own activities. Sometimes the activities are too complicated. But when all you have to do is listen to music or be involved in music, that's something most people can access." 
Greenfield presented this broad notion to Penn graduate students Matthew Volpe and Sarah Bujno during the summer of 2018, before they began interning at PMC. They were introduced to DiBerardino, a trained composer, and the trio shaped the four initial classes. "It was about presenting PMC patients with an opportunity to engage in music in a way that's enriching and stimulated them to improve their quality of life," says Volpe, a second-year master's student in the School of Social Policy & Practice (SP2). "That's something to get behind." 
They weren't aiming to provide music therapy in the clinical sense, adds Bujno, who is working toward a dual master's in public health from the Perelman School of Medicine and social work from SP2. Rather, they wanted to take advantage of DiBerardino's background as a composer and create a curriculum that targeted anxiety, depression, and other mood concerns. After each class, they adjusted plans for the next one based on participant feedback.  
Though a small body of literature suggests that music therapy can aid in improving memory deficits, no such research exists regarding composition. In fact, as Bujno and the others began planning the course, they realized there's very little out there, period, like what they aimed to do. 
"I wanted it to be really participatory, but I didn't want to be asking for too much talking. I wanted it to be call and response, visceral," DiBerardino says. "We're not trying to fix anyone's memory but to [help them] engage with the music. The goal with each workshop was to culminate in a class activity, for lack of a better term, where we'd create a group composition with people expressing their creativity." 
So far, five people have taken advantage of the free program, some with their caregivers, others by themselves. Much like the initial offering, the upcoming courses are open to Penn Memory Center patients, even those without a formal diagnosis, and patients who participated in the pilot are encouraged to come back. "Maybe you are in the early stages of dementia or have a different diagnosis, certain portions [of your mind] are not operating the way they used to," Bujno says. "This is a way to still connect." 
Though it's a small group in the Curtis classroom, they do all seem connected, to each other and to the music they've just heard and created. "What a journey," DiBerardino says, before ending the session with another hummed "Amazing Grace." The final notes linger for a moment until they disappear completely, gone but—if the course has done its job—not forgotten. 
For more information about upcoming sessions of "Creative Expression through Music," visit the Penn Memory Center site. 
Felicia Greenfield is executive director of the Penn Memory Center of the University of Pennsylvania Health System.
Matthew Volpe is a second-year graduate student in the School of Social Policy & Practice at the University of Pennsylvania, working toward a master's degree in social work. 
Sarah Bujno is a second-year graduate student in the School of Social Policy & Practice and the Perelman School of Medicine at the University of Pennsylvania. She is working toward a dual master's degree in social work and public health. 
Nick DiBerardino is a Curtis Institute Community Artist Fellow and a graduate of the school.