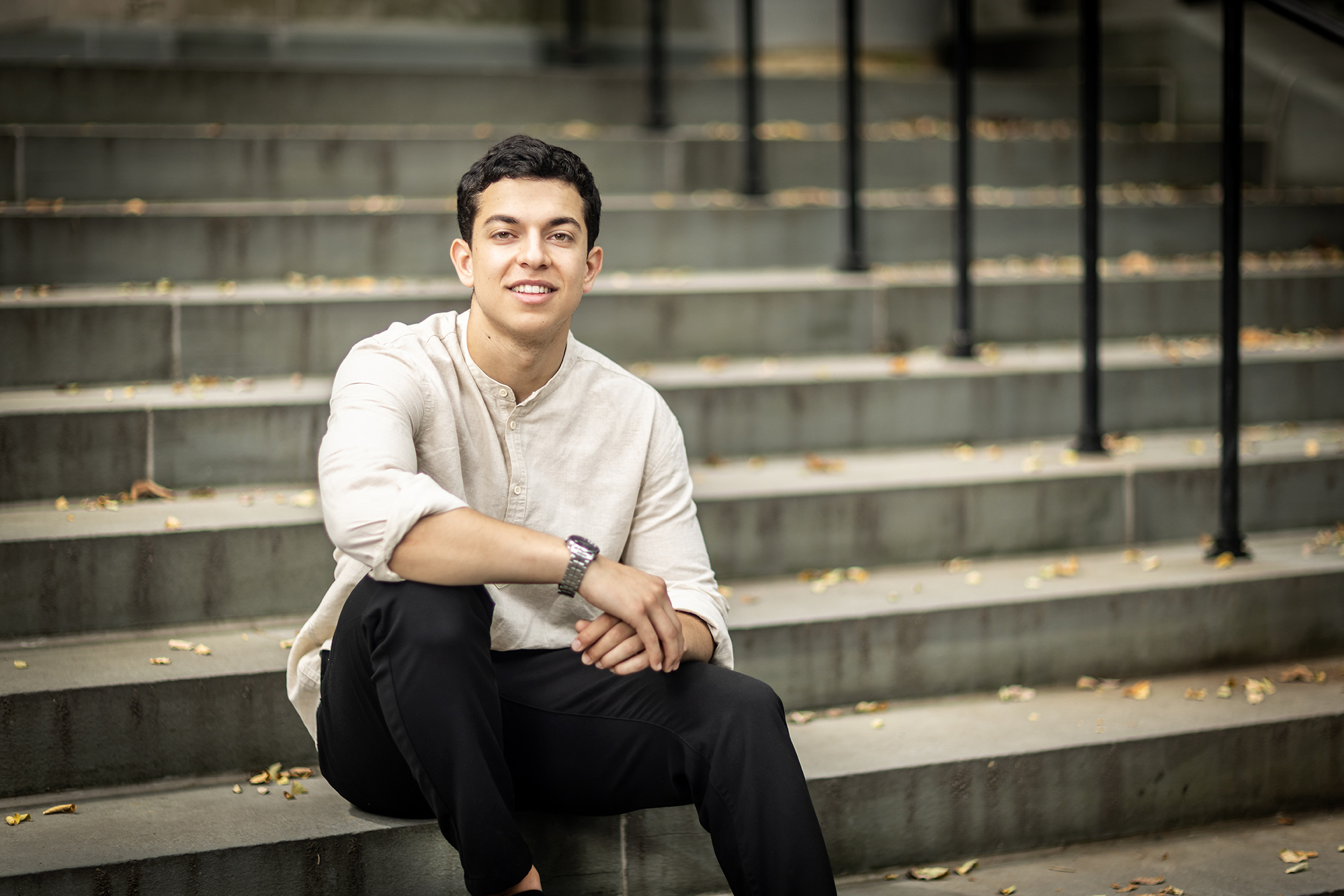 Ongoing clinical trials have demonstrated that psychedelics like psilocybin and LSD can have rapid and long-lived antidepressant and anti-anxiety effects. A related clinical problem is chronic pain, which is notoriously difficult to treat and often associated with depression and anxiety.
This summer, Ahmad Hammo, a rising third-year student in bioengineering in the School of Engineering and Applied Science, is conducting a pilot study to explore psilocybin's potential as a therapy for chronic pain and the depression that often accompanies it.
"There's a strong correlation between chronic pain and depression, so I'm looking at how a psychedelic might be used for treating both of these things simultaneously," says Hammo, who is originally from Amman, Jordan.
Hammo is working under the guidance of neuroanesthesiologist and neuroscientist Joseph Cichon, an assistant professor in the Perelman School of Medicine. The effort is supported by the Penn Undergraduate Research Mentoring (PURM) program, administered by the Center for Undergraduate Research and Fellowships, which awards undergraduate students $5,000 to spend 10 weeks conducting research alongside Penn faculty.
Hammo's project focuses on neuropathic pain, pain associated with nerve damage. Like other forms of chronic pain, most experts believe that chronic neuropathic pain is stored in the brain.
"Neuropathic pain can lead to a centralized pain syndrome where the pain is still being processed in the brain," Cichon says. "It's as if there's a loop that keeps playing over and over again, and this chronic form is completely divorced from that initial injury."
Cichon's lab has previously investigated how other psychedelic compounds like ketamine change the brain, but this is the first time someone in his group has worked on psilocybin or attempted to use a psychedelic to address chronic pain. "What makes psychedelics so exciting is that maybe this is sort of the sledgehammer or tool that the brain needs to be shaken up so it can land back down into a normal state," Cichon says.
Hammo says he was eager to dive into the project, which differs somewhat from his usual bioengineering coursework, for the opportunity to explore one of his other interests: medicine.
"I'm a bioengineering major, but at the same time I'm very interested in health care and medicine," he says. "I'm on the pre-med track, so I wanted to work on a project that was more involved in health care."
Hammo and Cichon are testing whether psilocybin can alleviate symptoms of chronic pain and depression in an animal model by comparing mouse behavior and mood before and after they receive psilocybin. They're also using brain-imaging techniques to visualize psilocybin's effects on individual cells and neural pathways within the brain. The preliminary results look promising, Hammo says, but there's a lot more testing to do.
Research aside, Hammo has relished the opportunity to learn more about the world of neuroscience through conversations with Cichon and by shadowing him in the operating room during neurosurgery cases.
"Every single thing that we do here is new to me; it's been a very enriching experience," Hammo says. "We often just chat for a whole hour or an hour and a half about science, and it's so cool to learn about these things and how they're applied in humans. It makes you feel like you're doing something bigger than what you think you can do as an undergrad."
Hammo and Cichon say the internship has been a rewarding experience for them both, and they are already planning to continue working together after the summer ends.
"What's so good about this lab in particular is that undergraduates are able to lead their own projects," Hammo says. "You're involved from A to Z and doing everything yourself."
"This interaction has been the highlight of my summer," says Cichon. "Hammo is one of my first undergrads to have no neuroscience background and at the same time he's pioneered a new direction in my laboratory. It was an absolute win-win."