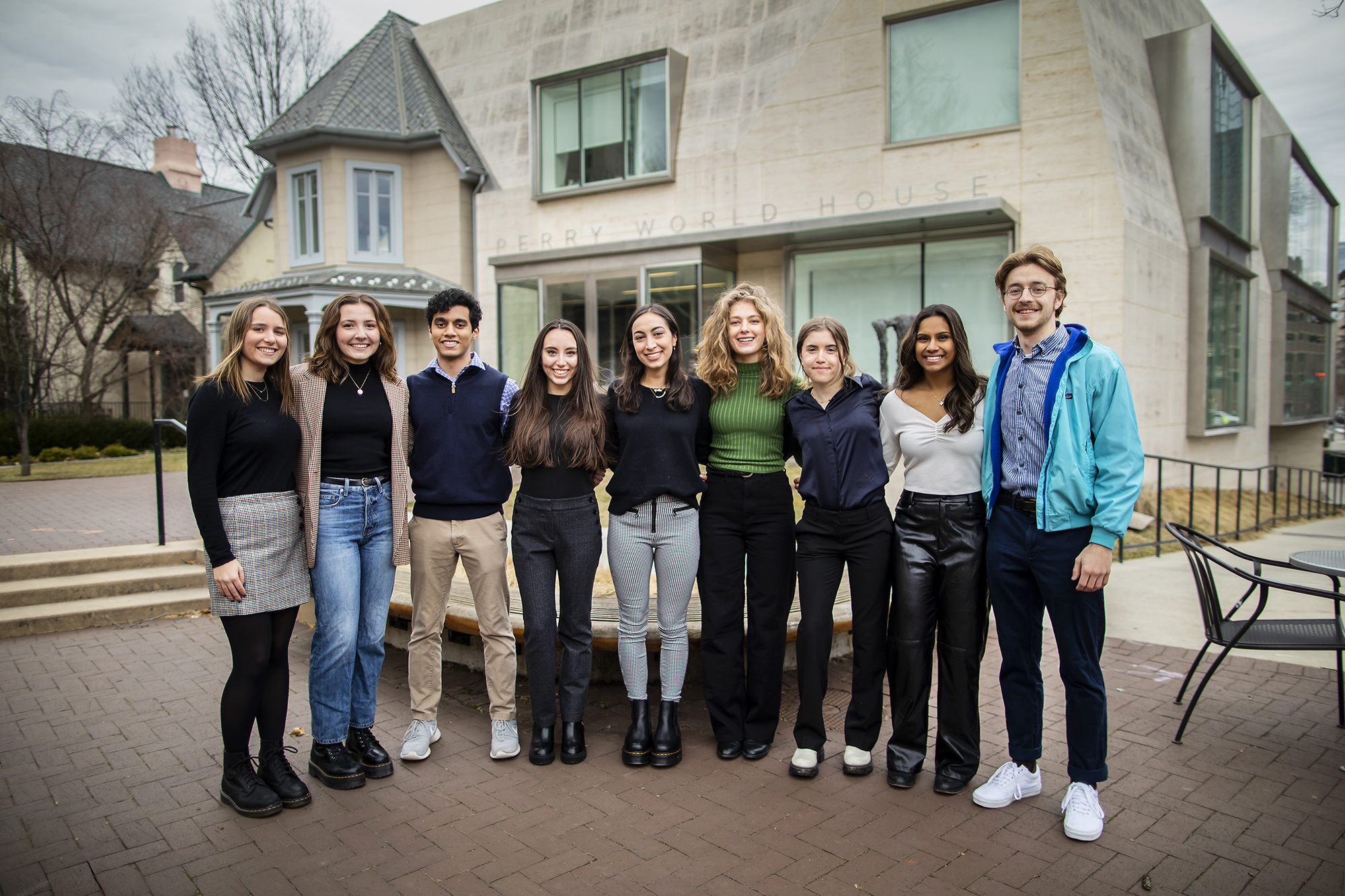 As Russia's war on Ukraine heads into its second month, nearly 4 million Ukrainians have fled the violence. The crisis has brought refugee issues to the forefront, with images of desperate families splashed across news sites and Western nations vowing to offer sanctuary and aid.
For students running Penn for Refugee Empowerment (PRE), the plight of refugees like those fleeing Ukraine and devising ways to help have been the mission since the group was established in 2017. PRE focuses on helping refugees from across the globe by supporting their educational paths with tutoring, as well as raising awareness through speaker events and fundraising efforts. The students also help refugee-resettlement organizations with after-school programming, child care, home setup, and event assistance.
"We take our group's name to mean empowerment in the form of education," says PRE Vice President Darya Bershadskaya, a senior in the College of Arts and Sciences studying neuroscience and nutrition. "We wanted to find something that, as undergrads, we could do to support these communities. Students don't need to be lawyers or doctors to be able to help, as we're using the knowledge and skill sets we already have to provide what assistance we can. As undergrads, our greatest asset within PRE is knowing the English language and offering school tutoring of all kinds." 
PRE's volunteers complete cultural and educational training and get connected with tutoring opportunities through programs like Paper Airplanes and The African Family Health Organization (AFAHO), a West Philadelphia nonprofit that primarily serves African and Caribbean immigrants and refugees. 
Although news about refugees is often politicized, PRE approaches it as a humanitarian issue. 
"We are that helping hand, that welcoming smile, and that long-term mentoring support network for these individuals," says PRE President Hannah Erdogan, a senior from Yardley, Pennsylvania, majoring in psychology and modern Middle Eastern studies. "First and foremost, they are human, and no one chooses to have to leave their country as a refugee. I think that's also something that's often overlooked: People aren't choosing for this to happen to them."
In collaboration with the online program Paper Airplanes, PRE's volunteers connect virtually via Skype with refugees across the world to help build their English language skills. Tutors also work with Philadelphia-area refugees, partnering with local resettlement agencies like HIAS Pennsylvania to lead ESL courses and give homework help.
Before the pandemic, PRE tutors would go in person every week to help with AFAHO's after- school program for high school students who need homework assistance or English practice. Now, tutoring happens virtually, with the hope that in-person sessions will resume in the fall, says Sally Thomas, the club's tutoring director at AFAHO.  
"We see it as part of our responsibility being in Philadelphia to help welcome people and to help bridge some of the gaps that they might be facing when they do arrive," says Thomas, a junior from Rumson, New Jersey, studying philosophy, politics, and economics and Arabic and Islamic studies.
This academic year, PRE's director of college mentorship, Asha Pereira, a junior at the Wharton School studying finance and business analytics from Powell, Ohio, has been piloting a college mentorship program at George Washington High School, in Northeast Philadelphia. The school has a large immigrant population and was very receptive.
"Asha has made a whole week-by-week curriculum of how to help these high school seniors and juniors, everything from making list of colleges, how to set up a College Board account, searching for scholarships, writing essays," says Erdogan. "We've had good feedback, and we're hoping that it really takes off."
But PRE's work doesn't stop at education. Last semester, the organization partnered with the Nationality Service Center and Children's Hospital of Philadelphia to help at a COVID-19 vaccine clinic for the children of newly arrived Afghan refugees. This semester, they're hosting an event with Border Angels, an organization that focuses on migrant rights, immigration reform, and the prevention of deaths on the U.S.-Mexico border. On April 24, Dulce Garcia, executive director of Border Angels, will speak to PRE's volunteers about the reality of the migrant experience and working to aid the cause.
PRE welcomes all interested students and has no application or rounds of interviews in order to join, which board members say is in keeping with their mission of openness and service.
"This is a humanitarian volunteer organization that's community-service based, and if you want to help there is endless need. We will find you a place," Erdogan says.
For Bershadskaya, whose family immigrated to the U.S. from Kharkiv, Ukraine when she was a toddler, seeing the bloodshed there and watching residents being forced from their homes has been personally devastating, she says, as she still has family members living all across Ukraine. 
"It is possible to both feel profound pain for Ukraine and also anger towards the realization that the war on Syria, on Uyghur Muslims, on the Global South has never seen such an outpouring of grief from neighbors, corporations, and legislative bodies," she says. 
Bershadskaya says what's happening for Ukrainian refugees is proof that safer routes for resettlement are possible and that escaping conflict must never jeopardize a person's life. She also says it's important to look at why Ukrainian refugees are being welcomed with open arms to nations in Europe and elsewhere, when this has not been the case for many Middle Eastern, Latin American, and African refugees.
"It is undeniable that as people seek refuge from the violence in Ukraine, the world watches, offering more compassion and innovation than was ever afforded for Afghans, Haitians, and Latin Americans fleeing war, too," she says. "Why are our humanitarian relief efforts not supporting communities as intersectional and inclusive as the people who need them? In witnessing what's happening in Ukraine, let's also remember what happened to the Rohingya refugees in Myanmar and to the millions of children in Yemen. Historically, refugees have been conflated with ideas of unclean or dangerous people; one may wonder why, today, those same narratives are not present in our conversations about Ukraine."
For more information about PRE, visit their website, sign up for their newsletter, or stop by their speaker event on April 24.