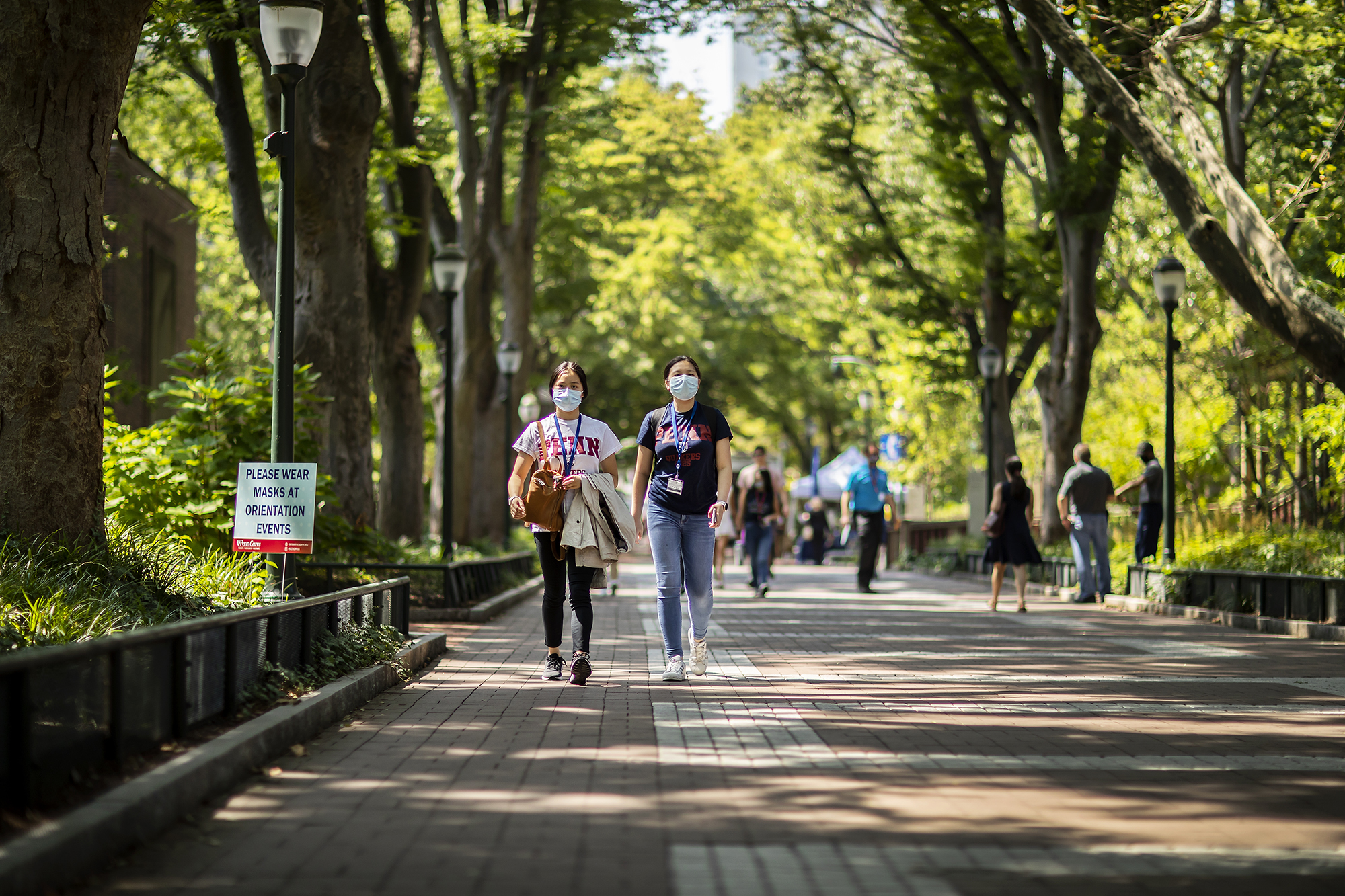 Over the past year-and-a-half, the COVID-19 pandemic has had significant impacts across Penn, from research activities to on-campus life. Now, thanks to vaccines, Gateway testing, and a multi-faceted approach to public health, students, faculty, and staff are able to safely reconvene on campus for a fully in-person fall semester.
As members of the Penn community populate campus, some for the first time and others a return after many months, the University has been working to ensure that its public health guidance and facilities provide a safe learning, research, and work environment. Here, Penn Today provides information on the measures in place around vaccines, Gateway testing, ventilation, filtration, and housekeeping to promote a healthy fall semester.
What current public health measures are there on campus?
Along with COVID-19 vaccination requirements for all students, as of Oct. 15 the University will require all faculty, staff, and postdocs to be fully vaccinated, except for those with medical or religious exemptions.
In addition to Gateway testing for students, Penn has announced an expansion of this program to include all faculty, staff, and postdocs, who are required to complete a Gateway test between Sept. 7 and Sept. 17. Every member of the Penn community who is enrolled in classes and/or coming to campus this fall is required to take part in Gateway testing, which must be completed through the Penn Cares testing system. Tests can be scheduled online at covidscheduling.upenn.edu/.
Starting Sept. 13, all vaccinated undergraduate and graduate students enrolled this fall will be required to participate in mandatory COVID-19 screening testing twice a month, on alternating weeks. In addition, a random sampling of faculty, staff, and postdocs who are on campus will be notified each week if they are selected to participate in screening testing and will be required to get tested within two weeks of notification. All members of the Penn community who are not fully vaccinated, are exempt from being vaccinated, or have not recorded their vaccination status are required to take part in twice-weekly screening testing.
In addition to Penn Cares testing, quarantine, isolation, and contact-tracing resources will be expanded as needed. Penn has also reinstated the requirement for all members of the Penn community to use PennOpen Pass, the University's daily symptom tracker.
Penn's public health guidance will continue to evolve in accordance with local and national guidance. The latest information is at https://coronavirus.upenn.edu/content/public-health-guidance.
What about masks?
Masks are required in all public or shared inside spaces, even for individuals who are fully vaccinated. Exceptions include single-occupancy offices and shared spaces where six-foot distancing can be maintained and with roommates in college house suites. Those who are unvaccinated must wear a mask at all times, both inside and outside.
Penn's Environmental Health and Radiation Safety (EHRS) office recommends that members of the Penn community use either disposable surgical masks or Penn-branded cloth face coverings while indoors. Face shields, masks with one-way exhalation valves, and unfitted KN95 or N95 respirators are not in compliance with the University's universal masking requirements.
Double masking, which involves wearing a Penn-branded or home-made cloth mask placed over a surgical mask, is also encouraged, especially in specific situations, such as on public transit, where mask quality and compliance may not be consistent. Information on how to obtain the best fit is available from the CDC's report on double masking.
Earlier this year, new standards were published by the American Society for Testing Materials (ASTM) for rating reusable face coverings. EHRS has provided information on which cloth masks meet ASTM F3502 certification requirements, which means that they are tested for respiratory droplet source control, filtration, and breathability, and EHRS will provide additional guidance on appropriate usage as more of these masks become commercially available.
What about ventilation and filtration in campus buildings?
"FRES has been collaborating with the building administrators across campus for more than a year to prepare for phased return of the faculty, staff, and students to a safe work and living environment and routinely monitors the condition and performance of the building systems," says Anne Papageorge, vice president of Penn's Facilities and Real Estate Services (FRES).
The central ventilation systems in the buildings are designed and constructed to meet the ventilation requirements, the air change rates, and the ratio of fresh outside air to return air of various building spaces, including classrooms, offices, laboratories, and hallways and to meet American Society of Heating, Refrigerating, and Air-Conditioning Engineers (ASHRAE) standards.
All of the air that enters any space in campus buildings with central ventilation systems passes through air filters, and ASHRAE guidelines for air filtration in central ventilation systems are one set of Minimum Efficiency Reporting Value (or MERV) 13 mesh filters. At Penn, the central systems utilize two sets of air filters. The first set of pre-filters are MERV 8 mesh, which remove larger particles, and the final filters are MERV 15 mesh, which are two levels higher than ASHRAE recommendations. These filters remove at least 95% of transmitted viral particles.
Joe Passante, director of the environmental health and safety office in EHRS, says that, for buildings that do not have central ventilation systems, EHRS has conducted consultations and provided recommendations for air-filtration units if warranted by low ventilation. However, Passante adds that, "considering that the transmission is from person to person, being vaccinated, wearing a face mask, PennOpen Pass symptom checking, and Penn Cares testing, are equally, if not more, important than HVAC filtration."
How are spaces on campus being cleaned?
Penn Housekeeping has standard operating procedures in place to ensure that public areas are cleaned and disinfected for COVID-19 in accordance with CDC guidelines. This includes the use of EPA-certified, hospital-grade disinfectant products that are effective against SARS-CoV-2, the virus that causes COVID-19, along with advanced electrostatic spray devices in some places to ensure an even coating on surfaces.
And even though transmission via inantimate objects, known as fomites, is rare for COVID-19, Penn still conducts special cleanings of public areas and office spaces after a positive COVID test in accordance with local health department regulations. Many buildings also have been equipped with touchless hand sanitizer dispensers at entry points and outside of elevators across campus.
Where can people go with questions, concerns, or to obtain more information?
Additional information and frequently asked questions about COVID-19 are available from FRES, EHRS, and the Penn Coronavirus website. There is updated COVID-19 guidance for instructors, events and gatherings, and faculty and staff. Anyone with concerns about COVID-19 compliance on campus can also reach out through the EHRS website. In addition, there is an online form for reporting non-compliance of Penn's masking requirement.
While Passante says that it's normal to feel nervous about reintegrating into normal campus life, he emphasize that the University is doing everything it can to ensure a safe and healthy fall semester and that Penn's research community and essential workers have been on campus at near normal capacity since August of last year.
"There are people working hard to make campus safe, and the level of cooperation between schools and administration has been a real positive for Penn," says Passante. "People who normally didn't meet on a regular basis now benefit from regular interaction, finding out what's happening in different schools and sharing best practices. That aspect has been tremendous."
More information on COVID-19 is available at https://coronavirus.upenn.edu.