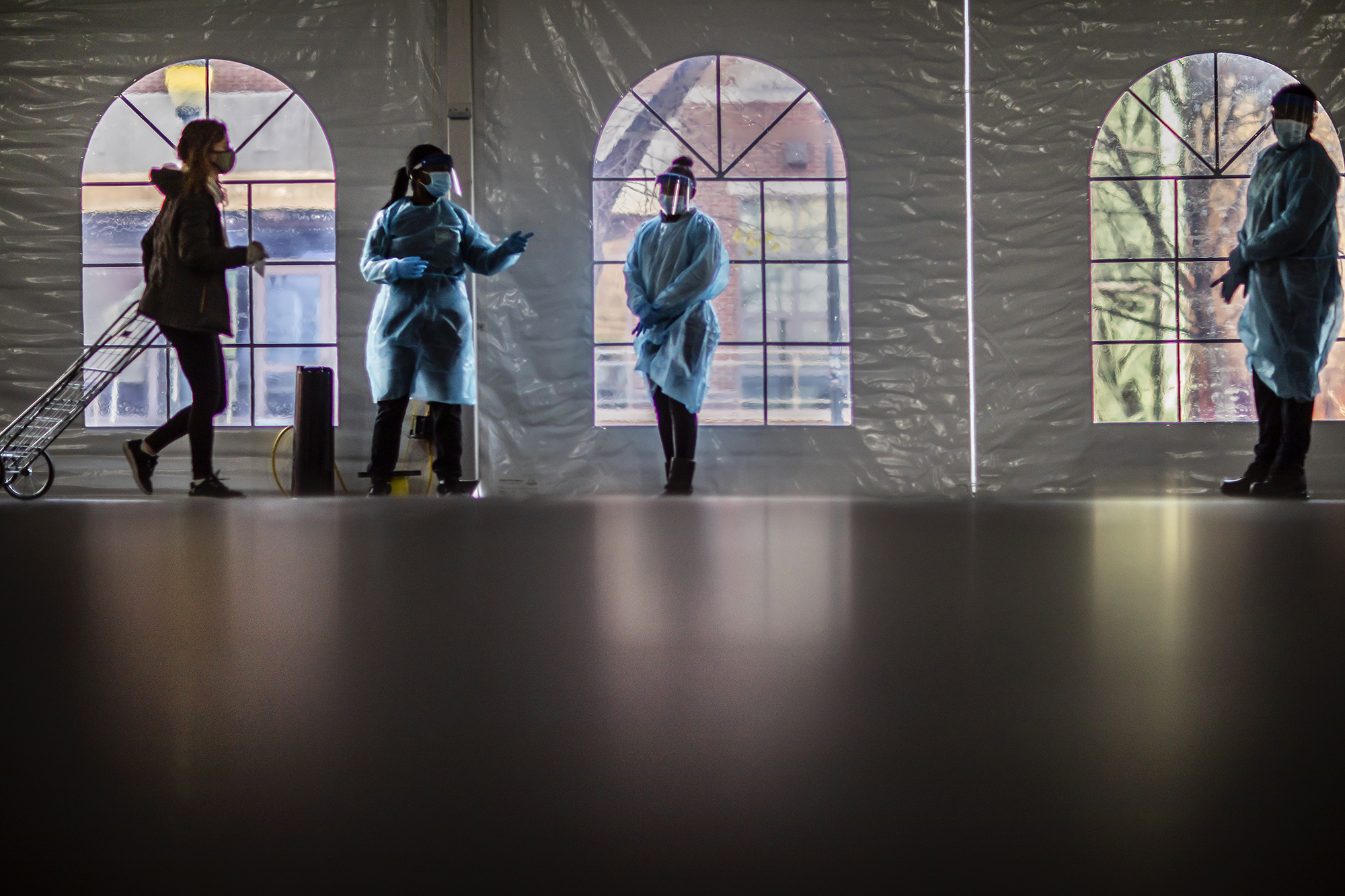 On March 11, 2020, COVID-19 was declared a pandemic by the WHO, an event that spurred massive shifts in how the world responded to the novel coronavirus. As society enters the pandemic's second year, this spring has become a natural time for reflection, both on the broad, society-level impacts as well as the more intimate and personal ways the pandemic has changed how people learn, work, and live.
The broader impacts of the pandemic can be seen in the news stories, photographs, dates, and statistics that showcase how the world has changed, things that will live on as facts and figures in future history books. But equally important in accurately remembering this time are personal accounts of the pandemic's everyday impacts, the kinds of stories that can help scholars better understand what "normal" life was like during COVID-19.
To help collect these types of personal accounts from the Penn community, the COVID-19 Community Archiving Project is documenting the experiences of faculty, students, staff, and alumni. Coordinated by the University Archives and Records Center, this project aims to help future scholars and historians better understand the day-to-day impacts of the pandemic and how the Penn community witnessed and responded to the ongoing crisis.
"Looking back at the 1918 pandemic experience and realizing we had so little, we realized that we needed to be active in collecting this information because we're living in it now," says Acting University Archivist J.M. Duffin about the dearth of information, beyond institutional records and news about class disruptions and event cancellations, during the last major pandemic. "As an institution, we rarely get an individual's personal experience, and understanding the human story is the hardest to capture. It's why establishing this archive is important because it captures a side of the story not captured by our regular archiving process."
Since the program started in May, submissions have ranged from photographs showcasing impacts on local communities to long-form audio interviews on how day-to-day life has been impacted; students from three undergraduate courses have also contributed to this project, which remains open to both digital and physical submissions. "Every story is worth sharing, and having examples of experiences that many people may have shared is important," Duffin adds. "Historians can guess about what life was like but they don't know until they see the evidence, and the evidence is what people share."
As members of the Penn community are encouraged to reflect and share their personal experiences of this past year with the Community Archiving Project, Penn Today marks one year of COVID-19 by bringing together noteworthy stories and images that showcase the pandemic's many impacts on the University campus and the Penn community.
Closing campus, launching research
Mid-March is seared in many minds as the beginning of the new normal, even if hand sanitizer, disposable gloves, and toilet paper had become coveted items weeks before. It was then that Spring Break was extended and students collected their belongings from dorm rooms, when some faculty and staff ceased commuting to their offices. At Penn, as campus closed for normal operations and events and students studying abroad in far-flung locales were ushered safely home, health care workers and scientists working on COVID sprung into overdrive. Pop-up testing sites were aimed at safeguarding patients, staff, and the community. And the new Center for Research on Coronaviruses and Other Emerging Pathogens began bringing together a community at Penn around unpacking the mysteries of the novel virus.
Pivot to virtual teaching and learning
Students and their instructors got familiar with online learning, building off expertise built in prior years. Professors strived to create community through the computer screen, and courses took up the issue of the pandemic itself.
Creative approaches ensured students continued to gain skills and remained engaged, while Penn Libraries and Information Systems and Computing provided the resources needed to move to an online world. By the end of the semester, the class of 2020 wrapped up their time at Penn with a fitting tribute to their resilience.
A social justice reckoning
Amid a national conversation about police brutality and racism, spurred by the killing of George Floyd and alongside a recognition of the unequal impact of COVID on Black and Brown communities, the Penn community participated in demonstrations and learning opportunities, while taking steps to root out hate and injustice and embrace inclusion and equity.
Summer's careful, partial reopening
Always a quiet time on campus, summer brought lower COVID-19 case numbers and a slow resumption of certain activities, including scientific research. And as the University prepared to welcome students back—a plan that didn't fully materialize—testing and contact tracing were key components of sustaining public health.
Support within the community
The pandemic forced everyone to confront new challenges and lost opportunities. New programs at Penn, aimed at health care workers, students on financial aid, researchers, and job-seekers, as well as faculty and staff juggling work-from-home and childcare responsibilities, helped fill in the gaps.
A new academic year, like none before
The fall semester began with many students still at home, and new ones welcomed virtually by President Amy Gutmann. With more time to plan their virtual course offerings, faculty innovated. Meanwhile global engagement moved online, Penn's cultural institutions opened their doors on a limited basis, and students rallied voters for a historic election.
Promising scientific advancements
Pathbreaking insights from Penn scientists proved to be a way forward, as progress on mRNA-based vaccines unfurled in late fall. As vaccines were authorized and began to be distributed to health care workers at Penn Medicine and beyond, broader questions about ethical distribution arose. Penn embarked on its own efforts to ensure marginalized communities were prioritized in the vaccine rollout.
A safe spring, together
With grit and an eye toward finding joy and beauty even in the mundane and repetitive aspects of pandemic life, Penn took another step forward in the spring semester, as students arrived on campus—some for the first time. Without sports and with new protocols for housing and dining, the return was nevertheless welcome. A massive COVID-19 testing program, Project Quaker, supported by newly hired members of the West Philadelphia community, undergirded the reopening, as did a commitment to safe behavior by those on campus. And with hope, plans were made for a more comprehensive return to teaching, research, and residential environment in the fall.
Photo gallery: A look at a pandemic year in pictures
J. M. Duffin is the acting university archivist, office manager, and senior archivist at the University Archives & Records Center at the University of Pennsylvania.
Additional information about the Penn COVID-19 Community Archiving Project is available at https://archives.upenn.edu/covid-19-project. Learn more about what types of materials can be submitted at https://archives.upenn.edu/covid-19-project/contribute.
Homepage image: Gabbie Domingo, a student volunteer from Penn Nursing, is overseen by instructor Alicia Kachmar while administering a nasal swab at the COVID-19 testing site at Houston Hall in August 2020.