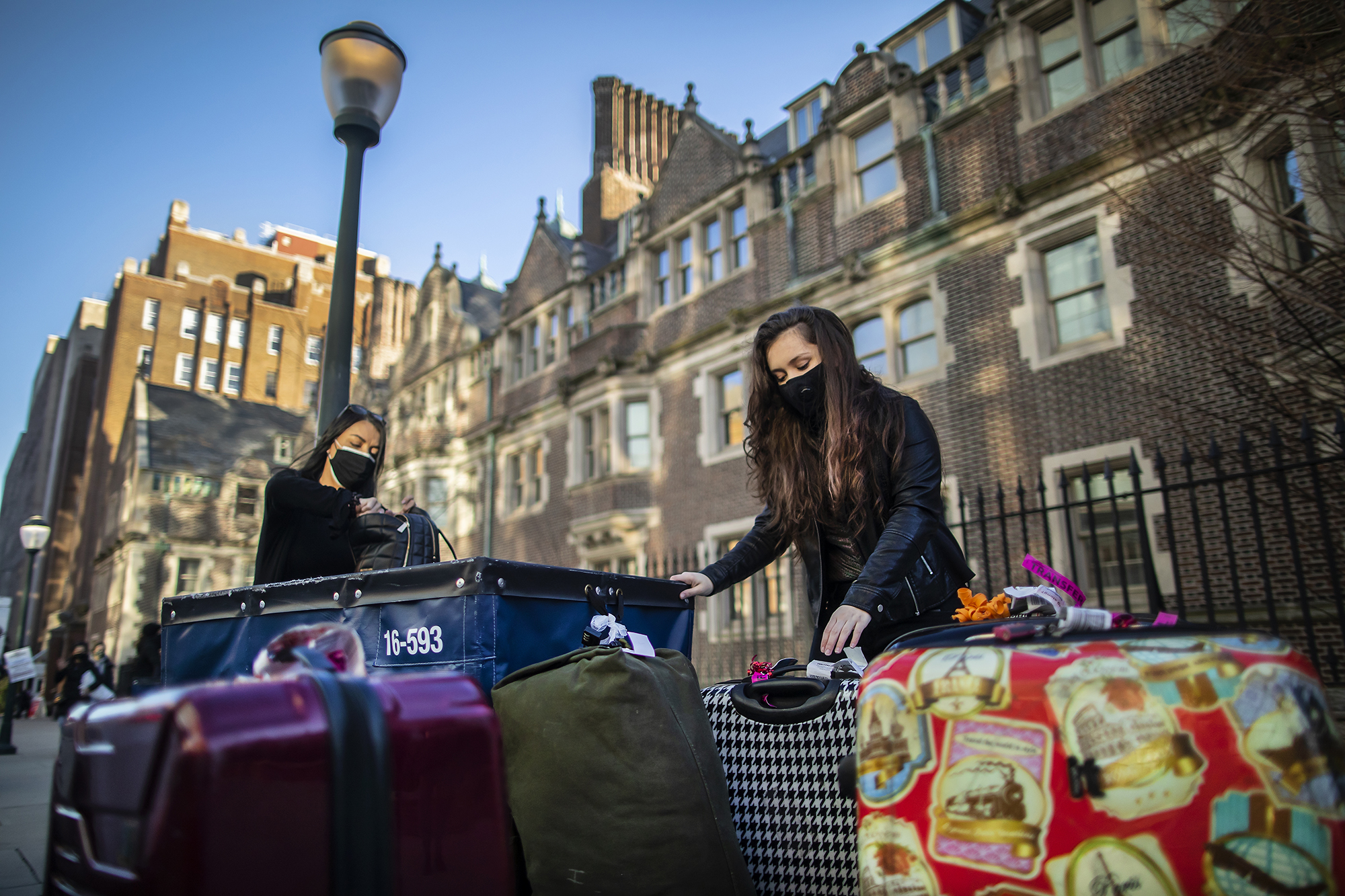 Passing through the arched gate into the Quadrangle, Penn freshman Carmen-Kay Harrison Montoya stopped her blue cart brimming with bags, took a deep breath, and looked around at the green expanse inside the historic stone residence halls.
"It's so beautiful," she said, turning to her mother, who already had her phone poised to take a photo. Harrison Montoya enthusiastically threw her arms up and smiled behind her mask as her mother captured the moment, and then looked around again. "OK, now, where am I?"
Fellow freshman Giselle Wagner heard the question as she walked past, having just hugged her family in a teary goodbye on Spruce Street, and stopped to help by pointing to the correct path. Even with masks on, the two College of Arts and Sciences students living in the same section of the Quad recognized each other from Instagram and their Class of 2024 Riepe House group chat.
Unlike Wagner, who is from nearby Chadds Ford, Pennsylvania, it was the first time on campus for Harrison Montoya, who is from Houston. "I'm so excited. I really can't wait to explore it all," said Harrison Montoya. "It just all seems like a world of opportunity."
They were among the more than 400 students who came to campus on Sunday during the first day of a move-in like no other in Penn's history. It is expected that nearly 3,000 students, two-thirds of them freshman, will move into Penn's College Houses over the extended eight-day Move-in, ending on Jan. 17. Spring semester classes, which will continue to be held primarily online, start on Jan. 20.
"Move-in has always been a well-honed process, which allows us to adjust as external factors necessitate," said Pat Killilee, director of residential services. "We also spent the fall helping prepare students for this unique Move-in experience, especially our first-year students who had not been to campus previously. So, while it certainly isn't the usual Move-in, students and families can still expect that they will have the support they need throughout the process."
Campus housing was closed to most undergraduates in the fall semester, but pandemic health and safety protocols have been in place and in use for months, with a small number of students on campus. Penn is regularly updating website pages with frequently asked questions for Move-in and COVID-19 testing, and housing and dining.
Safety protocols are paramount and threaded through the entire move-in experience. Penn has developed a comprehensive public-health program, Penn Cares, to minimize the spread of the COVID-19 virus and to keep Penn and the surrounding community healthy. Public safety guidelines include masking, physical distancing, washing hands, and minimizing time spent around others. Signs are up throughout campus as reminders. 
Students are required to sign up for a daily symptom checker, PennOpen Pass, and show the green approval on their phones to enter their residence hall or any Penn building (guests had to do verbal attestations). Students also had to agree to participate in a rigorous spring testing program, going for the first of what will be many saliva tests as part of their move-in experience. 
Max Cass, a freshman in the College, was one of the first students on the first day to arrive on campus, coming from Haddonfield, New Jersey, with his parents. He moved into Harnwell College House, one of the three high-rise buildings on the west end of campus.
"I think the University has done a very good job of putting in place protocols that are going to keep everybody safe, or as safe as can be," said his father, Jonathan Cass. "A lot of schools have been able to manage it effectively, and I feel confident Penn will be able to do it as well." 
Max Cass went to the large tent outside the high rises, next to the towering landmark red sculpture Covenant, to get his first COVID test, on Monday. Students are expected to take the saliva-based test twice a week, and results are available within 48 hours. 
"It was pretty seamless," Cass said. "It wasn't stressful. It wasn't crowded. I didn't have to wait at all." 
Even though he lives near Philadelphia, Cass said it was important for him to live on campus despite the fact that most classes will continue to be virtual instead of in-person in the spring's hybrid model. Freshman are required to live on campus, but this year could apply for an exemption. 
"I was home last semester and felt like I really lacked the college experience that I really wanted. So when we got the news that we were allowed to come back, I was ecstatic," Cass said.
"I wanted him to have a bit more of a normal college experience. We know this is still not going to be fully normal, but it's something more than taking classes online in your bedroom at home," his father said. "I think that's really an important part of the process, separating from your parents, starting your own life on campus, and having independence."
In a typical year, most freshman move in on one day before the fall semester starts in September, the streets bordering campus closed for cars dropping off students and belongings, the walkways clogged with red and blue moving carts, the Penn Band playing and Glee Club singing, moving staff dressed in color-coordinated T-shirts appropriate for the summer weather.
The sun was bright on Sunday, but with seasonal temperatures in the 30s, people were dressed in heavy coats and sweatshirts, Move-in staff identified by orange and yellow reflective vests instead of matching T-shirts, and only a few carts at a time were being pushed down the paths, instead of a festive traffic jam.
A restricted number of students have signed up for two-hour time slots over the eight days to reduce the number of people in any residence hall at any one time. By design, students were asked to limit the number of people coming with them.
Freshman Enzo Lavecchia flew from Miami with his father and grandfather, and making good on a promise, it was his grandfather who registered to help him move into his room at the high-rise Rodin College House.
"This is a big deal," said his grandfather, Angelo Lavecchia, explaining that he went to college at night while working full-time. "This is the most wonderful feeling. It is the best thing that's happened to me. I'm so proud of him."
Like many freshman parents, father Tony Lavecchia noted that his son missed out on so much the last semester of high school, proms and grand graduations, as well as the on-campus experience the first semester at college.
"He has worked very hard to be able to be here and I think he deserves to be a part of it," he said. "I want him to experience the full college life, and what it's like to be on his own."
It was the first time any of them had been on Penn's campus. "I got here early and took it in and thought, 'I am really here, everything is here for me and I'm here to better myself,'" Enzo Lavecchia said. "It helped me gain some confidence."
A Questbridge Scholar, Lavecchia is studying biochemistry in the Roy & Diana Vagelos Scholars Program in the Molecular Life Sciences. "I really felt like I was missing something last semester, that connection with the other students," he says. "I am really hoping that I will be able to connect with my peers in person and really feel like a college student and a real Quaker."
College Houses and Academic Services, working with the resident advisors (RA) and graduate associates (GA), is developing virtual programming for the newly arrived students so they can get to know each other, including virtual group happy hours, art kits they can do together while linked online, and "speed friending" using Zoom breakout rooms, says Ryan Keytack, director of four-year houses and residential programs.
The RA and GA students, who were living on campus during the fall semester, went through training over the weekend on how to support students, especially under these unusual circumstances.
"We are still going to be providing support and doing activities, but in a very COVID-safe way," Keytack said.
Activity on campus will be subdued through the Quiet Period until Feb. 1. Students must abide by certain limitations on their movement and activity during this time. Those living on campus who test negative will be able to leave their campus residence for limited, essential movement such as picking up food, prescriptions, and packages, as well as visiting testing sites.
Although all meals will be pre-packaged for takeout at the residential dining halls and retail locations, options for eating will be plentiful. Through the Penn Eats mobile app, students can order food in advance at retail locations and choose an arrival time at the residential cafes.
Cass got his lunch at the Class of 1920 Commons after he took his COVID test. "I saw other freshman who were also a bit overwhelmed and it was nice to talk with them and bond over it," he says. "We sat outside to eat. It was a good way to connect with people in the small amount of time we can spend outside our dorms."
Jada Edwards, a Penn Nursing senior from Somerset, New Jersey, is in her second year as an RA at Hill College House, where she lived as a freshman.
"We're going to be building community in a lot of different ways," Edwards said. "We are a social house. I know what that's like firsthand having lived here and experienced it. I want every resident at Hill, and every student across Penn, to have that."
Andrew Wu, in his second year as a GA for Riepe in the Quad, says safety and building community are his first priorities, and connecting with every student on his roster is his first task.
"For me it's making sure everyone is okay, and checking in with them, and letting them know I am here for them," said Wu, a third-year Ph.D. student in the Graduate School of Education, who is from Taiwan. "I will hold virtual office hours and a virtual meeting so everyone can get to know me."
Wu requested a large outdoor chess set that he plans to set up in the Quad's open green spaces for students to play. "I am looking forward to that," he said.
Perhaps one of those students will be Babatomiwa Sofela, a freshman in the College from Nigeria, a Questbridge Scholar. He was moving into the Quad with help from his sister, Ebunoluwa Sofela, who graduated from the Wharton School in 2020.
Because of COVID-19, their parents could not make the trip from Lagos. "They can't be here to help us move in," she said. "So I'm being the big sister today." She was also going to help their sister, Oyinkansola Sofela, a Wharton senior, move into Harrison College House.
A couple of hours later, Harrison Montoya and her mother took the same Quad elevator up to the fourth floor. A member of the Undergraduate Assembly, Harrison Montoya is choosing a double major in criminology and political science with a goal of "advocating for cultural minorities, especially regarding racial justice," perhaps in the areas of government intelligence and national security.
The political chair of Penn's Latinx Coalition, she is fluent in Spanish which she speaks with her mother, Edith Roxanna Harrison Montoya, who was born and raised in Bogota, Colombia.
"We are so very proud of her and we are very excited. She has been looking forward to this moment since she was little," her mother said. "She is a very independent young woman and she has a lot of potential and a lot of goals. She needs to start her life. She is so ready for this."
Making their way down the narrow hallway with the cart and suitcase, as they approached the door, Harrison Montoya saw her name and exclaimed "There it is! Yay!" Her mother pulled out her phone: "Wait, let me take a picture for your daddy." Harrison Montoya opened the door, revealing late-afternoon sun streaming through the windows, illuminating the room with a bed, a desk, a microfridge.
"It's my own little place," she said.
Because Harrison Montoya had followed the recommendation to have items shipped rather than bring them with her to Move-in, she then went to find the packages that contained her bedding. Mike McLaughlin of Facilities & Real Estate Services was at the Quad to help and offered to go with her to retrieve her boxes from Harrison's mail storage.
The sun was setting and the temperatures dropping as they made their way through the Quad, up Spruce Street, and into the high-rise area. Along the way, Harrison Montoya saw several students she already connected with during the fall semester, including fellow Undergraduate Assembly freshman Caroline Li, calling out "I'll text you later!" and Max Cass, saying "Hi! Weren't you in my linguistics class?"
"It's nice. I didn't really realize it. I do have friends and I do know people," Harrison Montoya said. "It's going to be a bit easier than I thought now."
Homepage image: Enzo Lavecchia (center) a freshman from Miami, with his father Tony Lavecchia and grandfather Angelo Lavecchia, making their way from Walnut Street to Rodin College House.