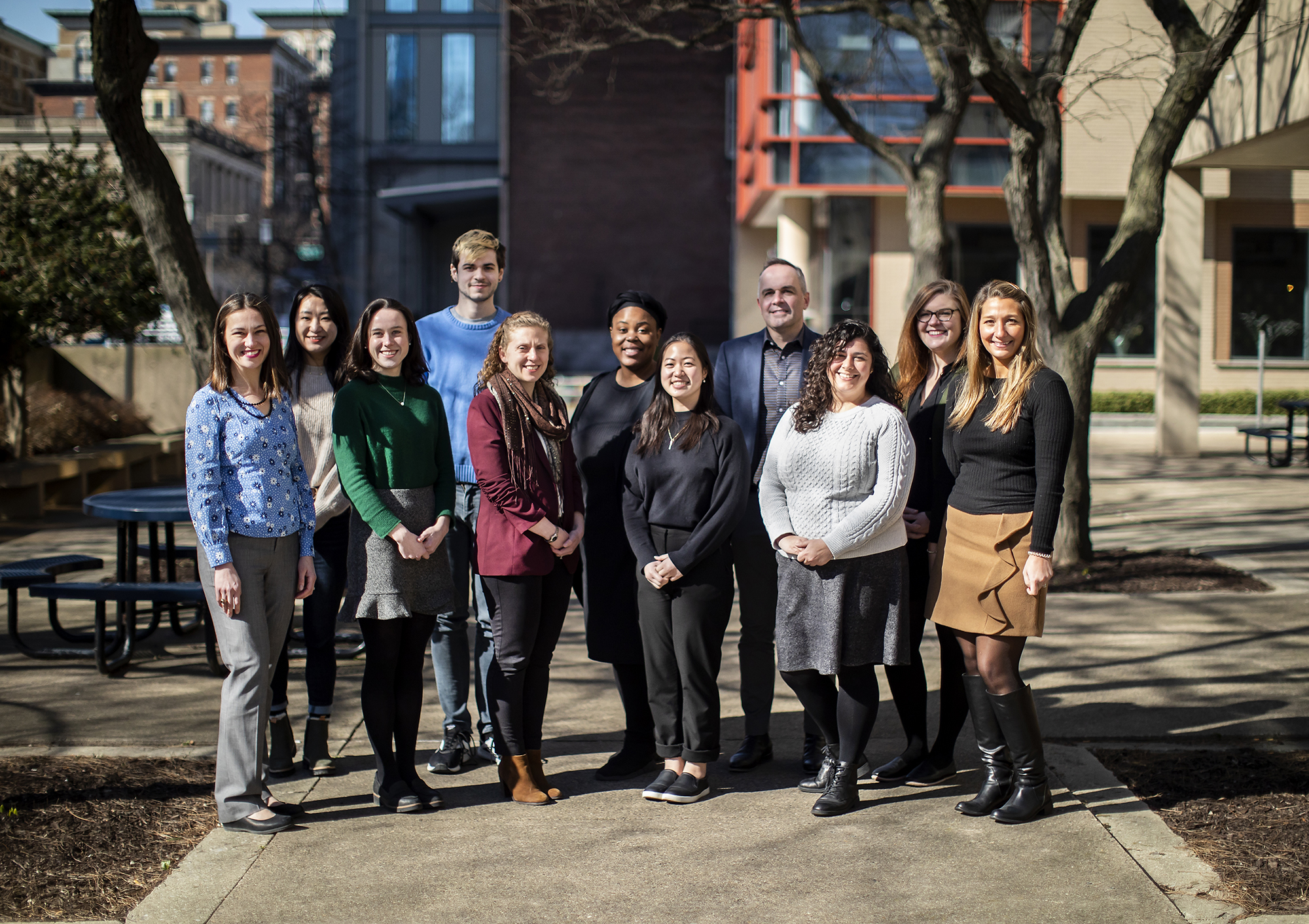 It's been two years since Penn Abroad quickly mobilized to bring students home from their study abroad experiences due to the pandemic. Despite not sending students on typical trips from fall 2020 to summer 2021, Penn Abroad never stopped preparing and adjusting to all the complications the pandemic brought, shifting to offer a host of innovative virtual programs and internships while readying for the eventual return of in-person experiences.
Now, student trips are back in action, with more being added and plans to ramp up to a busier-than-normal abroad schedule come fall 2022, as Penn Abroad takes some of their creative responses to the shutdown on travel and tweaks them for the future.
Last fall, the first student trips were held since the shutdown, in locales like London, Rome, Scotland, and Seville, Spain. Over winter break, the first in-person Penn Global Seminar in two years traveled to the Galápagos Islands.
"Students were deferred by the pandemic but weren't deterred by it," says Nigel Cossar, Penn Abroad's executive director. "We had all this demand that we could see bubbling, and a lot of students were ready to go."
It's not that the trips were without stress or free of COVID-19 concerns—some students tested positive for the virus while away—but Penn Abroad was well positioned and ready for any turn of events.
"Our response to COVID was to double down on the support that we provide our students," Cossar says. "Global is so critical to Penn's mission that a pandemic or anything else isn't going to get in the way."
It was key for students to understand these first study abroad trips might not be "typical," and that mask wearing, social distancing and in some cases quarantining would be required, he says.
Jaime Molyneux, director of international risk management at the University, says Penn Abroad has always had strong partners on the ground abroad, and the pandemic has only strengthened them.
"Resident directors, program staff, and faculty leaders have gone above the call of duty to support students abroad during the pandemic. Their partners keep Penn Abroad closely involved and Penn Abroad, in turn, keeps necessary campus officials informed," Molyneux says. "I doubt the students even realize just how many people are looking out for them."
New, innovative study abroad options
In the time when no travel was possible, Penn Abroad pivoted to offer Penn Global Seminars as Collaborative Online International Learning (PGS-COIL) courses, embedding global elements into classes that could be delivered in a remote format.
Examples included a Malagasy language course that was supposed to travel to Madagascar, which instead connected participants to local Malagasy students for a pen pal experience and offered a customized video to get a virtual look at what they would have experienced on the ground.
"It was never going to be a 'like for like' experience but it was providing a level of global exposure and kind of in-country exposure when we couldn't travel there," Cossar says.
Additionally, all of Penn Abroad's internships transformed into virtual ones, which provided new opportunities for students to participate in part-time internships and work or study while home, whereas in-person internships are full time.
"It allowed for a different type of student to become interested in and take up those experiences and we saw significant growth in our internship programs," he says.
Ezekiel Emanuel, vice provost for global initiatives, emphasized Penn Abroad's efforts to not only sustain Penn's global mission during the pandemic, but expand it.
"We seized an opportunity to introduce new, innovative study abroad options that would appeal to an even greater number of Penn students. The successes of the modified Penn Global Seminars and internship program, and launch of new initiatives like the Penn Global Research Institutes underscore what's possible for the future of study abroad."
Cossar says Penn Abroad is planning the next academic year to be back to normal, with all programs open to in-person travel, and the majority of their internships are returning in-person this summer. At the same time, some virtual programming added during the pandemic will remain.
He encourages parents and students to talk to Penn Abroad staff if they have any questions about programs and how they prepare for them and support students.
"Our most successful students since August have been really, really flexible," he says. "They've been comfortable knowing that things can change and comfortable operating in that space, knowing that we are their safety net in the background."
Semesters abroad and personal growth
That type of flexibility was beneficial for Railyn Diaz, a senior at the Wharton School studying management from New York City, who attended Queen Mary University of London in fall 2022.
Her initial interests were to study in Singapore or Australia, she says.
"I wanted somewhere warm, I wanted koala bears, I wanted the beach," she says.
After those options were off the table, she had to reevaluate and realized she could learn a lot by going to a city unlike New York or Philadelphia, and she hit on London.
"There were a few hesitations, but mostly I was worried about getting stuck there, as opposed to contracting COVID," she says.
Diaz says she appreciated Penn Abroad's realistic and transparent approach to the trip.
"That allowed me to be flexible with my subletter, letting her know that she would have to find somewhere else if the trip didn't work out, and it inspired me to have a back-up plan for classes if that was the case," she says. "Having the truth out there took away some fears."
In the end, her experience in London was "amazing and very seamless."
She traveled around the country, made lots of friends and ate her fair share of Indian food.
"The main benefit was personal growth and personal awareness," she says. "Everyone tells you studying abroad is the best time and they aren't lying about it. It's very true."
For Mariana Velasco, a senior from Guadalajara, Mexico, majoring in finance and international studies in Wharton's Huntsman Program in International Studies and Business, the pandemic caused her to pivot from her plans to study in Paris or Moscow. Instead, she chose to spend the fall semester at the University of Edinburgh in Scotland.
Her main concern was travel restrictions surrounding the virus, since she was set to leave from Mexico. Three weeks before her trip, the U.K. put Mexico on their "red list" so Velasco had to travel to the U.S. where she spent 10 days before testing negative and flying to Scotland.
"You couldn't predict the travel restrictions and Penn Abroad always made that very clear. Everyone who tried to study abroad knew that it was not always up to Penn to decide whether you could go or not," she says. "I always felt like Penn had my back. We should definitely make the most out of being a Penn student and having access to all of these opportunities."
Even though Velasco has been an international student her entire time at Penn, she found her semester in Scotland to be a profoundly different experience. She explored outside the city, hiked, and took day trips into the mountains.
"I had four months to create a life of my own. I didn't know anybody, I didn't know the education system, I didn't know the customs of the place. Everything was new," she says. "It was exactly the right amount of time to have a great connection with new friends and really get immersed into the place. It was short enough that I didn't want to leave anything until the last minute."
Balancing study abroad with campus life
Chloe Rosenberg, a senior from Montclair, New Jersey, studying international relations and Spanish in the College of Arts & Sciences, always wanted to go abroad, but has commitments that keep her on campus during the semesters.
That made the Penn Global Seminar to the Galápagos Islands a perfect fit. She took the class in the fall, and the travel component was over winter break.
They arrived on New Year's Eve, to fireworks lighting up the sky all around them.
The course was split into two parts: the first involved snorkeling and hiking every day along the coast; the second was spent on a more densely inhabited island, speaking with locals and learning about the culture.
"This class was such a glaringly rare opportunity. For one, it's challenging to travel to the Galápagos on your own, because it requires so much permission, and secondly the class itself is competitive to get into. I felt so fortunate," she says.
The entire experience gave her a new perspective on her role in nature and a new appreciation for wildlife.
"You get face-to-face, literally, with nature. A little baby sea lion put its face on my toes!" she says. "You are swimming with them in their home, and you feel like you're their equal. I can't explain how special the whole trip was. It exceeded my really, really high expectations."
Rosenberg says she was worried about testing positive for COVID before the trip and not being able to go. Instead, about half the class tested positive for the virus during standard testing before heading back to the U.S. None were symptomatic, but all had to quarantine in their hotels rather than return home right away.
"Traveling internationally at this time has its own risks and I understand that. But getting COVID while abroad was a much smoother process than I could have ever hoped for," she says. "We had a roommate so we weren't lonely, we were in a hotel with a comfortable bed and everything was brought to us."
She says she couldn't recommend the abroad experience more.
"My brain expanded way more than it could have in a classroom," she says. "I now fully understand why these global seminars exist, because going to the place that you're learning about is way different than just reading about it in a book."