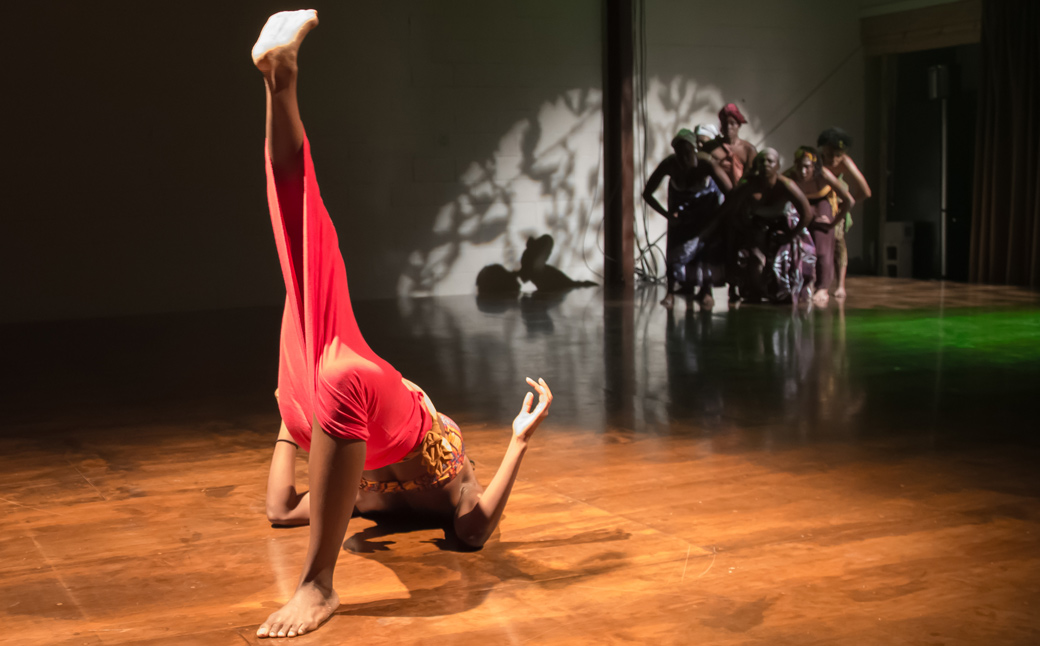 Around campus and beyond, March opens a window to brighter days and a general itch to get out and embrace the world.
And rejoice: Penn and its surrounding community offers plenty of opportunities for just that. 
This March, Morris Arboretum offers a tease of the blooms to come through a discussion with Head of the Arboretum at Kew Tony Kirkham at Temple University's Ambler Campus, discussing the plants of East Asia. At the Annenberg Center for the Performing Arts, experiential theater piece "Vessels" gets a world premiere—a can't-miss occasion of dance, music, and unforgettable insight into the experiences of the women who survived The Middle Passage. And at The Woodlands, just west of campus, the Hamilton Mansion takes up two new residents, as two artists with Philadelphia roots plan for the opening of a graffiti-, glass-, and ceramics-inspired exhibition that draws from the sprawling, historic, and all-around glorious West Philadelphia estate. 
Here, learn more about these—and other—March events at Penn and in the surrounding community.
Tony Kirkham, head of the Arboretum at Royal Botanic Gardens, Kew—a premier garden of the world—visits Temple University's Ambler Campus, sponsored by the Morris Arboretum, to discuss the plants of E. H. Wilson. Wilson was an English plant collector who assembled more than one thousand plant species from China, Japan, and other parts of East Asia and brought them to the West. Among the most famous of those species: the Chinese dove tree, the kiwi fruit, and the Chinese dogwood. He also collected dozens of varieties of Japanese cherry blossoms.
The lecture is tied to Kirkham's book co-authored by Mark Flanagan, "Wilson's China: A Century On," released in 2009. With a little probing, Kirkham might also talk a bit about his year exploring trees with Judi Dench for a BBC special broadcast in late 2017.
To the Annenberg Center for the Performing Arts, co-producers Rebecca Mwase and Ron Regin bring a production that presents singing as a survival tool.
"Vessels" is a piece of speculative history presented as a theatrical production. The show, which is a world premiere, stars seven women who endure the Trans-Atlantic Slave Trade's Middle Passage, taking place on a stage set with a series of sculptural ships. Audience members, uniquely, have an interactive experience with the cast after the performance.
"The idea arrived in response to a query from poet Nikki Giovanni about how millions of enslaved ancestors arrived on this shore sane," Mwase and Regin say of the production. "We believe it was the singing, particularly women singing, that helped make those arrivals possible."
The production is supported, in part, by the Sachs Program for Arts Innovation. The Annenberg Center is a co-commissioner of the performance.
Renowned artist, scholar, and curator David C. Driskell delivers the third annual Susan T. Marx Distinguished Lecture—created to spotlight a major figure in the art world who can address timely issues in the field—at the David Rittenhouse Laboratory. He'll discuss the journey of an artist. 
Driskill, emeritus professor of art at the University of Maryland, College Park, is best known as a contemporary practitioner and scholar of African-American art. He works with mixed-media arts, with paintings and prints displayed in galleries like the Baltimore Museum of Art, the Whitney Museum of American Art, and, internationally, in countries that range from England to South Africa, Brazil to Japan. His works vary in style but often draw from nature, Christianity, Southern influence and, in some pieces, how these all connect to African traditions.
Part of the Povich Journalism Program Fund, Vanity Fair Senior Reporter Emily Jane Fox, who many might recognize from her appearances on NBC and MSNBC, if not for her bylines in the storied magazine or through her new book "Born Trump: Inside America's First Family," appears for an intimate lunch chat in the Arts Café. Journalist and Maury Povich Writer in Residence Dick Polman hosts the event.
Lunch is served for the talk, which can be akin to more of a moderated interview. RSVPs are strongly encouraged. 
The Woodlands debuts its Graffiti & Ornament exhibit with an opening reception on March 31, from 1 to 4 p.m. 
The exhibit adorns the Hamilton Mansion with the artworks of self-described "ghetto potter" and Tyler School of Art Professor of Ceramics Roberto Lugo, a Kensington, Philadelphia, native, as well as Leo Tecosky, whose mother he pays homage to with sculptural glasswork. The arrangement of works includes ceramics that summon his Puerto Rican heritage and also pay tribute to those lost in his Kensington community—relating to The Woodlands' cemetery. Tecosky's works honor his mother Evelyn by using neon-colored Depression-era glass that is meant to recall graffiti. The glass pieces will be hung and arranged to deliberately cast contemporary-shaped shadows around the rooms of the neoclassical mansion.
Want to know more about what's happening around campus? Find out what's happening through Penn Today's curated events calendar. Have an event you'd like to suggest for the calendar? Email Staff Writer Brandon Baker at bkbaker@upenn.edu.