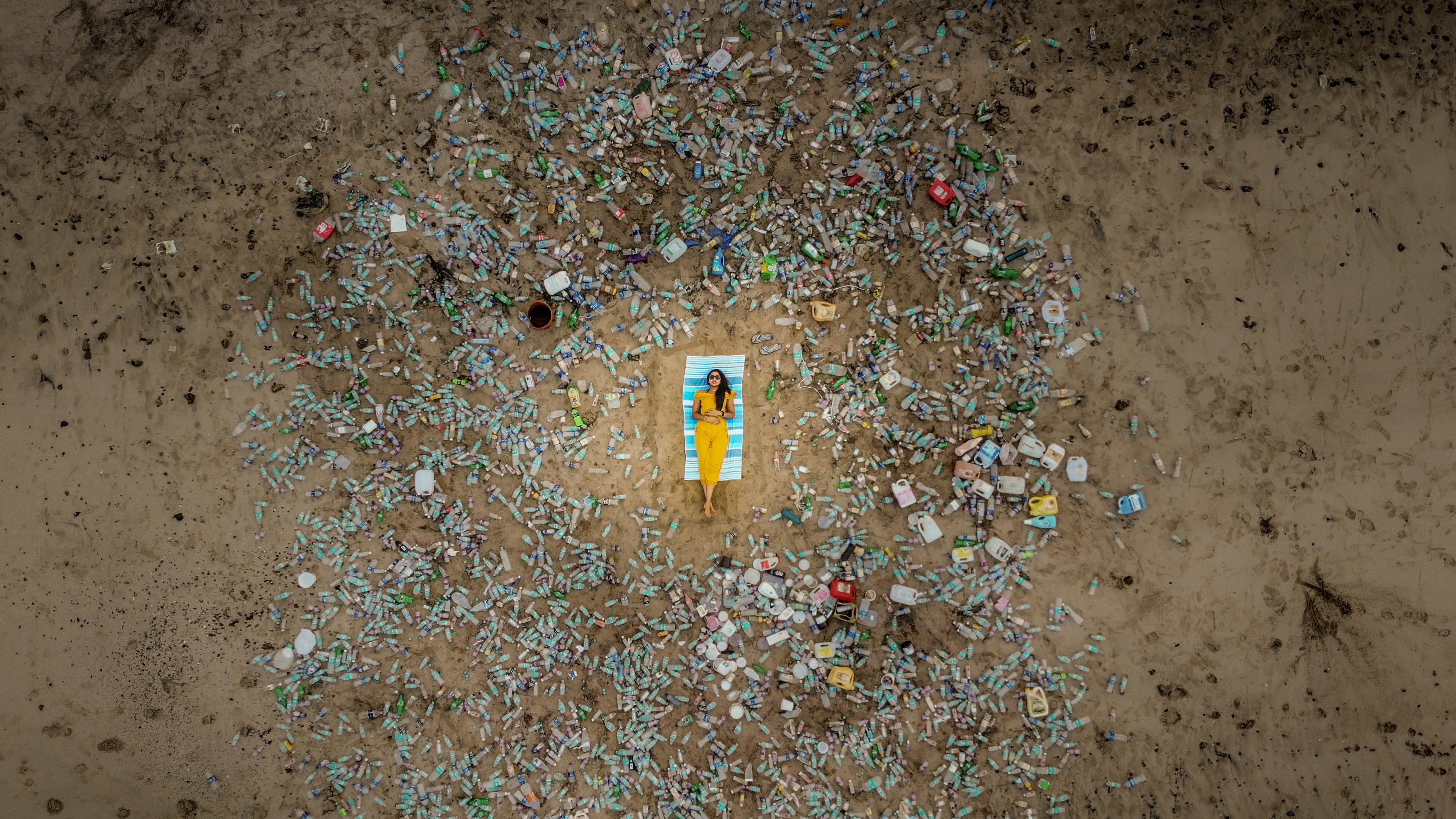 In Philadelphia, an office worker picks up a bottled water at a convenience store during the lunch hour. When done, she tosses it in a street trash can, not having found a recycling bin along her route.
An ocean away, in Mumbai, a waste picker collects a plastic bottle from atop a towering landfill in order to sell it, along with thousands more, to a recycling facility for a few dollars a day.
With a new venture, the team behind the Penn President's Engagement Prize-winning initiative rePurpose is aiming to reshape both of these realities for the better.
Alums Peter Wang Hjemdahl and Svanika Balasubramanian, along with co-founder Aditya Siroya who is taking time off from his studies at Penn, launched reBalance this week. It's a new online platform that enables consumers to reduce and then offset their plastic waste by making a payment corresponding to the amount of waste they generate annually. Through reBalance, those funds will funnel to waste worker cooperative organizations, which provide safe and sustainable livelihoods for their members, whose efforts reduce the amount of plastic in the environment.
"We realized that there was a bottleneck," says Siroya. "These waste worker organizations lack the capital they need to scale up their impact, both environmentally and socially. At the same time, there's a growing wave of consciousness among consumers about the plastic they're generating, yet they lack a concrete way to take actions." He says reBalance capitalizes on this awareness to support organizations on the verge of revolutionizing an industry.
The United States recycles only about 9 percent of its waste, roughly half of which is exported to foreign nations. China was the primary recipient until a ban on waste imports was set last year, diverting the flow of U.S. waste shipments to countries such as Malaysia and Thailand. India, too, imports plastic waste from abroad.
Yet managing that waste internally is fraught. Waste pickers and waste sorters, or kabadiwalas, occupy one of the lowest rungs on the socioeconomic ladder in India, often working in dangerous conditions for poverty wages.
The rePurpose team got to know many of these workers in the months-long process of applying for and then implementing their President's Engagement Prize-winning project. They used the financial support and mentorship to connect with innovative organizations striving to formalize the waste picking and recycling industry in India, and who were providing workers with stable income streams and less hazardous working conditions. 
At the same time, the team saw a surge of awareness about issues like ocean plastic pollution, with bans on single-use products like straws and plastic bags taking hold in the U.S., India, and many other places around the globe. 
"We looked at these two seemingly disparate pieces," says Siroya, "a formalized recycling industry in India that is starting to grow, and consumers all over the world looking to reduce their plastic output, and we asked, 'Is there anything we can do to connect the two?'"
Their concept, reBalance, mobilizes consumers' concerns into action, while simultaneously generating needed capital for waste worker organizations. Becoming a "reBalancer" entails four discrete steps, Siroya explains, all initiated through the group's website. 
Users first complete a survey to calculate their personal plastic footprint. Next, they are given strategies to lower that number. "Based on the consumers' inputs, we can personalize recommendations to help them reduce their plastic footprint," Siroya says. Actions can range from carrying a reusable water bottle to substituting shampoo bars for plastic-packaged varieties, or using menstrual cups instead of disposable sanitary pads or tampons.
Third, consumers offset their plastic footprint with a payment to one of the waste worker organizations with which reBalance has partnered. That payment—roughly $3 to $4 a month for an average consumer—will allow the workers to collect and recycle an amount of plastic waste equivalent to what the consumer generates. "In essence, for the cost of one bottle of water a month you can go plastic neutral," says Siroya. 
To accomplish this third step, reBalance is partnering with three organizations in India, Aasra Welfare Association, Saahas Zero Waste, and Waste Ventures India. "We're guaranteeing living wages, good working conditions, and are making sure the money is actually helping the organization build capacity and grow them bigger than they are today," Hjemdahl says.
The final step is for reBalancers to join an online community to further their education about plastic waste. 
"We want to connect conscious, like-minded consumers across cities, even countries, to collectively identify and act on the issue of plastic pollution through a range of actions, from advocacy to activism to volunteering on the ground," says Siroya.
Over the coming months, the team is rolling out their platform and has ambitious goals for growing it. By June, they aim to have 10,000 reBalancers, with 25,000 by the close of 2019. Balasubramanian, Hjemdahl, and Siroya will be spending time in cities including Philadelphia, Boston, New York, and Los Angeles in the U.S., and Mumbai, Bangalore, and Hyderabad in India. They plan to market reBalance with pop-up events and other gatherings. They're also hoping to engage corporate reBalancers, such as hotels and grocery stores, to extend the reach of their efforts.
And while the platform's goal is for consumers, be they college students or corporations, to go plastic-neutral, the team behind reBalance doesn't view this as a one-off step, but rather the start of a movement that will transform how society views plastic waste. 
"We see the act of reBalancing as the beginning of a lifelong engagement with the consumer," Siroya says. "The goal is to mobilize a community of reBalancers who can then make the case to governments and business for alternatives to plastics."