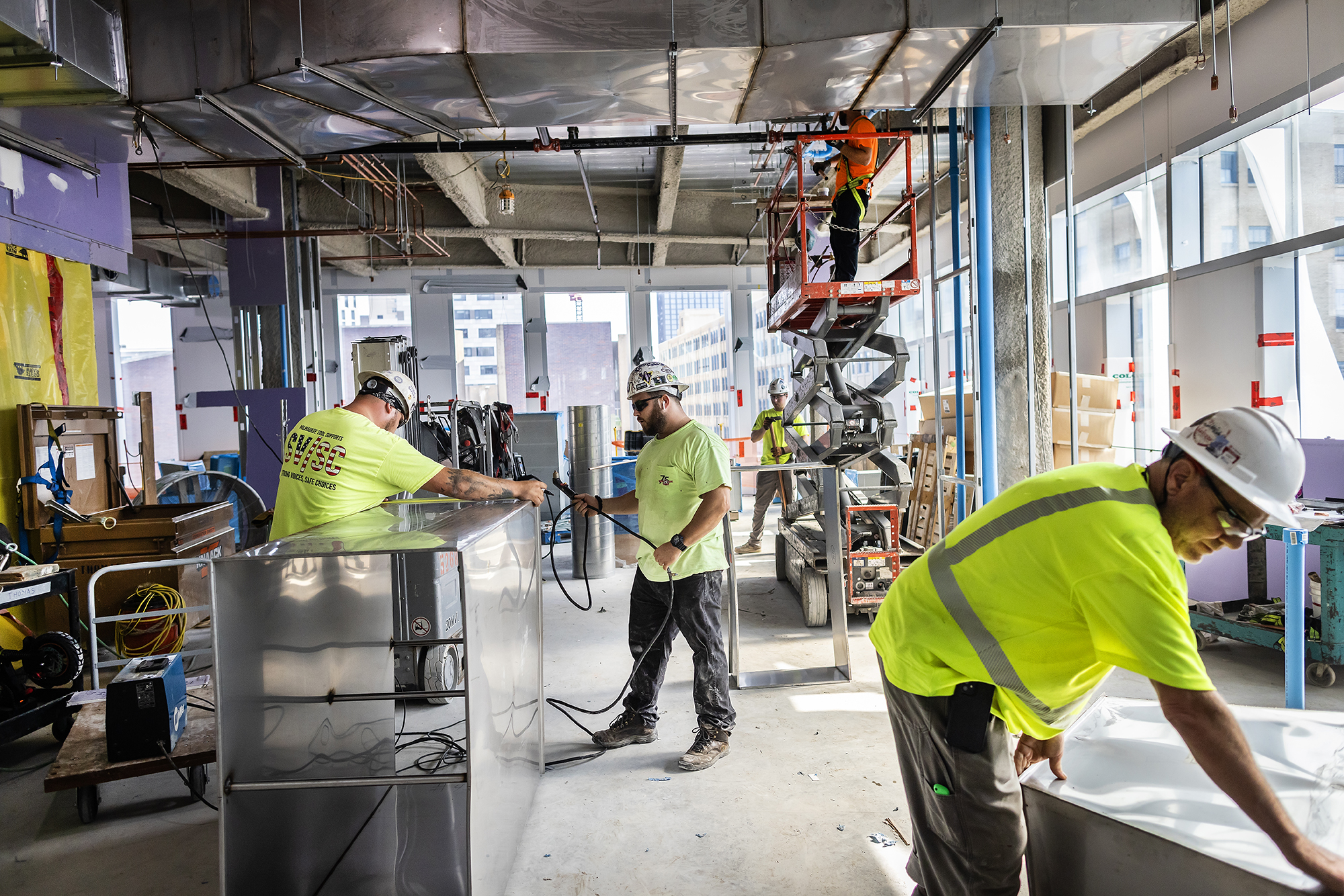 Hardly a moment after Commencement, summer construction crews sweep onto campus to accelerate work on various projects—ones as benign as an HVAC refresh at the Annenberg Center for the Performing Arts, or as complex as the erection of research facilities like Amy Gutmann Hall or the cutting-edge Vagelos Laboratory for Energy Science and Technology.
The end of this summer season of construction will welcome several soon-to-open facilities: the renovated Stouffer Commons, the merged Stiteler Hall and Graduate School of Education (GSE) buildings at 3700 Walnut St., and Substation 4—a less flashy but still important structure that houses above-grade electrical equipment, powering dozens of facilities around the west end of campus.
In total, there are 414 active projects around campus, amounting to $1.5 billion in approved total budgets. Eight-hundred-and-seventy-thousand square feet of construction is underway or will be completed in this fiscal year.
Residential life
Stouffer's reopening caps more than a year of construction; furniture was recently delivered and quality checks are taking place to ensure it's ready for Move-In later this month.
"It was really a full interior renovation," says University architect Mark Kocent of Facilities and Real Estate Services (FRES). "Probably one of the few things you'll see on the outside is two-story lounges with new glazing, a series of three or four that go up Spruce Street."
Inside, the building has been made fully accessible, adapting to the slope of Spruce Street with ramps rather than steps. There was also an elevator added to the entrance and all-new HVAC, plus all-gender restrooms. The College House will continue to serve all four years of undergraduates.
The Quad, meanwhile, began its first of three 15-month phases of construction, set to take place over the next three years. The approach is meant to keep most of the Quad open for students throughout the construction process; those who would be affected by the temporary closure—accounting for approximately 500 beds—have been relocated to other College Houses and to The Radian at 39th and Walnut streets. Riepe College House, part of the lower section of the Quad, is the first section to be impacted.
"It's a comprehensive, holistic [renovation]," says Kocent.
Exterior masonry and restoration of stone and limestone, window replacements and restorations, relining of chimneys—these are just some of the exterior projects taking place at the Quad. Inside, bathrooms are being made all-gender, HVAC is being replaced, and the space will get a full interior refresh.
Elsewhere, at 3600 Chestnut St., is The Accolade, graduate student housing that's been fully renovated and is currently fully leased. This housing was formerly Sansom Place East, what was Penn's first on-campus graduate student housing. For this project, masonry was restored, all-new windows were added with new HVAC, and indoor and outdoor common areas were rebuilt to update the 1970s modernist building—originally designed by Richard and Dion Neutra—with a more contemporary flair. The building includes 588 beds in 473 units that are furnished; the project was developed in collaboration with Greystar, which specializes in rental housing for college students.
Academic and research facilities
The GSE renovation and expansion, encompassing 16,200 square feet of new space, will finish construction in August and open for the fall semester. The project includes in-fill that connects the two facilities with community and collaborative spaces, a new entryway, and improved accessibility.
"[The stated design goal] was the transparency of the entrance being more prominent, and there were a lot of accessibility issues between GSE and Stiteler," explains Kocent. Those have been resolved with a new elevator and the connection of Stiteler and the existing GSE building.
"The school is looking forward to occupying their new collaborative spaces; giving them a unified presence, supportive of their One GSE mission," says Kocent.
The new facility will be the home for Catalyst @ Penn GSE, the school's center for global education innovation that marries education, business, and technology.
Ongoing is the work on the Vagelos Lab, slated for a February 2025 opening. The building was topped off in February and workers are currently installing sunshades designed to reflect light into the ceilings to increase daylighting—reducing electricity usage while also allowing more natural light. The shades are made in Germany and custom-designed for the project, using a type of plastic that's flexible and allows for the type of multidimensional fold the design calls for, all while being cost-efficient.
The building and its sunshades will be a new gateway to campus, coming west from Center City.
"In addition to their energy function, the sunshades will serve as a billboard, announcing the energy research going on inside the building," says Kocent.
Amy Gutmann Hall topped off in July at a ceremony attended by Penn President Liz Magill and School of Engineering and Applied Science Dean Vijay Kumar. Passersby will notice the mass timber building's wood exposed, which is designed to minimize water absorption until the structure is enclosed. The majority of the building is wood, with steel beams over the auditorium and areas of the fire stairs and elevator that are steel and concrete with big columns. The use of timber allowed for the project to be both cost-effective and more sustainable: It's lighter than both steel and concrete and is estimated to have a 60-75% smaller carbon footprint than a comparable steel and concrete building.
And at 3600 Civic Blvd. are six floors of both dry and wet labs and a one-floor vivarium for the Perelman School of Medicine. That is an overbuild project scheduled for completion in winter 2025 and was recently topped off.
Other projects around campus
Located just south of Harnwell House is Substation 4, a modest but important structure for the University's infrastructure.
"Our lead electrical engineer is thrilled with this new building," says Chris Kern, executive director of design and construction at FRES.
It replaces aging infrastructure that was located below grade in Harnwell College House. Recent standards call for electrical equipment to be stored at or above ground level, to reduce risks of flooding and improve accessibility.
"The [architects] chose a dark grey, graphite-colored brick with a rich texture to it, and it's actually a very handsome building," says Kocent, noting that it's otherwise a building intended to be simple and recessive.
The Ott Center for Track and Field has begun construction and is scheduled for an August 2024 completion. It recently had its first steel trusses delivered, with metal cladding to eventually follow. People will soon see the structure rising along the expressway. The finished facility will feature 990 spectator seats and provide a necessary indoor facility for the men's and women's track programs to train and host meets. Another project by the Division of Recreation and Intercollegiate Athletics, set to finish this summer, is an improved and expanded Franklin Field team operations and locker rooms, lounge area, meeting rooms, and equipment space serving the football program, as well as men's and women's track teams.
At the heart of campus is the College Hall renovation of its west wing, which includes a replacement of its stone façade and wood windows, a roof replacement, the addition of all-gender restrooms, a restoration of historic stairs, and natural lighting that will be added to the reception area of the president's office.
The iconic green serpentine stone of College Hall was restored in the 1990s along the east wing, says Kern; this project restores the west side.
"For a masonry job, it's delicate in that it takes care and attention in how you lay the stone," Kern says. "All the new cast stone pieces are numbered, and then reinstalled in a randomized pattern that's been thought about and orchestrated on drawings in advance, so it's been carefully done."
In addition to all this work, various landscaping projects and structural façade repairs are in progress to ensure the campus is in solid shape for when students return for the fall semester. One example is a structural analysis of the exterior of buildings, reviewing a percentage of buildings each year to make sure the facades are secure and will prevent any water infiltration.
Elsewhere is work to replace air-handling units and, in Silverman Hall, to improve classrooms. The newly announced Student Performing Arts Center, meanwhile, is in its design development stage, planning for a construction start next summer, along with the new Stuart Weitzman Hall.