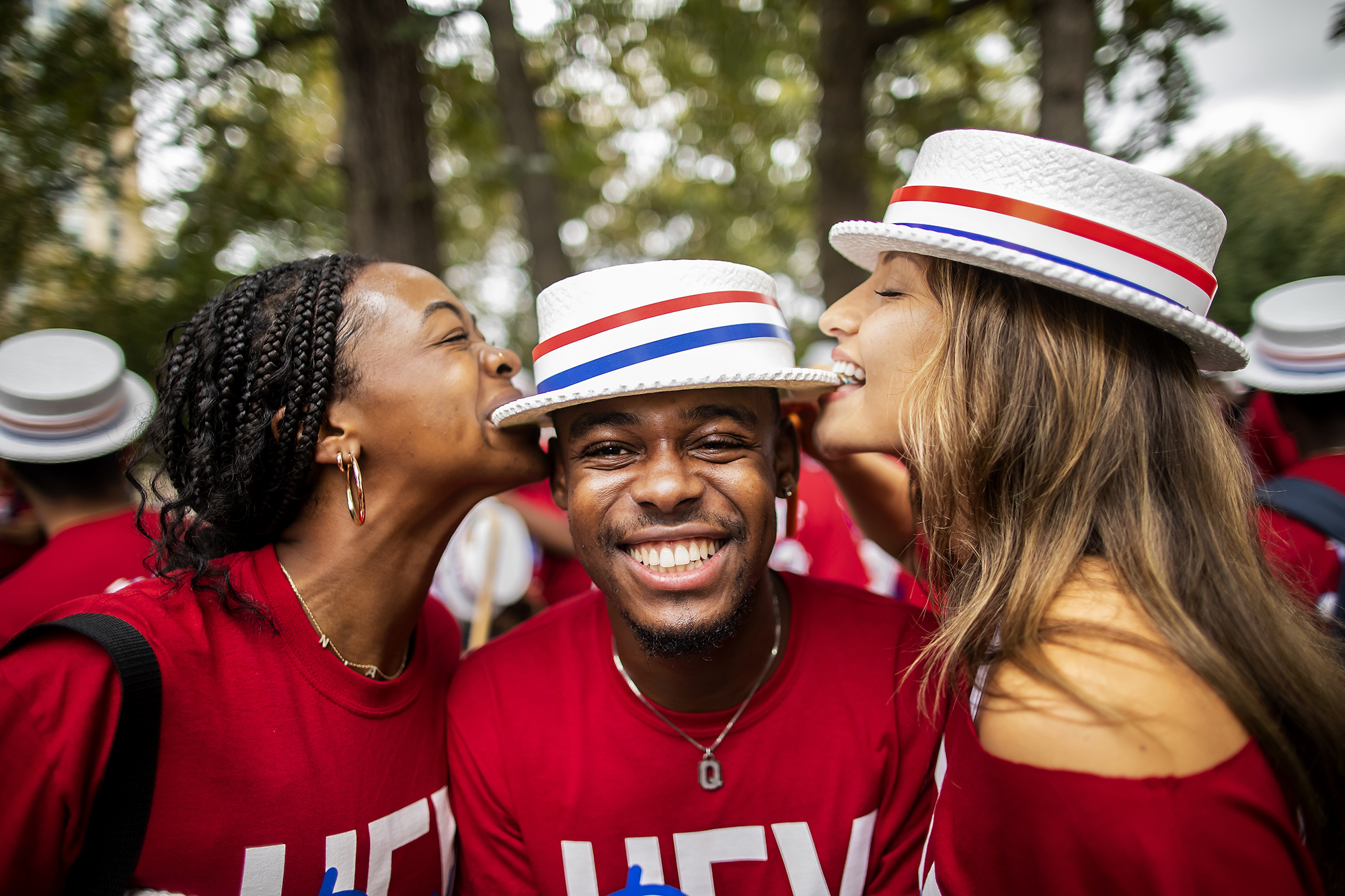 Back in the spring, the Class Board 2022 made the tough decision to postpone their Hey Day to the fall. They held out with hope that it could take place in person. On Wednesday, they got their wish—one that many students expressed their gratitude for. 
"Hey Day is the transition from junior to senior year," said Emily Hong, a psychology major from Illinois. "Obviously we are having it during our senior year because of COVID-19 last year, but it's just really nice to get together with friends again after a year apart, and in our last year before graduating."  
Hong was joined by friends Kay Mayle, a political science and economics major from Bucks County, Pennsylvania, and Sarah Payne, a linguistics and computer science major from Indiana, at Hamilton Village Green, where the usual class picnic took place, DJ and all. Students—dressed in their custom red T-shirts and fake plastic skimmer hats—picked up individually packaged sandwiches, chips, and sodas, eating and catching up before processing down Locust Walk. 
"It's hard to believe it's even happening, it's also hard to believe we are already seniors," said Mayle, with Payne adding how Hey Day, the first event their class has had together since before the pandemic, "marks our entrance back into, I don't want to say 'normal times,' but being back in person every day."  
When asked what they were most excited for during the day, they pointed to the "little things," now more special than ever: Getting to see classmates. Hugging people. Taking photos together.
"Walking around, being with friends, listening to music, and just having a good time," answered Raveen Kariyawasam, standing just outside of the picnic area. The finance, entrepreneurship, and bioengineering major from Sri Lanka was with Devin Ma, a computer science and economics major from Vancouver, who added: "Just seeing people you haven't seen for a while is just perfect."
Led by the Penn Band, the Class of 2022—with their beaming smiles—waved their canes as they skipped and sang over the Class of 1949 Generational Bridge toward College Green, where they gathered in front of College Hall to hear from Penn President Amy Gutmann. As tradition goes, Gutmann proclaimed them officially seniors only after passing a three-question quiz, in which the students happily and eagerly obliged: 1. Who is the founder of Penn? 2. How do you spell Schuylkill River? 3. True or false: The Class of 2022 is the greatest class ever. 
The crowd erupted in cheers.
Class of 2022 President Sam Strickberger then took the stage, noting for all in attendance how Hey Day, along with Convocation and Commencement, are the "rare moments where we celebrate as an entire class together." 
"This is our day. This is our time. Despite all obstacles, we are reestablishing this storied tradition," Strickberger continued. "Each and every one of us deserves to celebrate all we have accomplished. Through this past year, we have persisted. We have come back stronger, and we are Penn's greatest class. Senior year is ours to seize to craft our legacy on campus."
After singing "The Red and Blue" together, students lingered on College Green, snapping photos at the Benjamin Franklin statue and at the Split Button outside of Van Pelt Library. Jediah Katz, a computer science major from Manhattan, was waiting on the side for friends from his Penn Hack4Impact group—they wanted to meet for a photo in their matching outfits. 
Commenting on his hat, which had several bites taken out of it, he laughed, explaining that his former roommate, who was older, told him that "if you take a bite of someone's hat, that means they've had a positive impact on your time at Penn." Although Penn Archives notes the exact origin of the hat-biting practice is unknown, the straw hat tradition dates back to the early 1900s. The first Hey Day ever at Penn took place in 1916, and has evolved in various ways since. 
Dressed in a red Hey Day shirt, too, Vice Provost for University Life Mamta Accapadi said she was thrilled students had the chance to come together for Hey Day this year. 
"It's a tradition marking a major milestone in their academic journey, their senior year," a cheerful Accapadi said. "I am happy they had an opportunity to celebrate this transition and all that it represents."