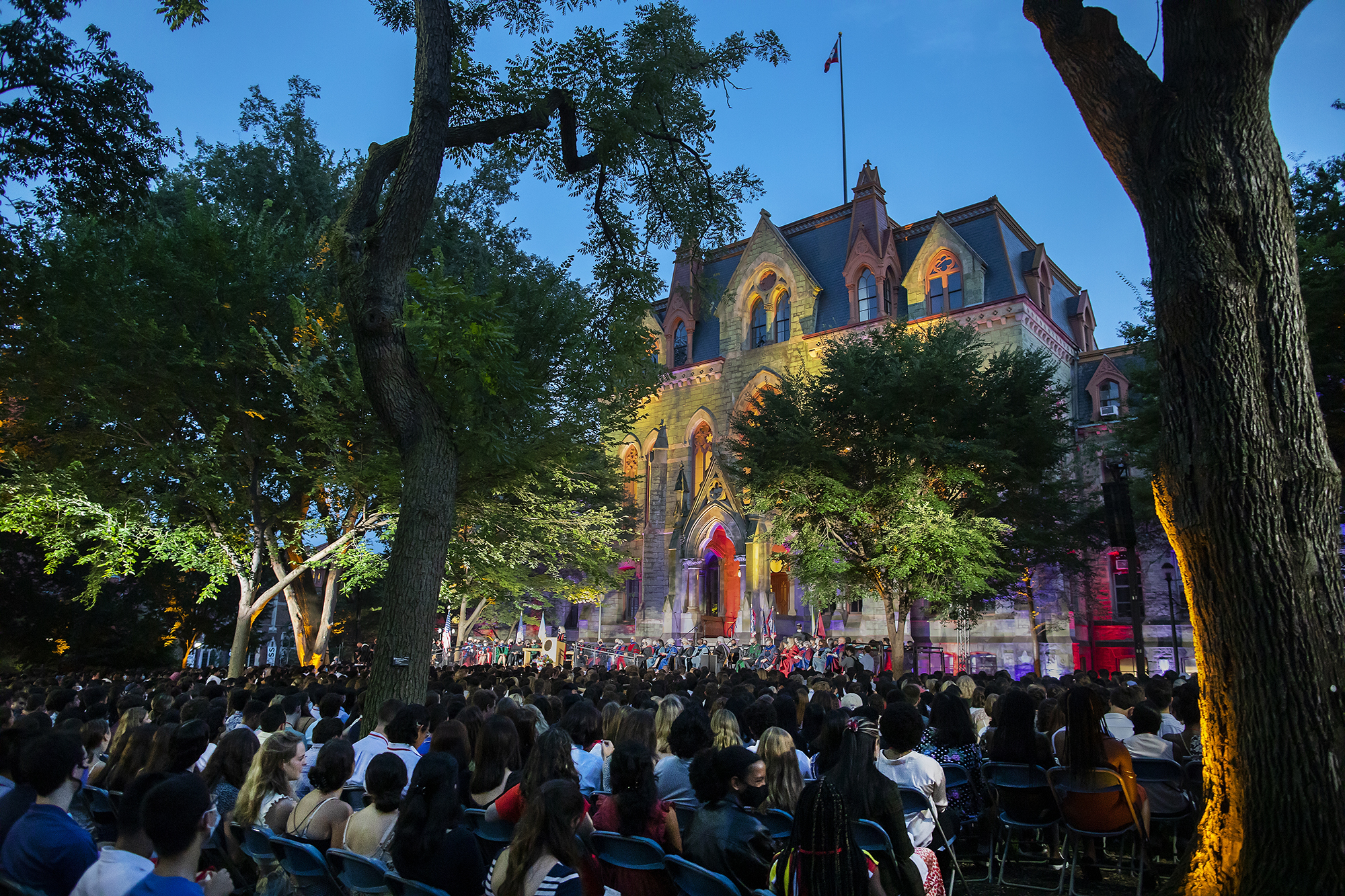 On Monday evening, after a busy week of Move-In and orientation events, Penn's newest students celebrated at Convocation the start of the University's 282nd year. Processing alongside their college house peers down Locust Walk, eager students took in each mesmerizing moment: They saw red and blue lights donning a stunning College Hall, they heard the Penn Band drumming a recognizable tune, and they felt the warmth of a soon-to-be new friend's smile as they took a seat next to someone they'd just met.
"It feels like the way I lived my life has kind of flipped over all at once," said Anna Kwon Frankl, a freshman from South Korea in the College of Arts & Sciences. "Because I've been mostly staying indoors, especially with the pandemic, and suddenly I am meeting this whole diverse crowd, which feels like a complete 180. It's been refreshing."
The idea of joining together people from all walks of life is what makes Penn so unique, and is especially apparent at Convocation, one of the University's most special celebrations, taking place the day before the first day of fall classes. The Class of 2025—Penn's "most diverse, talented, and resilient class ever," said President Amy Gutmann—is made up of 2,400 students, hailing from 88 nations around the world, nearly all 50 U.S. states, as well as the District of Columbia, Guam, Puerto Rico, and the Virgin Islands. One out of seven students in the class self-identify as first-generation students; 59% of the U.S. citizens in the class identify as students of color; and 54% of the class is female.
As the sun went down, Gutmann shared with students—spread across College Green—her advice for navigating Penn well throughout the next few years.
"You can make the most of your new home here by thinking like a modern-day diplomat," she said. "An excellent start is by celebrating differences, for they are among your most signature and stunning strengths."
She encouraged students to be collaborative, as well as independent-minded leaders. To succeed, she said, "You will work with and lean on diverse others" while "bravely" sharing what is "uniquely yours."
"Those differences and your own unique perspective are what make our community increasingly innovative, and ever more inclusive," Gutmann continued. "At Penn, thinking creatively and being curious about others, that's what leads to breakthroughs." She aptly described the chance meeting of Penn Medicine's Drew Weissman and Katalin Karikó at a copy machine. The pair would later pioneer messenger RNA technology, making the Pfizer and Moderna vaccines against COVID-19 a reality—and this year's in-person Convocation, and campus experience in general, possible.
Penn's newest students are already proving they are up for the task. College of Arts & Sciences freshman Joseph Campbell, one of the 130 first-year students from Philadelphia, said he tends to be more introverted, but has been trying to go out of his way to meet people recently.
"Everyone has been super nice, and it's been really easy to get along with people," he said. "I've enjoyed it."
Sivaanii Arunachalam, a freshman from Kansas City, Missouri, in the Huntsman Program in International Studies and Business, agreed.
"It's been so fun just bumping into people on campus and striking up a conversation," she said. "It feels very natural and easy, especially after a year and a half of lockdown, it's nice to get out there and meet people every day."
Campbell also said how fascinating it's been to meet new friends from all over the country, and the world: "Everyone is from everywhere," he said.
Drea Xia, a junior exchange student from China in the College of Arts & Sciences, attending her first Convocation at Penn, said she originally thought "mostly the Chinese people would hang together," but has been pleasantly surprised to have met and formed relationships with folks from "all over" in just the past week.
"There's a lot of diversity here," Xi said. "It's super cool."
Making the most of diverse, personal connections was a tip that rang true in Interim Provost Beth Winkelstein's remarks, too.
"Regardless of our differences, in this world we're all connected," Winkelstein said to students. "We share a future. Just as you may need help from others, they may need your help. Here, at the nation's first university, all of our schools are on one campus. Penn's interdisciplinary education is purpose-built for collaboration. Explore these connections, even—and especially—when the path seems unclear."
Convocation also included words of wisdom from Penn's new, inspiring Vice Provost and Dean of Admissions Whitney Soule, and Penn's ever-thoughtful University Chaplain Charles "Chaz" Howard, also vice president for social equity and community. In addition to the Penn Band, Dischord and the University of Pennsylvania Glee Club provided musical performances, just before the presentation of the Class of 2025 Flag and the singing of "The Red and Blue," both long-held Penn traditions.
During Convocation, Gutmann also noted her nomination by President Biden to serve as the next U.S. Ambassador to Germany. She said she shares students' undoubted feelings of being excited, and a bit anxious, too.
"I am feeling a lot of what you are feeling," she said. "The advice I give to you is the very same advice I continue to take to the best of my ability: The power of [Ben] Franklin's example. Making the most of our connections to one another, our community, and the wider world."
Feeling "rejuvenated" by being on campus and at Convocation, Arunachalam said she is looking forward to discovering a "clearer path" for herself and her life in the coming years. "I want to be very open-minded to all the clubs and resources that Penn offers," she said.
Similarly, Wharton student Giulia Fruet, from Brazil, said she is "looking forward to the type of person I'll become; what I'll discover about myself and my interests."
"I am really excited to get started," Fruet said.