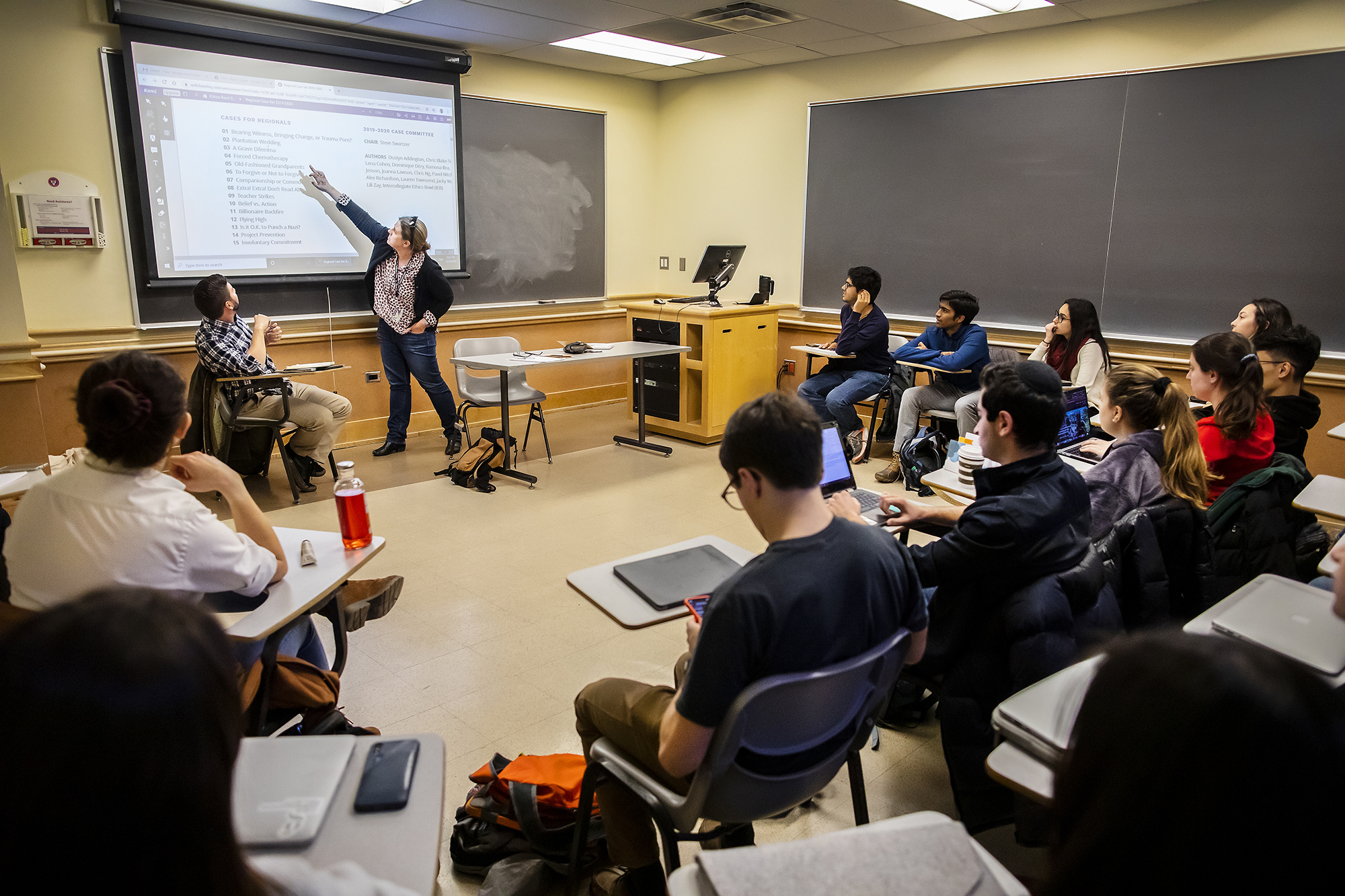 When Penn doctoral student Nora Reikosky announces the first case for the regional Ethics Bowl, a muted cheer ripples across the table where six Carver high school students sit. It's a case they've practiced, one they feel comfortable discussing.
"Do we have a special duty of respect to our elders that we do not have for others?" reads Reikosky, who is moderating this seed group, one of three happening around Perry World House. After conferring for two minutes, the team from George Washington Carver High School of Engineering and Science argues that Sam—an anti-racism, pro-environment liberal—has a moral obligation to respect her grandparents—who are racist, homophobic, and old-fashioned—but that they must offer her the same tolerance in return.  
"When someone respects me, I respect them," says Shakylah Glover, a senior and captain of the Carver team. "Respect is earned in my house."
"Yes, you do need to respect them, but [Sam] also needs to address the specific situation," answers junior Imani Kelley, a member of the Girls High team Carver is up against. "This is 2020. These things are very important nowadays."
Another response and four questions from the judging trio—all Penn doctoral students—close out the first round of the regional Ethics Bowl, happening on a Saturday in early February. Elsewhere in the building, four other teams are making their case for or against Sam and, in a second scenario, about whether teachers need to account for their students' well-being before deciding to strike. In each situation, despite potentially differing viewpoints, the back and forth is eloquent and intentionally civil.
This is the inaugural Philadelphia regional, brought to the city by Penn philosophy professor Karen Detlefsen and Graduate School of Education (GSE) doctoral student Dustin Webster, with support from the Netter Center, the Law School, GSE, the Andrea Mitchell Center for the Study of Democracy, and the Making a Difference in Diverse Communities grant from the School of Arts and Sciences. It stems from an Academically Based Community Service (ABCS) course Detlefsen and Webster ran in the fall, and the winner will compete in playoffs on Feb. 28 for the chance to take part in the National High School Ethics Bowl in April.
"The goal is to have tolerant, open-minded, civic conversation around really hard issues, where people often have deep disagreement," Detlefsen says. "Getting high school students to think about ethical conundrums, to facilitate discussions that allow them to understand their complexity, that's a crucial virtue of the Ethics Bowl."
A regional in Philly
Securing a competition in Philadelphia wasn't easy. Until this year, the only choice for local high schools wanting to field a team was the Delaware Valley regional at Villanova. Though its location and November timing made it untenable for many groups, the national organization still turned down the request to add another nearby.
Webster had learned of the Ethics Bowl five years ago, while a master's student at Columbia, and he soon became a judge and moderator for the New York City event. "When I came to Penn, I saw there was no Ethics Bowl in this area and I wanted to get that started," he says. On the advice of his advisor, GSE professor Sigal Ben-Porath, he connected with Detlefsen, who was planning to teach the ABCS course Philosophy for the Young in partnership with several Philadelphia high schools. She asked Webster to join the class as an instructor.
The idea was for Penn undergrads to work with high school students weekly, walking them through cases and prepping them for the Villanova regional using teaching techniques they'd learned about in class. A few weeks into the fall semester, Detlefsen learned that her additional pleas to the national organization had succeeded: Philadelphia was getting its own competition, and it would happen in February.
"It was a rapidly evolving process," Detlefsen says. "I've been so impressed with how involved the Penn students were and how they adapted. They were really committed to the high school students"—something that continued beyond the semester's end for undergraduates like first year Arnav Lal.
Reframing everyday thinking
On a Thursday in January, in a third-floor classroom at Carver, team captain Glover tries to corral her peers, which on that day include two eighth-graders, plus senior Ajza Shields and junior Micah Canty. Lal and a first-year Philosophy graduate student are there as mentors. The group is discussing the stakeholders for case 11, which focuses on charitable giving in the aftermath of an event like the Notre Dame cathedral fire.
The students' initial list of affected parties includes church clergy, billionaires, the less fortunate, Christians, and charities. "A visual way of thinking about it might be more informative," says Lal, who was the student coordinator for the regional competition. "You could see more of a divide." He draws a flow chart on an electronic whiteboard, with "Donors" up top, and arrows pointing to "Church" on one side and "Charities" on the other, then adds a dotted line down the middle. "You can split it and look at it this way," he says.
Minutes later, they're still trying to narrow their list. "Did we touch on the people who just dislike the idea of the church in the first place?" Canty asks. That question causes a rise from his peers; though they don't agree with his idea, they still respond to him respectfully.
In a nutshell, that interaction encapsulates the point of the Ethics Bowl. Unlike in high school debate, the ethics version doesn't pit teams on opposing sides of a single issue. Rather it asks them to consider and discuss all stakeholders and perspectives. Teams earn points for their answers, but also for how courteously they treat each other. It might seem beyond the intellectual capacity of high schoolers, but watching them for a few minutes, it's clear they have a lot to say.
"The thing about talking about philosophy, especially ethical philosophy, is that everyone kind of does it already, we just don't always think about it as philosophy or ethics. These high school students are making ethical decisions every day," Webster says. "They're ready to have these types of discussions. It's just not always framed that way."
"A moment of hope"
Back at Perry World House, the day's second round gets underway. The announced case is about billionaire charitable giving, the very one the Carver students had practiced with Lal. After their opponents—a second team from Girls High—offer an argument, Canty kicks off the conversation for Carver. He agrees that billionaires have both civic and moral responsibility in their giving, but then dovetails into the idea that there's a difference between broad targets like poverty and homelessness and a specific one like Notre Dame.
"The destroyed church is tangible. People are more inclined to donate to something tangible," he says. "Abstract concepts are more intangible."
Glover expands on that point. It's clear the charitable donation for the church is going toward fixing the physical building, she says, but how do you know that poverty and homelessness are truly getting fixed?
The day continues with a third round, then ends with a final between Girls High and the Julia R. Masterman Laboratory and Demonstration School. "Every team stayed to watch the two teams compete for the final, which was really great, supportive, and, I think, significant," Webster says. Masterman is named the winner. There's a two-school tie for the Spirit of the Bowl award, and Carver earns the Judges' Choice, presented for the highest cumulative score during judge questioning.
For Detlefsen and Webster, the day capped off a long journey, one they sincerely hope to repeat. They already have interest from ten schools for next year's regionals.
"Looking at the way the high school students, some as young as 14 years old, were interacting with each around really difficult questions, it's great to watch the careful listening and the way they address one another respectfully, even while forcefully taking a view. That is increasingly rare in political life these days," Detlefsen says. "To see the degree to which the high school students showed each other respect and open-mindedness, even while disagreeing, was a moment of hope."
Karen Detlefsen is a professor of philosophy and education in the School of Arts and Sciences at the University of Pennsylvania.
Dustin Webster is a second-year doctoral student in the Graduate School of Education and a first-year master's student at the University of Pennsylvania Carey Law School.
Homepage photo: First-year Arnav Lal mentors students from Carver High School in preparation for the regional Ethics Bowl competition, which took place in early February.