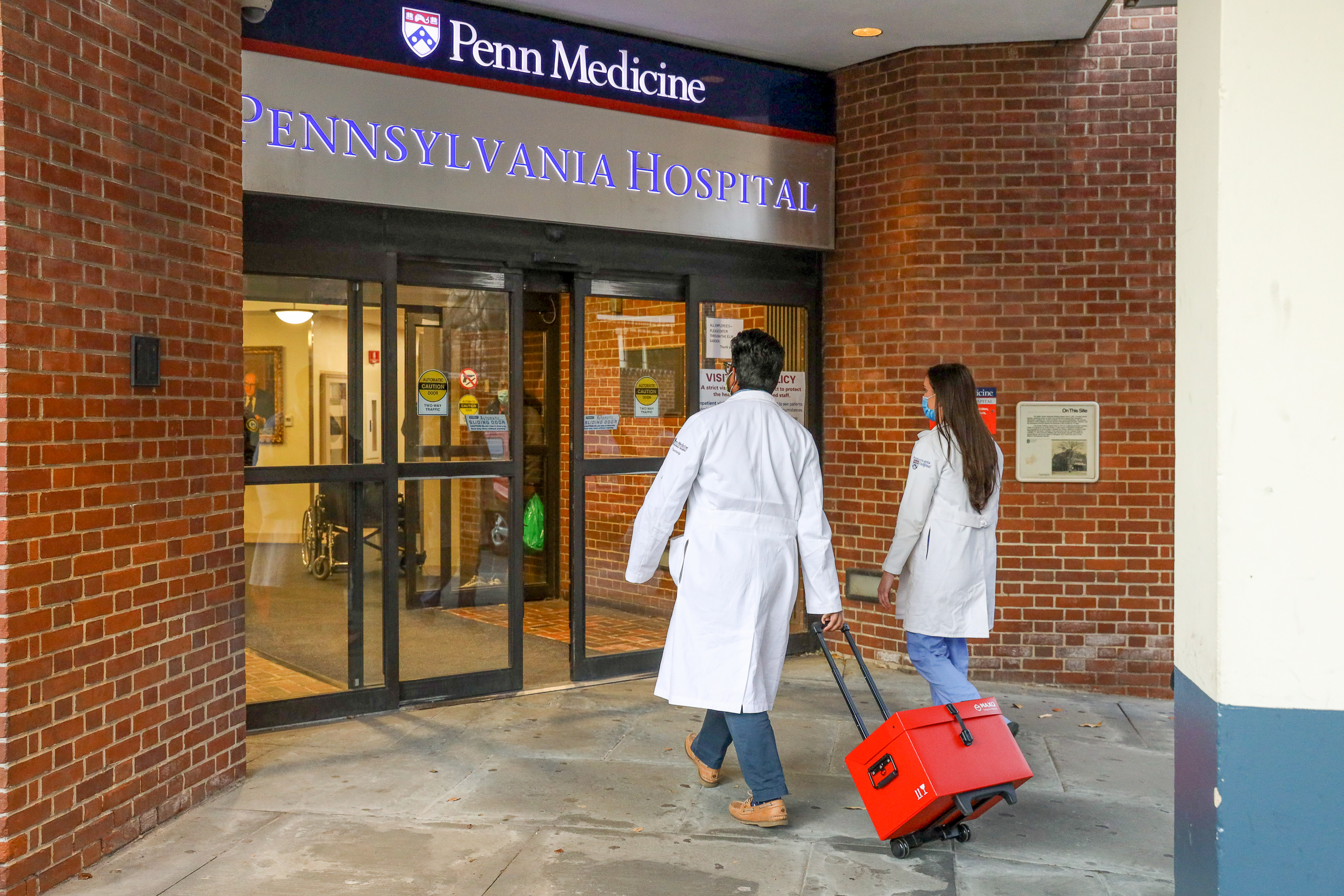 When Operation Warp Speed launched on May 15, it set out to accelerate the process of vaccine development, manufacturing, and distribution. And it did: By December, Pfizer had published results of its clinical trials demonstrating the effectiveness of its mRNA vaccine, and on Dec. 11, the FDA issued emergency approval for its distribution. The emergency-use approval of a second mRNA vaccine, led by Moderna, followed a week later.
But now comes the next step: getting shots in arms.
Here, Penn experts from various schools break down the steps that go into vaccine distribution and the challenges that come with them, from cold-storage transit to making sure vaccine administers have the right syringe.
Operations and planning
Step one in any logistics operation? Drawing a plan.
Operationally, says Gad Allon, director of the Jerome Fisher Program in Management & Technology at Penn and a professor of operations in the Wharton School, there are three stages to the COVID-19 vaccine distribution: manufacturing of the various vaccines, movement from their manufacturing plants (which are all over the world, depending on the vaccine), and the process of inviting people to be vaccinated. The goal is to maximize the reduction of the mortality rate from COVID-19, he says, while keeping equity constraints in mind and being somewhat transparent.
There are two ongoing pieces of this process that are limited, however: manufacturing and, by extension, vaccination capacity. But the vaccination capacity is also greatly affected by the constraints set in place that categorize who is eligible and when, which can have the unintended effect of not having enough people waiting in line.
"The combination of these restraints has resulted in the U.S. vaccinations being fifth in the world, lagging behind other countries," says Allon, of the United States' slow start. While as of Feb. 12, according to the CDC, the U.S. has only vaccinated 10 percent of its population, he says Israel "has vaccinated more than 50 percent of the population already."
To be sure, Allon says there are several reasons for Israel's short-term success with vaccinations. Because of its universal health care system, Israel, unlike the U.S., has a central registry to be able to locate people eligible for vaccinations. They also did not underestimate the necessary supply of low-dead-space syringes required to extract the full six or seven doses from the Pfizer vaccine, a manufacturing problem the U.S. will contend with as vaccine supply increases.
And, perhaps most importantly, the approach in Israel—to cite just one example—has been to treat distribution with a greater sense of urgency.
"In Israel, a country where there's no public transit on Saturday because of religious reasons, they do vaccinate people on Saturdays," says Allon, noting that many places in the U.S. do not vaccinate on Saturdays and Sundays. "It's considered a life-saving activity and you're allowed to do that on Shabbat. In contrast with here, Israel treats this as a wartime activity."
Ultimately, the key ingredient to coordinating an effective vaccine distribution strategy—simple as it may seem on paper—is simply to build a plan ahead of time. That's something, Allon says, there wasn't much of in the past year. He points out that states could have had vaccine registration systems ready to go in the fall and that people should have a clear idea of when they can be vaccinated. Plus, he says, plans should be in place to set constraints on vaccine access, but to "not set the rules forever."
West Virginia is perhaps the clearest example: That state has the highest per-capita vaccination rate in the country. Allon says that West Virginia has found success because of looser restrictions on access.
"States that care less about equity are going to be faster to vaccinate than anyone else," he says. "In New York, you had to answer a 51-question survey to determine your eligibility. You basically had 51 questions to exclude, not to help, people get the vaccine."
He says photos from various states of people waiting in lines to be vaccinated are—if counterintuitively—a good sign that people are being invited to be vaccinated. Problems arise, says Allon, when there are vaccines left over and no one around to be injected.
The trick is to find equilibrium.
"There is interplay between manufacturing and vaccine capacity," he says. "If you release one bottleneck, you're going to see a bottleneck on the other side—but that's OK. I'd like to see us hit bottlenecks on both sides."
In transit
From a glance, one of the more stressful points of COVID-19 vaccine logistics would seem to be their ability to be delivered. Both Moderna and Pfizer's vaccines are temperature-sensitive, and the latter requires ultra-cold storage through storage containers—"thermal shippers," Pfizer calls them—that are packed with dry ice and monitored using a remote thermometer and location tracker.
The reality, says Steve Viscelli, a lecturer of sociology in the School of Arts & Sciences who studies the trucking industry and delivery workers, is that UPS and FedEx are well-equipped to handle any transportation issues.
Cold chain transportation, explains Viscelli, is not new: TV dinners in grocery store freezers are an everyday example of how transit manages to safely deliver temperature-sensitive items, and massive cold-chain infrastructures are already in place because of the flu vaccine.
Essentially, he says the process involves two main movements: one is a truckload movement at the production facility to the initial distribution center, and then the vaccines move to their designated site for vaccine distribution. When carried by air, they're either transported by vaccine-dedicated cargo flights from UPS or FedEx, or, in some cases, in the cargo space underneath commercial flights.
But UPS and FedEx are the star players of vaccine transit.
"UPS and FedEx will be the bulk of distribution," says Viscelli. "And frankly, they're exactly the companies we'd want to do this. They do this every day."
The process, he says, has required both companies to scale up their cold storage refrigeration and dry ice production. They've also worked through imbalances that lingered from the onset of the pandemic in the spring when cold storage capacity was affected by shifts in consumer demands. The plain fact, he explains, is that refrigerated trailers can carry a lot of vaccine supply, and complete the cycle from the place of manufacturing to distribution nodes within a day.
Challenges that will need to be addressed, he says, are questions around getting small vaccine shipments to rural areas and making that cost-efficient. (That problem, however, mainly centers around the Pfizer vaccine; he speculates that rural areas may receive other vaccines for this reason.) There also may need to be an increase in specific cold storage as the Biden administration ramps up mass vaccination sites and more vaccines face approval.
"But the top line is that I'm really not concerned about transportation as an issue in distributing the vaccine," he says.
Inoculations
The last stop on the vaccine logistics roadmap is also the most satisfying for all involved: the actual vaccination.
By this point, almost all health care workers—whether in the hospitals, Penn Medicine, Penn Dental, or the School of Veterinary Medicine—who want a vaccine have received one, says Nishaminy Kasbekar, chief pharmacy officer at Penn Presbyterian Medical Center. At Penn Presbyterian, they've moved on to Phase 1B and 1C candidates, and have begun receiving lists of eligible patients from Penn practices—people who are over the age of 75, are diabetic, or have other co-morbidities as defined by the City of Philadelphia, etc.
"It's going awesome, to be honest," Kasbekar says.
She describes the appointment system as set up so that patients are sent a link and can self-schedule. They are then consented and informed that it's an emergency-use authorization product that's not FDA-approved. The patient proceeds to visit the vaccination location, where a pharmacist or nurse administers the product and documents it in the patient chart.
The appointment process allows the pharmacy team to understand the number of doses needed so they may thaw the correct number of vaccine doses, which take about 30 minutes to an hour and is viable in the refrigerator for five days, in the case of Pfizer's product, or 30 in the case of Moderna's. Patients then rest for 15 minutes to watch for any allergic reaction, which is rare. Patients schedule a second appointment before leaving.
"It's a pretty well-oiled machine," says Kasbekar.
They've even created color-coded lines for Moderna versus Pfizer vaccines, she says, to make navigation more intuitive for patients when they show up—especially because it's crucial that they receive the correct second dose.
Initially, when the vaccine arrived from UPS or FedEx, hospital staff would be notified by phone call and pharmacy leads along with agents from the CDC and a security officer picked up the shipment. It shows up in a pizza box, she says—975 doses per box—and is immediately taken to a sub-zero freezer. The process has become easier over time in terms of security, she says, and product delivery now occurs directly to the pharmacy department.
One piece that has been a small challenge, she says, is training pharmacy staff to know not to shake vials. The Moderna vaccine is pre-constituted, she explains, but the Pfizer vaccine arrives as a powder, not a liquid. The powder is thawed and mixed with a solution to dilute it and draw doses. The vial is then to be inverted 10 times.
"When you have a powder, [the instinct] is to shake it," Kasbekar says. "But this is viral material so you can't; you have to gently invert it, so there's no shaking or agitation. Otherwise, it affects the molecule, would denature it and make it ineffective."
In response, she says, the CDC has hosted training seminars for free. She had all of her pharmacists complete the training to understand what the process looks like.
The other challenge is simply hesitancy.
"The biggest thing I saw as a problem is the hesitancy, but I think a lot of hospitals are focusing on that and getting questions answered," Kasbekar says. "More folks are getting the vaccine and can talk about their experience, and I think Penn has been very successful in having employees come in."
At that, she says, she's been delighted to see tears of joy among health care workers who now have protection.
Toward herd immunity
Questions about vaccine logistics will continue to surface as the pandemic reaches what Allon describes as "the beginning of the end." States will need to adapt in the upward march toward herd immunity.
"We want to see more experiments to see which states got it right and not wait until the next crisis, but let's copy that now," Allon says. "We have so many people still to vaccinate, and we still have not figured out the best way to do it."
One particular challenge that persists is getting vaccines to underserved populations. The Biden administration will soon begin sending vaccine shipments specifically to community health centers that serve the disproportionately impacted Black and Latinx communities.
Transient populations like those who are homeless, meanwhile, also will need to be targeted with some precision. Dennis Culhane, a professor of social policy in the School of Social Policy & Practice with expertise in the area of homelessness, says state and local municipalities have largely been left to prioritize and reach people who experience homelessness, and they often place these populations in the second priority group. However, he says not all people in the homeless population are in shelters, making mobile clinics essential.
Plus, getting people experiencing homelessness back for a second dose is difficult.
"People with severe mental illness [especially] could be difficult to reach consistently," Culhane says. "I wish the single-shot vaccination from Johnson & Johnson were available, as this is a group—as are all people who experience homelessness—for whom a single-dose regimen would be preferable."
Another ongoing variable is the setup of mass vaccination sites in communities around the country, with potential support from active-duty military personnel or the National Guard. The Department of Defense has been at the head of coordinating the vaccination effort since the beginning; Michael Horowitz, a professor of political science in the School of Arts & Sciences who has previously worked in the Department of Defense, says this is not all that surprising, given the military's scope and experience.
"The Defense Department has the budget, the personnel, and the logistics capacity, and it's only natural that both the public and government would look to them to assist," he says. "But the specific character of that assistance seems to be varying quite a bit by state, and there are questions of whether President Biden will centralize more with vaccine distribution, in general."
For now, he adds, military personnel from the National Guard have had a role not in administering vaccines or escorting shipments, but "getting things into position."
What's also notable among the web of logistics is how interdisciplinary it is, from the relationship between manufacturing and medicine to the public-private partnerships that will continue to define the vaccine rollout. In Washington, the state has enlisted Microsoft and Starbucks to help expedite vaccinations.
"The interdisciplinary approach is the realization that this problem is a systems problem," says Allon. "It's not capacity only for the vaccines, but for the vaccines and everything around it. The constraints are shifting continuously, and the Penn way to think about this is that to realign, you continuously need to understand not just your location in the network and optimize not only that, but the entire relationship in the network."
Gad Allon is the Jeffrey A. Keswin Professor of Operations, Information and Decisions in the Wharton School, and the director of the Jerome Fisher Program in Management & Technology at the University of Pennsylvania.
Steve Viscelli is a lecturer in the Department of Sociology in the School of Arts & Sciences at the University of Pennsylvania.
Nishaminy Kasbekar is the Chief Pharmacy Officer for Penn Presbyterian Medical Center.
Dennis P. Culhane is a professor of social policy in the School of Social Policy & Practice. He is the Dana and Andrew Stone Chair in Social Policy and co-principal investigator for Actionable Intelligence for Social Policy.
Michael C. Horowitz is the Richard Perry Professor of Political Science in the School of Arts & Sciences and director of Perry World House.
Homepage image: A nurse holds a vial of the Pfizer-BioNTech COVID-19 vaccine, a mRNA-based vaccine approved for emergency use by the FDA in December. (Image: Dan Burke)