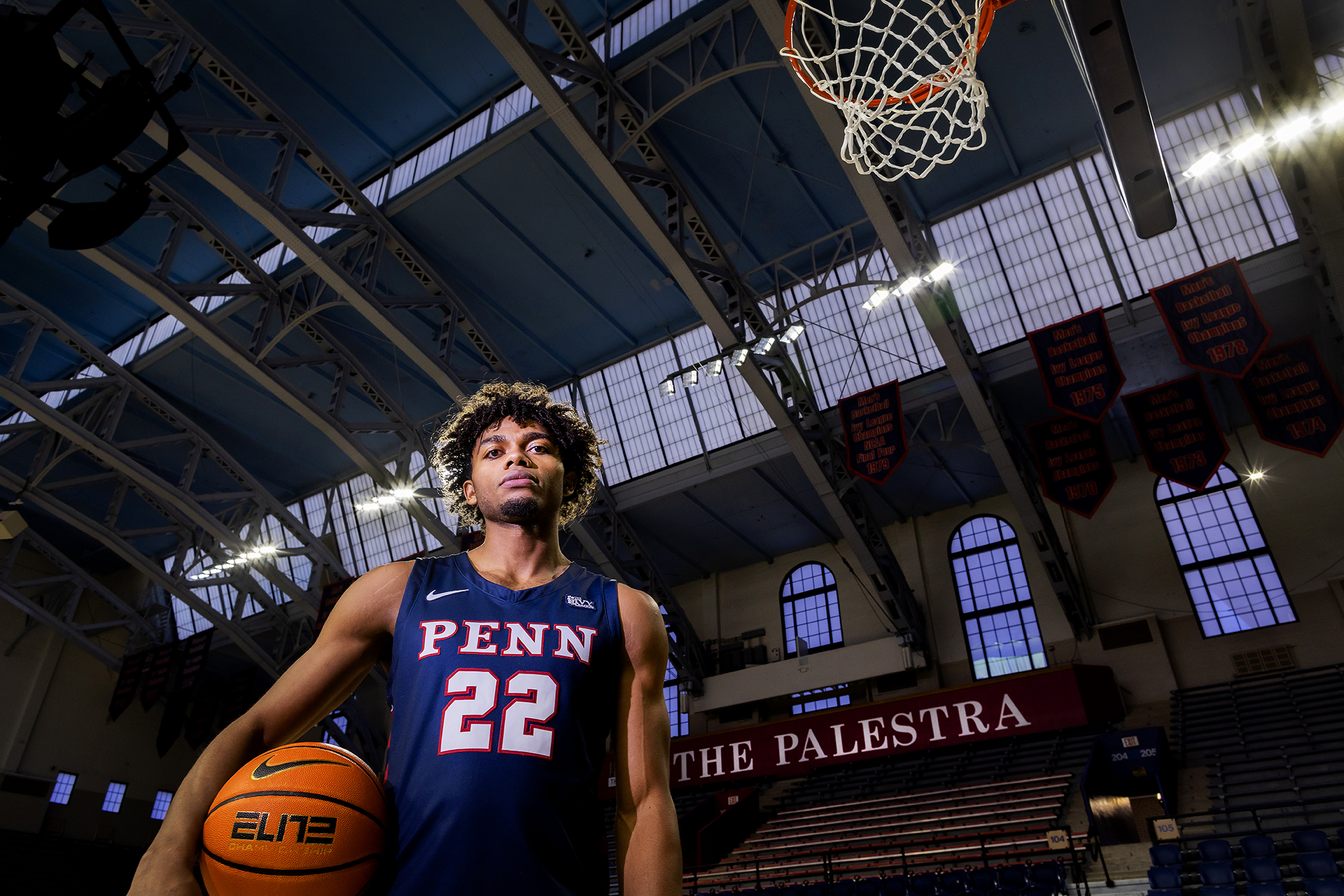 Like that Beatles song, winning Ivy League games is a hard day's night. In the normal course of events, each conference clash is an all-out dogfight from buzzer to buzzer regardless of record.
Success in these fierce and arduous affairs requires a one-of-a-kind player who is simultaneously disciplined and disruptive, with a dynamic ability to make plays and win games. These players—not always superstars or the top scorers—are versatile competitors who defend well and are strong on the boards. They can play and defend all five positions. They are coachable and show leadership. They are players you build programs around. Players like Lucas Monroe.
The fourth-year guard on the men's basketball team does not light up the scoreboard, but he excels at the grungy, less-glamorous things that have helped the Quakers win eight out of their last nine games and enter this weekend's Ivy League Tournament as the No. 3 seed. He leads the team in rebounds per game (6.0), ranks second in assists (61) and blocks (17), fourth in minutes per game (23.6) and steals (18), and sixth in points per game (4.8).
From Abington, Pennsylvania, Monroe is a political science major in the School of Arts & Sciences. He started playing basketball at around age 6 or 7, inspired by his older brother Jordan.
His father Raymond played ball for East Carolina and Drexel.
Penn Today caught up with Monroe at the Palestra to discuss his love of basketball, why he enjoys the "old school" game (played in the '80s and '90s), his personal growth on and off the court, his social justice work, why he thinks LeBron James is the GOAT, and his plans for next year. 
What do you enjoy about playing the game of basketball? Everything. I love having teammates. My teammates are my best friends at Penn and they've always been my best friends throughout different stages of my life. I love the competition. I love playing in front of people. There's nothing like playing at the Palestra when the Palestra is packed and people are cheering for you. I love the challenge of the game. It's very much a thinking game but it's also an instinctive game. If you're out there thinking too much, you're going to have problems because you have to make quick decisions. You have to act on instinct, but also be strategic.
On a personal level, where have you seen yourself grow the most over these past three seasons (the 2020-21 season was cancelled by COVID)? The one thing I figured out how to do was just stay on the court and maximize my time on the court. I think coming in as a freshman, I thought I had to make the most shots and score a lot of points to get more playing time. I think I realized that that's not my game and I can find other ways to stay on the court by doing a lot of different things that I'm actually good at.
What would be an example? In what other ways have you been able to help the team? Because of the way our team is made up, we usually have two smaller guards on the court. I can make up for the physical lack of size just by me being taller [he's 6'6"], and I can be a guard and I can rebound. I can guard some of the bigger guards, so I think I can make up for our team in that way.
Obviously your career is not over yet, but do you have a favorite memory from your time at Penn? My favorite moment will be winning an Ivy League championship. As cliché as it is, it always comes down to hanging out with your teammates and talking trash in the locker room after practice, doing the ice baths and being in the training room, bus rides, stuff that like. That's always the stuff that you really miss. We've had a lot of fun moments on the court; it's hard to really put one over the other.
You have done a lot of social justice work off the court. You have spoken at Black Lives Matter protests, been an advocate on social media, and you were in the inaugural class of eight undergraduate fellows in Penn's Office of Social Equity & Community. What motivated you to get involved in social justice work? I was never a super political person in any kind of focused way until I got to Penn. I think just being somewhere like here where you're around people that are very hyper-aware of what's going on in the world in an educational sense or academic sense kind of planted the seed for me. And then just seeing what was going on around the world and around our country specifically with a lot of different issues made me want to get involved. Me being African American and having a platform, I know I can take advantage of that. I know that I have eyes on me and I can use that to make a positive impact. That was really my main motivation.
Have you seen progress over these last several years? It's hard to say. You're trying to change these big national or international concepts like racial inequality or police brutality. That doesn't happen within a span of two or three years. There have been attempts to pass some police reforms and attempts to improve education in urban cities, but those are things that take a long time for you to really see the benefits. A lot of people were very excited and very willing to advocate for a lot of different things while it was popular, and then that phase kind of ended and people just went back to their own lives. When you're dealing with these big concepts like structural racism, it's not something that's going to go away in a year or two. There have been some changes that are positive, but obviously there's always work to do.
You grew up in Abington right outside the city. Are you a Sixers fan? I was actually always just a fan of old school hoops. I was always a really big fan of Magic Johnson. I loved Pistol Pete when I was younger. Kobe's my favorite player ever so I always loved Kobe. I loved D-Wade. I loved Larry Bird. Wilt. A lot of the old dudes. I was a Sixers fan, but I was kind of just a fan of the game in general.
What do you like about the 'old school' game? Just the mystique around it. I didn't necessarily notice the difference in the style of play, even though it was very different, but I would watch a lot of old documentaries and they would talk about Stockton and Malone and their pick and roll, and they would talk Pistol Pete, and Magic Johnson, and Larry Bird. The whole narrative around it just really interested me because there was so much I didn't know. I think that's what drew me into watching older players, the fact that I didn't know much about it.
What do you think of the physicality of the game in the '80s and '90s compared to today? I don't think it's overhyped, but I think just the game in general was so different where it allowed you to play physical because you're playing in much closer quarters. The spacing was pretty horrific; they would take kind of bad shots—not bad shots, but shots that you wouldn't necessarily take today. But it allowed you to be more physical because you're playing in closer spaces and the rules allowed for more physicality. I think you can learn a lot from watching some of the older games, but watching a game now and watching a game from the '80s or '90s is so much different. It's like watching a completely different sport.
Some people like to compare the different eras, and they get pretty passionate about it. It's too hard. I don't even think players are necessarily more skilled now, I just think the game has evolved in a different way. I think if you took the best team from the '90s or early 2000s and you put them up against an average team from today, the average team from today would win just because they're going to shoot 30 threes, and the team from back in the day is going to walk the ball up the court and they're going to shoot 10 threes. If one team is making twos and the other team is making threes, the threes will win.
Not even the '96, '97 Bulls? You don't think they could match up with today's teams? I would never doubt MJ. But even watching them, you can't run the triangle these days because the spacing doesn't benefit you. It would be too easy to guard. Those old Bulls teams had a super slow place; they were like slowest team in the NBA. They would win games like 75-72. If you dropped them into today and they played the 2017 Warriors, you're not holding the 2017 Warriors to 72 points. But you'd have to put that in a simulation, it's impossible to measure. But I would never doubt MJ. Put that on the record.
What do you think about LeBron breaking the all-time scoring record? It's hard to argue against him as the greatest of all time, but it's such a subjective argument. If you asked someone who grew up watching basketball in the '90s and mid-2000s who the GOAT is, they're going to say Jordan, and that's fair. I think there's something about actually watching it unfold in the present. I'm someone who has watched a lot of different eras. It's very hard to make an argument against LeBron.
Who is your top 5 of all time? In no order, LeBron, Kobe, Mike, Magic, and probably Wilt. Wilt or Shaq.
You still have a year of eligibility remaining, although you can't play at Penn. What are your plans for next season? Do you plan on using your extra year? I do plan to use it; I'm not sure where. I've been talking to a few schools. I'm waiting until the season is over. I'll take some visits, I'll wait to hear from some more schools, and then figure it out from there.